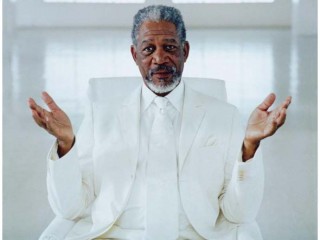 Morgan Freeman biography
Date of birth : 1937-06-01
Date of death : -
Birthplace : Memphis, Tennessee, U.S.
Nationality : American
Category : Arts and Entertainment
Last modified : 2010-05-19
Credited as : Hollywood actor and film director, Million Dollar Baby, The Dark Knight
Morgan Porterfield Freeman, Jr.
(born June 1, 1937) is an American actor, film director, and narrator. He is noted for his reserved demeanor and authoritative speaking voice.
Freeman has received Academy Award nominations for his performances in
Street Smart, Driving Miss Daisy, The Shawshank Redemption
and
Invictus
and won in 2005 for
Million Dollar Baby.
He has also won a Golden Globe Award and a Screen Actors Guild Award.
Morgan Freeman has enjoyed an impressive and varied career on stage, television, and screen. It is a career that began in the mid-'60s, when Freeman appeared in an off-Broadway production of The Niggerlovers and with Pearl Bailey in an all-African-American Broadway production of Hello, Dolly! in 1968. He went on to have a successful career both on and off-Broadway, showcasing his talents in everything from musicals to contemporary drama to Shakespeare.
Before studying acting, the Memphis-born Freeman attended Los Angeles Community College and served a five-year stint with the Air Force from 1955 to 1959. After getting his start on the stage, he worked in television, playing Easy Reader on the PBS children's educational series The Electric Company from 1971 through 1976. During that period, Freeman also made his movie debut in the lighthearted children's movie Who Says I Can't Ride a Rainbow? (1971). Save for his work on the PBS show, Freeman's television and feature film appearances through the '70s were sporadic, but in 1980, he earned critical acclaim for his work in the prison drama Brubaker. He gained additional recognition for his work on the small screen with a regular role on the daytime drama Days of Our Lives from 1982 to 1984.
Following Brubaker, Freeman's subsequent '80s film work was generally undistinguished until he played the dangerously emotional pimp in Street Smart (1987) and earned his first Oscar nomination. With the success of Street Smart, Freeman's film career duly took off and he appeared in a string of excellent films that began with the powerful Clean and Sober (1988) and continued with Driving Miss Daisy (1989), in which Freeman reprised his Obie-winning role of a dignified, patient Southern chauffeur and earned his second Oscar nomination for his efforts. In 1989, he also played a tough and cynical gravedigger who joins a newly formed regiment of black Union soldiers helmed by Matthew Broderick in Glory. The acclaim he won for that role was replicated with his portrayal of a high school principal in that same year's Lean on Me.
Freeman constitutes one of the few African-American actors to play roles not specifically written for African-Americans, as evidenced by his work in such films as Kevin Costner's Robin Hood: Prince of Thieves (1991), in which he played Robin's sidekick, and Clint Eastwood's revisionist Western Unforgiven (1992). In 1993, Freeman demonstrated his skills on the other side of the camera, making his directorial debut with Bopha!, the story of a South African cop alienated from his son by apartheid. The following year, the actor received a third Oscar nomination as an aged lifer in the prison drama The Shawshank Redemption. He went on to do steady work throughout the rest of the decade, turning in memorable performances in films like Seven (1995), in which he played a world-weary detective; Amistad (1997), which featured him as a former slave; Kiss the Girls (1997), a thriller in which he played a police detective; and Deep Impact, a 1998 blockbuster that cast Freeman as the President of the United States. Following an appearance opposite Renee Zellweger in director Neil LaBute's Nurse Betty, Freeman would return to the role of detective Alex Cross in the Kiss the Girls sequel Along Came a Spider (2001). Freeman continued to keep a high profile moving into the new millennium with roles in such thrillers as The Sum of All Fears (2002) and Stephen King's Dreamcatcher, and the popular actor would average at least two films per year through 2004. 2003's Jim Carrey vehicle Bruce Almighty cast Freeman as God (a tall role indeed, and one he inherited from both George Burns and Gene Hackman). The story finds the Supreme Being appearing on on Earth and giving Carrey temporary control over the universe - to outrageous comic effect.
By the time Freeman appeared opposite Hilary Swank and Clint Eastwood in Eastwood's acclaimed 2004 boxing drama Million Dollar Baby, his reputation as one of Hollywood's hardest-working, most-respected actors was cemented in place. When Freeman took home the Best Supporting Actor Oscar at the 77th Annual Academy Awards for his performance as the former boxer turned trainer who convinces his old friend to take a scrappy female fighter (Hilary Swank) under his wing, the award was considered overdue given Freeman's impressive body of work.
The Oscar reception lifted Freeman to further heights. In summer 2005, Freeman was involved in three of the biggest blockbusters of the year, including War of the Worlds, Batman Begins and March of the Penguins. He joined the cast of the first picture as the foreboding narrator who tells of the destruction wrought by aliens upon the Earth. The Batman Begins role represented the first in a renewed franchise (the second being 2008's The Dark Knight), with the actor playing Lucius Fox, a technology expert who equips Bruce Wayne (Christian Bale) with his vast assemblage of gadgetry. Freeman also provided narration for the most unpredictable smash of the year, the nature documentary March of the Penguins.
That fall, Miramax's drama An Unfinished Life cast Freeman in a difficult role as Mitch, a bear attack victim reduced to near-paraplegia, living on a derelict western ranch. The picture was shelved it for two years; it arrived in cinemas practically stillborn, and many critics turned their noses up at it. After a brutal turn as a sociopathic mob boss in Paul McGuigan's Lucky Number Slevin (2006), Freeman reprised his turn as God in the 2007 Bruce Almighty sequel Evan Almighty; the high-budgeted picture flopped, but Freeman emerged unscathed. Versatile as ever, he then opted for a much different genre and tone with a key role in the same year's detective thriller Gone, Baby, Gone. As written and directed by Ben Affleck (and adapted from the novel by Dennis Lehane) the film wove the tale of two detectives searching for a missing four-year-old in Boston's underbelly. That same fall saw Freeman among the cast of the ensemble drama The Feast of Love, which received a blink-and-you-missed-it release.
He returned to the Batman franchise in
The Dark Knight
, a film that broke box-office records, in 2008. The following year Freeman reteamed with director Clint Eastwood for Invictus where he portrayed South African president Nelson Mandela. For his work in that inspirational sports drama, he earned a Golden Globe nod, as well as his fifth Academy Award nomination.
Freeman has worked on narrating small clips for global organizations, such as One Earth, whose goals include raising awareness of environmental issues. He has narrated the clip "Why Are We Here", which can be viewed on One Earth's website.
Freeman endorsed Barack Obama's candidacy for the United States presidential election, 2008, although he stated that he would not join Obama's campaign. He narrates for The Hall of Presidents with Barack Obama, who has been added to the exhibit. The Hall of Presidents re-opened on July 4, 2009 at Walt Disney World Resort in Orlando, Florida.
Freeman has donated money to the Mississippi Horse Park in Starkville, Mississippi. The Horse park is part of Mississippi State University. Freeman has several horses that he takes there.
Freeman was injured in an automobile accident near Ruleville, Mississippi, on the night of August 3, 2008. The vehicle in which he was traveling, a 1997 Nissan Maxima, left the highway and flipped over several times. He and a female passenger, Demaris Meyer, were rescued from the vehicle using the "Jaws of Life". Freeman was taken via medical helicopter to The Regional Medical Center (The Med) hospital in Memphis. Police ruled out alcohol as a factor in the crash. Freeman was coherent following the crash, as he joked to a photographer about taking his picture at the scene. He broke his shoulder, arm and elbow in the crash and had surgery on August 5, 2008. Doctors operated for four hours to repair nerve damage in his shoulder and arm. His publicist announced he was expected to make a full recovery. Meyer, his passenger, has sued him for negligence, claiming that he was drinking the night of the accident. She has denied reports that they were romantically involved.
In July 2009 Freeman was one of the presenters at the 46664 concert (celebrating Nelson Mandela's birthday) at Radio City Music Hall, NYC.
Freeman was the first American to record a par on Legend Golf & Safari Resort's Extreme 19th hole.
Filmography
1980 Brubaker
1981 -Eyewitness
1984
-Teachers
-Harry & Son
1985
-Marie
-That Was Then... This Is Now
1987 -Street Smart
1988 -Clean and Sober
1989
- Glory
-Driving Miss Daisy
-Lean on Me
-Johnny Handsome
1990
- The Bonfire of the Vanities
-The Civil War
1991 Robin Hood: Prince of Thieves
1992
- Unforgiven
-The Power of One
1993 Bopha!
1994 The Shawshank Redemption
1995
- Outbreak
- Se7en
1996
- Chain Reaction
- Moll Flanders
- Cosmic Voyage
1997
- Amistad
- Kiss The Girls
1998
- Deep Impact
- Hard Rain
2000
- Nurse Betty
- Under Suspicion
2001 Along Came a Spider
2002
- The Sum of All Fears
- High Crimes
2003
- Bruce Almighty
- Dreamcatcher
- Levity
- Drug War
2004
- Million Dollar Baby
-The Hunting of the President
- The Big Bounce
2005
- An Unfinished Life
-War of the Worlds
March of the Penguins
- Batman Begins
- Unleashed
2006
- Edison Force
-The Contract
- Lucky Number Slevin
- 10 Items or Less
2007
- Evan Almighty
- Feast of Love
- Gone, Baby, Gone
- The Bucket List
2008
- Wanted
- The Love Guru
- The Dark Knight
2009
- Prom Night in Mississippi
- Thick as Thieves
- The Maiden Heist
- The Code
- Invictus
2010 Red
Read more
Latest headlines