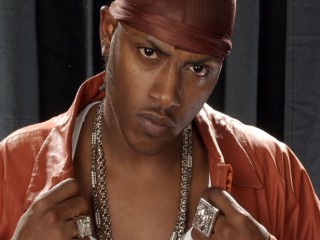 Mystikal biography
Date of birth : 1970-09-22
Date of death : -
Birthplace : New Orleans, Louisiana, U.S.
Nationality : American
Category : Arts and Entertainment
Last modified : 2012-01-04
Credited as : Rapper, Actor, Tarantula
Michael Lawrence Tyler, better known by his stage name Mystikal, is an American rapper, and actor from New Orleans.
In truth, Mystical does not technically rap. "He howls, he bellows, he barbarically yawps himself raw, all at a volume and velocity as unrelenting as any hardcore punk or metal outfit," wrote Mark Binelli in Rolling Stone. Yet Mystikal's talents lie far beyond his original style of rapping. By the late-1990s, the United States Army veteran who saw action as a combat engineer in the Gulf War (also known as Operation Desert Storm) cemented his reputation as one of the most promising MCs in rap music, supporting his blasting delivery with witty lyrics and a crafty flow. "Mystikal's appeal rests in his unyielding vocal intensity, his ability to maintain his scream-like delivery at any speed, his vivid imagery and his utilization of self-created sound effects to accentuate his point," noted Soren Baker of the Los Angeles Times. "To the uninitiated, he may come off as a Busta Rhymes imposter, but Mystikal is one of rap's most gifted and distinctive artists."
Although he catapulted to stardom with Master P's No Limit Records, Mystikal had already established himself as a rising star long before millions of hip-hop fans purchased his first 1997 album for the label entitled Unpredictable. His independent, self-titled debut, as well as the reissued version The Mind of Mystikal, both released in 1995, sold more than 500,000 units collectively. And after copies of Unpredictable flew off record store shelves, Mystikal's star continued to shine on 1999's Ghetto Fabulous, the rapper's third outing. Winning stellar reviews for its broad thematic scope--most No Limits artists dedicate their work primarily to gangster topics--Ghetto Fabulous, like his prior records, stood apart from other hardcore rap albums. Here, Mystical delivered a touching tribute to his mother, as well as stories from his childhood and high school days. "Mystikal is one of the few artists who sound fresh and exciting with each listen," concluded Baker, "regardless of topic."
Mystical was born Michael Tyler in New Orleans, Louisiana, a city rich in musical tradition. Growing up in New Orleans "gives you a different rhythm, since it's a different style of music," he told Binelli, but the southern town also held other advantages as well. "New Orleans is different from everywhere," he explained to Charlie Braxton in an interview for XXL. "We didn't have gangs like in California, so you didn't have to worry about all that. It was kinda like the Cosby Show without all the money. I was around the poverty and everything, but my mom kept all that away from me. She didn't let me know how poor we were. I never did feel that."
Nonetheless, Mystikal did spend his childhood in one of the most impoverished and violent communities in New Orleans, the city's uptown area known as the 12th Ward. Many young African Americans in the neighborhood fell into selling drugs to make money, but Mystical was fortunate. His mother Marie Tyler, a single parent, along with a large extended family, showered Mystikal and his two siblings--older sister Michelle and younger brother Maurice--with love and affection, encouraging the children to excel in school, attend church regularly, and stay away from crime.
Developed Own Rapping Style
Although he had been rapping as a casual hobby for a long time, Mystical learned about the competence one needs to rap in high school, when a more competitive rapper challenged him in the hallway one day. When the other student showed him up, Mystikal realized that an important element to the art of rapping, in addition to knowing how to tell a story, included knowing how to boast for attention. Soon thereafter, Mystikal began overwhelming the other MCs in his neighborhood with his rhymes. "I wanted to get a certain reaction.... If you laugh, that's like a 'whoooo' to me because I done said something hard. That's why I evolved into such a live performer," Mystikal stated for Jive Records. "To every word there was an action for it. After watching so many plain rappers, then watching good rappers, then putting my whole interpretation into the whole situation, that's what my style came out to."
Despite his lyrical talent, Mystikal first earned a name for himself around New Orleans not for rapping, but for breaking with a group called the Converse Crew. Through dancing, however, Mystical eventually hooked up with Beats By the Pound producer KLC, who would later serve as an important figure in his rap career. When the popularity of dancing started to fade, Mystikal, like other southern hip-hop artists, turned to other areas of the culture such as rapping and producing in order to express themselves. In New Orleans, KLC stood at the forefront of rap as producer and DJ of a local group called the 3-9 Posse. Recognizing Mystikal's unique style, KLC brought the young rapper into the studio and recorded and produced some of his early demo tapes.
However, after graduating from Cohen High School and trying to supplement his artistic pursuits with a series of odd jobs, Mystikal decided to put his rap career on hold and enlisted in the United States Army. During his time with the military, he served in the Gulf War and kept up with the New Orleans rap scene by visiting his home whenever possible. When he completed his service with the Army, Mystikal returned to New Orleans, where local groups and labels were starting to receive national attention. To Mystikal, it looked as if his former hobby could turn into a full-time career, and he immediately called upon KLC for help.
The producer, though busy working with several other hip-hop acts, nevertheless welcomed Mystikal back into the fold. KLC promised to produce an album for the hopeful rapper after the release of records for 3-9 Posse and Lil' Slim--now known as Soulja Slim. But an impatient Mystikal, while waiting his turn, signed with another local label called Big Boy Records. In early-1995, he arrived with his self-titled debut, but local acceptance alluded the young rapper. At the time, a new homegrown style of hip-hop music called Bounce had taken over the New Orleans scene. "I had to compete with the Bounce artist [popularity] that was going on in New Orleans," he told Braxton. "I love Bounce. I definitely love it. But it was just frustrating trying to get people to listen to me. I knew if I could please New Orleans' fans, it was on."
Success and Tragedy
Soon, local audiences did take notice of Mystikal, and their support helped land the rapper a distribution deal with New York's Jive Records, who reissued his debut, plus a few extra tracks, as The Mind of Mystikal in February of 1995. The album sold more than 500,000 copies and earned radio play nationwide, but Mystikal found himself in financial trouble. Adding to his frustrations, Mystikal was in the midst of dealing with the loss of his sister Michelle to domestic violence. Michelle, who had seen her brother through his struggling years, was killed in 1994 by her boyfriend Damion Neville, the grandson of Neville Brothers mainstay Charles. "Losing my sister in '94, that changed my whole perspective," Mystikal recalled to Braxton. "We grew up spiritual with a strong Baptist background. My family was tight. Then all of a sudden, that happened. September 22, 1994--losing my sister--that was my birthday present. Happy birthday to me."
Although left with a deep emotional and psychological scar after Michelle's death, Mystikal nonetheless pushed on with his rap career. Fortunately, his debut caught the attention of fellow rap artist Master P (born Percy Miller), the CEO of No Limit Records. Besides rap music, Mystikal had another connection with the No Limits chief. Master P, too, had lost a sibling, younger brother Kevin, who died in a drug-related murder. Thus, with Mystikal's first album for No Limits entitled Unpredictable, Master P encouraged him to explore his feeling surrounding the tragedy. The album, released in 1997, contained a tribute to his sister, "Shine," as well as a song addressed to Damion Neville called "Murderer 2."
In 1999, Mystikal returned with Ghetto Fabulous, produced by No Limit's production team known as Beats by the Pound, and featuring guest appearances by No Limit artists as well as Busta Rhymes and Naughty By Nature, two of the rapper's personal influences. In early-2000, Mystikal, reunited with KLC at the producer's spacious home studio to start work on his next album, Let's Get Ready to Rumble, expected for release later in the year. Now a successful rap star with financial security, Mystikal lives in a large home in New Orleans in an exclusive gated community. The humble, religious rap artist credits God, rather than himself, for all his accomplishments him. "My talent is spiritual," he cried as he looked toward the sky, as quoted by Braxton. "It's not just me putting words together. This is a gift."
Mystikal's most recent solo release was the 2001 album Tarantula, which contained the hit single, "Bouncin' Back (Bumpin' Me Against The Wall)". Though it presented Mystikal's typical and unique flow style, the song also saw a blending of jazz and swing elements with hip-hop. The well received album was nominated for a Grammy Award for Best Rap Album in 2003, and Mystikal was nominated for a Grammy Award for Best Male Rap Solo Performance that same year.
In an interview in May 2010, he stated that he was still obligated to Jive Records for one more album and alluded to the fact that he would be taking the necessary time to ensure the album would be his best to date. He also stated that he had not come up with a name for the album, but stated that he was considering The Big Shake Back.
Studio albums:
-Mind of Mystikal (1995)
-Unpredictable (1997)
-Ghetto Fabulous (1998)
-Let's Get Ready (2000)
-Tarantula (2001)
Read more
Latest headlines