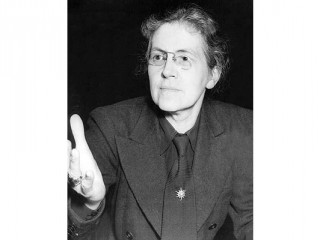 Nadia Boulanger biography
Date of birth : 1887-09-16
Date of death : 1979-10-22
Birthplace : Paris, France
Nationality : French
Category : Famous Figures
Last modified : 2011-11-29
Credited as : classical composer, conductor, Paris Conservatoire
One of the major influences on modern classical music was the strong-willed French music teacher, Nadia Boulanger. She began her career as a composer, but gave it up at the age of 33 to devote her time to teaching. Her students included more than 1,200 musicians, including Aaron Copland, Virgil Thompson, and Walter Piston.
Juliette Nadia Boulanger was born on September 16, 1887 in the famed Paris neighborhood of Montmartre to a Russian mother, Raissa Myschetsky Shuvalov, and French father, Ernest Boulanger. The couple had four daughters, two of whom died in infancy. Nadia, as she was called, was the second daughter. Her surviving sister, Marie Juliette (known as Lili), was born in 1893.
Music was in Boulanger's blood. Her father was a composer, conductor, and professor at the Paris Conservatory. Her mother had taken voice lessons at the Conservatory after seeing Ernest perform in St. Petersburg. Among their acquaintances were Gounod, Massenet, Saint-Saens, and Tchaikovsky.
As a child, Boulanger was initially repelled by music, but gradually became more interested. Her father retired from the Conservatory in 1895 and devoted himself to teaching his daughter. In 1886, Boulanger began studying solfege (sight reading, singing and application of the sol-fa syllables in relation to the musical scale and melody) at the Conservatory as well as organ and composition under Louis Vierne. Under her mother's ever-watchful eye, Boulanger devoted all her energy to her musical studies and, in 1897, was awarded a first prize in solfége. Raissa not only maintained stern discipline, she also taught her daughters to strive for perfection. In 1898, Boulanger studied harmony at the Conservatory under Auguste Chapuis.
Her father's death in 1900 only encouraged Boulanger to devote more energy to her musical studies. That fall she studied accompaniment with Paul Vidal and, in 1901, enrolled in a composition class taught by the renowned composer, Gabriel Faure. She took a second prize in harmony at the Conservatory in 1901 and, the following year, studied organ with Alexandre Guilmant. By 1903 she was sitting in as Faure's substitute organist. Boulanger was also awarded the first prize in harmony.
In 1904, not yet 17 years of age, Boulanger took first prize in organ, piano accompaniment, fugue, and composition. A few days before the awards ceremony she had earned her first money as a professional musician, playing the organ for the primary class presentation at the Trocadero Palace with the president of the French Republic in the audience.
Boulanger was helped by the celebrated pianist, Raoul Pugno. By 1905, she was giving lessons herself and Pugno (among others) began directing students to her. Boulanger also continued her performing career (in Paris) as soloist and accompanist. She performed with Pugno and they later collaborated on compositions. Despite her success, Boulanger also met with some disappointment during this period, failing in 1906 and 1907 to win first prize for composition in the Prix de Rome competition. At that time no woman had ever been awarded first prize.
Boulanger returned to competition in 1908 and caused a controversy that nearly eliminated her from the finals. She composed a fugue for string quartet rather than for singers as was required; it was titled La Sirene. There is little doubt that this controversy combined with her gender held her back from winning the first prize once again. Instead, she was had to accept a second prize. The next few years were marked by hard work as a composer. Among her works at this time, Boulanger collaborated with Pugno on the music for La Ville morte, by Gabriele d'Annunzio. She was also introduced to Stravinsky.
Boulanger experienced both triumph and disappointment as a teacher of music. Her prize pupil was her sister, Lili. In 1910 Lili decided to concentrate on composing. When it came to composition, Lili was more talented than her older sister. Many critics considered her to have been a genius. She began studying at the Conservatory in 1912 and, the following year, became the first woman to capture first prize for composition in the Prix de Rome competition. She was nineteen years old and had been studying composition for only three years.
Boulanger went on tour with Pugno in 1913, traveling to Berlin and Moscow. Pugno was too ill to perform and a desperate request was sent to Sergei Rachmaninov to take his place. The request went unheeded and the concert had to be canceled. Pugno died 11 days later, leaving Boulanger temporarily adrift.
The death of her sister Lili, five years later, had an even more profound effect. Besides her teaching and performing, Boulanger would devote the rest of her life to promoting Lili's memory and work. "She was so superior morally and spiritually, so pure ….She became an example for me;" Boulanger said, as quoted by Jerome Spycket in Nadia Boulanger.
The next important person in Boulanger's life was Walter Damrosch, head of the New York Symphony Orchestra, who came to France in July 1918 to conduct a benefit concert for the Red Cross. Boulanger was the organist for this concert. A year earlier, Damrosch had created the American Friends of Musicians in France, which became allied with an organization Boulanger had cofounded, the Comite franco-americain du Conservatoire. Damrosch and Boulanger became immediate friends and Damrosch suggested that she visit the United States. However, that trip was delayed for many years.
The Ecole normale de musique was founded in 1919. Boulanger was a member of the faculty and taught harmony, counterpoint, organ, and composition. She was the first woman to teach composition at a Paris conservatory. Despite this accomplishment and the fact that she was on the board of the prestigious Societe Musicale Independente, Boulanger was rebuffed in her bid to win a professorship at the more prestigious national conservatory.
The Franco-American Conservatory, known also as the Ecole de Fontainebleu, opened on June 26, 1921, with Damrosch, Saint-Saens, and Boulanger in attendance. Boulanger taught harmony and her name appeared second on the faculty list. One of her first students at Fontainebleu was Aaron Copland.
Boulanger's teaching philosophy had been developed. In 1920, she wrote in Le Monde musical, "My goal is to awaken my students' curiosity, and then to show them how to satisfy that curiosity. I want to make it clear that their dedication to music must come first, before their dedication to their own careers. My personal opinion is not what matters: it has no importance whatsoever." It was during this period that Boulanger decided to give up composing and concentrate on teaching and performing. She was quoted by Spycket as having explained: "My music wasn't good enough to be beautiful, nor bad enough to be amusing."
Boulanger's first trip to America during the 1924-25 concert season, was arranged by Damrosch. Between January 9 and February 25, 1925, Boulanger gave 26 concerts and numerous lectures. The trip was a major success, generating job offers (which she turned down because of her mother's failing health) as well as important contacts.
In the intervening years Boulanger cemented her international reputation as a teacher—her students became known as the "Boulangerie." They included Virgil Thomson, Walter Piston, Roy Harris, and Elliot Carter. It was Boulanger who advised Astor Piazzola, later the Argentinian tango king, to give up symphonic music and concentrate on the tango. And it was Boulanger who, in 1928, rejected as a student one of America's most important composers, George Gershwin. "What could I give you that you haven't already got?" she asked him. Earlier Boulanger's friend, Maurice Ravel, had come to the same conclusion. Also during this time she cultivated the friendship of Princess de Polignac (born Winaretta Singer), Stravinsky's patron. When the flow of American students to Ecole de Fontainebleu slowed down after the 1929 stock market crash, Boulanger devoted more time to friends of the princess. In 1936, the princess arranged for Boulanger to have the honor of being the first woman to conduct London's Royal Philharmonic Orchestra. In 1937, she recorded the Monteverdi madrigals with a choral group that included Hughes Cuenod. The group also accompanied her on her second trip to America. Alan Kendall wrote in The Tender Tyrant, "The 1937 recording of the Monteverdi is one of the landmarks in the history of recording, and also in the history of Monteverdi's rediscovery."
Boulanger sailed for America in January 1938, where she once again thrilled an eager public, performing in 40 concerts and delivering 60 lectures between February and May. The crowning achievement of the 1938 tour came when Boulanger took the baton from Serge Koussevitsky and became the first woman to conduct the Boston Symphony Orchestra.
On her third trip to the United States on February 11, 1939, Boulanger conducted the New York Philharmonic in Carnegie Hall. On that same tour, she conducted the Philadelphia Orchestra and in March established the Lili Boulanger Memorial Fund in Boston. The following year, after the surrender of France to Nazi Germany, Boulanger made her way across Spain and Portugal and eventually took passage on an American liner. Coincidentally, Ignacy Jan Paderewski was on the same ship. She arrived on December 6, 1940 and stayed in the U.S. until January 3, 1946. She kept busy with performances and teaching—at Wellesley, Radcliffe, and the Julliard School. Toward the end of her stay in America, she received the news that she had been appointed to the faculty of the Conservatory, without even applying.
In the summer of 1946, the Ecole de Fontainebleu, which had been closed during the war, partially reopened. In addition to her duties there and at the Conservatory, she gave private lessons and maintained her famous Wednesday sessions at her apartment on rue Ballu. In 1950, Boulanger was named director of the Music School at Fontainebleu. Three years later, she became head of the entire school. Boulanger remained its director for the rest of her life.
Boulanger's reputation continued to grow over the next two decades, with praise from her former pupils, who had gone on to achieve fame in their own right. Yet Boulanger was always interested in cultivating new talent. Leonard Bernstein paid tribute to her. She also championed Pierre Boulez; she and Stravinsky exchanged letters concerning his career. In 1958, she made another tour of the United States. There would be no piano or organ playing as arthritis had forced her to discontinue public performances four years earlier, but she lectured, conducted, and taught in various East Coast universities. Before her death, Boulanger made two more trips to the United States. In 1962, at Leonard Bernstein's request, she conducted the New York Philharmonic in four sold-out performances. In 1964, she visited the United States briefly for the last time.
Boulanger also taught at Yehudi Menuhin's school in Surrey, England. Indeed, from 1960 to 1976 she made more than 30 trips to Britain, teaching also at the Royal Academy of Music and the Royal College of Music, as well as conducting. After 1976, however, she ventured from Paris only to Fontainebleu.
Boulanger had been awarded the Legion of Honor as far back as 1932, and on February 9, 1977, President Valery Giscard d'Estaing made her a Grand Officer of the Legion of Honor. For the next two and one-half years her health deteriorated. In the final months of her life, too frail to teach, her students at Fontainebleu consoled her by singing Schubert, Schumann, and Mozart. Leonard Bernstein visited her on her ninety-second birthday. On October 5 she was transported by ambulance back to Paris where she died on October 22, 1979. A newspaper headline announcing her death simply read: "Mademoiselle is no more."
Read more
Latest headlines