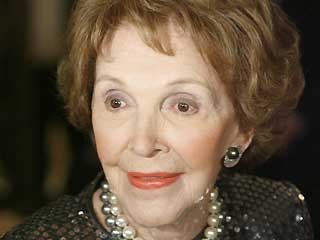 Nancy Reagan biography
Date of birth : 1921-07-06
Date of death : -
Birthplace : New York City, New York, U.S.
Nationality : American
Category : Famous Figures
Last modified : 2010-07-06
Credited as : Actress, First Lady of the United States,
Nancy Reagan
(also known as:
Anne Francis Robbins, Nancy Davis Reagan, Anne Frances Robbins
) born July 6, 1921 in New York, New York, United States is an American actress and former first lady.
First Lady Nancy Reagan
has been lauded for her elegance, grace under pressure, "Just Say No" antidrug campaign, and selfless devotion to her husband. Reagan came into the national spotlight as the wife of Ronald Reagan during his governorship of the state of California and his subsequent ascension to the presidency in 1980 and has remained in the public eye ever since. Beginning in 1994, when the former president was diagnosed with Alzheimer's disease, Reagan dedicated herself almost exclusively to her husband's care until his death in 2004.
Born
Anne Frances Robbins
on July 6, 1921, in New York City, Reagan was known as "Nancy" from an early age. Her mother, Edith "Lucky" Luckett, was an actress, and her father was Kenneth Robbins, scion of a well-to-do New England family that had fallen on hard times. Despite being a Princeton graduate, Robbins "wasn't very ambitious," as Reagan noted in her autobiography My Turn, and he earned a living working as a car salesman. The Luckett-Robbins marriage was shaky at best, and after Reagan's birth the couple separated and divorced.
Childhood Unstable until Teen Years
Now a solo parent, Luckett tried for two years to keep her daughter with her, taking the toddler from job to job and theater to theater. Within two years, however, the actress realized that the child needed a more settled environment. She sent Reagan to live with her sister, Virginia Galbraith, and her sister's husband, in Bethesda, Maryland. Although it was "a warm, stable, and happy household ... and I was treated with great love" as Reagan later recalled, it was still "a painful period" and young Reagan missed her own mother.
In 1929 Luckett married Loyal Davis, a prominent and successful Chicago neurosurgeon. Davis adopted his wife's 16-year-old daughter, and Reagan quickly accepted him as her father. As Mrs. Davis, Luckett abandoned her peripatetic acting career after remarrying, although she continued to work in radio soap operas and maintained frequent contact with her many theater friends. Spencer Tracy, Mary Martin, and Walter Huston, who were frequent guests at the Davis home, proved to be invaluable to Reagan later in her career, and also became lifelong friends.
Reagan was fascinated by her mother's profession from a very early age. "I loved to dress up in her stage clothes, put on makeup, and pretend I was playing her parts," she wrote in her memoir. "I can't remember a time when I wasn't interested in the theater, and in school my main interest was drama. . . . I acted in all the school plays." As a student at Massachusetts' Smith College, she majored in English and theater; she not only acted in several campus plays, but spent her summers as a summer-stock apprentice.
As Nancy Davis, Reagan earned her first professional role in a touring production of Ramshackle Inn. She joined the cast in Detroit and traveled with them until the show came to New York, where she decided to remain. A few months later she landed a role in Lute Song, starring Yul Brynner and family friend Mary Martin, which would be her only Broadway appearance. Reagan got a few bit parts in theater and on television before going under contract to Metro-Goldwyn-Mayer in 1949. This same year she met Ronald Reagan, a Warner Brothers actor and president of the Screen Actors Guild, the man who would become her future husband.
Met Ronald Reagan
The couple's first meeting came about during the filming of East Side, West Side, when Nancy found her name published on a newspaper list of purported communist sympathizers. "In those days I didn't know much about politics, but I knew that my name did not belong on that list," she recalled in her memoir. So she consulted the politically active Reagan to discuss how best to counter the accusation. Reagan, who had married his first wife, actress Jane Wyman, in 1940 was by now divorced, met Nancy for dinner. "I don't know if it was exactly love at first sight," Reagan later recalled, "but it was pretty close.
Nancy Reagan made 12 films in all but ended her acting career shortly after marriage. The Reagans were married, without family present, on March 4, 1952, and their first child, Patti, was born that October. Although Reagan had decided not to work after becoming a mother, her husband's career had stalled and they needed an income. She made her four last films between 1953 and 1958, among them Hellcats of the Navy, a 1957 film that features Nancy and Ronald Reagan as costars. After their second child, Ronald, Junior, was born in 1958, Reagan retired from the movies for good.
In 1954 Ronald Reagan became the host of television's General Electric Theatre, a position he held until 1962. His passion for politics, always evident, was increasingly becoming the focus of his attention and his aspiration to hold public office was apparent. He made his political debut in a 1964 fund-raising speech for the presidential campaign of Senator Barry Goldwater; it raised over a million dollars for the Republican Party and put Ronald Reagan at the forefront of the conservative movement. After he announced his candidacy for the California governorship in 1966, he left his role as host of television's popular Death Valley Days, after joining the series in 1964.
Propelled into Role of First Lady
When Ronald Reagan was elected governor of California in 1966, he and his family moved to Sacramento. Unfortunately, the governor's mansion made his wife shudder: "that house was so depressing that I just couldn't stand the thought of living there," she recalled in My Turn. "It was a tinderbox," Reagan added, "its wooden frame eaten through by dry rot." The Reagans chose instead to lease a house in the suburbs from friends, hoping for a home where their children could have a more normal childhood. This choice, unfortunately, was not positive in terms of Reagan's public image. A People contributor noted that the decision made Nancy seem "imperious" to many.
In her role as First Lady of California, Reagan helped oversee the construction of a new governor's mansion, one that would be occupied by their successors. To furnish it, she collected donated furniture and household items. Although she never used the donated furniture, which was placed in storage until construction was complete, Reagan was accused by members of the California state legislature of acquiring items for her own use. "I got so mad that I decided to hold my first press conference," Reagan explained in her memoir. "I answered all questions about the donated furniture . . . anything anyone wanted to ask." Reagan would face similar charges as first lady nearly 20 years later.
Less controversially, Reagan also became involved with Foster Grandparents, a program started by Kennedy brother-in-law and Peace Corps founding director Sargent Shriver. Her efforts helped bring Foster Grandparents branches to all California state hospitals, and the organization went on to take root in other states as well. She also worked with veterans organizations and prisoners of war (POW's), a sensitive topic during the Vietnam era. She organized four state dinners for returning California POW's, calling them "the high point of Ronnie's administration." In 1982 Reagan wrote about the program in To Love a Child, a book coauthored with Jane Wilkie; all proceeds were donated to the Foster Grandparents organization.
Life in the Political Fishbowl
As first lady of California, Reagan got her first taste of life in the fishbowl of American politics, even receiving death threats. Although she had realized life would change when the family moved to Sacramento, she could not have imagined the degree to which both she and her husband would come under scrutiny, both by the press corps and by political opponents. Reagan's sensitivity to criticism was already high, and it only increased during her years as a public person.
After Ronald Reagan won the presidency in 1981, the glare of public scrutiny fell on his wife even more heavily. As she noted in her autobiography, "Virtually everything I did during that first year was misunderstood and ridiculed. . . . While I loved being first lady, my eight years with that title were the most difficult years of my life."
When the Reagans moved in to the White House, Reagan found that, while not a firetrap like the California governor's mansion, the presidential residence was also in dire need of repair and renovation: "Some of the bedrooms on the third floor hadn't been painted in fifteen or twenty years!" she recalled in My Turn. "The floors hadn't been touched in ages. There were cracks in the walls. The long, wide Center Hall, which runs the entire length of the second floor, was virtually empty."
Reagan and her husband raised private funds to accomplish the needed restoration while declining the $50,000 usually offered by Congress for this purpose. Unfortunately, Reagan wrote, the press "made it look as if the donors were some kind of exclusive, wealthy club, and it wasn't that way at all." The renovations at 1600 Pennsylvania Avenue were just the tip of the iceberg, however. A flap over Reagan's negotiated donation of new china for state dinners--"a symbol of my supposed extravagance," she wrote--was soon overshadowed by criticism over her growing collection of designer gowns, most of which were donated by couturiers. More serious still was the accusation, made by ousted Presidential chief-of-staff Don Regan, that the first lady frequently consulted an astrologer and organized the president's schedule according to his horoscope. In an interview with Time magazine, Regan charged that Reagan's meddling "began to interfere with the normal conduct of the presidency." In My Turn the former first lady admitted that she had become increasingly reliant on astrological predictions following an attempt on her husband's life in 1981 during which a bullet missed President Reagan's heart by only inches. In her own defense Reagan explained that she influenced the timing of Reagan's schedule, but never his policies. "I knew it might not be the smartest thing to do, but given my temperament, it was a lot better than just sitting there. If I hadn't taken every step I could think of to protect my husband . . . I would never have been able to forgive myself."
Advocate of Drug Prohibition
As first lady, Reagan sponsored the "Just Say No" crusade against drug abuse, a problem about which she became deeply aware during her husband's first presidential campaign, when she visited the Daytop Village treatment center in New York. During her eight years in the White House, Reagan visited over 60 cities in 33 states, as well as nine foreign countries as part of the "Just Say No" campaign. She made television, radio, and personal appearances and urged parents to become aware of the stresses that lead children to drugs. In 1985 Reagan held a conference at the White House to focus international attention on the problem: First ladies from 17 nations attended.
A popular president, Ronald Reagan easily won reelection in 1984, and by the end of his second term his wife had become inured to the slings and arrows hurled by press and public. "No matter what I said or did, the stories never stopped," she recalled, going on to add: "Over eight years, I never stopped being hurt, although eventually I stopped being very surprised." Public sympathy turned wholly in her favor in October of 1987, when the 66-year-old first lady learned she had breast cancer. Fortunately, Reagan's surgery was successful, and her ordeal raised awareness of the disease for many American women. "The important thing is that every woman should have an annual mammogram," Reagan wrote in My Turn. That's the message I want to get out." Tragically, during the same month she was battling cancer, Reagan's mother passed away.
Continued Dedication to Husband
By the end of 1989, as President Reagan prepared to leave office, the Reagans planned to move into a new home outside Los Angeles, California. There the first lady hoped to enjoy retirement, away from public scrutiny and surrounded by family and friends. However, crises continued to erupt. The home they planned to move into was purchased for them, causing a Time reporter to quip that "the President and the First Lady have a history of accepting such benefits." Meanwhile, Reagan's habit of "borrowing" designer clothes came under renewed scrutiny when the Internal Revenue Service concluded that $3 million in clothing acquired during her husband's presidency had not been reported as income.
In 1994 Ronald Reagan disclosed to the American public that he had been diagnosed with Alzheimer's disease, a progressive condition that would result in continuing mental and physical deterioration and for which there was no known cure. As his condition worsened, his wife took upon herself the increasing attention to his care, rarely leaving his side. In 1989 she had published My Turn: The Memoirs of Nancy Reagan, with William Novak following up an earlier biography, Nancy, published in 1980 and cowritten with professional biographer Bill Libby. In 2000 Reagan compiled I Love You, Ronnie: The Letters of Ronald Reagan to Nancy Reagan," a testament to the affection she continued to hold for her husband of many years.
In 2002 Nancy and Ronald Reagan were awarded the Congressional Gold Medal in recognition of their service to the United States. This joint honor was deserved by the former first lady, noted longtime Reagan aide Martin Anderson in congressional testimony transcribed and posted on NewsMax.com, because Nancy Reagan was President Reagan's "trusted counselor, someone with superb judgment on policy and people, a rock of support, a loving wife. She was by his side--on the plane and in the hotel rooms on the campaign trail and every single day in the White House." Reagan was awarded the Presidential Medal of Freedom in July of that year by President George W. Bush. The award was given, according to the White House Web site, for her devotion "to her family and her country."
In 2003 controversy arose surrounding a miniseries CBS had planned on airing about the Reagans. Conservatives started a boycott of the miniseries claming it was biased and untruthful. CBS canceled the airing of the miniseries and gave the series to Showtime. CBS claimed that the decision was not based on the controversy about the series, but that it was not happy with the final product.
In 2004 Reagan was honored with a tribute from the Juvenile Diabetes Research Foundation (JDFR) for her endorsement of stem cell research. Reagan believes such research could provide a cure for diseases such as Alzheimer's.
On June 5, 2004, at the age of 93 Ronald Reagan lost his battle with Alzheimer's. He died that afternoon in his Bel Air home in Los Angeles, California, surrounded by Nancy and their two children. Six days of national mourning ensued. Reagan was hailed for her fierce dedication to her husband throughout their life together and, in particular, for her unfaltering devotion to his care during the decade he suffered with Alzheimer's.
AWARDS
Congressional Gold Medal, 2002; Presidential Medal of Freedom, 2002.
Read more
Latest headlines