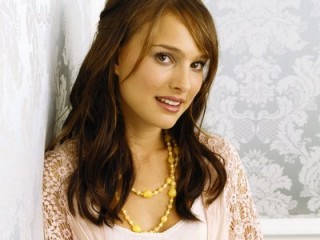 Natalie Portman biography
Date of birth : 1981-06-09
Date of death : -
Birthplace : Jerusalem, Israel
Nationality : Israeli-American
Category : Arts and Entertainment
Last modified : 2010-05-25
Credited as : Actress, V for Vendetta, Black Swan 2010
Hailed as a child prodigy for her uncommonly skilled performances in Luc Besson's
"The Professional" (1994)
and Michael Mann's
"Heat" (1995)
, Natalie Portman dodged the "child star curse" bullet to become a major big screen draw in her twenties. Even as a teen, Portman's talent for portraying sensitive old souls reflected her own grounded, emotionally evolved persona, as well as her ability to plan her career and choose roles wisely. She offered a Golden Globe-nominated performance as the level-headed daughter of flighty single mom Susan Sarandon in
"Anywhere But Here" (1999)
, before transforming into a sci-fi pin-up as regal queen Padme Amidala in the
"Star Wars" prequel trilogy (1999, 2002, 2005).
Her foray into mega blockbuster territory – including
"V for Vendetta" (2006)
– proved Portman's screen appeal as an empowered, intelligent and irresistibly cute screen star. Throughout her career Portman maintained "acclaimed actress" status with a Golden Globe-winning turn in Mike Nichols'
"Closer" (2004)
and returned regularly to independent films like
"Garden State" (2004)
, where her charm, emotional accessibility and increasing dramatic range made her one of the most bankable young females on the big screen.
Born
Natalie Hershlag
in Jerusalem, Israel, on June 9, 1981, the only child and her family emigrated to the United States when she was still a toddler; first to Washington D.C. and Connecticut before settling on New York's Long Island. Portman loved dancing and singing lessons as a child, and was already dreaming of the Broadway stage when she was discovered at age 10 by a modeling scout at a local pizza place. When she expressed her interests in acting rather than modeling, she was put in touch with acting agents and began developing her dramatic skills at theater camps. In 1993, she landed her first professional acting job in an off-Broadway musical production. Less than a year later, the 11-year-old was on a plane to Paris to shoot her first feature film. Her star quality and a maturity beyond her age were already evident in Luc Besson's "The Professional" (1994), where she played an orphan apprenticed to a hit man (Jean Reno) who serves as her mentor, while she serves as his savior. The auspicious debut won Portman plenty of positive notices, even by those who found the characters' oddly matched (but platonic) relationship troubling.
The remarkably mature performer's follow-up was a supporting turn opposite Robert De Niro as the troubled stepdaughter of a career thief in "Heat" (1995), a blockbuster from Michael Mann. While hers was a smaller, less expository role than her debut, it nevertheless confirmed Portman's natural ability and unself-conscious ease onscreen, with the actress capably evincing her character's desperate dysfunction with limited dialogue and screen time. Proving her ability to balance a regular school schedule (where she earned straight-As) with a blossoming acting career, the following year Portman was afforded more screen time and used it well with her charming turn as a wise-beyond-her-years teen who forms a tender (and again, platonic) friendship with a conflicted thirty-something pianist (Timothy Hutton) in Ted Demme's "Beautiful Girls" (1996). Again, Portman's embodiment of a tough but sensitive old soul seemed to reflect the actress' own grounded maturity, a maturity in evidence with the thoughtful way in which she considered the impact of her many film offers on her future, politely declining an explicit remake of "Lolita" (1997) with Adrian Lyne, and passing on "The Ice Storm" (1997) as well.
Instead, Portman chose to work with filmmaking legend Woody Allen in his ensemble musical "Everyone Says I Love You" (1996), returning to Paris to shoot a storyline in which she played the daughter of wealthy Manhattanites Alan Alda and Goldie Hawn. The acclaimed film reportedly sparked the film star's first showbiz romance with co-star Lukas Haas, though the spotlight-shunning teen kept it well-hidden and steered the focus towards her next performance as the bright and collected daughter of a besieged United States president (Jack Nicholson) in Tim Burton's wacky "Mars Attacks!" (1996). The following year Portman declined a co-starring role as the daughter of rancher Kristin Scott Thomas in the Robert Redford-directed "The Horse Whisperer" (1997), a role that would mark the breakout of Scarlett Johansson. Instead, Portman opted for Broadway and "The Diary of Anne Frank," where she brought a refreshing humanism to the persecuted World War II Jewish teen as a somewhat disagreeable, silly and vain young girl – a far more interesting characterization than Frank's saintly reputation as history had created. Portman received positive notices for her Broadway debut, with critics noting her grace as well as her unfettered talent and youthful exuberance.
Meanwhile, Portman attempted to carry out a relatively normal life, commuting from Broadway to her Syosset, Long Island high school, where she wrote a scientific research paper that was entered into the Intel Science Talent Search competition. At age 14, Portman faced the biggest decision of her life up until that time when she was offered a 10-year, three-picture contract to star as Queen Amidala in the forthcoming "Star Wars" prequels. Aware that the films would place her squarely in the spotlight and forever alter her treasured private life; possibly compromising her desire to attend college or even how she might be pursued in Hollywood after a slightly campy long-term portrait, Portman was up for the challenge of evolving personally and professionally along with the character. At that time, it was a rare actor, indeed, who would have turned down an offer to star in the "Star Wars" prequels – perhaps the most highly anticipated films in the history of the medium. After several years of production – most of it acting in front of a green screen or talking to imaginary creatures – Portman hit the screen in "Star Wars: Episode I - The Phantom Menace" (1999), playing the wise and responsible teenaged leader and future mother of Luke Skywalker and Princess Leia. The film event marked the first "Star Wars" offering in over 16 years, and the hi-def landmark drew a staggering $900 million dollars at the box office, even as critics were lukewarm over the script and several of the performances. Portman opted to skip the film's Hollywood premiere to study for her final exams, but overall fared well in the over-hyped film's mixed reviews. In fact, compared to child star Jake Lloyd, the annoying, CGI'd creature Jar Jar Binks, and Lucas himself, Portman was probably the least scathed by the overall apathy of diehard "Star Wars" fans who were beyond disappointed in the prequels.
That same year, Portman starred opposite Susan Sarandon in the considerably smaller, character-based Wayne Wang film "Anywhere But Here" (1999), based on Mona Simpson's novel about a single mother and daughter who move from small town Michigan to Beverly Hills. Portman earned a Golden Globe nomination for her performance as the more mature, practical-minded of the pair. Despite the acclaim, she made the decision that fall to move her film career to the back burner in order to further her education at Harvard. Her final pre-college film, the off-beat romance "Where the Heart Is," hit theaters in the spring of 2000, earning Portman a YoungStar Award for Best Young Actress as well as nominations from the Young Artist and Teen Choice Awards for her portrayal of a pregnant teen who makes a new start far from home. The Harvard psychology student managed a stint on the New York stage alongside Meryl Streep and Philip Seymour Hoffman in Chekhov's "The Seagull" at the Public Theater, but was absent from theaters until "Star Wars Episode 2: Attack of the Clones" (2002). The second of three sequels found Portman's Senator Amidala the target of an assassination plot, and cast her opposite future father of her children – and, unfortunately, the future Darth Vader – Hayden Christensen, in a chemistry-impaired match that was not missed by critics nor even the most rudimentary moviegoers. Christensen's poorly written and delivered declarations of love and teen angst to Portman were painful for viewers to watch. Even Portman could not salvage any sense of reality in a world filled with computer-generated backgrounds and clunky writing. Like the previous outing, character and performance were secondary to visual effects, and this time that spelled fewer ticket sales by several hundred-million dollars.
Portman returned to earth in a supporting turn as a young Civil War widow and mother who has an encounter with a psychologically scarred soldier (Jude Law) in "Cold Mountain" (2003). From that well-received offering from filmmaker Anthony Minghella, the freshly minted Harvard grad went on to star in the writing and directing debut of sitcom actor Zach Braff, "Garden State" (2004). With this role, Portman finally put teen roles behind her and offered a vivacious, charming performance as an open-hearted young woman who helps an emotionally-stunted aspiring actor grieve his mother's death (Braff) and break out of his shell. The hip, fresh, mini-budget indie was a hit at Sundance, earned Best First Feature from the Independent Spirit Awards, and excellent box office receipts in over 30 countries. It also helped to revive Portman's acting reputation following the derided "Star Wars" films. Further announcing the girl was now a woman, was her off-screen relationship with Oscar-nominated Mexican actor, Gael Garcia Bernal.
Portman earned an Oscar nod of her own in addition to a Golden Globe win for Supporting Actress in Mike Nichols' oft-brutal battle-of-the-sexes, "Closer" (2004), in which she played a stripper who becomes involved in a messy, flip-flopping quadrangle involving a cheating boyfriend (Jude Law) and another couple (Julia Roberts and Clive Owen). In a much-buzzed-about incident, Portman allowed Nichols to film a brief nude scene with her character, but after finding the nudity distracting, Nichols replaced the scene with a more discreetly filmed version at her request. Returning to a galaxy far, far away in 2005, Portman provided tragic closure for the prequel trilogy in "Star Wars: Episode III - The Revenge of the Sith" (2005). The actress and her character were not particularly well served by George Lucas' script, but the film was the best received of the trilogy and topped that year's box office records. With her high profile contract in the high-profile films behind her, Portman returned her focus to independent films, with a starring role in "Free Zone" (2006) from Israeli director Amos Gitai and an appearance in German filmmaker Tom Twyker's contribution to the film collection, "Paris Je T'Aime" (2006).
Following a starring role as the model and muse of famous Spanish painter Francisco Goya (Javier Bardem) in Milos Forman's "Goya's Ghosts" (2006), a bald-headed Portman went mainstream again in the Wachowski brothers' comic book adaptation, "V for Vendetta" (2006). The dark political thriller was a box office hit, earning Portman a Best Actress honor from the Saturn Awards for her leading role as a heroic woman who plots to overthrow a totalitarian regime. The role also cemented her reputation – along with that of Queen Amidala in years past – as every sci-fi/comic geek's dream girl. Portman's follow-up appearance in Wong Kar-Wai's road dramedy "My Blueberry Nights" (2007) made little impact, while her teaming with Dustin Hoffman as the recipient of a magical toyshop in the family film "Mr. Magorium's Wonder Emporium" (2007) was an extravagant failure. Portman was singled out, however, for the depth she brought to her portrayal of Tudor royal Anne Boleyn in the costume drama "The Other Boleyn Girl" (2007), co-starring Scarlett Johansson and Eric Bana. Portman created her own production company, Handsome Charlie Films, and began building a resume as a producer with the short film "Eve" (2008), which debuted at the Venice Film Festival and starred Lauren Bacall and Olivia Thirlby.
She made her directorial debut with a segment in the film compilation
"New York, I Love You" (2009)
, also starring as a Hasidic diamond broker and bride-to-be in another segment directed by Mira Nair. Portman went on to serve as producer and co-star alongside Rainn Wilson and Joseph Gordon-Leavitt in the indie film "Hesher" (2009) before starring with Jake Gyllenhaal and Tobey Maguire in
"Brothers" (2009)
. Directed by Jim Sheridan, the drama was a remake of Scandinavian filmmaker Susanne Bier's film about the results of a soldier's wartime disappearance on the wife, children and brother he left behind. In 2010, Portman teamed with Mila Kunis to portray rival dancers in
"Black Swan" (2010)
, a supernatural thriller from Darren Aronofsky.
Read more
Natalie Portman Picture Gallery
Latest headlines