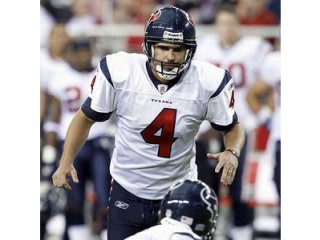 Neil Rackers biography
Date of birth : 1976-08-16
Date of death : -
Birthplace : Florissant, Missouri
Nationality : American
Category : Sports
Last modified : 2010-12-09
Credited as : Football player NFL, kicker for the Houston Texans, Pro Bowl/NFL Draft player
Neil Rackers is an American football placekicker for the
Houston Texans
of the National Football League.
Selected by the Cincinnati Bengals in the sixth round (169th overall) of the 2000 NFL Draft...released by Bengals on Sept. 1, 2003, in their final roster cut...signed by the Cardinals on Nov. 11, 2003...signed a four-year contract extension with Cardinals on Nov. 8, 2005...signed by the Houston Texans on April 7, 2010.
HONORS:
2005 Pro Bowler...2005 Associated Press first-team All-Pro.
PRO:
In 10 NFL seasons, has made 205 of 262 career field goal attempts (78.2 percent)...has converted 290 of 295 career extra points attempts (98.3 percent), giving him 905 total career points...set an NFL record for most field goals made in a season in 2005, when he went 40-of-42 (95.2 percent) with the Arizona Cardinals.
2009 (Arizona 14/0): Played in 14 regular season games and both postseason contests, missing two games with a right groin injury…his 94.1 FG percentage (16-17) was the best in the NFL (minimum 10 attempts) in 2009 and second-best in franchise history behind his own mark of .952, set in 2005 (40-42 FGs)…selected as an alternate for the Pro Bowl…connected on all three FG attempts in season opener vs. San Francisco (9/13)…connected on all four PATs at Jacksonville (9/20)…gave him 184 PATs in his Cardinals career to move past Neil O'Donoghue (181, 1980-85) for the second most in franchise history behind Jim Bakken (534 PATs from 1962-78)…connected on both FG attempts and recorded two touchbacks while converting a pooch kick that was recovered by Greg Toler at the Seattle 23-yard line in the first quarter at Seattle (10/18)…three plays later, Arizona scored to go up 14-0…connected on only FG attempt from 30 yards and recorded two touchbacks at New York Giants (10/25), marking his sixth straight game with at least one touchback…registered one special teams tackle vs. Carolina (11/1)…connected on both FG attempts and all five extra points (one shy of career-high) at Chicago (11/8)…tied season-high with two touchbacks and connected on 200th career FG vs. Seattle (11/15)…tied a season-high by making all three FG attempts vs. Minnesota (12/6)…surpassed 900 career points…despite battling a right groin injury, recorded his longest FG of the season (48 yards) and had only extra point attempt blocked at San Francisco (12/14)…connected on 12 consecutive FGs, the third-longest streak in franchise history…owns the three longest streaks in franchise history (31-2005, 15-2008)…inactive (right groin) at Detroit (12/20), which snapped a 69 consecutive games played streak and marked only the second game missed of his career (12/4/05 at San Francisco, calf injury)…inactive (right groin) vs. St. Louis (12/27), which marked first time in his career he was inactive for two straight games…in first game back, connected on only extra point attempt in the regular season finale vs. Green Bay (1/3/10)…set a postseason career-high with six PATs and tied postseason career-high with three touchbacks while connecting on 23-yard FG, but missed a 34-yard FG that would have won the game with seconds remaining in regulation vs. Green Bay (1/10/10)…connected on both PATs but missed only FG attempt from 50 yards at New Orleans (1/16/10).
2008 (Arizona 16/0): For the third year in a row and for the sixth time in his career, kicked in all 16 regular season games and all four postseason contests...connected on three of four FGs and two extra points in season opener at San Francisco (9/7), giving him 506 points for his Cardinals career and making him only the second player in team history to reach 500+ career points (Jim Bakken, 1,380)…also made one special teams tackle while also trying a pooch kick in which S Matt Ware recovered, leading to a Tim Hightower TD...converted one of two onside kicks while only FG attempt was blocked at the New York Jets (9/28)…marked his fifth straight converted onside kick dating back to 2006 and resulted in a Cardinals TD drive to pull within 13 points late in the third quarter…was third blocked FG of career with the other two coming in 2002 as a rookie for Cincinnati...recorded a season-high two special teams tackles vs. Buffalo (10/5)...put Arizona up 24-14 with 3:17 left in the fourth quarter by connecting from 41 yards out vs. Dallas (10/12)…connected on all four FG attempts including a season long of 54 yards at Seattle (11/16)…marked 19th career FG from 50+ yards and 16th as a Cardinal...connected on three of four FGs, failed on two onside kick attempts and made two extra points while a third was aborted due to a failed hold vs. the New York Giants (11/23)…only missed FG was a 68-yard free kick after a fair catch with five seconds left in the first half, which snapped his consecutive FGs streak that dated back to 9/28/08 at 15…that marked the end of the second longest streak in franchise history, trailing only his 2005 mark of 31...made both extra point attempts at Philadelphia (11/27)…marked first game he did not attempt a FG since 10/29/06 at Green Bay...registered one special teams tackle and connected on both FG attempts as well as all four extra points in first game with new holder Ben Graham vs. St. Louis (12/7)...did not attempt a FG vs. Minnesota (12/14) or at New England (12/21), marking only the second time in his career (12/16/01 at New York Jets—12/23/01 at Baltimore) he did not attempt a FG in two consecutive games...tied season-high with two special teams tackles and converted both FG attempts vs. Sea (12/28)…connected on 22 straight traditional FG attempts and 22 of last 23 overall, with the only miss being the 68-yard fair-catch kick right before halftime vs. New York Giants in Week 12...in first-career playoff game, recorded three touchbacks on five kickoffs and one special teams tackle while missing only FG attempt from 51 yards vs. Atlanta (1/3/09)...recorded a new franchise postseason record for FGs in a game with four including connecting on a 49 yarder, the longest FG in Cardinals postseason history, at Carolina (1/10/09)…his 15 points scored were second in franchise postseason history...tied his franchise postseason long by connecting from 49 yards out vs. Philadelphia (1/18/09).
2007 (Arizona 16/0): Served as one of five team captains and recorded 110 points in 2007 and moved into second place on the franchise career points list with 495 points…was perfect on three onside kick attempts, giving him four consecutive successful conversions dating back to 2006…nailed the game winning FG from 42 yards out with one second left, as well as connecting from 28 and 52 yards (16th career of 50+ yards) while missing from 52 yards before the half in the home opener vs. Seattle (9/16)…recorded fourth game-winning FG of career, first as a Cardinal…recorded a successful onside kick at Baltimore (9/23), which gave Rackers his second consecutive successful onside kick attempt…the last onside kick he attempted was at Minnesota (11/26/06)…made all four extra points, registered one touchback and made two-of-three FG attempts including one from 50 yards at St. Louis (10/7)…the 32-yard FG was his 200th career FG attempt…converted one of two extra points with one being blocked and missed game-winning 55-yard FG wide left with one second remaining after recording his second consecutive successful onside kick of the season recovered by Jerheme Urban at Washington (10/21)…made all four extra points and recorded a touchback while connecting on a 19-yard FG at the end of regulation to send the game into overtime only to miss from 32 yards in OT vs. San Francisco (11/25)…converted and recovered his fourth consecutive onside kick in a row (fifth as a Cardinal) and missed only FG attempt of the day from 50 yards while connecting on all three extra points at Seattle (12/9)…converted all three FG tries, including a 29-yarder with time expiring to send the game into overtime and then a 31-yarder in extra time vs. Atlanta (12/23) for the fifth game-winning kick of his career and second as a Cardinal.
2006 (Arizona 16/0): Had his second consecutive 100-point season, totaling 116 points with 17 touchbacks while appearing in all 16 games…connected on a 29-yard FG in the first quarter and converted the extra point following Adrian Wilson's franchise record 99-yard interception return for a TD to temporarily give the Cardinals the lead in the second quarter at Atlanta (10/1)…connected on two-of-two extra point attempts and on FGs of 41 and 45 yards vs. Kansas City (10/8)…41-yard FG in the second quarter gave him his 500th career point…connected on FGs of 21 and 50 yards (missing from 41 yards), was two-of-two on extra point attempts and converted a perfect onside kick in the final minute of the game to give the Cardinals a shot at a last second win at Minnesota (11/26)…turned in his best performance of the season, connecting on field goals of 25, 39, 37 and 32 yards while converting two extra points at San Francisco (12/24).
2005 (Arizona 15/0): Set a new NFL record for field goals in a season, connecting on 40-of-42 FGs, and was named to his first career Pro Bowl…scored all 12 Cardinals points in the home opener vs. St. Louis (9/18), connecting on FGs from 29, 26, 48 and 35 yards out…hit the end zone on all five kickoffs, recording touchbacks on four…recorded the Cardinals' only points for the second week in a row with 12 points at Seattle (9/25)…connected on two FGs from 50 or more yards, giving him 10 career field goals of 50 or more yards, and recorded three touchbacks…extended his consecutive FG streak to 16 hitting six-of-six attempts for a new single-game career-high and hit the end zone on nine kickoffs, recording touchbacks on seven vs. San Francisco (10/2)…connected on the game-deciding FG, which gave the Cardinals a 13-10 lead vs. Tennessee (10/23)…connected on his 11th-career FG from beyond 50 yards and his 22nd consecutive field goal of the season after hitting from 52 and 47 yards at Dallas (10/30)…connected on four FGs vs. Seattle (11/6) to increase his record to 26 consecutive attempts made…hit the 12th 50+ yard FG of his career and set the new franchise mark for FGs over 40 yards in a season connecting on his 13th…connected on FGs of 51 and 28 yards at Detroit (11/13) to extend his consecutive streak to 28…also made two crucial tackles on kickoff returns…set the franchise record for FGs in a season with his 31st FG of the year at St. Louis (11/20)…ended his streak of consecutive FGs when his first attempt of the day, a 43-yarder, went wide left, but connected on a 42-yarder later in the day vs. Jacksonville (11/27)…suffered a torn calf muscle in his left leg in practice on 12/1 and was deactivated for the game at San Francisco (12/4)…set the NFL record for FGs in a season, hitting numbers 39 and 40 to tie and break the record at Indianapolis (1/1)…tied the record with a 28-yarder in the second quarter and broke the record with a 42 yarder in the fourth quarter…scored 11 points for the NFC in the Pro Bowl, leading the conference to a win.
2004 (Arizona 16/0): Re-wrote the Cardinals record books by kicking 23 touchbacks in 2004, the most in team history…missed only three attempts from inside of 50 yards and nailed five from beyond 50 yards, including three in one game (vs. Seattle 10/24)…kicked a league-long 57-yarder against Denver in the preseason…hit two FGs from beyond 50 yards vs. New England (9/19), nailed attempts from 51 and 52 yards but came up short on a 58-yard attempt that was deflected…scored the only points of the day for the Cardinals on a 30-yard FG at Atlanta (9/26)…tied the NFL record for most 50+ yard FGs in a game with three vs. Seattle (10/24), connected on attempts from 55, 55, and 50 yards out…entering the season, had attempted five field goals of 50+ yards and connected on only three of them…named NFC Special Teams Player of the Week for his performance…connected on two-of-three FGs vs. San Francisco (12/12) and posted four kickoffs for touchbacks to tie the individual record of 17 set by Joe Nedney in 1997…scored all 12 Cardinals points and set a then career-high in FGs made and attempted, connecting on four-of-six attempts in the season finale vs. Tampa Bay (1/2), connected from 40, 45, 39 and 31 yards out while missing attempts of 35 (WL) and 47(WL).
2003 (Arizona 7/0): Joined the Cardinals in mid-season and handled kicking duties for final seven contests…made nine-of-12 FG tries and was perfect on eight PATs, combining for 35 points…saw first action in Cardinal uniform at Cleveland (11/16) and connected on 42-yard FG in second quarter…added 26-yarder in third period for Cards only points…remained perfect as a Cardinal with FGs of 22 and 27 yards and three PAT conversions in addition to his first touchback on kickoff vs. St. Louis (11/23)…saw 35-yard try in fourth quarter sail wide right in bid to tie game vs. Carolina (12/14), atoned with 44-yarder for the tie with 1:09 left in regulation and sailed ensuing kickoff three yards deep into end zone for touchback…in season finale vs. Minnesota (12/28), converted first-half FGs from 22 and 26 yards…after Cards pulled within 17-12 with two minutes left in game, completed a successful onside kick recovered by Damien Anderson…ensuing possession resulted in game-winning touchdown and 18-17 victory.
2002 (Cincinnati 16/0): Accounted for 75 points on 15 FGs (18 attempts, 83.3 percent) and 30 PATs (32 attempts) for the Bengals…made 12 of his final 13 FGs, with only a missed 52-yarder preventing him from tying a Cincinnati record of 13 consecutive successful FGs…was a perfect 13-for-13 from inside 45 yards…converted attempts from 21 and 54 yards in season opener vs. San Diego (9/8), the latter a then career-best…made three FGs from 51, 18, and 25 yards vs. Jacksonville (12/15).
2001 (Cincinnati 16/0): Connected on 17-of-28 FG tries and 23-of-24 PATs for 74 points…made eight of last 10 FGs, including game winners in final two contests…Bengals recovered both of his onside kick attempts, tied for league-best…won training camp competition with former Dallas Cowboy and Carolina Panther kicker Richie Cunningham…made 52-yarder at Jacksonville (11/11)…came through from 36, 47 and 33 yards in season opening win vs. New England (9/9) as five of his six kickoffs reached the end zone, four for touchbacks…had a trying game vs. Pittsburgh (12/30) with missed FGs from 32 and 28 yards and missed PAT with game tied at 23-23…made 34-yarder earlier in game, and atoned with 31-yarder 4:08 into overtime for the victory.
2000 (Cincinnati 16/0): Rookie season produced 12 FGs in 21 attempts and 21 PATs for 57 points with the Bengals…opened season with three misses, including one FG try blocked…good from 23, 38 and 34 yards vs. Miami (10/1)…took pitch from holder Daniel Pope on fake FG try and tackled for five-yard loss at Pittsburgh (10/15)…converted season-long 45-yarder at Tennessee (12/10)…capped rookie season with game-winner from 27 yards out as time expired in season finale win vs. Jacksonville (12/17).
COLLEGE:
Set Illinois season scoring mark with 110 points as senior in 1999…connected on 20-of-25 FG tries and all 35 extra points…over one half (56.7 percent) of his kickoffs were touchbacks (38-of-67).
PERSONAL:
Full name
Neil William Rackers
…earned 11 varsity letters in baseball, soccer and football at Aquinas-Mercy (St. Louis, Mo.) High School…earned all-conference honors in all three sports…posted batting averages of .480 and .420 as prep junior/senior, led school to consecutive state titles in soccer…owns degree in speech communications from Illinois...married to wife Rachel and they have a son, Jacob, and a daughter, Annabel.
Read more
Latest headlines