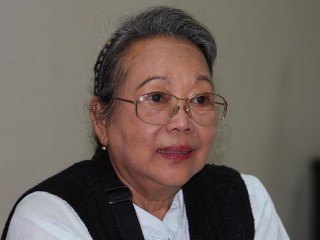 NH Dini biography
Date of birth : 1936-02-29
Date of death : -
Birthplace : Semarang, Central Java, Indonesia
Nationality : Indonesian
Category : Arts and Entertainment
Last modified : 2011-01-08
Credited as : Novelist, and feminist,
Nurhayati Srihardini Siti Nukatin, better known by her pen name
Nh. Dini
(sometimes "NH Dini" in English), is an Indonesian novelist and feminist.
Early start claiming NH Dini interested in writing since third grade. Lesson books filled with writing that is an expression of thoughts and feelings. He himself admits that the writing was some kind of rebound liver. Early mother is a batik who always tells her about what was known and read in the reading Panji Wulung, Spreader Spirit, Song-song with Java and Java script. For him, the mother has a great influence in shaping the character and his understanding of the environment.
Even since childhood habit of telling already invested, as did his mother to him, apparently did not want to be Early storyteller. Instead, he aspires to become a locomotive driver or the driver. But she did not realize his obsession was accomplished only because the candidate did not find the school for the train driver.
If in the end he became a writer, it's because he loves stories, loves to read and sometimes want to know his ability. For example after reading a paper, he usually thinks if only I was able to make it this way. And in fact he was able to write the technical support knowledge base.
Early semasih left his father's death in junior high school, while her mother to live without a steady income. Perhaps because of that, he was so dreamy. Increasingly honed his talent to write fiction in high school. At that time, he had filled the school wall magazine with poems and short stories. Early writing poetry and rhythmic prose and read it yourself at RRI Semarang when he was 15 years old. Since then he has diligently sending poems to the national broadcast on RRI Jakarta in Tunas Blooms event.
Career
SEA Write Award-winning award in literature from the Government of Thailand has been branded as a literary telajur in Indonesia, even though he himself admitted was an author who poured the reality of life, personal experience and sensitivity to the environment in each of his writings. He dubbed the author of feminist literature. Founder of Maisonette Read NH Dini at Sekayu, Semarang dozens of works already given birth.
Some works Nurhayati Sri Hardini Siti Nukatin known as NH Dini, is famous, among them pada Sebuah Kapal (1972), La Barka (1975) Namaku Hiroko (1977), Orang-orang Tran (1983), Pertemuan Dua Hati (1986), Hati Yang Damai (1998), not including his work in the form of short stories, novelet, or a tale of memories. Budi Darma call it a feminist literary authors who continue to voice their anger to men. Regardless of what other people's opinions, he said that he would be angry if found injustice, especially gender inequalities that are often detrimental to women. In his latest, entitled Dari Parangakik ke Kamboja (2003), he picked up the story about how the behavior of a husband against his wife. He is an author who writes with painstaking and productive, such as comments Putu Wijaya; 'long quibbling. "
Until now, he has written more than 20 books. Most of his novels that tell about women. But many people believe, a woman who described Dini feels "weird". There is also an opinion that he told himself. Outlook on life has been so to the west-Westernized, to the norms of oriental hardly recognize anymore. That assessment of some of his works. But despite all that assessment, NH Dini's work is an admirable work. His books were widely read among intellectuals and became the talk of a literary work.
Proof of its seriousness in the field that he wrestled look of her choice, majoring in literature when stepping into high school in Semarang. He began sending short stories to various magazines. He joined his brother, Teguh Asmar, in groups of radio plays called buds Berseri. Occasionally he writes his own script. Early adolescent really busy. In addition to cultural editor at teen magazines Gelora Young, he formed a theatrical group at the school, which was named Pura Bhakti. More steady pace when he won a writing contest a radio dramatizations of Central Java. After high school in Semarang, he also held a series of radio plays buds Radio Republik Indonesia (RRI) of Semarang. His talent as a storyteller continues to be cultivated.
In 1956, while working at the Garuda Indonesia Airways (GIA) at the Kemayoran Airport, Early publishing a collection of short stories, Two Worlds. Numerous books have even reprinted several times - it is difficult to achieve by most literary book. Another book that famous work is My name is Hiroko and Early Departure. He also published a series of memories, stories and other writings while also continue to flow from his hand. Even though ill, he continued working.
Early known to have a conventional writing technique. But he thinks the technique is not objective but merely tools. The goal is to themes and ideas. Not surprisingly, his writing ability along with a wealth of technical support that are full of theme ideas. She claimed to have succeeded in revealing the contents of his heart with conventional techniques.
He acknowledges that in writing including the slow productivity. He took the example of his book, In A Boat, the process is almost ten years until the book was published only a month when typing. For him, the most fun is to collect notes and fragments, including physical scenes, ideas and others. When he sees or hears a unique look, before going to bed he used to write on legal pad paper with handwritten.
Authors who likes this plant, normally watered plants, thinking, processing and analyzing. He was assembling a manuscript he was working. Works written in the form of seeds were kept at a folder for later wrote when already Threaded stories.
Early dipersunting Yves Coffin, French Consul in Kobe, Japan, in 1960. From that marriage he had two children, Marie-Claire Cross (now 42 years old) and Pierre Louis Padang (now 36 years old). His oldest child is now settled in Canada, and her youngest child settle in France.
As a consequence of marrying a diplomat, Dini had to follow where her husband was assigned. He was brought to Japan, and three years later moved to Pnom Penh, Cambodia. Back to her husband's country, France, in 1966, Dini gave birth to her second child in 1967. During follow her husband in Paris, he was listed as a member of Les Amis dela Natura (Green Peace). He participates save grouse affected by the sinking of the tanker pollution on the north coast of France.
A year later, she followed her husband stationed in Manila, Philippines. In 1976, he moved to Detroit, U.S., to follow her husband, who served as Consul General of France. Early parted with her husband, Yves Coffin in 1984, and regained citizenship at the 1985 RI District Court.
Her ex-husband is still often a visit to Indonesia. Dini himself had been to Canada when the Latitude will wed his son. Latitude see why her mother had actually dared to make a decision for divorce. The time when everyone blamed him for leaving the constitution of marriage and children. That's why he did not get anything from her ex-husband. He only received 10 000 U.S. dollars which was then used to make tents, children read in Sekayu, Semarang.
Environmentalists early and never joined the Ministry of Environment Emil Salim Lebong Black Elephant herd, it appears to be extra careful in choosing a spouse after a long experience with the French diplomat. He once fell up, when attacked by the disease in 1974, when she and her husband have separate beds. At that time, some say he was attacked by a tumor, cancer. But in fact it implies that amoh blooding, so he a lot of blood shortages. In pathology there is a foreign cell. His return to Indonesia with a determination to become a writer and lives of his works, is an extraordinary courage. He himself claimed to have not seen the other fields, even though her former pramugrari GIA, a former radio announcer and dancers. His commitment to life as the author has been undeniable.
Filling in solitude, he strives to write a short story published various publications. In addition, he also actively maintain and manage the plants in the cabin reading Sekayu. As environmentalists, Dini has made writing serialized in the newspaper Sinar Harapan already revoked his SIUPP, with the theme of transmigration.
Being a writer for nearly 60 years is not easy. Recently the last two years, he received a royalty fee that could cover the costs of everyday living. Previous years he admits is still a parasite. He was assisted by his friends to cover the cost of meals and medication.
Years 1996-2000, he had to sell-sell the goods. First, while still in France, he was often entrusted plants, cats, hamsters, when their owners go on vacation. When they came home, he got a gold watch and earrings as wages to keep their pets. These goods he was selling to live until 2000.
Early then seriously ill, hepatitis-B, during 14 days. Cost of treatment is assisted by Central Java Governor Mardiyanto. Because he was sick, he also underwent an ultrasound, which results stating there was a stone in the bile. Operating costs for seven million rupiah and other costs forced it to pay the total costs amounted to 11 million. Arts Council of Central Java, organizing health wallets Nh Dini. His heart was touched when he learned there was more of the teachers who contributed, either by 10 thousand, or 25 thousand. After he recovered, Dini, send them a letter one by one. He realized that many people who cared about him. Since December 16, 2003, he later settled in Sleman, Yogyakarta. He originally settled in Semarang, now lives in the complex Graha Wredha Mulya, Sinduadi, Mlati, Sleman, Yogyakarta. Kanjeng Ratu Hemas, the wife of Sultan Hamengkubuwono X who heard his move, suggesting Dini brings with it the library. Whereas four thousand books from his library of seven thousand books, had he hibahkan to the Rotary Club Semarang.
As a result, early in Yogya sticking to the same activities he tekuni in Semarang, opening libraries. Concern, inviting neighborhood children to love reading a variety of themed ground water, the outside world, and fiction. He wants the kids in her neighborhood to read as many books fairy tales, folklore, national figures, geography or environment of Indonesia, fiction and adventure story, a story about an international character, and general knowledge. All the books he selected with care. So, Cottage Read Nh Dini who was born in Pondok Sekayu, Semarang in 1986, now continued in the hall Graha Wredha Mulya. He always gave the message that young children now read a lot and not just wandering. It was also very glad if someone young who wants to be a writer, not only to be a doctor or a trader. Better still if the author but has another job.
In his present condition, he still holds fast to his principles. She feels fortunate to be raised by parents who instilled the principles of life that preserves self-esteem. Maybe because it was also the NH Dini is not easy to accept the offers that have value and can manipulate the price of self-sacrifice.
He has also been offered a job at a magazine with a fixed monthly salary. But he chose to be an author who is not bound to one publishing institutions. For Early, the opportunity to work in the media or publishing company was wide open. But as he said, he feared that his creativity even reduced. For that reason alone he fought in a way which he believes; while maintaining their creative ability.
Alluding about sex, especially the scenes that appear in his works, he thought it was natural. That spontaneity of the narrative that the author of this kejawen followers. He did not hesitate to express all the problems and the story of his life journey through the works he wrote NH Dini now living in the Langen Wedharsih Wredha Panti, Ungaran.
Read more
Latest headlines