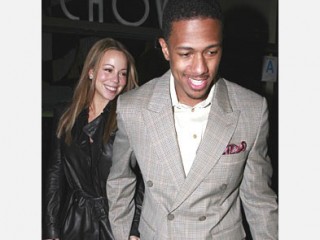 Nick Cannon biography
Date of birth : 1980-10-08
Date of death : -
Birthplace : San Diego, California, U.S.
Nationality : American
Category : Arts and Entertainment
Last modified : 2010-10-07
Credited as : Hip-hop singer and actor, show host of America's Got Talent and The Nick Cannon Show, sketch comedian on All That
Nicholas Scott "Nick" Cannon is an American actor, comedian, rapper, and television personality. On television, Cannon began as a teenage sketch comedian on All That before going on to host The Nick Cannon Show, Wild 'N Out, and America's Got Talent. He acted in the films Drumline, Love Don't Cost a Thing, and Roll Bounce. As a rapper, he released a self-titled debut album in 2003 with the hit single "Gigolo", a collaboration with singer R. Kelly. In 2006, Cannon recorded singles "Dime Piece" and "My Wife" for a planned album Stages, which was never released. Cannon married singer Mariah Carey in 2008. They renewed their vows in 2010.
In today's Hollywood it is not enough for young celebrities to be merely actors or just recording artists. Teen stars like Lindsay Lohan (1986–) and Hilary Duff (1987–) have made the transition from television, to film, to music, becoming crossover stars and making millions of dollars. But there is one young entertainer that poses a quadruple threat: Nick Cannon, who is an actor, a comedian, a rapper/singer, and an executive producer. In fact, Cannon is considered by many to be the hottest young African American star on the horizon. Cannon got his big break in the late 1990s by becoming a regular on the Nickelodeon network, writing and starring in several programs, including the self-titled Nick Cannon Show. From Nickelodeon, Cannon appeared in such films as Drumline (2002), Love Don't Cost a Thing (2003), and The Underclassman (2005), which he co-wrote and produced. The multi-talented Cannon also found time to release his first album in 2003 and to hit the road on a comedy tour in 2004. Thomas Chau of Cinema Confidential News noted, "Nick Cannon is flying through his career with nothing but smoke and heat in his trail."
Minister's kid turns comedian
Although he lives in Hollywood spotlight, Nick Cannon remains a grounded young man, primarily because he had positive role models growing up. Nicholas Scott Cannon was born on October 8, 1980, in San Diego, California. He was raised by his paternal grandparents in California, but spent part of his childhood living in North Carolina with his father, who was a minister. "I was raised by my grandmother." Cannon told Wilson Morales of Blackfilm.com. "She instilled everything into me. She taught me right from wrong from day one."
Cannon also credits his father for being a stable influence. As he commented to Morales, "My father instilled in me how to be a man." But growing up as the minister's son was a challenge for young Cannon. In elementary school and junior high school he was not allowed to watch television or listen to the radio or wear the clothes the popular kids wore. Cannon, however, was a born entertainer and found his own voice at a very early age. When he was just eight years old, he performed as a stand-up comic on his father's evangelical public access television show. That same year he recorded his first song at home on his boom box radio.
" Never let anyone put you down about things you really aspire to do. People told me that I wasn't funny, or that I couldn't write, or that I wasn't a good musician. Just me being myself and motivating myself got me through those obstacles."
By high school Cannon was known as the class clown. He was the smallest boy in school (about five feet two inches) and he did not play sports, so the best way to get attention was to crack jokes. "I had the gift of gab," Cannon revealed to Julian Roman of Latino Review, "and was able to talk my way into popularity." When he was sixteen the young comedian decided to take his show on the road, and he began driving to Los Angeles on the weekends to perform at comedy clubs. Cannon eventually landed gigs at such famous venues as The Improv, The Laugh Factory, and The Comedy Club. He was so determined to make it that he even slept in his car during his overnight jaunts.
Nick on Nickelodeon
Before too long Cannon landed a manager who put him in touch with executives at the kids' television network Nickelodeon. In 1995 the teen became the warm-up act for the long-running Nickelodeon series All That, eventually becoming a series regular by 1998. Producers recognized that Cannon definitely had on-screen appeal, so he hopped from one Nick program to another. He was the co-host of the All That Music Festival and More Tour, as well as Snick House and TEENick in Concert. He also was tapped to write for Nickelodeon programs, including Kenan and Kell (1996) and Cousin Skeeter (1998). In 2002, the ever-popular Cannon was finally given his own self-titled television program, which he starred in, wrote for, and produced. He was barely twenty-one years old.
Although the show lasted only one year, Cannon was praised for his on-air antics, which included him traveling across America and "taking over" in a number of situations. For example, in one episode he "takes over" a California high school, disguising himself as a math teacher for a day. According to the Hollywood Reporter, "Cannon comes across as an undeniably talented dude with charm to burn." His hectic schedule on television, however, did not stop the comic from performing stand-up, and he was making a lot of connections in the entertainment business. In particular, Cannon caught the eye of entertainer Will Smith (1968–), who would become his mentor.
Smith started out as a young rapper and then eventually moved to television and film. By the 2000s he was a superstar in all areas of show business. People frequently compare Cannon to Smith, which makes the young comedian more than happy. "Will has been such a positive force in my life," Cannon admitted in an Ebony interview. "He told me that I remind him of himself when he was younger. That's the most incredible compliment anyone could ever give me."
Crossover star
Smith gave Cannon his first film break, casting him in a small role in the hit movie Men in Black II (2002). Shortly after, Cannon broke out on his own by landing his first starring role in the 2002 movie Drumline. Cannon plays Devon Miles, a young drummer from Harlem, New York, who receives a scholarship to attend an African American college in Atlanta, Georgia. Miles is talented but headstrong, which leads to a rivalry between him and his conservative band director. The film received general praise from critics, and Cannon was singled out by many, including Michael Rechtshaffen of the Hollywood Reporter, for his "assured feature debut."
Cannon followed up Drumline with Love Don't Cost a Thing (2003), a remake of the 1987 teen hit Can't Buy Me Love. Both movies have the same premise: an awkward teen plots to become the big man on campus by paying the most popular girl in school to hang out with him. As a result, he is transformed from nerd to super hunk. Cannon was drawn to the part because he was a big fan of the original movie. He also enjoyed the prospect of playing two roles in one: the bookish Alvin Johnson and the obnoxious Al, the popular version of Alvin. "I like doing characters," Cannon told Cinema Confidential News . "I got to be a super-duper nerd and then a cocky, crazy guy at the same time so it was cool."
Love received only lukewarm reviews, but Cannon was generally applauded for his charming and flexible performance. He also emerged from his two first films as a young heartthrob. The tiny Cannon had sprouted to a lanky six feet tall, and with his baby face and friendly grin he attracted a number of female
Although in many interviews Nick Cannon claimed that he was "as single as a slice of American cheese," in 2005 rumors were confirmed that he did have a significant other in his life. The lucky lady was Christina Milian, his costar in Love Don't Cost a Thing, and a multitalented woman in her own right. Singer, actress, and songwriter Christina Milian was born Christina Flores on September 26, 1981, in Jersey City, New Jersey, the daughter of Cuban American parents. At the age of four Milian already knew she wanted to be a performer, and when she turned thirteen she moved with her family to Los Angeles to pursue a career.
Her first major role came in 1998 when she appeared as a regular on the Disney TV show Movie Surfers. Then came small roles on other television programs, including Charmed and Clueless, as well as parts in such films as A Bug's Life (1998) and American Pie (1999). In 2000, Milian branched out into music, singing vocals on the album Rule 3:36 by rapper Ja Rule (1976–). She also co-wrote a song called "Play" for Jennifer Lopez's 2001 album J.Lo. Both songs were hits on the pop charts and started a buzz for the young actress-singer.
In 2001 Milian's self-titled debut album was released. Several songs, including "AM to PM" and "When You Look at Me," ranked on the international charts. In the States Milian was perhaps best known for penning and singing the theme song to the Disney animated series Kim Possible. In 2004 she released her first U.S. album, titled It's About Time, which sparked the number-one hit "Dip It Low."
Meanwhile, Milian's film career was moving in fast forward. In 2002, while hosting MTV's Wannabes, she met music-video director Joseph Kahn, who was about to direct his first feature movie, Torque (2004).
He suggested that Milian audition for the female lead, which she easily landed. At the same time, Milian was tapped to play opposite Nick Cannon in the teen hit Love Don't Cost a Thing (2003). Her performances led to role after role, making her one of the most sought-after young stars in Hollywood. In 2005, she appeared in the comedy Man of the House; she also costarred with John Travolta (1954–) in Be Cool, a sequel to the popular 1995 hit Get Shorty. In Cool, Milian played a feisty young singer named Linda Moon. She also cost-ars in the 2006 thriller Pulse.
fans. In addition, Hollywood executives saw him as a bankable star with major crossover appeal, meaning his movies were a hit with a variety of audiences. This meant that Cannon almost had his pick of film roles.
In 2004, Cannon costarred opposite Richard Gere (1949–) and Jennifer Lopez (1970–) in Shall We Dance, playing a bizarre private investigator. Then came a starring role in The Underclassman (2005), which cast Cannon as a police officer who goes undercover into an elite, private high school. The actor also wrote the first draft of the screenplay and served as executive producer. Two more films followed in 2005: the 1970s-themed Roll Bounce and the political thriller The Beltway, in which Cannon portrays a young Capitol Hill intern who uncovers a government plot. Cannon not only starred in Beltway, he again served as executive producer.
Part spiritual, part sizzle
While Cannon's film star was rising, he did not ignore his music career. The young musician, who plays drums, drum machine, synthesizer, and harmonica, wrote the theme song to his Nick television series and also contributed a song, "Shorty Put It to the Floor," to the soundtrack of Love Don't Cost a Thing. In December 2003 the ambitious Cannon released his first album, titled Nick Cannon, with Jive Records. Cannon penned all the lyrics, co-produced four tracks, and had the opportunity to work with seasoned music personalities, including the Neptunes, R. Kelly (c. 1968–), and Mary J. Blige (1971–).
Most of the tunes on the album are party jams, including "Feelin' Freaky," "Your Pops Don't Like Me," and "Gigolo," a particular favorite because of its sizzling video that appeared regularly on music channels. Cannon's favorite cut, however, was the romantic ballad, "My Rib," which reflects the spiritual nature of the young rapper. As Cannon told Wilson Morales, the album is "a reflection of every aspect from the spiritual side to the gigolo side." Cannon is also quick to comment on the fact that his music, although popular and fun, has relatively clean lyrics. "I try to make music that my grandmother could listen to," he admitted to Lynn Barker of TeenHollywood.com. "That's always like my gauge." This too is reminiscent of Will Smith, who throughout his career has avoided swearing in his rap lyrics.
Cannon made thousands of fans swoon in 2004 when he joined the Scream 3 tour, an annual summer concert event featuring hip-hop artists such as B2K and Marques Houston (1981–). And in 2005 he impressed audiences when he performed live at the Soul Train Music Awards.
The Cannon express
By the mid-2000s Nick Cannon was an unstoppable force. He had no less than three movies slated for release in 2006, including the horror film Monster House, a crime drama called Jump Shot, and a project costarring Lindsay Lohan tentatively titled Blind Date. Cannon also continued to sharpen his comedic chops. In late 2004 he embarked on a multi-city comedy tour sponsored by Milton Bradley to promote an updated version of its popular board game Twister. And in the summer of 2005 Cannon hosted his own program on MTV called Wild "n" Out, a game show that had new comedians competing in a variety of improvisational games.
Although only in his twenties, the multitalented Cannon had achieved a level of maturity beyond his years. Instead of partying and spending his money recklessly, he remained low-key, preferring to wear jeans and T-shirts and only the occasional bit of extravagant jewelry. Cannon also remains focused on his career. He is a self-described workaholic and go-getter; someone who is not about to sit still and wait for things to come his way. He told Latino Review , "Because there is a lack of roles in Hollywood for young black men, especially positive roles, different from gang banging shoot 'em up movies, you have to create your own." Considering Cannon heads two companies, a music label called Cannonball Entertainment, and In the Can—a television and film venture— he should have many opportunities to develop projects in the future.
Cannon may concentrate his energies on his entertainment career, but one day he hopes to take some seminary classes (classes in religious instruction), perhaps ultimately following in his father's ministerial footsteps. In the meantime, he works with his father for the Nick Cannon Youth Foundation, which hosts inspirational conventions for young men. Cannon's goal is to inspire other young people to reach for their dreams and to maintain a positive lifestyle. And, according to Jet magazine, "He has the looks, talent and intelligence to be a star for as long as he wants."
Read more
Latest headlines