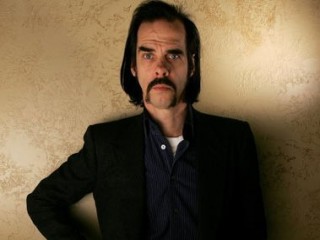 Nick Cave biography
Date of birth : 1957-09-22
Date of death : -
Birthplace : Warracknabeal, Victoria, Australia
Nationality : Australian
Category : Arts and Entertainment
Last modified : 2011-11-02
Credited as : Singer, the Bad Seeds, The Birthday Party
Nicholas Edward "Nick" Cave is an Australian musician, songwriter, author, screenwriter, and occasional film actor.
Australian singer Nick Cave's creative domain is a grisly netherworld of death and betrayal, failure and anger. From his early days with The Birthday Party to his more mature work with the Bad Seeds, he has paired a knack for violent imagery with a riveting performance style. According to Details, his fiction work And the Ass Saved the Angel is "probably the only good novel ever written by a 'rock star,'" and in the late 1980s Cave even branched into screenwriting and acting.
Boys Next Door played the Australian club circuit and made a series of frustratingly unsuccessful recordings. In 1980, fed up with the scene Down Under, Cave, Harvey, guitarist Rowland Howard, bassist Tracy Pew, and drummer Phil Calvert immigrated to England, changing the band's name to The Birthday Party en route.
Relocating to England proved a smart move; with a sound Details critic Chris Heath called "an uncontrollable barrage of vitriol violence and malevolence," The Birthday Party galvanized the stagnating British music community and energized what has since been termed Gothic or "goth" rock.
The Birthday Party's ferocious live shows quickly earned them a cult following. "We had no interest in shocking people," Cave later told Rolling Stone. "We wanted to go out and really abuse people and assault them and hurt them. And I think our integrity shines through in that as soon as we got to a point where everyone was coming along to have all this happen to 'em, we folded up the group and went on to other things." Considering remarks like these and the Party's general behavior, it was not surprising when substance abuse and personality conflicts were blamed for the band's 1983 break-up, in West Berlin, where they had ultimately landed.
Not much was expected of Cave after The Birthday Party. In retrospect, Details characterized him as "a vaguely psychotic drug addict, deceived by delusions of glory." Nevertheless, he organized a group of Berlin-based musicians into the Bad Seeds and in 1984 released From Her to Eternity, an album that Melody Maker described as "widely and rightly acclaimed as one of the greatest rock albums ever made."
With the Bad Seeds, Cave ventured beyond the Gothic movement and began to demonstrate an interest in Mississippi Delta blues, country music, and downbeat folk icon Leonard Cohen-like art songs. On 1985's The First Born Is Dead he delved into folk and blues; on 1986's Kicking Against the Pricks he covered songs made famous by rock figures as disparate as Roy Orbison, the Velvet Underground, and Jimi Hendrix, as well as pop standards like Jimmy Webb's "By the Time I Get to Phoenix."
In the meantime, Cave had developed as a lyricist, in the process becoming a compelling storyteller. On 1985's brooding, psycho-evangelical Tender Prey and 1986's Your Funeral, My Trial, he managed to maintain his macabre obsessions while transforming his execution from a snarling shriek into an intoned incantation.
Cave had been notorious as a performer since his days with The Birthday Party. But while most critics acknowledged his showmanship, some did not appreciate his style. A reviewer for the Los Angeles Daily News, for one, wrote, "Cave's exaggerated, Jim-Morrison-like voice became comical after a while, and the unflinching gloominess of the songs prompted boredom." Boston Herald critic Steve Leblanc commented, "Cave works hard, sweating up a storm, and his voice is strong but the revelation he so desperately desires remained just out of his, and the audience's reach." Still, Melody Maker contributor Allan Brown hailed a Cave appearance in Glasgow, Scotland, as "a show to shame the sourest of old skeptics," while another Boston Herald writer concluded, "The Berlin-based members of the Bad Seeds are finally musicians to be reckoned with, versatile and well versed," noting, "[Cave's] ... voice is becoming a potent force."
Cave's expanding interests, nonetheless, momentarily enticed him off the stage and into the world of fiction writing. In the late 1980s, he authored the script for Ghost of the Civil Dead, a controversial film about convicted murderer/jailhouse philosopher Jack Henry Abbott, author of the best-selling In the Belly of the Beast. When the film made its way to the big screen courtesy of director John Millcoat and producer Evan English, Cave wrote the score.
Remaining in West Berlin, Cave continued to write, eventually completing his fear-and-loathing bad dream of a novel, And the Ass Saved the Angel. The book is a Flannery O'Connor-esque example of the southern Gothic style, written in the voice of a misanthropic, deformed, backwoods mute named Euchrid Eucrow. Cave admitted in Rolling Stone that the similarity between himself and his hero was not entirely coincidental. "Things that he would be fetishistic about to a dangerous level, I am [fetishistic about] to a less dangerous level. Hair, for example. [When working on the book] I had a lot of hair hanging around. I visited a flea market one day, and I found this box. A little chocolate box full of hair. Three different girls had had their hair chopped off for some reason and it had all been sewn up and kept in these long pieces. What actually happened to these three girls and why these three pieces of hair were in the same chocolate box became quite an obsession for me."
Drugs had, in fact, been part of Cave's routine since before he left Australia, where he and his Birthday Party comrades began experimenting with heroin and speed. He had been busted a few times and repeatedly counseled by friends to quit. In 1988 he checked himself into a hospital. "Seven weeks later," he told Details, "they spat me out somewhat sobered." "What frightened me most," he continued, "was that I wouldn't be able to write if I stopped taking drugs. Particularly speed. It makes for a very exciting, bizarre world, a completely obsessive life. And I do feel some of my creative impulse has been taken away. The songs are different now. The lyrics are simpler. Clearer. Less this imbroglio of verbiage. I no longer have the patience to f*** around for three hours with one line."
In Berlin, Cave befriended director Wim Wenders, who used From Her to Eternity to enhance the most significant emotional passages of his film Wings of Desire and later asked Cave to perform in and contribute songs to Until the End of the World. Cave continued his filmic exploits in The Road to God Knows Where, a documentary about the Bad Seeds' 1989 American tour, and in 1992's Johnny Suede, in which he played an aging albino rock star.
In 1990 Cave moved from Berlin to Sao Paulo, Brazil, to escape the goth and punk cults who claimed him as their idol. There he recorded The Good Son, which he has said is devoted to capturing the elusive mood suggested by the Portuguese word saudads, meaning "yearning" or "longing." The compositions comprising The Good Son are Cave's variations on the biblical story of the prodigal son. As Cave imagined the story, the good son is consumed by his own dark, long-suppressed passions. In describing the album, Rolling Stone's David Fricke reported, "Cave tempers his tortured basso profundo and the Bad Seeds' feral sound with a striking orchestral sobriety that heightens the fear, longing and vengeful rage coursing through the songs." Melody Maker was more succinct, quipping, "When it worked it was Sinatra at his most sinister. When it didn't it was [soft rocker Barry] Manilow at his mushiest."
Cave's 1992 release, Henry's Dream, was lyrically just as brutal a mix of mayhem and tenderness as could be found on his previous albums. But according to Rolling Stone, "acoustic guitars reign where distorted feedback once pillaged, and violin and cello arrangements add dramatic effect." The record earned considerable attention in the music press and reestablished Cave as a leading force in alternative rock. His performance at England's Reading Festival--of which Rolling Stone reported, "Cave enacted howling nightmare visions of blues and Brecht, flailing his arms and testifying like some demented preacher"--was reverently received. That fall, Cave reunited with The Birthday Party for a one-off performance at London's Town and Country club to promote a 19-song Birthday Party compilation released by 4AD Records titled Hits. A live album, Live Seeds, was released in 1993.
Cave and the Bad Seeds released Let Love In in 1994, an album that "restores the aggression of early Bad Seeds albums," according to David Sprague in Billboard. Let Love In was produced by Tony Cohen, who Cave had worked with as far back as The Birthday Party. Cave told Sprague that the album was "basically about me, and the things that've happened to me. Without sounding too corny about it, there's a lot of pain that exists in love. I find I write the best when I'm--I hate to say in pain--but angry and upset and uncomfortable and frustrated and bitter, and so on. That's when I want to let the puss out of the wounds." Also in 1994, Cave and the Bad Seeds joined the Lollapalooza concert tour.
Murder Ballads, a particularly morbid album that focuses wholly on death, was released in 1996. An unlikely duet with Australian pop superstar Kylie Minogue on the song "Where The Wild Roses Grow" proved a hit, jumping to the number two spot on the Australian charts and the top ten in Europe. Cave also duetted with friend PJ Harvey on the song "Henry Lee." When asked by Jeremy Helligar of People magazine about why his subject matter is so dark, Cave commented, "I find it kind of tiresome writing about the good side of life. I think that as an artist, my job is not to congratulate and applaud society.... We're behaving pretty badly, and I guess that's what I'm saying a lot of the time." Cave's last release during the 1990s was 1997's The Boatman's Call, which MusicHound Rock: The Essential Album Guide called a "stark, piano based collection of somber ruminations on love," and a "real gem." Cave went on hiatus from recording after The Boatman's Call, during which time he kicked addiction to heroin, moved back to London, and married former model Susie Bick, with which he has twin sons.
Cave and the Bad Seeds returned with No More Shall We Part in 2001. The album was called "business as usual" in terms of its lyrical grimness by Tom Lanham of Interview. Critic Robert Cherry commented in Entertainment Weekly, "The doomed-soul routine no longer sounds convincing. Cave's songs once conjured eternity. Now they just feel like one." A Time International reviewer commented that the title track, which was presumably inspired by Cave's marriage and might be seen as a romantic song by another artist, was instead "menacing."
The group released its twelfth album, Nocturama, in 2003. Notable tracks on the album include a duet with Australian legend Chris Bailey of the Saints on "Bring It On," and a song about marriage, "Man In My Bed." USA Today reviewer Edna Gunderson called the album "a fine mix of lovely ballads and spirited rockers," as quoted on the Anti- Records website. In an interview with VH1 writer C. Bottomley, Cave explained his interest in ballads: "For me, they can move into areas that haven't yet been defined. With the up-tempo songs, there's nowhere else for them to go."
In 2004, Cave gave a hand to Marianne Faithfull on the album, Before the Poison. He co-wrote and produced three songs ("Crazy Love", "There is a Ghost" and "Desperanto"), and the Bad Seeds are featured on all of them. He is also featured on "The Crane Wife" (originally by The Decemberists), on Faithfull's 2008 album, Easy Come, Easy Go.
Cave collaborated with the band Current 93 on their album All the Pretty Little Horses, where he sings the title track, a lullaby. For his 1996 album Murder Ballads, Cave recorded "Where The Wild Roses Grow" with Kylie Minogue, and "Henry Lee" with P.J. Harvey.
Cave also took part in the "X-Files" compilation CD with some other artists, where he reads parts from the Bible combined with own texts, like "Time Jesum...", he outed himself as a fan of the series some years ago, but since he does not watch much TV, it was one of the only things he watched. He collaborated on the 2003 single "Bring It On", with Chris Bailey, formerly of the Australian punk group, The Saints. Cave contributed vocals to the song "Sweet Rosyanne", on the 2006 album Catch That Train! from Dan Zanes & Friends, a children's music group.
Cave is a contributor to the 2009 rock biography on The Triffids Vagabond Holes: David McComb and the Triffids, edited by Australian academics Niall Lucy and Chris Coughran.
While Cave's work is, on the whole, violent and anguished, he seems to view his music as life-affirming rather than simply sad and brutal. "That someone has taken the energy to do this thing," he remarked to Rolling Stone, "is a testament of a kind of celebration."
Selected discography
With Nick Cave and the Bad Seeds:
-From Her to Eternity , Restless/Mute, 1984.
-The First Born Is Dead , Mute/Homestead, 1985.
-Tender Prey , Enigma/Mute, 1985.
-Kicking Against the Pricks , Homestead, 1986.
-Your Funeral, My Trial , Mute/Homestead, 1986.
-The Good Son , Mute/Elektra, 1990.
-Henry's Dream , Mute/Elektra, 1992.
-Live Seeds , Mute/Elektra, 1993.
-Let Love In , Mute/Elektra, 1994.
-Murder Ballads , Mute/Reprise, 1996.
-The Boatman's Call , Mute/Reprise, 1997.
-The Best of Nick Cave and the Bad Seeds , Mute/Reprise, 1998.
-No More Shall We Part , Mute/Reprise, 2001.
-Nocturama , Anti-/Epitaph, 2003.
With The Birthday Party:
-A Collection of the Best and Rarest , Missing Link, 1987.
-Hits , 4AD, 1992.
Nick Cave; spoken word:
-And the Ass Saw the Angel , Mute, 1999.
-Secret Life of the Love Song/The Flesh Made Word , King Mob, 2000.
Read more
Latest headlines