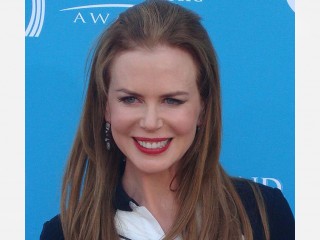 Nicole Kidman biography
Date of birth : 1967-06-20
Date of death : -
Birthplace : Honolulu, Hawaii, United States
Nationality : Australian-American
Category : Arts and Entertainment
Last modified : 2010-06-14
Credited as : Hollywood actress and singer, Keith Urban, 2008 Australia
Nicole Kidman
born June 20, 1967 in Honolulu, Hawaii, United States is an Australian-American actress.
She is also known for her marriage to
Tom Cruise
, to whom she was married for 11 years and adopted two children, and her current marriage to country musician
Keith Urban
, with whom she has a biological daughter.
Striking physical beauty and a high-profile marriage can blight an actress's career as often as advance it. Nicole Kidman is living proof. Early in her career, she displayed talent, intelligence, and versatility, yet the vast preponderance of her press coverage dwelled on trivial speculation about her marriage to Tom Cruise. The press wondered--Was he secretly gay? Or was she? Were they given lessons in lovemaking for Eyes Wide Shut? Did it rile him that she was several inches taller? And so forth. Given the negative press coverage, it is no surprise the Hollywood sweethearts ended up calling it quits in 2001 after a decade of marriage.
Throughout the course of her career, Kidman has had trouble being taken seriously as an actress. When she appeared on the London stage (in Sam Mendes' production of The Blue Room, adapted from Schnitzler's Reigen) most of the male reviewers spent more time drooling over her on-stage nudity than assessing her acting ability. Even after displaying her range in three such diverse performances as To Die For, The Portrait of a Lady and Eyes Wide Shut, Kidman still had trouble receiving the acclaim she deserved.
In her early roles, playing tomboyish teenagers in low-budget Australian family comedies like Bush Christmas and BMX Bandits, Kidman stood out with her rangy figure and wild red hair, exuding a nascent sexuality that scarcely meshed with the films' anodyne, sub-Disney ethos. John Duigan latched on to the cool-bitch side of her screen persona, casting her as the snotty head girl who gives Thandie Newton a hard time in Flirting, but it was Phillip Noyce's oceanbound thriller Dead Calm that gave her the crucial breakthrough role. At 19 she was way too young to play Sam Neill's jaded wife, but she came into her own in the later part of the film, fighting off Billy Zane's psychopath with a ferocity that seemed to stem less from fear than from indignation and moral outrage.
Dead Calm got Kidman to Hollywood and landed her the token-female role in Days of Thunder, Simpson and Bruckheimer's attempt to duplicate the testosterone-laden appeal of Top Gun. The film brought her together with Tom Cruise, and set an unhappy precedent for her Hollywood career. For the next few years Kidman found herself consigned to shallow, decorative roles in movies that left minimal scope for her talents. It hardly helped that the films were resolutely mediocre. If the stories of her ruthless pursuit of Gus Van Sant to secure the lead in To Die For are true, it's hardly to be wondered at; after overstuffed dross like Far and Away and Batman Forever she was clearly desperate to be allowed to show what she could do.
As the murderously ambitious Suzanne Stone, local TV weathergirl determined to make it big, Kidman proved she could play comedy with pitch-perfect subtlety. Instead of taking the easy route of making her character a bimbo, she played her as a woman who has concentrated down to one narrow, obsessive focus, leaving herself brain- and heart-dead outside it. Using her svelte beauty like a weapon, Kidman's Suzanne dazzles onlookers with her smile while the gleam of calculation never leaves her eyes.
To Die For, released in 1995, gave Kidman her first killer role. The Portrait of a Lady and Eyes Wide Shut, both more ambitious films, in different ways constrained her, damping down the vibrant animal vitality that, unleashed, can radiate off the screen. Jane Campion's film turned Henry James's free spirit into a more lachrymose character, too easily subdued by John Malkovich's domestic tyrant; Kidman dutifully went along with the concept but let the rebellion show in her eyes.
Eyes Wide Shut, released in 1999, reunited her with Cruise in their first on-screen partnership since Far and Away. Both actors were visibly unnerved by Kubrick's over-meticulous direction; but Kidman came off the better of the two, achieving a poised intensity in her key monologues that showed up Cruise's dazed acquiescence. Both films demonstrated her versatility, suggesting that Kidman's potential as an actress had only scarcely been explored.
Two years after the release of Eyes Wide Shut, Cruise and Kidman divorced. After shedding Cruise from her life, Kidman's movie career seemed to take off. Kidman was given a chance to demonstrate her versatility in 2001's movie musical Moulin Rouge! The film featured Kidman as a cancan girl ordered to sleep with a wealthy duke in order to secure funding for a musical. Instead, she falls for a writer named Christian, played by Ewan McGregor. Wrote Houston Chronicle movie critic Eric Harrison: "Kidman and McGregor are passable singers, and they attack their parts with relish." Kidman won a Golden Globe for her performance in the film.
In 2002, Kidman appeared in The Hours, playing the mentally ill writer Virginia Woolf. This was perhaps her best performance to date. The deeply moving film cut straight to the bone of Woolf's depression. Writing in the New York Times, Stephen Holden lauded Kidman's performance: "Directing her desperate, furious stare into the void, her eyes not really focusing, Ms. Kidman, in a performance of astounding bravery, evokes the savage inner war waged by a brilliant mind against a system of faulty wiring that transmits a searing, crazy static into her brain." This role garnered Kidman her first Oscar and several reviews of critical acclaim.
Kidman played a role with far less depth in 2004's The Stepford Wives. Her other release that year, Birth, also proved to be one of those movies that opened, then disappeared before making much of an impact. She appeared in the films Bewitched and The Interpreter in 2005 and Fur: An Imaginary Portrait of Diane Arbus in 2006. In January of that year, she was named a goodwill ambassador to the United Nations Development Fund for Women and was named a Companion in the General Division of the Order of Australia.
Kidman married country singer Keith Urban in Sydney, Australia, on June 25, 2006. Thousands of people lined up along city streets to wish them well, and Kidman was said to have cried at the sight of them. The couple honeymooned in French Polynesia. Later that year, Urban went into rehab to confront a drinking problem, thanking Kidman for supporting him. They were spotted on the rides at an Australian amusement park at the end of the year, during Urban's holiday break from his treatment. Meanwhile, in late 2006, the Hollywood Reporter named Kidman the best-paid actress in films. As 2007 began, Kidman had signed on to several high-profile film projects, from the science fiction film The Invasion (for which she was being paid a reported $17 million) to an adaptation of The Golden Compass to a World War II film directed by Baz Luhrmann.
Family:
Married Tom Cruise (an actor), 24 December 1990 (divorced, August 2001); married Keith Urban (a country singer), 25 June 2006; children: Isabella Jane, Connor Anthony.
Career:
Began acting on stage at age 10; first movie role in Bush Christmas (1983) at age 14; appeared on TV series Five Mile Creek, 1984.
Awards:
Australian Film Institute Award for Best Performance by an Actress in a Leading Role in a Television Drama, for Vietnam, 1988, and for Bangkok Hilton, 1989; ShoWest Female Star of Tomorrow, 1992; Golden Globe Award for Best Performance by an Actress in a Motion Picture--Comedy/Musical, London Critics Circle ALFS Award for Actress of the Year, and Broadcast Film Critics Association Award for Best Actress, for To Die For, 1995; Blockbuster Entertainment Award for Eyes Wide Shut, 2000; Entertainment Weekly's Entertainer of the Year, 2001; MTV Movie Awards for Best Female Performance and Best Musical Sequence and Golden Globe Award for Best Performance by an Actress in a Motion Picture--Comedy/Musical, for Moulin Rouge!, 2002; Golden Globe Award for Best Performance by an Actress in a Motion Picture--Drama, Oscar Award for Best Actress in a Leading Role, British Academy of Film and Television Arts Film Award for Best Performance by an Actress in a Leading Role, and Berlin International Film Festival Silver Berlin Bear Award, for The Hours, 2003; received Hollywood Walk of Fame star, 2003; Companion in the General Division of the Order of Australia, 2006. Agent: c/o Nancy Seltzer, 6220 Dell Valle Drive, Beverly Hills, CA 90048, U.S.A.; Creative Artists Agency, 9830 Wilshire Blvd., Beverly Hills, CA 90212.
WORKS
Films as Actress
* 1983: Bush Christmas (Prince and the Great Race) (Safran) (as Helen)
* 1983: BMX Bandits (Trenchard-Smith) (as Judy)
* 1983: Chase Through the Night (Rubie--for TV) (as Petra)
* 1984: Matthew and Son (Conway--for TV) (as Bridget Elliot)
* 1985: Wills & Burke (Weis) (as Julia Matthews)
* 1985: Winners (mini, for TV)
* 1985: Archer's Adventure (Lawrence) (as Catherine)
* 1986: Watch the Shadows Dance (Nightmaster) (Joffe) (as Amy Gabriel)
* 1986: Vietnam (Duigan and Noonan--mini, for TV) (as Megan Goddard)
* 1986: Windrider (Monton) (as Jade)
* 1987: The Bit Part (Maher) (as Mary McAllister)
* 1987: Room to Move (Duigan--for TV) (as Carol Trig)
* 1987: Un australiana a Roma (as Jill)
* 1988: Emerald City (Jenkins) (as Helen)
* 1989: Dead Calm (Noyce) (as Rae Ingram)
* 1989: Bangkok Hilton (Cameron--mini, for TV) (as Katrina Stanton)
* 1990: Days of Thunder (Scott) (as Dr. Claire Lewicki)
* 1991: Flirting (Duigan) (as Nicola Radcliffe)
* 1991: Billy Bathgate (Benton) (as Drew Preston)
* 1992: Far and Away (Howard) (as Shannon Christie)
* 1993: My Life (Rubin) (as Gail Jones)
* 1993: Malice (Becker) (as Tracy Kennsinger)
* 1995: To Die For (Van Sant) (as Suzanne Stone Maretto)
* 1995: Batman Forever (Schumacher) (as Dr. Chase Meridian)
* 1996: The Portrait of a Lady (Campion) (as Isabel Archer)
* 1996: The Leading Man (Duigan) (as Academy Awards Presenter)
* 1997: The Peacemaker (Leder) (as Julia Kelly)
* 1998: Practical Magic (Dunne) (as Gillian Owens)
* 1999: Eyes Wide Shut (Kubrick) (as Alice Harford)
* 2001: Moulin Rouge! (Luhrmann) (as Satine)
* 2001: Birthday Girl (Butterworth) (as Nadia)
* 2002: The Hours (Daldry) (as Virginia Woolf)
* 2003: Dogville (von Trier) (as Grace Margaret Mulligan)
* 1999: Eyes Wide Shut (Kubrick) (as Alice Harford)
* 2003: Cold Mountain (Minghella) (as Ada Monroe)
* 2004: Stepford Wives (Oz) (as Joanna Eberhart)
* 2004: Birth (Glazer) (as Anna)
* 2005: Bewitched (Ephron) (as Samantha)
* 2005: The Interpreter (Pollack) (as Silvia Broome)
* 2006: Fur: An Imaginary Portrait of Diane Arbus (Shainberg) (as Diane Arbus)
*2007: The Invasion
*2007:Margot at the Wedding
*2007: The Golden Compass
*2008: Australia
*2009: Nine
*2010: Rabbit Hole
*2011: Just Go With It
Read more
Latest headlines