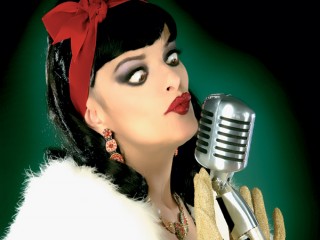 Nina Hagen biography
Date of birth : 1955-03-11
Date of death : -
Birthplace : East Berlin, German Democratic Republic
Nationality : German
Category : Arts and Entertainment
Last modified : 2011-11-19
Credited as : Singer, rock musician, Nina Hagen Band
Nina Hagen is one of the most controversial rock singers of our time, one that people either love or hate passionately. "Nina Hagen is at once the most outlandish of rock clowns and the most intensely committed and flaked-out female pop visionary since Patti Smith herself," wrote Tim Holmes in Rolling Stone, "She sings, mumbles, growls, yelps, shrieks and warbles."
On stage as well as in public Hagen loves eccentric appearances. When Billboard's Roman Kozak arrived at her New York East Side apartment for an interview before a performance at the Ritz, Hagen received him in her kitchen, "dressed in what looked like a white paper diaper, a black Valkyrie bra, and a leather cap that hid what was left of her cropped red hair." Hagen's career has been a cycle of ups and downs. But her eccentric style which emphasizes her belief in individual freedom, UFO's, and in the divinity of humans hasn't changed much over the years, while her extreme exuberance was in part replaced by political statements and action. After some rather quiet times in the late 1980s, Hagen jumped off to a new start in re-united Germany in the 1990s.
When Nina Hagen was born in March 1955, her parents-script writer Hans Hagen and actress Eva-Maria Hagen-were at the peak of their success in the German Democratic Republic. They divorced when Hagen was two. She stayed with her mother and was heavily influenced by her theater work. When she was about nine, she started taking classes in classical voice, guitar, and piano. Hagen sang in the theater choir and later with the Lacomy singers, a studio background group.
In the shadow of her mother's fame, Hagen's early rebellion often went unpunished. She was excluded from the communist youth organization, left school after the tenth grade and, when she was 17, failed the admission test for the East German Actors School in Berlin. Instead, she sang along to tapes of Tina Turner and Janis Joplin and went on a trip to Poland where she performed together with a band for the first time. Hagen studied sound engineering in a one-year intensive course at the Studio for Popular Music in East Berlin, which included road-show training. She then performed with several bands at various jazz events in East Berlin and toured East Germany. When her mother's new boyfriend-Wolf Biermann, a prominent singer and songwriter who had publicly criticized the East German regime-was forced to leave the country at the end of 1976, Nina Hagen followed him with her mother to West Germany.
At age 21, Hagen settled in Hamburg and her stepfather helped her to get a recording contract with CBS, giving her time and money to learn about western culture and the music business. After exploring the London reggae and punk scenes, she formed the Nina Hagen Band and, in 1977, gave three sold-out performances in West Berlin. In 1979, her first album Nina Hagen Band was released. It included cover versions of the Tubes' "White Punks on Dope," and Norman Greenbaum's "Spirit in the Sky" with German lyrics, and used elements of American new wave similar to Patti Smith or Blondie. Hagen was in high demand and the renowned German news magazine, Spiegel, celebrated the band as "one of the hottest European bands since the Sex Pistols."
On the way to becoming an international star, however, Hagen dissolved her band because she felt that guitar solos had become more important than her voice to her accompanists. She finished a second album with the band to fulfill her obligation to her record company. Unbehagen, released in 1980, was a success throughout Europe. In the meantime, Hagen's extensive European media coverage focused more and more on her scandalous lifestyle rather than on her anti-establishment lyrics and music.
With Dutch guitarist Ferdinand Karmelk, Hagen auditioned musicians for a new Nina Hagen Band in New York and Hollywood and met with Columbia Records executives. A year later, the first Hagen record was released in the United States-a limited edition commercial ten inch EP with two songs each from her first and second album. When Hagen learned that she was pregnant, she moved to Los Angeles alone, where Frank Zappa's manager Bennett Glotzer took over her career. Hagen's first American album Nunsexmonkrock-a mixture of hard rock and funk, with elements of Islam and the witch cult of the Middle Ages-was recorded in New York and released in 1982 on the Columbia label. Although it was very controversially received, Hagen toured with her three-piece backing group No Problem Orchestra through England, Canada, and the United States in the summer of 1982.
Hagen's next album Fearlesswas a success. Her "New York, New York" became a top ten dance chart hit. Hagen played with her voice like a "master vocal technician" and sounded "at will like an opera singer, Vincent Price and one of the Chipmunks," wrote Kim Freeman in Billboard describing one of Hagen's New York shows. She went on a world tour in 1984, and again a year later after her next album was released in spring 1985.
Nina Hagen in Ekstasy showed once more Hagen's self-esteem. In the title song "Prima Nina in Ekstasy" she sang: "I love myself and I know who I am/I'm Queen of Punkrock/I'm the mother of punk so what the funk." The album included Hagen's interpretations of the Lord's Prayer, Paul Anka's "My Way," and, once again, Norman Greenbaum's "Spirit in the Sky." Hagen was a major act at the 1985 "Rock in Rio" festival and went on a major tour across the United States. "One never knows what to expect from Nina Hagen, except an interesting show," wrote Kathy Gillis about a Hagen performance in New York's Bacon Theatre in Billboard. According to Gillis, the show "included a good bit of opera, a hula skirt and a UFO," as well as "a lot of spiritual, social and political talk woven around the songs, all delivered in a dizzying range of voices." In the rock and roll part of the show, Hagen was "prancing around in a lighted bra that looked spectacular when the rest of the stage was dark," and sometimes Hagen sang and spoke French and German in addition to her "lightly accented" English.
All of Hagen's later albums sold primarily in Germany. She became more politically articulate, spoke and sangagainst apartheid in South Africa, and for animal rights. "Don't Kill The Animals" became a hit in 1986. Nina Hagen, amore rock and roll oriented album, was released in 1989 and that same year she moved to Paris, where fashion designer Jean-Paul Gaultier eliminated her garish makeup and hair colors.
With the title "Gorbachev Rap" on the 1989 album Nina Hagen the singer expressed her approval of the political reforms the Soviet Union was undergoing at the time. In the spring of 1990, Hagen performed at a women's festival in Moscow, and went on a Street Party Tour through European cities. In the summer of 1991, her concert in the former East German city of Halle flopped when only 1,200 of 10,000 expected fans showed up.
Besides her solo shows, Hagen acted in the Marianne Rosenbaum comedy "Lilien in der Bank." She also received her own weekly30-minute talk show on German TV channel RTLplus, and toured Germany in a two-woman Brecht-show with Meret Becker. In May of 1996, Hagen married David Lynn, who was fifteen years her junior, in Los Angeles.
Back in the United States in 1998, Hagen participated in an AIDS benefit at the Lust for Life bar in New York City where she sang her classic "New York, New York" along with several new songs accompanied by a four-piece band. Evelyn McDonnell in Village Voice found that Hagen's "concoction of punk, funk, reggae, and rock ... sounded stilted, pretentious, weird" twenty years before, but she noted about the 1998 concert: "With her long, dark hair pulled up into ponytails, eyeliner out to her temples, and fluorescent solar systems adorning her pantsuit,...she looked as good as she sounded. Extraterrestrial demon-child is a timeless guise." McDonnell concluded that "Hagen came across not as a blast from the past, but a return of the future."
Hamburg film director Peter Sempel accompanied Hagen for two years with a camera. His documentary Nina Hagen-Punk and Glory was presented at the Berlin International Film Festival in February of 1999. At that time, Hagen was planning to perform her charity CD Om Namah Shivay, a devotional album with 13 tracks of traditional Hindu songs, in theatres around Germany. She was also planning a big summer tour to promote her new album which was scheduled to hit the shelves in mid-1999.
In 2000, her song Schön ist die Welt became the official song of Expo 2000. Another cover of a Zarah Leander song "Der Wind hat mir ein Lied erzählt" was a minor hit the same year. The album The Return of the Mother was released in February 2001, accompanied by another German tour. In 2001 she collaborated with Rosenstolz and Marc Almond on the single Total eclipse/Die schwarze Witwe that reached #22 in Germany.
Hagen dubbed the voice of Sally in the German release of Tim Burton's The Nightmare Before Christmas, and she has also done voice work on the movie Hot Dogs by Michael Schoemann. Hagen has been featured on songs by other bands, for instance on Oomph!'s song "Fieber". She did a cover of Rammstein's "Seemann" with Apocalyptica. Later albums include Big Band Explosion, in which she sang numerous swing covers with her then husband, Danish singer and performer, Lucas Alexander.
This was followed by Heiß, a greatest hits album. Her most recent album, Journey to The Snow Queen, is more of an audio book—she reads the Snow Queen fairy tale with Tchaikovsky's The Nutcracker in the background.Hagen has been an active protester against the war in Iraq. In 2006 she was a part of the Popstars team. Her latest album, Personal Jesus was released July 16, 2010, after a four year lapse.
Selected discography:
-Nina Hagen Band , (with Nina Hagen Band), UK CBS, 1979.
-Unbehagen , (with Nina Hagen Band), CBS, 1980.
-Nunsexmonkrock , Columbia, 1982.
-Fearless , Columbia, 1984.
-Nina Hagen in Ekstasy , (includes "Prima Nina in Ekstasy") Columbia, 1985.
-Nina Hagen , German Mercury, 1989.
-Love , Polygram, 1990.
-Nunsexmonkrock/Nina Hagen Band , Columbia, 1991.
-Freud Euch ,RCA, 1995.
-Bee Happy , RCA, 1996.
-14 Friendly Abductions: The Best of Nina Hagen , Columbia/Legacy, 1996.
-Was denn... - Hits '74 - '95 , Amiga, 1997.
-Om Namah Shivay , 1998.
Read more
Latest headlines