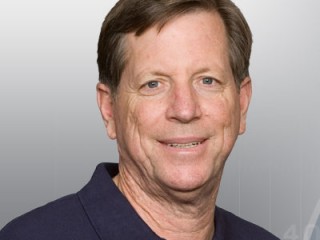 Norv Turner biography
Date of birth : 1952-05-17
Date of death : -
Birthplace : Camp Lejeune, North Carolina
Nationality : American
Category : Sports
Last modified : 2010-09-21
Credited as : Football coach NFL, head coach for the San Diego Chargers, Super Bowls
Norval Eugene Turner (born May 17, 1952 at Camp Lejeune, North Carolina) is the head coach for the National Football League's
San Diego Chargers.
He also has served as head coach of the Washington Redskins and the Oakland Raiders, and as offensive coordinator for the Dallas Cowboys, San Diego Chargers, Miami Dolphins, and San Francisco 49ers. His explosive offense, built around a strong ground attack and the ability to strike fast via the deep pass, is referred to as "Norv-West Air", a play on the name of an airline with a similar name. He is the brother of former University of Illinois head football coach and former Chicago Bears offensive coordinator Ron Turner.
Named
NFL Coach of the Year by USA Today
in 2009, Norv Turner is one of the most successful coaches in Chargers history. He has guided the franchise to three-straight AFC West titles, and his winning percentages (.648 overall, including playoffs, and .667 regular-season) are highest in team annals. Turner's marks include records of 35-18 overall, 32-16 in the regular season and with three playoff wins under his belt, he's tied with Don Coryell and Bobby Ross for the most in team history. No other Chargers coach ever started his career with three-straight division titles and no other NFL coach has done it since 1994-96 when Barry Switzer won three consecutive NFC East titles with Dallas.
This level of success gave Chargers President Dean Spanos the confidence on Jan. 18, 2010 to sign Turner to a three-year contract extension through 2013.
In guiding San Diego to three-straight AFC West titles, Turner has saved some of his best coaching for late in the season. His teams are an NFL-best 13-0 in December overIn 2009 the Chargers ranked fourth in the NFL in scoring, averaging 28.4 points per game. It was the sixth year in a row that the Chargers averaged more than 25.0 points per game, including three-straight under Turner. The last team to average at least 25.0 ppg for six consecutive seasons was the Cleveland Browns from 1950-55. the last three years.
Several Chargers enjoyed career years in Turner's offense in '09, including Philip Rivers, whose 4,254 passing yards marked a second-consecutive 4,000-yard season. Others to enjoy career years in '09 include Vincent Jackson (68 catches, 1,167 yards and nine touchdowns), Antonio Gates (1,157 yards receiving), Malcom Floyd (776 yards), Darren Sproles (840 combined rushing and receiving yards and seven combined touchdowns), Legedu Naanee (242 yards receiving and his first two career regular-season touchdown catches) and Mike Tolbert (340 combined rush and receiving yards and four touchdowns).
In 2008 Turner led the Chargers through one of the greatest turnaround seasons in NFL history. His team started 4-8, but won its final four in a row to close the season 8-8. The Chargers won the AFC West title and became the first team in the current division format to win their division when trailing by three games with three left to play. They did so with a thoroughly convincing 52-21 win over the Denver Broncos in the regular season finale. Turner capped off the year by leading the Chargers to the Divisional Playoffs for the second-consecutive year, highlighted by a thrilling 23-17 OT win over Indianapolis in the Wild Card round.
His first season at the helm in San Diego in 2007 was filled with excitement. Turner led the team to 11 wins, a personal career-high, and joined Ross as the only coaches in team history to win the AFC West in their first season. Turner also became the first Chargers coach since Ross to win a playoff game, winning not just one, but two as San Diego defeated Tennessee in the Wild Card Playoffs and Indianapolis on the road in the Divisional round. The run ended in New England in the AFC Championship Game, but not before Turner became only the sixth head coach in NFL history to lead a team to the championship game in his first season at the helm.
Chargers fans got their first glimpse of Turner's offensive wizardry in 2001 when he spent a season as the team's offensive coordinator. The offense improved 17 spots in the rankings when the Bolts climbed from 28th to 11th in total offense and that '01 squad finished the season with a 3,000-yard passer (Doug Flutie), a 1,000-yard rusher (LaDainian Tomlinson) and 1,000-yard receiver (Curtis Conway) for only the second time in team history.
Turner left San Diego after '01, spending the next five years between Miami, Oakland and San Francisco. He spent two seasons as the Dolphins' offensive coordinator (2002- 03), two as the Raiders' head coach (2004-05) and one as the 49ers' offensive coordinator (2006). And then six years later on February 19, 2007, he returned to San Diego as the new head coach of the Chargers.
Turner was born in the Bay Area suburb of Martinez, California, the same city that produced baseball legend Joe DiMaggio. He grew up the middle of five children, all of whom were raised by his mother, Vicky, a single parent. Vicky battled multiple sclerosis, spending the latter years of her life in a wheelchair before her passing in 1989. Now Turner's oldest sister, Janis, is also battling the disease. In tribute to his sister, and more so his mother and the personal sacrifices that she made for her family, Turner serves on the board of the San Diego Chapter of the Multiple Sclerosis Society and in May served as the Honorary Chair for the MS Society's Golf Invitational at the La Jolla Country Club.
Before she died, Vicky steered her sons toward sports. Norv's younger brother, Ron, followed in his footsteps, excelling on the collegiate gridiron and later in the coaching profession. Ron spent nine years (2001-09), including an NFC Championship season in 2006, as the offensive coordinator for the Chicago Bears and in 2010 will serve as the wide receivers coach for the Indianapolis Colts.
As a teenager, Norv played quarterback and safety at Alhambra High School in Martinez. He earned a scholarship to the University of Oregon and won three varsity letters (1972-74) as a quarterback for the Ducks, spending two of his three seasons as the backup to former Charger and NFL Hall of Fame quarterback Dan Fouts. One of the assistant coaches on Oregon's staff, John Robinson, would later give Turner his first big break as a coach. First though, Turner landed a job on his own at Oregon as a graduate assistant after graduating in 1975.
In 1976 Robinson moved on to the University of Southern California and invited Turner to go along. Turner would end up spending the next nine seasons in Los Angeles, winning four Rose Bowls and a national championship in 1978. He served as the Trojans' wide receivers coach, defensive backs coach, quarterbacks coach and offensive coordinator. In 1980, Turner tutored what is regarded by many as one of the finest defensive backfields in college football history, featuring safeties Ronnie Lott and Dennis Smith, both of whom went on to become NFL first-round draft choices in 1981. Also in that backfield was Joey Browner, who was drafted in the first round in 1983 by Minnesota, and a cornerback named Jeff Fisher, who would leave USC as a seventh round draft pick and later become the head coach of the Tennessee Titans.
In 1985 Turner landed his first NFL coaching job when Robinson hired him as an assistant coach with the Los Angeles Rams. In L.A., Turner worked aside offensive coordinator Ernie Zampese, a disciple of the "Air Coryell" offense. Zampese taught Turner the ins and outs of the offensive system made famous by former Chargers Head Coach Don Coryell.
In 1991, Jimmy Johnson hired Turner to serve as the offensive coordinator in Dallas. It proved to be a turning point in Turner's career as the Cowboys won back-to-back Super Bowl titles (XXVII and XXVIII) following the '92 and '93 seasons. In Dallas, Turner worked with three future NFL Hall of Famers: quarterback Troy Aikman, running back Emmitt Smith and wide receiver Michael Irvin.
Turner almost single-handedly resurrected Aikman's career in Dallas. In the two seasons before his arrival, Aikman threw just 20 touchdown passes and 36 interceptions. In his first season in Turner's offense, Aikman posted the first positive touchdown-to-interception ratio of his career and led the Cowboys to the NFC Divisional Playoffs. A year later, Aikman would go on to pass for a career-high 3,445 yards with 23 touchdowns and only 14 interceptions while leading Dallas to a 13-3 record and their first NFC East title since 1985. Aikman continued his ascent in the playoffs, directing Dallas to three-straight postseason wins en route to capturing MVP honors following Dallas' 52-17 win over the Buffalo Bills in Super Bowl XXVII. The following year, Aikman completed a franchise-record 69.1 percent of his passes and led the Cowboys to a second-consecutive Super Bowl win over the Bills. And when he was enshrined in the Pro Football Hall of Fame in 2006, Aikman asked Turner to be his presenter.
Smith and Irvin also flourished under Turner. They led the NFL in rushing and receiving, respectively, in 1991, marking the first time since the NFL-AFL merger in 1970 that teammates led the league in both categories. Since then it has happened only one other time (Indianapolis, 1999).
Catapulting off his success in Dallas, Turner was named the head coach of the Washington Redskins in 1994. It was his first-ever head coaching assignment and Turner ended up spending seven years in our nation's capital. He led the Redskins to four winning seasons and an NFC East championship in 1999. During his tenure in Washington, Turner was a mentor to two Pro Bowl quarterbacks, Brad Johnson and Gus Frerotte. Johnson flourished in Turner's offense, throwing for 4,005 yards in '99, only the second 4,000-yard season in Redskins history.
Besides Turner's incredible success in developing quarterbacks, several running backs also flourished in his offensive system. Three, including Tomlinson, won NFL rushing titles while playing for Turner. Tomlinson captured his in 2007, while Smith won three (1991-93) and Miami's Ricky Williams (2002) earned one.
Turner, his wife, Nancy, and their youngest son, Drew, live in Del Mar, California. Drew is in his junior year at the University of San Diego. Their daughter, Stephanie, lives in Los Angeles and is an actress who has appeared in several movies and television shows. Oldest son Scott has followed in the coaching footsteps of his father and uncle and serves as the wide receivers coach at the University of Pittsburgh.
Read more
Latest headlines