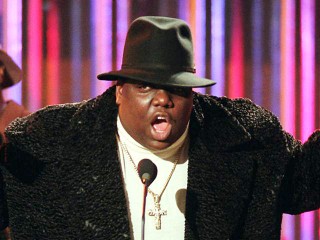 Notorious B.I.G. biography
Date of birth : 1972-05-21
Date of death : 1997-03-09
Birthplace : Brooklyn, New York
Nationality : American
Category : Arts and Entertainment
Last modified : 2010-05-18
Credited as : Rap singer, Jay-Z, Life after Death
Christopher George Latore Wallace
(May 21, 1972 – March 9, 1997), was an American rapper. He was popularly known as
Biggie Smalls
(after a character in the 1975 film Let's Do It Again) or simply
Biggie, Frank White
(after the main character of the 1990 film King of New York), and by his primary stage name
The Notorious B.I.G..
Born the only child of Voletta Wallace, Christopher was special from the beginning. "He was singing and talking before he could walk," his mother remembers. "Writing before he attended school, the biggest most beautiful handwriting. And everyone loved Christopher, everyone."
Raised by a single parent in Brooklyn's Bedford Stuyvesant, young Christopher found himself pulled in two different directions. He dreamed of being a graphic artist and was an honor student ("and I have the awards to prove it," beams Mrs. Wallace). On the other hand, there was the peer pressure from the neighborhood, young men who were famous for being junior outlaws.
Though he became known as "Big Chris" in the neighborhood and could be found holding down the corner on his block, the neighborhood knew that he had more than a nice dice game. He could rhyme. "He would just show up at a house party, something local, spit a rhyme, tear the place down and bounce," says Lil' Cease. "He was just nice. It was his God-given gift."
A tape he made with Big Daddy Kane's DJ, Mister Cee, was submitted to The Source Magazine for their "Unsigned Hype" competition. It won. The tape, a basement production of B.I.G. rhyming with authority over "Half-Steppin," was forwarded to Bad Boy founder and CEO, Sean "Puffy" Combs, who was looking for a hardcore rapper. He was blown away. "I just kept rewinding and rewinding it. I had to meet him," remembers Puffy.
Within weeks of signing Biggie, Puffy put him to work, placing him on re-mixes for Mary J. Blige, Super cat and Neneh Cherry. "Party and Bullshit," an anthemic club hit from the 1989 soundtrack Who's the Man? added to the street buzz. By September 13, 1994, the anticipation for Notorious B.I.G,'s debut, Ready to Die was electric. Ready to Die, with its immediacy, honest first person autobiographical narrative, superior writing, relentless deliver and cinematic style quite simply changed hip hop.
The album was an overwhelming success; the first single, "Juicy" went gold within weeks and by the end of the year the album was triple platinum. "Juicy" was a Billboard Top 5 Rap Single. His second single, "Big Poppa/Warning" reached #1, and his third, the classic "One More Chance," debuted at #1 on every format. In June of 1995, the single "One More Chance" debuted at number five in the pop singles chart, tying Michael Jackson's "Scream / Childhood" as the highest-debuting single of all time. Ready to Die continued to gain popularity throughout 1995, eventually selling two million copies. With its success, the Notorious B.I.G. became the most visible figure in hip-hop. The perfect mix of commercial materialism and realistic thuggery, Notorious B.I.G.'s 1994 debut, the multi-platinum "Ready to Die," made him an immediate hip-hop superstar.
Spreading love the Brooklyn way, B.I.G. ushered long-time friends Li'l Kim and Li'l Cease into the spotlight, forming Junior M.A.F.I.A. The crew's 1995 "Conspiracy" went gold and Li'l Kim's subsequent solo album, 1996's "Hardcore" went platinum and B.I.G. became a rap institution.
Biggie won three awards at the 1995 Source Music Awards ceremony, including Best New Artist. At that year's Billboard Music Awards, his single "Big Poppa" was named "Single of the Year" and, in 1997, Life After Death won Billboard's "R and B Album of the Year," an MTV Video Music Award for "Best Rap Video," and two ASCAP Awards. But the album's impact cannot be measured by mere chart placements and platinum certifications, or even awards. "The stakes were raised," says Wu-Tang founder and producer RZA. "Before B.I.G., you might put out anything, now you knew, okay, it's real out there, you gotta come correct, 'cause this cat is spending time on his shit."
New York embraced him as if he were mayor and Brooklyn treated Biggie like an ambassador. His success reached beyond the tri-state area, bridging regional gaps and unifying hip hop audiences across the country. Because B.I.G. had been influenced by everyone from Kool G Rap to NWA, Too Short to Slick Rick, he had national appeal. More importantly, his stories, a literal guide to understanding his generation, were universal.
Biggie's success provided his children with a secure future and changed his own life irreversibly, but it was not without a price. By the time he began work on his second, mammoth, landmark album, Life After Death (released in 1997), he had learned hard lessons about success, fame, notoriety, excess and greed. "I'm so excited to be getting back into the studio away from the drama, the things that don't have anything to do with the music," B.I.G. said the first week he began recording his sophomore opus. And indeed, he put his very heart and soul into the recording of that project. A 24-song, double disc collection that was breathtaking in its scope. Featuring lush production by Sean "Puffy" Combs, RZA and DJ Premier among others, the album established B.I.G. as one of the greatest MCs ever. Released posthumously, mere weeks after his tragic death, the album provided a way for his mourning fans to celebrate their beloved Biggie. Life After Death debuted at #1, breaking records for first-week sales and remained on the charts for months with singles like "Mo Money, Mo Problems" and "Sky's the Limit." Spin magazine named him "Artist of the Year" and he topped critics lists worldwide for "Album of the Year." Life After Death sold past 10X platinum and dominated radio and jeep rotation alike for two whole years.
Early on the morning of March 9th, The Notorious B.I.G. was returning to his hotel in Los Angeles after a Soul Train Award party when another car pulled up aside his G.M.C. Suburban in front of the Peterson Automobile Museum and opened four shot's past through the side door where Notorious B.I.G. was seated and left the world wide loved rapper un-conscious and tragically dying upon arrival to a near by hospital.
Biggie's death was a vicious shock to the entire music industry and sent shock waves around the world. The Notorious B.I.G.'s public funeral, however, was anything but peaceful. Thousands flooded into his Brooklyn neighborhood to catch a glimpse of his hearse, jumping on cars and clashing with police; ten people were arrested. A private funeral held earlier was more cordial, with Queen Latifah and members of Public Enemy and Naughty by Nature in attendance. The casket was open from the waist up, and the rapper had been fitted in a double- breasted white suit and matching hat.
Many artist have paid homage to The Notorious B.I.G. especially his own label mates who dedicated and released the mournful song "I'll be Missing You" as their gratitude and respect's to Biggie's short but very bright life. May 14 was declared Notorious B.I.G. Day, with over two hundred radio stations nationwide playing the single, followed by a thirty- second moment of silence. This single itself went onto sell more than three millions copies and funds from the single went to his children he left behind.
When clubs and concert's featured B.I.G., he always blew up the show with his lyrical tales of his life experiences and voyage into the realms of stardom and fame. Biggie said in an interview that his major role models while growing up in the streets of New York were the local drug dealers of the block and added that they gave him a view of what life was about on the streets.
Two years later after his death, the posthumous album "Born Again" is released and debut's at #1 on the charts knocking off Celine Dion from the spot. The album featured Lil' Kim, Lil' Cease, Snoop Dogg, Busta Rhymes, Ice Cube and other well known rappers paying their respect's in a celebration of the late great rappers life and legacy.
Born Again, was not a memorial or tribute, it was a celebration of life. In faith, the phrase "born again" is largely symbolic, meaning a surrendering of one's soul to a higher will, faith in the unseen, a belief in the afterlife. Here, we employ the phrase to breathe life into a legacy that was cut tragically short. Born Again is more than archival material unearthed to fill some void. Members of Biggie's own "family," including Lil' Kim, Lil' Cease and Puff Daddy, add verses too, given one more opportunity to flow with their hero and friend. Missing him is made that much more bearable because of the lasting legacy he's bequeathed-his music, his unmatched talent, and his inimitable voice.
Christopher Wallace was undoubtedly one of the greatest rappers of all time and is a legend in his own right. B.I.G. survived by his wife and two children. Still today, many want to learn more about the late great rapper. Many remember what he accomplished as well as gained in his very young bright successful career. Notorious B.I.G. might be physically gone but spiritually he will always be alive thru his works. Nevertheless he was larger than life. The murder investigation of The Notorious B.I.G is still active to this day but there has still been no arrest's in the murder...
P.Diddy Is Currently Working On The Biggie Duets Album. It Is Set To Drop In The Summer Of 2004.
His double-disc set
Life After Death
, released 15 days later, hit #1 on the U.S. album charts and was certified Diamond in 2000. Wallace was noted for his "loose, easy flow", dark semi-autobiographical lyrics and storytelling abilities. Since his death, a further two albums have been released. MTV ranked him at #3 on their list of The Greatest MCs of All Time. He has sold 17 million albums in the United States.
Style
Wallace mostly rapped on his songs in a deep tone described by Rolling Stone as a "thick, jaunty grumble", which went deeper on Life After Death. He was often accompanied on songs with ad libs from Sean "Puffy" Combs. On The Source's Unsigned Hype, they described his style as "cool, nasal, and filtered, to bless his own material".
Allmusic describe Wallace as having "a loose, easy flow" with "a talent for piling multiple rhymes on top of one another in quick succession". Time magazine wrote Wallace rapped with an ability to "make multi-syllabic rhymes sound... smooth", while Krims describes Wallace's rhythmic style as "effusive". Before starting a verse, Wallace sometimes used onomatopoeic vocables to "warm up" (for example "uhhh" at the beginning of "Hypnotize" and "Big Poppa" and "whaat" after certain rhymes in songs such as "My Downfall").
Lateef of Latyrx notes that Wallace had, "intense and complex flows", Fredro Starr of Onyx says, "Biggie was a master of the flow", and Bishop Lamont states that Wallace mastered "all the hemispheres of the music" in the book How to Rap, which also states that, "Notorious B.I.G. also often used the single-line rhyme scheme to add variety and interest to his flow". Big Daddy Kane suggests that Wallace didn't need a large vocabulary to impress listeners – "he just put his words together a slick way and it worked real good for him". Wallace was also known to write his lyrics in his head, rather than on paper, in a similar way to Jay-Z.
Wallace would occasionally vary from his usual style. On "Playa Hater" from his second album, he sang in a slow-falsetto. On his collaboration with Bone Thugs-n-Harmony, "Notorious Thugs", he modified his style to match the rapid rhyme flow of the group.
Legacy
Wallace is celebrated as one of the greatest rap artists and is described by Allmusic as "the savior of East Coast hip-hop". The Source and Blender named Wallace the greatest rapper of all time. In 2003, when XXL magazine asked several hip hop artists to list their five favorite MCs, Wallace's name appeared on more rappers' lists than anyone else. In 2006, he was ranked at #3 in MTV's The Greatest MC's of All Time.
Since his death, Wallace's lyrics have been sampled and quoted by a variety of hip hop, R&B and pop artists including Jay-Z, 50 Cent, Alicia Keys, Fat Joe, Nelly, Ja Rule, Eminem, Lil Wayne, and Usher. On August 28, 2005, at the 2005 MTV Video Music Awards, Sean Combs (then using the rap alias "P. Diddy") and Snoop Dogg paid tribute to Wallace: an orchestra played while the vocals from "Juicy" and "Warning" played on the arena speakers. In September 2005, VH1 had its second annual "Hip Hop Honors", with a tribute to Wallace headlining the show.
Before his death, Wallace founded a hip hop supergroup called The Commission, which consisted of Jay-Z, Lil' Cease, Combs, Charli Baltimore and himself. The Commission was mentioned by Wallace in the lyrics of "What's Beef" on Life After Death and "Victory" from No Way Out but never completed an album. A song on Duets: The Final Chapter titled "Whatchu Want (The Commission)" featuring Jay-Z was based on the group.
Wallace had begun to promote a clothing line called Brooklyn Mint, which was to produce plus-sized clothing but fell dormant after he died. In 2004, his managers, Mark Pitts and Wayne Barrow, launched the clothing line, with help from Jay-Z, selling T-shirts with images of Wallace on them. A portion of the proceeds go to the Christopher Wallace Foundation and to Jay-Z's Shawn Carter Scholarship Foundation. In 2005, Voletta Wallace hired branding and licensing agency Wicked Cow Entertainment to guide the Estate's licensing efforts. Wallace-branded products on the market include action figures, blankets, and cell phone content.
The Christopher Wallace Memorial Foundation holds an annual black-tie dinner ("B.I.G. Night Out") to raise funds for children's school equipment and supplies and to honor the memory of the late rapper. For this particular event, because it is a children's schools' charity, "B.I.G." is also said to stand for "Books Instead of Guns".
Read more
Latest headlines