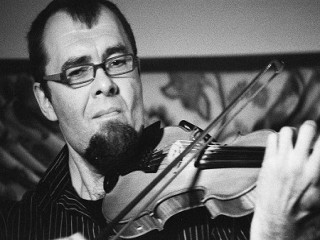 Oliver Schroer biography
Date of birth : 1956-06-18
Date of death : 2008-07-03
Birthplace : Toronto, Ontario, Canada
Nationality : Canadian
Category : Famous Figures
Last modified : 2012-01-27
Credited as : fiddler, Composer, Producer
Oliver Schroer was a Canadian fiddler, composer, and music producer. New Age acoustic violinist Oliver Schroer emerged as a significant creative force on the North American music scene during the 1990s, with four self-published albums and legions of professional collaborations to his credit. Yet Schroer, a "baby boomer," was a latecomer to the electronic technology that pervaded the music industry during the late twentieth century.
Schroer grew up not only without daily television and radio, but also he was well into high school when he first discovered guitar amplification during his mid-teens. Despite his traditional upbringing, musical classicism left him unmoved; as an eight-year-old he shunned his violin, and later as a teen-ager he left the instrument to collect dust while he practiced the guitar. He took a second look at his old violin only after painting it blue and learning to appreciate the diversity of authentic country music, at which point he capitalized on his early training and developed his natural talent to become a self-made man of music and melody, a musician's musician.
Schroer was born in the mid-1950s in Toronto, Ontario. He grew up approximately 100 miles northwest of the city, in the town of Flesherton. He learned to play the recorder at age six and the violin at age eight. As with young music students everywhere, he failed to appreciate the discipline, the monotony of the scales, and the perceived dullness of the classical repertoire. As a baby boomer in a modest family growing up in the 1950s and 1960s, Schroer remained unaccustomed not only to exotic electronics, but also to simple receivers and apparatuses as well. The family rarely watched television; likewise the wizardry of radio was a rarity in the Schroer household. He was in his mid-teens before he understood the specific role of a guitar amplifier in popular music.
Schroer was around ten years old when his older siblings embraced folk music, and his mother joined them. Not to be left out, Schroer listened too and was taken by the friendlier tunes. "Puff the Magic Dragon" was his self-admitted favorite. In early adolescence he noticed his siblings and friends turning increasingly to popular rock & roll music for entertainment. Some of them preferred country or blues, with Johnny Winter the unanimous favorite; thus Schroer's childhood interest in music developed into a captivating hobby when a friend with a folk guitar showed him how to play that instrument. Schroer virtually abandoned his classical training by age 13, and his violin repertoire dwindled to one single song, called "Orange Blossom Express," that he had gleaned from an old Mason Williams Band recording. Despite a personal preference for German classical music and the jazz of Louis Armstrong, Schroer's father conceded defeat, and presented his son with a new electric guitar on the boy's sixteenth birthday.
Schroer spent the following summer in the French-Canadian province of Quebec, through an exchange student program. A new world opened before him as he learned to speak French and discovered hard rock and other modern musical forms. His roommate at the school was a musical die-hard, with a record player stuck in perpetual motion. Through his new friend, Schroer discovered Frank Zappa and Jethro Tull; James Taylor made a debut into Schroer's life as well.
To a large extent Schroer's interest in music remained confined to playing the guitar for amusement. The notion of music as a profession existed beyond his idea of options. He viewed academic discipline as the solitary career base of life. According to that anticipation, he enrolled in college and studied history and philosophy, but his love for music and a new-found interest in jazz occupied his time. He became an avid follower of Chick Corea and Lenny Breau, and also developed an interest in the styles of guitarist Joe Pass and pianist Bill Evans.
As Schroer's musical taste matured, his violin--which he had by then painted blue--lay idle on the shelf; guitar remained his instrument of choice. He fiddled only sporadically, in jam sessions with friends, and on such rare occasions he plugged the violin into an amplifier (after he developed an understanding of the purpose of the electronic device).
During his undergraduate years (and there were ten of them), Schroer joined the Traverston Band along with a friend named Jim Ryan; Schroer played his first professional performance at a New Year celebration in 1982. The thrill of playing appealed to him more than the $30 compensation that he received, and although he was hired to play the guitar, he enhanced the evening with samples of his fiddle playing. Traverston Band stayed busy, and the gigs were diverse. Schroer's repertoire grew quickly. He added more fiddling, square dance tunes, country songs--scores of compositions in all--enough to play all day and all night.
Schroer's next musical colleague was named Chris Sankey. Schroer along with Sankey, an acquaintance from a college philosophy class, favored open-air venues. They played in subways and on street corners, a practice known as "busking." Schroer enjoyed the lifestyle and continued as a solo busker for several years on his own. The art of a busker was demanding, and in time Schroer commanded a substantial repertoire--more than 600 tunes. He played most often in the subways during business commutes, and he enjoyed the unique audience intimacy afforded only by performing on the street. Interestingly, Schroer perceived that he charmed his audience more effectively with his violin than with his guitar.
When Schroer and a friend enrolled in a square dancing class, Schroer carried his violin to the sessions and spent much of the time jamming with the musicians rather than strutting around the dance floor. The fiddlers shared techniques with Schroer who was eager to learn, and he developed his proficiency in Irish and French fiddle music.
Scandinavian, Balkan, and Asian jazz came next, as Schroer's curiosity for old fiddling styles was insatiable, or so it seemed. In 1987, he established a jazz quartet, called Eye Music. After the ensemble performed at the Montreaux Jazz festival in Switzerland in 1988, Schroer started a second band, called Stewed Tomatoes. He took Stewed Tomatoes around Canada, where they performed frequently at the various local folk festivals. The electrically charged Stewed Tomatoes featured Schroer's amplified violin playing plus horns and a rhythm section. Their galvanizing sound was a sellout at Bathurst Street Theatre in Toronto, and the group did the honors for a time as the house band at Stewart McLean's Vinyl Cafe as well. They appeared at the Northern Encounters Festival in Toronto, at the Canada Day celebration on Parliament Hill in Ottawa, at New York City's Lincoln Center, and with James Keelaghan on tour.
Individually, Schroer accompanied many popular folk singers and sat in with other ensembles as well: Thomas Handy, James Keelaghan, Marc Jordan, George Fox, Stephen Fearing, and Don Ross. Schroer played on recordings with Jimmy Webb, Barry Mann, the country "girl group" Quartette, and alternative rock's Great Big Sea. He was heard on James Keelaghan's Road, and on Arc with Thomas Handy. He contributed to Teresa Doyle's Dance to Your Daddy, which won the East Coast Music Award as best children's album of 1997, and he was heard on her album, If Fish Could Sing. Overall, Schroer contributed sounds or technical assistance to approximately 75 albums.
Schroer released albums of his own music in 1993, 1994, 1996, 1998, and 1999 through his Big Dog Music label. He contributed also to Who's Forest, an album from which profits were earmarked for the Partnership for Public Lands. He received a commission for 2000, to collaborate with three others in developing the music for the Canada Day celebration that year that was scheduled in Ontario at Toronto's Harbourfront. Additionally, 1996 saw the publication of Schroer's composition, "Horseshoes and Rainbows," in Fiddler Magazine's Favorites.
Schroer, through his assorted memberships in his own and other bands, including Muddy York and Rare, came to a clear recognition of his musical identity. Over time he unleashed the power of his violin in the process. He consistently proved himself unwilling to isolate music within the framework of one or two genres. He focused instead on optimizing the melody, regardless of musical style. His practice technique evolved effectively into a formula, albeit a creative concoction, whereby he recorded each melody repeatedly in order to preserve every subtle innuendo on tape, along with every flagrant improvisation of the respective play-through. In the seemingly endless repetition of recorded notes Schroer noted each minor discrepancy that distinguished one play-through from another.
Subsequently, he mentally spliced selected interludes, thus weaving a completed selection from the individual parts. In performance and on recordings, he reproduced the mentally spliced melodies for his unsuspecting audience. Schroer's focus on the intricacies of melody brought him from his early country fiddling days, through the folk styles of his numerous contemporaries, to what he called the a cappella violin style that he demonstrated repeatedly on his solo CDs on which he glided adeptly from Bach partitas, through bayou blues and traditional melodies, performing these and his own personal compositions with equal agility.
Schroer lives in Toronto and continues to shun television, videotape, and other complexities of the last century. He makes two concessions to technology in the form of his electrically adapted instruments, and his self-styled Internet site, a "funky web page," at http://www.oliverschroer.com.
In 2007, Schroer was diagnosed with leukemia, which proved to be untreatable. A tribute concert for Schroer was held on February 19, 2008 at Hugh's Room in Toronto. It featured the Twisted String Project, seventeen kids, aged 9 through 18, led by two of Oliver's students. They raised the money through private donations to fly to Toronto from the B.C. coast, just so they could take part in the concerts. CBC Radio 2 recorded the concert, which aired on Canada Live on April 7, 2008.
Schroer's last concert was performed on June 5, 2008. In a letter to his fans on April 30 when he first announced his intention to do this concert, he called it "Oliver's Last Concert on his Tour of this Planet". He asked that his sold-out audience clap, not cry, and apologized for not being his normal glad-handing self; the risk of infection from personal contact would have been much too great. The subsequent Globe and Mail review called Schroer "an investigative fiddler".
During his final illness, Schroer said of his compositions, "I used to write a lot of jigs, reels and waltzes - as a matter of fact I still do. But over the years new kinds of melodies emerged - more rarefied, harder to pin down. There were prayers, incantations, whimsies, melismas, mysteriosos, heisenbergs, fractal reels, forest blues, blessings.... They are not so much entertainment tunes, but music that expresses other important things about my relationship to life. This music is, dare I say, more spiritual."
Schroer composed his final piece of music, Poise, on July 2, 2008. He died the following morning as a result of his leukemia.His last words were, "Well, I guess no excursions today." Three months after his death, Schroer's CD Hymns and Hers was nominated for four Canadian Folk Music Awards.
Discography:
-Jigzup (1993), Big Dog Music - Nominated for a Juno Award in the Best Roots or Traditional Album category
-Whirled (1994), Big Dog Music
-Stewed Tomatoes (1996), Big Dog Music
-Celtica (1998), Avalon
-O2 (Double CD, 1999), Big Dog Music
-Restless Urban Primitive (2001), Big Dog Music
-A Million Stars (2004), Big Dog Music
-Camino (2006), Big Dog Music
-Celtic Devotion (2006), Avalon Records
-Hymns and Hers (2007), Big Dog Music
-Smithers (Double CD, 2007), Big Dog Music
-Freedom Row (2010), Borealis
Read more
Latest headlines