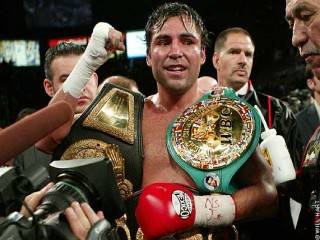 Oscar De La Hoya biography
Date of birth : 1973-02-04
Date of death : -
Birthplace : Los Angeles, California, U.S.
Nationality : American
Category : Sports
Last modified : 2010-08-02
Credited as : Professional boxer, won 10 world titles,
Oscar "The Golden Boy" De La Hoya
, born February 4, 1973 in Los Angeles, California is a retired American boxer of Mexican descent. He won a gold medal at the Barcelona Olympic Games. De La Hoya comes from a boxing family. His grandfather Vicente, father Joel Sr., and brother Joel Jr. were all boxers. De La Hoya was The Ring's "Fighter of the Year" in 1995 and Ring Magazine's top-rated Pound for Pound fighter in the world in 1997. De La Hoya officially announced his retirement from the sport at a press conference held in Los Angeles on April 14, 2009, thus ending any speculation of a potential match-up with undefeated junior middleweight, Julio César Chávez Jr, the elder son of Julio César Chávez.
De La Hoya has defeated 17 world champions and has won 10 world titles in six different weight classes. He has also generated more money than any other boxer in the history of the sport, an estimated $696 million pay-per-view income.
GROWING UP
Oscar De La Hoya
was born on February 4, 1973 to Cecilia De La Hoya and Joel De La Hoya, Sr. Raised in the hardscrabble neighborhoods of East Los Angeles, Oscar knew violence from the time he could walk (although he proudly notes that he has never been in a streetfight.) Cecilia and Joel did everything possible to shield Oscar from the problems that plagued their neighborhood. Like his older brother Joel, Jr. and younger sister Ceci, he was always well mannered and polite.
Manners, of course, didn't matter much when it came to squared circle, and Oscar's dad was a boxing fanatic. He taught Oscar how to fight in the ring at an early age. Cecilia became the youngster's biggest fan—though Joel, Sr. was much tougher on his son. After a fight, the boy was more than likely to hear what he did wrong, not what he did right. Still, Oscar soon proved himself to be a contender, a skill that earned him a great deal of respect in his barrio, where boxing was one of very few revered talents.
Oscar's brother was crazy about boxing as well. Some felt Joel, Jr. was blessed with more potential than his younger sibling. But Joel, Jr. sensed somthing special in Oscar. In fact, he was the first person to slip boxing gloves onto the youngster's hands.
Oscar always seemed destined for greatness. As a kid, he was held up by a gang. With a gun to his head, Oscar was forced to hand over his leather jacket, wallet, and camera. Hours later, all the items were returned when the thugs realized who they had mugged.
Oscar trained at the Hollenbeck Youth Center Gym in Los Angeles, which was housed in an old church. Under the guidance of his father, he prepared for his first fight at the ripe old age of six.
Oscar continued to hone his craft, turning to role models in his own neighborhood for inspiration. In 1984, he cheered for Paul Gonzales in the Summer Olympics. Gonzales, who also hailed for East L.A., won the gold medal in the light flyweight division. Oscar saw the hero status Gonzales received from his hometown fans and dreamed of achieving similar fame.
A sense of duty prevailed throughout Oscar's childhood—to his barrio and to his family. There was a brief time, however, where his ambition ran dry. Oscar felt the burden of his ability was too heavy and wanted the same kind of normal life his friends had. After a few months away from the sport, he made the ecision to head back to the gym.
As Oscar grew bigger and stronger, so did his ambition and that of his father. Eventually, Joel Sr. convinced Al Stankie, Gonzales's Olympics trainer, to take on his son.
ON THE RISE
Oscar hit the ground running to start his amateur career. His boxing schedule became so busy that eventually his family had to hire a tutor to help him with all the school he missed. Formal education, however, was of secondary importance. Oscar's career took off at an unprecedented pace, and he amassed an amateur record of 223-5 with 163 knockouts.
As Oscar traveled the country fighting on the amateur circuit, he did not know that his mother had been diagnosed with breast cancer. Cecilia flew to Seattle to watch him at the 1990 Goodwill Games, where he won his weight class. He did not know that she missed chemotherapy in order to attend. That same year, Oscar also captured the gold at both the U.S. Olympic Cup and the U.S. National Championships.
Oscar's joy, however, turned to dismay when his mom succumbed to her cancer. On her deathbed, before Cecilia died, he promised that he would win the Olympic gold medal for her.
This sad period of Oscar's life also saw "Team De La Hoya"—which was run by Joel, Sr.—adopt a shrewd business strategy, which some said bordered on cutthroat. Shortly before the 1992 Summer Games in Spain, Stankie was caught driving drunk. Soon after, Oscar's dad let him go. Similarly, Oscar's amateur manager, Shelly Finkel, who had paid for Cecilia's chemotherapy and burial, was unceremoniously canned when another management firm offered a better package.
At the '92 Olympics, Oscar kept his promise and took home the gold. Upon his return to the U.S., he found himself swarmed with offers for professional fights. On November 23, at the age of 19, Oscar made his professional debut against Lamar Williams in Inglewood, California. He dispatched Williams quickly with a knockout in the first round and collected a payday of $200,000.
Less than a month later, Oscar KO'ed Cliff Hicks to push his professional record to 2-0. The youngster continued his busy schedule over the next few years, fighting a total of eighteen times. He made great strides in 1993, as he quickly climbed the ranks and emerged as a star. His biggest victory came against former champion Troy Dorsey, with a TKO in the first round.
The others Oscar faced that year were also dispatched with considerable ease. The only fighter who managed to go the distance was Mike Grable, and Oscar beat him by decision.
Oscar's rise through the boxing world did not come without criticism. Detractors said he fought nobody but bums and journeymen. Oscar also experienced the first sparks of Latino bias. He had a fallout with Gonzales after accusing his onetime hero in a Los Angeles Times article of forgetting his roots. Oscar, meanwhile, claimed he would never be guitly of the same.
Oscar's troubles outside of the ring did not translate to problems inside it. Only once did he show the slightest weakness, when Narcisco Valenzuela sent him to the canvas in the first round of their fight. Oscar recovered and knocked out Valenzuela before the rounded ended.
Oscar's first title shot came on March 5, 1994, against Jimmi Bredahl in Los Angeles for the WBO Super Featherweight belt. He cashed in on the opportunity, registering a TKO in the tenth round. Oscar fought four more times in 1994, including a defense of his title against Giorgio Campanella. After that bout, he moved up into the lightweight division. On July 29, Oscar captured the vacant WBO title with a second-round KO of Jorge Paez. He then defended his crown against John Avila in December, this time with a knockout in the ninth round.
Oscar won four more times as a lightweight in 1995. The only fight in which he did not win by TKO was his first, when he retained his title against John Molina. The bout lasted all twelve rounds, with the decision going in Oscar's favor. In May, he claimed the IBF lightweight title from Rafeal Ruelas with a TKO in the second round. Later that year, Oscar squared off against Genaro "Chicanito" Hernandez, a promising contender from South-Central L.A. He broke Hernandez's nose so severely that the younger boxer was forced to quit the sport.
Despite Oscar's success, the Latino community did not embrace him. Before he faced Hernandez, Oscar visited Garfield High School, his alma mater, only to have students throw eggs at him. Hispanic fans felt that Oscar was too "white" and said he lacked machismo. The media, by contrast, gravitated to Oscar. Among other honors, he was named Ring Magazine's Fighter of the Year.
Oscar appeared every bit the champion heading into 1996. He faced his first great challenge against Julio Cesar Chavez for the WBC Super Lightweight title. Hailing from Culiacan, Mexico, Chavez was the incarnation of Latino pride and clearly the people's hero. His fighting style resembled that of a barroom brawler, in stark contrast to Oscar's finesse and movie-star profile. Fans sent Oscar an unmistakeable message when they booed him in his hometown Olympic Auditorium during a publicity event for the fight.
Unshaken, Oscar paid the crowd back in the way he fought Chavez. One minute into the bout, he opened up a cut above Chavez's eye, which continued to grow round after round. Chavez bled profusely as Oscar pounded away at him. The fight was called in the fourth round, as Oscar celebrated his third title. Chavez, ever the proud boxer, vowed that he would avenge his loss. Oscar, meanwhile, silenced his critics, even if only temporarily.
Oscar did not step back into the ring the rest of '96. Rested and refocused, he fought popular Mexican boxer Miguel Angel Gonzalez in January of 1997. The bout went the distance, with Oscar winning on the judges' scorecards.
It wasn't long before Oscar moved up once again, this time to the Welterweight division. His first fight, against Pernell Whitaker in April, was for the WBC title.
During this time, Oscar's reputation as boxing's "good guy" began to take hold. As his appeal grew, people started listening to his claims that boxing needed an overhaul. Oscar was the perfect crossover star for the sport. His polite manners, striking good looks, and ability to transcend Spanish or English cultures transformed him into something of a sex symbol. He showed a talent for design, with a particular passion for architecture. Comparisons were made between Oscar and boxing legend "Gentleman" Jim Corbett.
The fight against Whitaker, however, did not go as planned. Even though Oscar came away the victor (and the WBC Welterweight champ), the bout lasted all twelve rounds and ended with a controversial decision. That gave new voice to Oscar's critics, who said Whitaker exposed chinks in his armor. Oscar, they clamored, was far more style than substance.
Oscar spent the rest of '97 defending his WBC Welterweight title. In June, he faced David Kamau in San Antonio, delivering a quick knockout in the second round. Next came a fight against former champion Hector "Macho" Camacho. Oscar won on the judges' decision. His final bout, against Wilfredo Rivera in December, resulted in an eighth-round TKO.
With some ranting that Oscar was scheduling one over-the-hill opponent after another, Ring took a different tact and named him the best "Pound for Pound" fighter in the world. Forbes also recognized Oscar, ranking him among the world's highest paid athletes with a total worth of $38 million. His ability to make money and hang onto it would become more apparent with time.
Oscar faced few challenges in the ring in 1998. On June 13, he handled Patrick Charpentier for an easy title defense. He fought just once more that year—a rematch against Chavez. The bout ended once again with a TKO, as Oscar retained his belt.
The following year saw Oscar meet a pair of fighters who he had long been accused of ducking. In February of 1999, he touched gloves with Ike Quartey. The fight started well enough. Oscar kept his distance for the first six rounds, keeping out of reach of Quartey's jab. Gears then shifted upward, as a left hook by Oscar knocked Quartey to the canvas. Quartey retaliated by knocking down Oscar with a left hook of his own. By the final round, Oscar's left eye was severely swollen, and he appeared to be losing the fight. All was saved, however, when he floored Quartey with another viscous left hook. Oscar then unleashed a hail of blows against his opponent, who was trying to survive on the ropes. Quartey managed to stay up throughout this assault, but the fight was lost. Oscar pulled ahead on two judges' cards, allowing him to retain his WBC Welterweight title. Much to the disdain of Quartey and his camp, Oscar denied any chance for a rematch.
Oscar returned to the ring in May for a fight against Oba Carr. His 11th-round TKO was a precurser for his bout to come with Felix Trinidad.
The two squared off in September in Las Vegas for one of boxing's most highly anticipated matches. (It broke the non-heavyweight pay-per-view sales record.) The fight was clearly divided in two. Oscar controlled the first half, outboxing Trinidad and keeping him at bay with his left jab. The later half of the fight, however, was all Trinidad. Sensing victory, he pummeled Oscar with hard rights over the last three rounds. The sustained barrage was the tipping point, as Trinidad won by a majority decision. For the first time in his professional career, Oscar tasted defeat, and it was indeed bitter. Both fighters voiced the possibility of a rematch, and Oscar promised his fans that he was far from finished.
Five months after the Trinidad loss, Oscar fought against the WBC's #1 contender, Derrell Coley. He let it all hang out against Coley, utilizing his powerful left hook and hammering away with body shots. With 15 second left in the second round, Coley dropped to the canvas, unable to absorb anymore punishment.
Oscar next set his sights on WBC Welterweight champ "Sugar" Shane Mosley. The pair met in June of 2000 in Los Angeles. Oscar was the favorite, but the fight proved to be anything but what most expected. Mosley showed himself to be the quicker of the two, serving up a powerful right that Oscar couldn't seem to combat. In the biggest fight of his career, Mosley responded to the pressure and won by decision. Oscar and Mosley thrilled the crowd in the final round, squaring off in a toe-to-toe slugfest. Both fighters praised each other afterwards and promised a rematch in the future. For Oscar, a second smudge on his once-perfect record was hard to swallow.
MAKING HIS MARK
Oscar took time off after the Mosley battle and enjoyed an eight-month hiatus from boxing. A break from the sport, however, meant anything but rest. Oscar was named one of GQ's men of the year, and he recorded a Latin pop album (to decidedly mixed reviews).
By early 2001, Oscar was ready to return to the ring. He planned a fight against Arturo Gatti, but legal troubles concerning televsion rights with HBO threatened to end the bout before it began. A deal was soon cut, and the match was scheduled for late March.
Under the guidance of trainer Floyd Mayweather, Sr. (whose son Floyd, Jr. was one of boxing's brightest young stars), Oscar had an easy enough time with Gatti, delivering a TKO in the fifth round. He next faced off against Javier Castillejo for the WBC Junior Middleweight title. Again, Oscar assumed the role of the aggressor. Using his speed and combinations to his advantage, he captured the belt in a unanimous decision. Feeling strong and confident, Oscar pronounced he was eager for rematches with Mosley and Trinidad, plus a title bout with Fernando Vargas.
First, however, Oscar stepped from the spotlight to concentrate on business and his personal life. In '01, he married the Puerto Rican singer Millie Corretjer. He formed Golden Boy Promotions, a company originally created to make good on Oscar 's promise to clean up the sport of boxing. He looked into other smaller ventures as well, including a self-storage company and real estate.
Oscar didn't get back into the ring until 2002 for a much anticipated fight against Vargas. Promoters nicknamed the bout "Bad Blood," and much was on the line for both fighters. Vargas needed to prove he could still fight after getting beaten by Trinidad, and Oscar wanted to show that a year out of the ring hadn't dulled his skills. Vargas took the upper hand early on—his larger size allowing him to push Oscar into the ropes. But when Oscar began moving and utilizing his jab, Vargas had no answer. A hard left hook by Ocasr left Vargas weak as the bell rang in the tenth round, and halfway through the eleventh round, the fight was over. Oscar was the WBA Junior Middleweight champ.
In May of 2003, Oscar met former world champion Yori Boy Campas in Las Vegas and impressed onlookers with a TKO in the seventh round. The Golden Boy appeared to be back in prime condition. A rematch with Mosley was soon in the works.
The rematch took place in September. Both boxers were content to fight a very technical match. When Oscar tired over the final three rounds, he retreated from Mosley, and that may have been the difference. When the decision came down unanimously for Mosley, Oscar protested vehemently.
Angry and frustrated, Oscar moved into a new weight class in 2004. His first fight came against WBO Middleweight champion Felix Sturm. Many fans viewed the bout as an easy road to a payday versus Bernard Hopkins. Sturm, however, proved anything but a pushover. The German pummeled Oscar in the early rounds. After regaining his footing, Oscar responded with a masterful performance, winning seven rounds outright to take the decision.
Oscar wasn't as fortunate in his next bout, a September matchup against Hopkins. Win or lose, he was set to make $30 million, making it one of the most lucrative non-heavyweight fights in history. Oscar shocked many fans by choosing to stand his ground and slug it out with the larger, slower Hopkins. His plan was to attack his opponent inside, even though Hopkins possessed a distinct advantage in this area. Early in the ninth round, Oscar found himself in the worst possible situation—against the ropes. Hopkins landed a left hook to the body (now infamously known as the "liver punch") , knocking Oscar to the canvass. He was counted out as he braced himself on all fours and attempted to get up. It was the first time Oscar had been KO'ed in his professional career.
Oscar laid low after the defeat, devoting most of his energy to Golden Boy Enterprises. It was not his intention, however, to retire from boxing. He returned to the ring in May of 2006, this time to fight the man who was viewed as one of boxing's villains, Ricardo Mayorga. Oscar surprised fight fans around the world by delivering a TKO in the sixth round. With the victory, he captured the WBC Light Middleweight championship, his seventh title overall.
A year later, Oscar made headlines again when he stepped into the ring against Mayweather, Jr. The fight itself was a risk, but Oscar took things one step further by promoting the bout himself. He sold $19 million in tickets within three hours. Despite a few heated exchanges, the match lacked the definitive punch each fighter had promised to deliver. The end result was a split decision in favor of Mayweather, Jr. Oscar seemed to be in control for much of the fight, but a series of busy rounds from his opponent near the end clinched the victory.
As always, Oscar has as many fans as he does critics. Those who champion his cause point to his titles in six weight classes. Those who take the other side of the argument say he comes up short when facing boxing's most talented fighters. Oscar never seems to listen to either camp. To this day, he has not voiced any plans about retirement. Driven by unbridled ambition, Oscar will continue to pursue the type of crossover success few athletes in any sport have ever achieved. No doubt his mother would be proud.
OSCAR THE FIGHTER
Oscar's fighting style is difficult to classify. In some bouts, he resembles a brawler, while in others he is the consummate tactician, picking opponents apart with his jab and movement around the ring. Part of the excitement of watching Oscar is that no one ever knows for sure what strategy he will adopt.
Originally a southpaw, Oscar switched to an orthodox stance early on in his training. Still, his strength lies in his left hand. Oscar possesses a powerful jab and employs a devastating left hook that opponents do their best to avoid. That said, his right hand is fairly weak.
Oscar does his best fighting on the outside. When he attempts to take things to the inside, the result can be disastrous for him. After appearing sluggish and uncomfortable in the Middleweight division against Hopkins and Sturm, it is likely that Oscar will stay where he currently is, in the Light Middleweight division.
Read more
Latest headlines