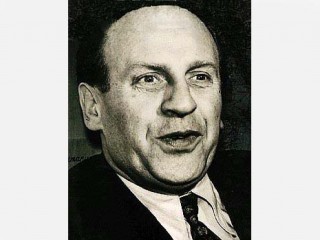 Oskar Schindler biography
Date of birth : 1908-04-28
Date of death : 1974-10-09
Birthplace : Zwittau, Czechoslovakia
Nationality : German
Category : Famous Figures
Last modified : 2010-10-01
Credited as : Businessman, industrialist, "Righteous Gentile"
German businessman
Oskar Schindler
(1908-1974) saved Jews in Poland and Czechoslovakia from death at the hands of the Nazis during World War II by employing them in his factory.
Oskar Schindler was the unlikeliest of heroes--indifferent to religion and politics, partial to gambling and drinking, and not averse to skirting the law in his many business ventures. Yet to the eleven hundred Jews whose lives he saved during World War II, he was nothing less than a saint. Until the 1980s, his name was barely known outside the world of Holocaust survivors. Thanks to a book and then a movie about his exploits, however, he has taken his place among those the Israelis call "Righteous Gentiles"--non-Jews who took great risks to ensure the safety of Jews doomed by the Nazis' "Final Solution."
Schindler was born in 1908 in the industrial city of Zwittau, Moravia, then a German province of the Austro-Hungarian Empire and now part of the Czech Republic. Also known as the Sudetenland, the region was home to several million ethnic Germans, including the Schindler family. It was there that Oskar grew up (his father owned a farm-machinery factory) and attended a German-language school. Among his childhood playmates were the two sons of a local rabbi.
During the 1920s, Schindler worked in sales for his father. In 1928, however, the young man's marriage to a woman named Emilie caused a rift in the relationship between the two men. Schindler subsequently left his father's employ and became a sales manager for a Moravian electric company. His new job often took him to Poland on business, and over time he developed a strong affinity for the city of Krakow, the ancient seat of Polish kings.
Meanwhile, the political landscape in Europe was undergoing major changes, especially in Germany, where Adolf Hitler assumed the post of chancellor in 1933. Hitler's vision of a new German empire included the Sudetenland, which had been annexed by the fledgling Republic of Czechoslovakia at the end of World War I in 1918 following the destruction of the Austro-Hungarian Empire and the German Empire. Hitler began stirring up ethnic passions among the Sudeten Germans, pointing out that their "rightful" ties were with Germany, not Czechoslovakia.
By 1935, Sudeten Germans who wanted to avoid being labeled as Communists or Social Democrats joined the pro-Nazi Sudeten German Party. One of those who jumped on the bandwagon was Schindler--not out of any love for the Nazis, but because it made business sense to go along with the prevailing wind. In 1938, Hitler forced an international crisis over the fate of the Sudetenland when he threatened war if the region was not turned over to Germany. The leaders of Great Britain and France acquiesced, and Hitler annexed the Sudetenland without a struggle.
Within weeks of the annexation, officials of the Abwehr, or German military intelligence, approached Schindler about gathering information on Polish military activity during his frequent visits to Krakow. A gregarious, attractive, and charming person who always found it easy to get people to talk to him, he agreed to pass along whatever he could to the Abwehr. In exchange for his help, he was exempted from military service.
On September 1, 1939, Hitler invaded Poland, prompting Great Britain and France to declare war on Germany. Within a week, Schindler arrived in Krakow, eager to find a way to profit from the conflict in one way or another. Fortuitously, in mid-October, the city became the new seat of government for all of Nazi-occupied Poland. Schindler quickly cultivated friendships with key officers in both the Wehrmacht (the German army) and the SS (the elite armed Nazi unit), plying them with black-market goods such as cognac and cigars.
It was around this same time that he also made the acquaintance of Itzhak Stern, a Jewish accountant who served as his liaison with the local Jewish business community. With capital he borrowed from some of the men he met through Stern, Schindler purchased a bankrupt enamel kitchenware factory, renamed it Deutsche Emailwaren Fabrik, and opened it in January 1940. Stern hired on as the bookkeeper and soon established a bond with his employer that proved to be tremendously influential in the difficult years ahead.
Relying on his legendary panache as well as his willingness to bribe the right people, Schindler secured numerous German army contracts for his pots and pans. To staff his factory, he turned to Krakow's Jewish community, which, Stern told him, was a good source of cheap, reliable labor. At the time, some 56,000 Jews lived in the city, most in the ghetto (a neighborhood that was traditionally reserved for Jews). By the spring of 1940, however, the Nazi crackdown against Jews had begun. Schindler was ordered to pay his Jewish employees' wages directly to the SS rather than to the workers themselves. In August, Nazi authorities issued a new regulation ordering all but "work-essential" Jews to leave the city. This touched off a panic that sent Jews scrambling for work deemed "essential." (At Stern's urging, Schindler hired about 150 of them to work in his factory.) And by the end of the year, all of Krakow's Jews were ordered to wear a four-inch wide white armband emblazoned with the Star of David.
Near the end of 1941, Schindler was arrested by the SS for dealing in black market goods. With the help of his high-ranking Nazi friends (not to mention a few well-placed bribes), he was quickly released to return to work. On April 29, 1942, however, he was arrested again and jailed, this time for violating the Nazis' "Race and Resettlement Act." The charge stemmed from a kiss he had given a young Jewish girl at the factory during his birthday party the day before. Once again, Schindler secured his release within a short time thanks to his connections in the SS and the Abwehr.
In June of 1942, the Nazis began deporting Krakow's Jews to labor camps. Some of Schindler's workers, including his office manager, were among the first group of people ordered to report to the train station. Furious at what he regarded as unwelcome SS interference in his business affairs, Schindler raced to the station and argued with an SS officer about how essential his workers were to the war effort. (It became his standard argument when dealing with similar situations over the next few years.) By dropping the names of some of his Nazi friends and making a couple of threats, he was finally able to rescue the workers and escort them safely back to his factory. But Schindler could only do so much; by the end of 1942, deportations had reduced the ghetto's population of around 17,000 to about 4,000 or so. And the warnings he personally delivered that fall to leaders of the Jewish community in Budapest, Hungary, about what was going on in Poland fell on deaf ears--they could not believe that the Germans were capable of such actions.
In early 1943, the Nazis ordered the final "liquidation" of the Krakow ghetto. The man put in charge of the operation was a young SS officer named Amon Goeth, the commandant of the Plaszow forced labor camp just outside the city. Those Jews who were healthy and could work went to Plaszow; the rest were sent off to death camps or executed on the spot. Goeth then met with Schindler and other industrialists in the area to convince them to relocate their factories inside the camp. But Schindler had a somewhat different idea. He proposed establishing a labor subcamp within his factory that would continue to employ his own workers. He would run it, and the Plaszow guards would not be allowed on the premises without his permission. Schindler secured Goeth's support for this unusual plan after making it clear that cooperation would be generously compensated.
Schindler's Emalia Camp, as it was known, thus served as a haven for Krakow's Jews, at least for a few months. There they knew they would not be beaten or executed. Despite widespread food shortages, they could also count on eating much better than those imprisoned in the main camp at Plaszow because their boss regularly purchased his supplies on the black market at exorbitant rates. Nor did they have to endure the degrading living conditions in the main camp, because they were housed right in the factory. To make sure his camp stayed open, Schindler regularly handed out bribes to selected SS officers.
In early 1944, however, Plaszow's designation was changed from that of a labor camp to a concentration camp. This meant that its prisoners were suddenly earmarked for transport to death camps such as Auschwitz. Then came word in the summer that the main camp was to be closed and Schindler's factory dismantled. In anticipation of these changes, his workers were moved from the subcamp into the main camp. Once again, however, the canny businessman offered a counterproposal. He approached Goeth about moving his factory and his workers to Czechoslovakia so that they might continue to supply the Third Reich with vital munitions. After some money exchanged hands, the SS officer agreed to throw his support behind the plan and told Schindler to draw up a list of those people he wanted to take with him.
It is impossible to pinpoint the exact moment when Schindler ceased to be merely an exploiter of cheap labor to become a rescuer of those condemned to certain death. There probably was no single incident that brought about his transformation; more than likely, it was the cumulative effect of many different events that ultimately led him to take bold action. From the earliest days of the war, he had displayed a sense of humanity and concern for his workers (whom he referred to as his "children") that set him apart from most of the other Germans the Jews of Krakow encountered. But now, faced with the task of actually having to name those he wanted to save, Schindler realized that his choices were quite literally a matter of life and death for people he had come to know and respect. No longer could he act solely out of self-interest as a war profiteer. So he came up with a list containing some eleven hundred names, including all the employees of Emalia Camp and a number of others as well.
During the fall of 1944, Schindler made the necessary arrangements (and paid the necessary bribes) to begin the process of moving his factory to the town of Brunnlitz, Czechoslovakia, not far from his hometown of Zwittau. The liquidation of the Plaszow camp began that October. Shortly after around eight hundred men were shipped out in boxcars bound for Brunnlitz, three hundred women and children who were supposed to join them there were mistakenly routed to Auschwitz instead.
Meanwhile, Schindler had been arrested in Czechoslovakia and questioned about his relationship with Goeth, who had been jailed for various black market activities. The ever-wily businessman managed to convince the authorities (with some help from his friends in high places) that he was innocent of any wrongdoing. Once released, Schindler immediately set about retrieving those on his list who had been sent to Auschwitz. Armed with diamonds as bribes, he told the SS that the women and children they were holding were essential to the war effort because their smaller fingers allowed them to polish the insides of anti-tank shells. The SS believed his story, and the women and children were sent on to Brunnlitz.
Over the next seven months, Schindler's factory never produced a single useful shell. He attributed it to "start-up difficulties"; in reality, he had deliberately undermined the manufacturing process to make sure that the shells failed quality-control tests.
Finally, on May 8, 1945, the war came to an end after Germany surrendered to the Allies. Schindler gathered all of his workers together on the factory floor to pass along the good news. He then asked them not to seek revenge for what had been done to them and called for a moment of silence in memory of those who had perished. He also thanked the members of the SS who were present and encouraged them to go home peacefully and without further bloodshed.
As Schindler prepared to leave, his workers (who referred to themselves with pride as Schindlerjuden, or "Schindler Jews") gave him a letter they had written attesting to his good deeds in case he was captured and needed it to defend himself. In addition, they presented him with a special gift--a gold ring (made from the bridgework of one of the prisoners) inscribed in Hebrew with a verse from the Talmud, "He who saves one life, it is as if he saved the entire world." Along with his wife, Schindler then fled west to avoid Russian troops advancing from the east. (He preferred to take his chances with the approaching American forces instead.) A couple of days later, the twelve hundred or so Schindlerjuden were liberated by a lone Russian officer who rode up to the factory on horseback.
Much like his life before the war, Schindler's postwar life was marked by a string of failed business ventures, profligate spending, and plenty of drinking and womanizing. In 1949, after receiving a substantial sum from the Jewish Distribution Committee in appreciation for his wartime efforts as well as a large settlement from the West German government to compensate him for the loss of his Czechoslovakian property to the communists, he moved to Argentina and purchased a farm. By 1957, however, Schindler had gone bankrupt and was relying on the charity of the Jewish organization B'nai B'rith to survive.
In 1958, Schindler abandoned his wife and returned to West Germany to live. Once again, the Jewish Distribution Committee and several grateful individuals came through for him with money he used to start a cement business in Frankfurt. It failed in 1961, and from then on, he lived mostly off funds provided by the Schindlerjuden as well as a small pension the West German government granted him in 1968.
The same year he lost his cement business, Schindler was invited to visit Israel for the first time. He was delighted with the cordial reception he received, which contrasted sharply with how he was usually treated at home. (Many of his countrymen despised him for saving Jews and testifying in court against Nazi war criminals.) Every spring for the rest of his life, he returned to Israel for several weeks to bask in the admiration of the Schindlerjuden and their offspring, whom he regarded with great affection as his own family.
Shortly after his fifty-fourth birthday in 1962, Schindler was officially declared a "Righteous Gentile" and invited to plant a tree on the Avenue of the Righteous leading up to Jerusalem's Yad Vashem Museum, a memorial to the Holocaust. Upon his death from heart and liver problems in 1974, he was granted his request to be buried in Israel. About five hundred Schindlerjuden attended his funeral and watched as his body was laid to rest in the Catholic cemetery on Mount Zion in Jerusalem. Thanks to Oskar Schindler, more than six thousand Holocaust survivors and their descendants were alive in the 1990s to tell the remarkable story of "Schindler's List" and of the equally amazing man who compiled it.
Read more
Latest headlines