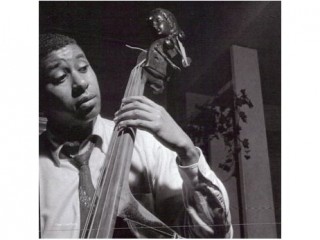 Paul Chambers biography
Date of birth : 1935-04-22
Date of death : 0969-01-04
Birthplace : Pittsburgh, Pennsylvania, U.S.
Nationality : American
Category : Arts and Entertainment
Last modified : 2011-11-02
Credited as : jazz bassist, Miles Davis, Duke Ellington Orchestra
Paul Laurence Dunbar Chambers, Jr. was a jazz bassist. A fixture of rhythm sections during the 1950s and 1960s, his importance in the development of jazz bass can be measured not only by the length and breadth of his work in this short period but also his impeccable time, intonation, and virtuosic improvisations.
Upon winning Down Beat magazine's 1956 "New Star Award," jazz bassist Paul Chambers entered the national spotlight as one of the finest young talents of the hard bop jazz scene. Best known for his eight-year tenure with Miles Davis, Chambers appeared as a guest recording artist with numerous musicians, including the debut albums of John Coltrane, Kenny Burrell, and Cannonball Adderly. His bass bow style was largely responsible for carrying forth the bowing approach pioneered by Jimmy Blanton, an early bassist with the Duke Ellington Orchestra, and reintroducing the arco or bowed style as a featured technique in the modern jazz idiom.
While attending the Pittsburgh school system, Chambers took up music after one of his instructors selected him to play baritone horn. Following the death of his mother in 1948, Chambers went to live with his father in Detroit, where he switched to tuba and eventually pursued the study of the double bass. By 1952 he was receiving private lessons from a bassist in the Detroit Symphony Orchestra and, while attending Cass Technical High School, played in the school's symphony orchestra. During this time, Chambers's formal symphonic training coincided with a strong interest in bebop jazz. "I started to listen to Charlie Parker and Bud Powell at age fifteen," recalled Chambers in Down Beat. "At first I played along with records and I used to try to pick out some of the things Parker...would do." As jazz critic Leonard Feather pointed out in the liner notes to the album Whim of Chambers, "Oscar Pettiford and Ray Brown, the first bassists [Chambers] admired, were followed in his book by Percy Heath, Milt Hinton and Wendell Marshall for their rhythm section work, Charles Mingus and George Duvivier for their technical powers and their efforts in broadening the scope of jazz bass. [Jimmy] Blanton, of course, is his all-time favorite."
Chambers's musical aspirations, however, were not shared by his father, who insisted he become a professional baseball player. When Chambers attempted to practice his instrument at the family home, his father expressed his disapproval by throwing his school- practice bass down the stairs. Determined to become a bassist, Chambers pursued his musical studies at the homes of pianists Hugh Lawson and Barry Harris. Chambers then embarked on a musical apprenticeship in Detroit's flourishing jazz club scene, performing with such artists as Thad Jones and Kenny Burrell at Klein's Show Bar, the Rouge Lounge, and the Bluebird Inn.
In 1955 Chambers went on tour with saxophonist Paul "Vice Pres" Quinchette. After his stint with Quinchette, he moved to New York and joined a group led by trombonists J.J. Johnson and Kai Winding. He then worked with pianist Benny Green's combo and George Wallington's group at Greenwich Village's Cafe Bohemia--a unit comprised of saxophonist Jackie McLean, trumpeter Donald Byrd, and drummer Art Taylor. Soon after, McLean brought Chambers to the attention of Miles Davis, who was seeking a bassist for his quintet. "Everybody was raving about Paul," recalled Davis in his memoir Miles.
After hearing Chambers, Davis immediately hired the young bassist for his quintet, which featured saxophonist Sonny Rollins, pianist Red Garland, and drummer Philly Joe Jones. As Jack Chambers noted in Milestones I, "Davis must have known from the beginning that he had put together a rhythm section of great potential. Chambers fitted in immediately with Garland and Jones." Following a few rehearsals, Davis's quintet opened at Cafe Bohemia. "Paul Chambers was the baby of the group," commented Davis in Miles, "being only twenty, but he was playing like he had been around forever."
By September of 1955 Rollins left Davis's quintet and was replaced by Philadelphia-born saxophonist John Coltrane. In October of the same year, the newly formed quintet made their first recordings for Columbia while Miles was still under contract with Prestige. The group's first issued album, recorded in November of 1955, emerged as a set of fine ballads entitled Miles. In his original review of the album, Nat Hentoff, as quoted in the book Milestones I, stated that Chambers "lays down a rhythm that could carry an army band." The quintet subsequently recorded two 1956 sessions for Prestige which produced the albums Cookin' and Relaxin'. In describing the former album in Hard Bop, David Rosenthal wrote:"Garland, Chambers, and Jones comprised one of the most cohesive rhythm sections in the history of jazz, a trio closely attuned to each other and to Davis and Coltrane."
Material from the sessions also yielded two more albums, Workin' and Steamin'. With these early sessions, wrote Bill Cole in Miles: The Early Years, "Paul Chambers was setting the standard of double bass playing that would not be easily matched." Cole also noted the close working relationship between Chambers and his bandleader: "If Miles was going up the register, Chambers would be moving right along with him, suddenly stepping to a lower octave, giving the solo a funky street feeling."
With the periodic absence of Coltrane in March 1956, Davis brought in Sonny Rollins to record Miles Davis Allstars, a session backed by Chambers, pianist Tommy Flanagan, and drummer Art Taylor. As observed in Modern Jazz, "The Flanagan-Chambers-Taylor rhythm section was probably the lightest, most distinct rhythm section modern jazz had enjoyed up to that time. Paul Chambers brought a large, dark, buoyant, sound to the group." During his stint with Davis's quintet, Chambers also recorded several solo albums. In 1955 he cut In Transition with guest artists Pepper Adams and John Coltrane, who also appeared on his 1956 solo efforts Paul Chambers and Whims of Chambers, an effort which brought together the talents of Donald Byrd, John Coltrane, Kenny Burrell, Horace Silver, and Philly Joe Jones. His 1957 release, Bass on Top, featured Burrell and pianist Hank Jones.
In 1956 Chambers, Garland, Philly Joe Jones, and John Coltrane made a guest appearance on Sonny Rollins's Prestige album Tenor Madness. In September of 1957 Coltrane assembled the musicians for his only Blue Note album, Blue Train. Free to select his sidemen for the recording, Coltrane called upon Chambers and another former Detroiter, trombonist Curtis Fuller. "The rhythm section comprised of [pianist] Kenny Drew, Paul Chambers, and Philly Joe Jones is superb," wrote Robert Levin in the album's liner notes. "Drew is a blues rooted pianist with a swinging cohesive technique. Chambers and Jones are known primarily for their sparkling work with Miles Davis." Fuller, who often rehearsed with Coltrane, recalled in Thinking Jazz his creative association with Chambers: "Paul Chambers lived all the way in Brooklyn, and he would get in the subway and, gig or no gig, he would come over and practice. He got this thing from Koussevitsky--Poloniase in D Minor--and he'd say, 'Hey Curtis, let's play this one.' It wasn't written as a duet, but he would run that down together for three of four hours. A couple of days later, we'd come back and play it again. The whole thing was just so beautiful, the camaraderie."
During May of 1957, Chambers played bass on Davis's album Miles Ahead, a session for a large ensemble arranged by Gil Evans. In Miles Davis: The Early Years, Bill Cole discussed the role of the bass on Davis's and Evans's jazz orchestral effort: "[Chambers] plays many sequences with the tuba which are moving in opposite directions, handling them flawlessly in excellent intonation." In the summer of 1957, Chambers toured with Davis's group, which featured Sonny Rollins, Red Garland, and drummer Art Taylor. With the departure of Rollins and Taylor, Davis rehired Philly Joe Jones and eventually assembled a sextet fronted by the saxophones of Coltrane and Cannonball Adderly. Davis credited Chambers with, as stated in his memoir Miles, the pivotal role of "anchoring all [the] creative tension between the horns." Backed by the Garland- Chambers-Jones rhythm section, the sextet recorded Davis's 1958 album Milestones. In the album's liner notes, Charles Edward Smith wrote that Chambers's "rare beauty of tone is combined, in his playing, with an extraordinary technical gift and, underlying it, such a strong sense of swing that he could carry the rhythm all by himself."
In March of 1958 Chambers and drummer Jimmy Cobb, along with pianist Tommy Flanagan, made up the rhythm section for the album Kenny Burrell and John Coltrane. Included on the album is Flanagan's number "Big Paul" dedicated to Chambers. "Paul Chambers' walking introduction to the tune," observed Joe Goldberg in thealbum's liner notes, "brings back an entire era. Flanagan and Cobb slip easily under him, as if they have all the time in the world." After Philly Joe Jones left Davis's band in May 1958, Cobb joined Davis's quintet. In July and August of 1958, Davis and arranger Gil Evans brought in Chambers and tubaist Bill Barber to provide the low-end accompaniment for his orchestral jazz album Porgy and Bess. On the numbers "The Buzzard Song" and "Bess, You Is My Woman Now," observed Barry Kernfield in The Blackwell Guide to Recorded Jazz, Chambers and Barber "are paired together, but not as bass instruments; instead they play a jumpy low-pitched melody" intended to blend with Evans's score for the brass and woodwinds sections.
During February 1959, the Kelly-Chambers-Cobb section backed Cannonball Adderly for his album Cannonball Adderly Quintet in Chicago. In March and April of the same year, Chambers and Cobb served as the core rhythm section for Davis's album Kind of Blue. One of the most influential recordings of the decade, Kind of Blue produced two standards, "So What" and "All Blues," both of which contain brilliant introductory statements by Chambers and pianist Bill Evans. Chambers's bass work on "So What" and "All Blues" became jazz classics that have found their way into the repertoire of nearly every modern jazz ensemble.
A month following the Kind of Blue session in 1959, Kelly and Chambers rejoined drummer Art Taylor for John Coltrane's groundbreaking album Giant Steps. On "Naima" Chambers provides the accompaniment on a composition that echoed Coltrane's later harmonic explorations. On Giant Steps Coltrane paid tribute to his friend Paul Chambers by including the minor blues entitled "Mr. P.C." In the album's liner notes Nat Hentoff wrote: "Paul Chambers ... provides excellent support ... [and] for insight into the bass' function, it might be valuable to go through the record once, paying attention primarily to Paul."
In 1960 Chambers continued his path as a studio musician. Within a ten-piece band setting, which included drummer Roy Haynes, he appeared on Oliver Nelson's acclaimed MCA album Blues and the Abstract Truth. He also appeared on Art Pepper's Gettin' It Together and Hank Mobley's Roll Call and Work Out, which found Chambers in the company of Wynton Kelly, Philly Joe Jones, and guitarist Grant Green.
For Miles Davis's recording of the 1959 album Someday My Prince Will Come, Chambers and drummer Jimmy Cobb joined Jamaican-born pianist Wynton Kelly. The Kelly-Chambers-Cobb rhythm section also backed Davis for his historic 1961 live recordings at San Francisco's Blackhawk. That same year, the section's contributions were honored in the 1961 Down Beat poll that awarded Davis's unit Best Cobo. While on the west coast in June 1962, the Kelly- Chambers-Cobb rhythm section--joined by saxophonist Johnny Griffin- -backed Wes Montgomery for a live performance which appeared as Montgomery's Riverside album Full House.
In 1963 Chambers and Kelly left Davis's band. Davis later related, in Miles, the cause for Chambers's and Kelly's departure: "I was having trouble with them because they wanted more money and wanted to play their own music...and by this time they were in great demand." Soon afterward, Cobb also left Davis and joined Chambers and Kelly in the formation of a critically acclaimed trio.
In 1965 Chambers and drummer Art Blakey backed Hank Mobley for his album The Turnaround. In The Guide to Classic Recorded Jazz, Tom Piazza described the recording as "a strongly swinging set in which Mobley's toughest edge is brought out." Two years later, Chambers recorded several albums with saxophonist Sonny Criss and worked with pianist Barry Harris at New York's West Boondock Club. After years of heavy substance abuse, Chambers died from tuberculosis on January 4, 1969.
In the liner notes to Giant Steps, John Coltrane proclaimed Chambers "one of the greatest bass players in jazz." Indebted to earlier stylists such as Oscar Pettiford, Percy Heath, and Charles Mingus, Chambers pursued an individual style that accompanied hundreds of the finest jazz men of the hard bop school. Chambers's use of micro-tones, pitch inflection, and inventive chromatic figures exemplified an approach that scholars have termed a lyrical bass style. "He was the master of tempo," observed Bill Cole in John Coltrane, "playing in any combination of changes and syncopated lines, and when he applied his revolutionary technique to medium tempo blues he was an unbeatable accompanist." With numerous and exceptional recordings to his credit, Chambers's musicianship continues to serve as a model for those who continue to pursue the art of jazz double bass.
Selective Works:
-High Step, Blue Note, 1955.
-In Transition, Transition, 1955.
-A Delegation from the East: Chambers' Music, Jazz West, 1956.
-Just For Love, 1956.
-Whims Of Chambers, Blue Note, 1956.
-Bass on Top, Blue Note, 1957.
-Chambers' Music, Blue Note, 1957.
-The East/West Controversy, Xanadu, 1957.
-Paul Chambers Quintet, Blue Note, 1957.
-Ease It, Affinity, 1959.
-Go, Vee Jay, 1959.
-1st Bassman, Chameleon, 1960.
-With Miles Davis Miles, Prestige, 1956.
-Relaxin', Prestige, 1956.
-Cookin', Prestige, 1956.
-Workin', Prestige, 1956.
-Steamin', Prestige, 1956.
-Round About Midnight, Columbia, 1956.
-Collector's Items, recorded 1956.
-Miles Ahead, Columbia, 1957.
-Milestones, Columbia, 1958.
-Porgy and Bess, Columbia, 1958.
-Sketches of Spain, Columbia, 1960.
-Someday My Prince Will Come, Columbia, 1961.
-Miles Davis at Carnegie Hall, Columbia, 1961.
-With John Coltrane John Coltrane, Prestige.
-Coltrane Plays For Lovers, Prestige, 1956.
-John Coltrane With Hank Mobley--Two Tenors, Prestige, 1956.
-John Coltrane--The First Trane, Prestige, 1957.
-Traneing In, Prestige, 1957.
-Blue Train, Blue Note, 1957.
-Lush Life, Prestige, 1958.
-The Believer, Prestige, 1958.
-Stardust, Prestige, 1958.
-The Master, Prestige, 1958.
-Bahia, Prestige, 1958.
-Soul Trane, Prestige, 1958.
-Kenny Burrell and John Coltrane, 1958, reissued on Original Jazz Classics, 1987.
-Bags and Trane, Atlantic, 1959.
-Giant Steps, Atlantic, 1960.
-With others Presenting Cannonball Adderly, Savoy, 1955.
-Sonny Rollins, Tenor Madness, Prestige, 1956.
-Sonny Clark, Sonny's Crib, 1957.
-Lee Morgan, The Cooker, Blue Note, 1957.
-Wynton Kelly, Kelly Blue, Original Jazz Classics.
-Wynton Kelly, Smokin' at the Half Note, Verve.
-Hank Mobley, Soul Station, Blue Note.
-Hank Mobley, Roll Call, Blue Note.
-Johnny Griffin, A Blowin' Session, Blue Note, 1957.
-Johnny Griffin, Interplay For Two Tenors, Prestige, 1957.
-Cannonball Adderly Quintet in Chicago, Mercury 1958, reissued as Cannonball & Coltrane, 1961.
-Oliver Nelson, Blues and the Abstract Truth, MCA, 1960.
-Dexter Gordon, Dexter Calling, 1960.
-Kenny Durham, Whistle Stop, Blue Note, 1961.
-Art Pepper Gettin' It Together, Contemporary, 1961.
-Wes Montgomery, Full House, Riverside, 1962.
-Wes Montgomery: The Small Group Recordings.
-Kenny Burrell, Jazzmen From Detroit, Savoy.
Read more
Latest headlines