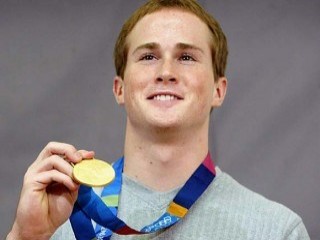 Paul Hamm biography
Date of birth : 1982-09-24
Date of death : -
Birthplace : Washburn, Wisconsin, U.S.
Nationality : American
Category : Sports
Last modified : 2011-10-06
Credited as : artistic gymnast, World Champion gymnast, Olympic Games
Paul Elbert Hamm
is an American artistic gymnast. He is a World Champion gymnast and three-time Olympic medalist. He won the all-around competition at the 2004 Olympic Games.
Born in Washburn, Wisconsin, in 1982, Hamm and his twin brother, Morgan, grew up in an athletic family. His father, Sandy, was an All-American diver, and his sister, Betsy, was a collegiate gymnast at Iowa State. Of watching his sister compete, Hamm remarked to John Meyer in the Denver Post, "It just looked like so much fun. My mom put me in it, then Morgan didn't want to be left behind." They started training when they were nine years old, initially practicing on their family's farm using homemade equipment their father made, and have trained and competed together ever since. "Our personalities are very similar," Hamm told a People reporter. He told Ellen Labrecque in Sports Illustrated for Kids that training together has helped both of them become better gymnasts and achieve in the sport. "We have always helped each other and pushed each other in the gym. If I see him having problems with the skills that I know how to do, I'll go over and teach them to him. He'll do the same for me."
In 2000, both Hamm brothers made the U.S. Olympic team, becoming the first twins to compete in the same Olympics. The U.S. team finished a disappointing fifth in that Olympics, five points behind China, the winner. It was the latest in a string of Olympic disappointments: the United States had not won the Olympic team gold medal since 1984 and had never had an Olympic all-around champion.
At the 2001 World Championships, Hamm literally fell out of individual medal contention when, during the high bar routine, he hit the bar with his lip and fell to the mat. However, the U.S. gymnasts, including Hamm, won a silver medal in team competition. In 2002, he won individual event bronze. He also won a gold medal in all-around competition at the U.S. championships that year.
Things turned around for Hamm at the gymnastics world championships in September of 2003, when he won the U.S. all-around title again and became the first American to win the men's all-around world title. Although he was behind China's Yang Wei when he went into his final high-bar rotation, he made a perfect landing, winning the gold by .064 point. He told Sports Illustrated for Kids ' Labrecque that it meant a great deal to him to be the first American to win the all-around title. "My goal as a little boy was, 'Oh, if I could just make it to the Olympics.' Now, having been the best gymnast in the world at one point in time. I'm so proud of that."
Hamm also won a gold medal in the individual floor exercise and, with his brother Morgan, won a silver medal in the men's team competition. The U.S. team as a whole finished only one point behind China at the World Championships, in contrast to the huge gap between the teams at the Sydney Olympics. Olympic coach Kevin Mazeika told the Denver Post 's Meyer, "We've been making tremendous progress. We have great momentum. We have a very strong team, very deep, very talented, very hungry."
Hamm, who had entered the University of Wisconsin as a health and fitness management major, put his education on hold in order to train for the Athens Olympics. In January of 2004, he and Morgan moved from Wisconsin to Ohio to join the Ohio State University gymnastics team. Hamm was looking for a more challenging atmosphere and chose the team because it had other strong contenders for the Olympics; he felt that being around such high-caliber athletes would motivate him even further. One of the coaches at Ohio State, Doug Stibel, told Mike Angell in Investor's Business Daily, "That really helped him, being around other guys [who] were going to push him."
Stibel noted that Hamm is unusually self-motivated. Typically, a gymnast will show up for a workout and wait to hear what the coach's plan for the day is. Hamm, he said, will try to figure out what the day's goals are before the coach tells him. "He takes our plan and goes one step further," he told Investor's Business Daily 's Angell. While training and competing, Hamm is unusually focused, thinking of nothing else. Bo Morris, the men's program manager for U.S.A. Gymnastics, told Angell, "He's the hardest working gymnast I've ever seen." Stibel agreed: "He doesn't waste time sitting around." When Hamm fails at a routine, he works even harder to improve it the next time.
As Angell noted in Investor's Business Daily, "Gymnasts toil in obscurity for years to perfect their skills. Gymnastics doesn't offer the same rewards as more popular sports, save for the chance of being in the Olympics and doing one's personal best." Morris told Angell, "Perseverance, hard work, and determination. These are all the clichés you hear about to succeed. But in Paul's case, they are all true."
In 2004, Hamm's hard work paid off when he won his third consecutive U.S. gymnastics all-around title and in doing so, secured a spot on the United States Olympic gymnastics team. He won by 1.7 points, a huge margin in gymnastics. Morgan Hamm told a Houston Chronicle reporter, "He's amazing. It's hard to believe sometimes he's my brother."
Despite the large margin of his win, Hamm told the Houston Chronicle reporter, "There's definitely room for improvement." He added, "There are a lot of little things that will make me look better than other guys in the world." His coach, Miles Avery, commented in the Houston Chronicle, "Paul is the best gymnast in the world," and said, "Even coming into this meet, guys said, 'I want to be second.' Not many will come into this competition and say, 'I'm going to win,' because that's reserved for Paul."
Hamm thus became the first American to go to the Olympics as the reigning United States and world champion, but he tried not to think of himself as defending something. Instead, he told the Denver Post 's Meyer, "I'm trying to go into Athens as if I'm trying to achieve something." He noted, "I've never won an Olympic medal before. If I feel like I'm trying to defend something, that will put a little more pressure on myself, and I don't want to be thinking that way."
At the Athens Olympics the United States men's gymnastics team got off to a good start when, led by Hamm, they won a silver medal in team competition. It was the first Olympic medal in 20 years for the American men. During his competition for the team final, Hamm scored a 9.7 or higher on three of his five events in the team finals, and in four out of six events in the qualifying round. He made one mistake, when he did not complete a series of three release moves on his high bar routine in the finals. Other than this error, however, his performance met expectations that he would perform beautifully in individual events at the Olympics. The silver medal left him optimistic about his chances to win gold in the all-around final.
The all-around competition features athletes performing on six different gymnastic apparatuses. Hamm did very well on the floor exercise. In the next two events he received lower scores, but did well enough to be the first in overall scoring. In the fourth event, the vault, he chose a challenging vault, which involved two and a half twists while flipping in midair, with a blind landing. On the landing, he fell off the mat and into the scorers' tables. This dropped him from first place in the competition to twelfth. "Really, in the air I thought I was OK," he told Diane Pucin in the Cincinnati Post. But after the disastrous landing, "Honestly, I thought the gold medal was gone. After an error like that, I just wanted to fight for any medal."
However, just as he did in practice, Hamm concentrated on improving his situation. In addition, his opponents also began making mistakes, missing landings or wobbling during their events. Hamm dug deep and performed almost flawlessly on his two remaining events. On the parallel bars, he dismounted without even bending his knees, winning a score of 9.837, and by the time the other competitors had finished with their flawed routines, he had climbed back to fourth place.
On the high bar, his best event, he was the last competitor. He had done poorly in this event during the team competition, almost losing his grip in the middle of a move. But this time, executing his notably difficult routine, he performed perfectly. He needed a score of 9.825 to tie the South Korean athlete who was in first place. The Cincinnati Post 's Pucin described his dismount from the bar: "He twisted high toward the lights, toes pointed perfectly, arms stiff at his sides-and when he landed lightly without even a muscle rippling, the crowd exhaled and Hamm pumped his fists."
He thought he had managed to win bronze, but in fact his score, 9.837, showed that he had won gold, by 12/1000ths of a point. He told Juliet Macur in the International Herald Tribune, "I still can't believe what happened. I guess I can expect my life to change a little bit now." Avery told Macur, "It's great, but tonight we're back in the gym at 7. He's got more medals to win."
Hamm's life did change, but not in the way he expected. Almost immediately, controversy erupted about his gold medal and about the scoring of the routines for the all-around final. Two days after the event, the South Korean delegation filed a protest, saying that Yang Tae Young, who had been awarded the bronze medal, had been scored incorrectly on his parallel bars routine, and that if this error had not been made by the judges, he would have won the gold. The International Gymnastics Federation, known as F.I.G. viewed a tape of the event and suspended three judges who had been responsible for the error. However, the South Koreans were not satisfied with this, saying they wanted Yang to have a gold medal in recognition of his win. They were willing to have Hamm and Yang share the gold. The U.S. Olympic Committee agreed to consider this, but F.I.G. did not.
The controversy affected Hamm's performance in his four remaining events. He came in fifth in the floor exercise, sixth on the pommel horse, and seventh on the parallel bars. On the high bar, he won silver, after a competition disrupted with audience boos and angry gestures about a Russian performer's score, which was subsequently changed. A few spectators booed Hamm when he stepped up on the podium to receive the silver medal. He told the International Herald Tribune 's Macur, "I'm very proud of my performance today and all of my performances in the Olympics. I didn't take any of the boos personally. I really think it enhanced my Olympic experience because of the fact that I would perform so well under tough conditions."
Later, the F.I.G. officials changed their minds and sent a letter to Hamm asking him to return his medal so it could be given to Yang. However, they did not actually have the authority to request this or to force Hamm to do so, and the U.S. Olympic Committee intercepted the letter and sent a stinging missive back refusing not only to return Hamm's gold, but also refusing a previous compromise they had been willing to make, which involved Hamm sharing the gold medal with Yang. Peter Ueberroth, chairman of the U.S. Olympic Committee, told Filip Bondy in a Knight Ridder/Tribune News Service article, "[FIG is] deflecting their own incompetence on a young athlete who competed very well and continue to cause him grief. We're not going to let this matter go to Paul." As Bondy pointed out, this left Hamm in a bad situation, where he was "in some sort of medals purgatory where he is neither a champion nor a sportsman. Hamm is the guy who has the gold medal that his gymnastics federation wants back, but can't take away."
Hamm left Athens a day early to escape the bombardment of questions from the press and to get ready for his next event, the Rock & Roll Gymnastics Competition. During the competition, he tried to put the medals controversy behind him. The event featured a mix of gymnastics and music and dance choreography. Hamm was part of a five-man routine called the "Men's Group Matrix." Hamm, who had already received a standing ovation when he was introduced at the beginning of the program, was happy to receive audience cheers with his team. He told a SFGate.com reporter, "It was a great feeling when they announced my name and the crowd cheered like that. It was just so amazing to see that." He added, "All this attention is still a little shocking. But it's great for so many people to come out and help our sport grow."
Hamm's stressful medal situation was finally resolved on October 21, 2004. On that date, the Court of Arbitration for Sport (CAS) ruled that he was the rightful champion in the men's all-around gymnastics competition at the Athens Games. The three-judge panel had been asked by Yang to order international gymnastics officials to change the results and adjust the medal rankings so he would get the gold and Hamm the silver. However, CAS rejected the appeal; the verdict was final and could not be appealed. According to SI.com, the CAS arbitrators said the Korean protest was submitted too late and the court was not in a position to correct results even if a mistake were admitted. "The solution for error, either way, lies within the framework of the sport's own rules" and does not allow for a judge or arbitrator to step in later, the CAS panel said, according to SI.com. In an interview given before the ruling, Hamm said, according to SI.com, "I feel like I had to win my medal in three ways, really. Obviously, in competition. Then with the media. Then in court. It really feels like I've been battling this whole time."
Awards:
- Silver medal for men's team competition, Gymnastics World Championship, 2001;
- bronze medal for individual floor exercise, Gymnastics World Championship, 2002;
- gold medal for men's all-around, U.S. Gymnastics Championship, 2002;
- gold medal for men's all-around, U.S. Gymnastics Championship, 2003;
- gold medal for individual floor exercises, Gymnastics World Championship, 2003;
- silver for men's team competition, Gymnastics World Championship, 2003;
- gold medal for men's all-around, Gymnastics World Championship, 2003;
- gold medal for men's all-around, U.S. Gymnastics Championship, 2004;
- gold medal for men's all-around, Athens Olympics, 2004;
- silver medal for high bar, Athens Olympics, 2004;
- silver medal for team competition, Athens Olympics, 2004.
Read more
Paul Hamm Picture Gallery
Latest headlines