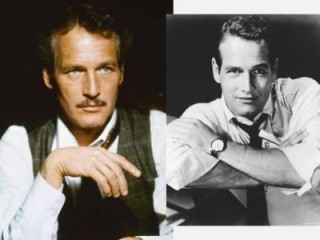 Paul Newman biography
Date of birth : 1925-01-26
Date of death : 2008-09-26
Birthplace : Cleveland, Ohio, U.S.
Nationality : American
Category : Famous Figures
Last modified : 2011-01-25
Credited as : Actor and film director, entrepreneur, The Color of Money
Paul Newman was an American actor, film director, entrepreneur, humanitarian, and auto racing enthusiast. He won numerous awards, including an Academy Award for best actor for his performance in the 1986 Martin Scorsese film The Color of Money and eight other nominations, three Golden Globe Awards, a BAFTA Award, a Screen Actors Guild Award, a Cannes Film Festival Award, an Emmy award, and many honorary awards. He also won several national championships as a driver in Sports Car Club of America road racing, and his race teams won several championships in open wheel IndyCar racing.
Born
Paul Leonard Newman
in the Shaker Heights suburb of Cleveland, OH, on Jan. 26, 1925, he was the son of an affluent Jewish family who owned a sporting goods store. His interest in acting bloomed at an early age, thanks to his mother and uncle. He made his debut in a school production of "Robin Hood" at the age of seven. He graduated from high school in 1943 and spent three years at Ohio University, but was expelled before serving in the Navy during World War II as a radio operator. He returned to civilian life and earned his degree from Kenyon College in Ohio, with his intention being to study economics, but drama exhibited a stronger pull. In 1949, he married Jackie Witte, with whom he had three children – son Scott and daughters Stephanie and Susan. A brief return to Shaker Heights to run his family's store after his father's death in 1950 lend to feelings of discontentment, so he packed up his wife and children and relocated to New Haven, CT, where he enrolled in the Yale Drama School. Agents caught wind of his talent at a production there, and invited him to join the teeming throngs of actors seeking work in New York City.
Supporting roles in live television and plays followed, which eventually led to his Broadway debut in William Inge's "Picnic" in 1953. While there, he also continued his studies at the acclaimed Actor's Studio, making the acquaintance of another up-and-coming actor, Joanne Woodward, who was serving as an understudy on "Picnic." Based on the strength of his performance in the Inge play, he was offered a contract with Warner Bros. and a starring role in a historical epic called "The Silver Chalice" (1955). The picture was critically dismissed. Newman considered it such a personal embarrassment that he later took out a full page ad in the Hollywood trades apologizing for his participation. During this period, he also auditioned opposite James Dean for the film "East of Eden" (1955), but the part went to Richard Davalos.
He returned to the stage in "The Desperate Hours," but earned a reprieve from the movies via "Somebody Up There Likes Me" (1956) – an affecting biopic about fighter Rocky Graziano's tenacious life and career from director Robert Wise. The film and Newman garnered praise from the press, leading him to launch into a string of commercially and critically successful pictures that highlighted his expansive range of talent. First, in Arthur Penn's revisionist Western "The Left-Handed Gun" (1958), he was a imbecilic and murderous Billy the Kid, while he held his own as Tennessee Williams's fallen football hero Brick opposite Elizabeth Taylor and Burl Ives in a somewhat truncated version of "Cat on a Hot Tin Roof" (1958), which earned him his first Academy Award nomination and the admiration of female fans the world over.
In 1958, while shooting "The Long Hot Summer" (1958) – which earned him the Best Actor award at the Cannes Film Festival – in Louisiana, he became re-acquainted with Joanne Woodward, who was the film's female lead. The two soon fell in love, and after divorcing Jackie, Newman and Woodward were married in Las Vegas in 1958. The couple appeared in numerous films together and had three daughters, which they raised far from Hollywood in the affluent neighborhood of Westport, CT. Newman's film career continued to burn white-hot throughout the early 1960s – he first landed on Quigley Publications' list of top grossing stars in 1963 and would appear there 13 more times until 1986. His cheeky charm, good looks and magnetism made him a casting agent's first choice for flawed heroes in films like "Paris Blues" (1961); "The Hustler" (1961), as pool shark Fast Eddie Felson; "Sweet Bird of Youth" (1962), after Newman had starred in the original Broadway run in 1960; and "Hud" (1963). The latter picture and "The Hustler" earned him two more Academy Award nominations and enduring status as an icon of cool among young acting aspirants and film buffs for decades to follow.
Newman's star power carried him into the mid- and late 1960s with ease. He worked with Alfred Hitchcock on the thriller "Torn Curtain" (1966) and played some of his most memorable roles – including the detective Lew Archer, who was renamed for "Harper" (1966); an unbreakable Southern convict in "Cool Hand Luke" (1967), which brought him another Oscar nomination; and a charming version of the Western outlaw Butch Cassidy in the box office blockbuster "Butch Cassidy and the Sundance Kid" (1969), opposite his good friend Robert Redford. Newman also made his debut as a director in 1968 with "Rachel, Rachel," starring Woodward. Both his lead and the film earned Oscar nods, but his directorial effort only yielded a Golden Globe. Newman's political activism also came to the forefront during the late sixties, through tireless campaigning for Eugene McCarthy's 1968 presidential campaign. His association with McCarthy led to his being named on future President Richard Nixon's infamous "Opponents List;" Newman, who ranked #19 out of 20, later commented that his inclusion was among the proudest achievements of his career.
Newman's superstar status – he was the top-ranking box office star in 1969 and 1970 – allowed him to experiment with film roles during the 1970s, which led to quirky choices like "WUSA" (1970), "Sometimes a Great Notion" (1971), "Pocket Money" (1972), and "The Life and Times of Judge Roy Bean" (1972) – all of which he also produced through First Artists, a company he established with fellow stars Sidney Poitier and Barbra Streisand. Newman also served as producer on the quirky drama "They Might Be Giants" (1969) starring his wife, Woodward, and directed her and their daughter Elinor in the 1972 film version of "The Effect of Gamma Rays on Man-in-the-Moon Marigolds." He also developed a passion for auto racing after training with professionals for the 1969 drama "Winning." By 1972, he was racing professionally and completed Le Mans' 24-hour competition in 1979. The love of the racetrack would never leave him.
The 1970s also yielded two of Newman's biggest hits – "The Sting" (1973), which reunited him with Redford, and "The Towering Inferno" (1974), which paired him with Steve McQueen for the first and only time. Newman also starred in the outrageous cult hit "Slap Shot" (1976) as an aging hockey star who coaches a farm team of misfits, and made two films with Robert Altman – "Buffalo Bill and the Indians" (1976) and the bizarre apocalyptic drama "Quintet" (1979) – neither of which boosted the director's fading career.
In 1978, Newman lost his son Scott to drug addiction. Due to his tragic lose, he curtailed his film career for much of the late '70s, establishing the Scott Newman Center for Drug Abuse Prevention, while joining Woodward in passionate anti-drug campaigning. But by the early 1980s, Newman returned to filmmaking in several well-chosen projects that showcased his matured but undiminished skills. He was a beat cop caught between street violence and corrupt fellow officers in the violent "Fort Apache The Bronx" (1981); the son of a deceased crime figure who finds himself the focus of a dogged journalist's investigation in Sydney Pollack's "Absence of Malice" (1981); and a down-and-out lawyer who earns a chance at redemption in Sidney Lumet's "The Verdict," which brought another Academy Award nomination. The Cecil B. DeMille Award for Lifetime Achievement from the Hollywood Foreign Press followed in 1984.
With the help of writer A.E. Hotchner, in 1982, he launched Newman's Own, a line of food products that donated all proceeds after taxes to charity. The brand bloomed largely with its first release – salad dressing – and eventually included everything from salsa and lemonade to popcorn. Four years later, he established the Hole-in-the-Wall Gang Camp –named after Butch and Sundance's gang in "Butch Cassidy and the Sundance Kid" – in his home state of Connecticut. The camp, which served as a year-round retreat and center for seriously ill children, operated entirely on outsider contributions and Newman's own tireless campaigning. Less philanthropic but no less dear to the actor's heart was the Newman/Haas/Lanigan Racing auto team, which he co-founded in 1983. For his charitable efforts, Newman was awarded the Jean Hersholt Award in 1994.
In 1986, Newman won a special Oscar for his numerous "compelling screen performances." That same year, he returned to one of his most famous roles – Fast Eddie Felson from "The Hustler" – in a sequel by Martin Scorsese called "The Color of Money." Newman's performance all but eclipsed up-and-comer Tom Cruise, leading him to collect his second Oscar in 1987. A brief return to regular film appearances followed, including turns in the atomic war drama "Fat Man and Little Boy" (1989), as colorful Southern governor Earl Long in "Blaze" (1989), and a pairing with Woodward as the heads of a conservative family in "Mr. and Mrs. Bridge" (1990) for James Ivory and Ismail Merchant.
Newman announced that he would retire from acting in 1995, though that statement proved short-lived. His gruff humor enjoyed a fine spotlight in the Coen Brothers' quirky '50s-era comedy "The Hudsucker Proxy" (1994), and he earned another Oscar nomination as a likable if flawed small town handyman who gets a chance to rebuild a relationship with his son in "Nobody's Fool" (1995). "Twilight" (1998) surrounded Newman with such stellar peers as Gene Hackman, Susan Sarandon, and James Garner, in a mystery-drama about infidelity and aging, while he provided much needed-gravity to the frothy romance "Message in a Bottle" (1999) and showed he had lost none of his sex appeal opposite Linda Fiorentino in the quirky comedy caper, "Where the Money Is" (2000). Two years later, he earned his first Oscar nomination for Supporting Actor as an Irish crime boss in "The Road to Perdition" (2002). Newman also became the oldest driver on a winning team when he participated in the 24 Hours of Daytona endurance race in 1995.
In 2002, Newman returned to the stage after a 35-year absence to play the stage manager in a production of "Our Town" for the Westport Players (Woodward was the troupe's artistic director). The show quickly transferred to Broadway, with Newman earning a Tony for his performance, as well as an Emmy for the 2003 broadcast of the show on PBS. Two years later, he took home the trophy – as well as a Golden Globe – for his turn as the cantankerous ne'er-do-well father of Ed Harris in the acclaimed HBO miniseries "Empire Falls" (2005). And he lent his gravely tones to the Pixar-animated feature "Cars" (2006), as Doc Hudson, the former racing champ who helps train Lightning McQueen (voiced by Owen Wilson), as well as the documentary "Dale" (2007), about the late racing champion Dale Earnhardt.
In 2007, Newman announced that he was retiring in May of that year, citing that he felt he was no longer able to perform at a level that pleased him. However, his charitable work continued unabated that year, with the actor donating $10 million to his alma mater, Kenyon College. It was later revealed that throughout 2005 and 2006, Newman quietly divested himself of his entire ownership in Newman's Own, donating the money to his foundation, which totaled a whopping $120 million. Meanwhile, Newman expanded on his retirement when he stepped down as director of John Steinbeck's "Of Mice and Men" for the Westport Country Playhouse in Westport, CT, citing unspecified health issues. Although it was rumored that the legend was suffering from cancer, nothing official was stated by his camp. Sadly, the rumors turned out to be true when, on Sept. 26, 2008, Newman succumbed to the disease at age 83, surrounded by family and close friends at his home in Westport.
Watch a scene from "The Color of Money" with Paul Newman and Forest Whitaker:
Read more
Latest headlines