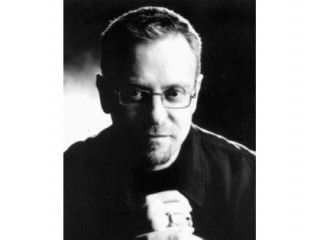 Paul Schütze biography
Date of birth : 1958-05-01
Date of death : -
Birthplace : Melbourne, Australia
Nationality : Australian
Category : Arts and Entertainment
Last modified : 2012-01-26
Credited as : Musician, Composer, Vertical Memory show
Paul Schütze is an Australian artist resident in London. Over thirty years his work has spanned composition, performance, installation, video, printmaking and photography.
For someone who calls himself an unskilled instrumentalist, resists the label "musician," and spends little time in the studio, Australian-born, London-based composer Paul Schütze is an amazingly prolific as well as critically celebrated recording artist. "I don't actually play an instrument, so I'm dubious about claiming to be a musician," Schütze said in an interview with P.J. Millson of Magnet. "My definition of a musician is someone with a certain degree of digital skill on an instrument. I can play very rudimentary keyboards but don't have any music-theory background, and I couldn't play you a tune. I can certainly make music, but my real skill is in decision-making."
Still, Schütze sets a high standard for other modern composers to follow, beginning with his 1989 debut Deus Ex Machina and stretching though other landmark efforts like Regard: Music By Film, The Rapture Of Metals, The Surgery Of Touch, as well as albums such as Nine Songs From the Garden Of Welcome Lies, Second Site, and Green Evil. His hard-to-classify music ranges from ambient to experimental to free-form jazz, touching everything imaginable in between. But while his comprehensive body of work--some 20 albums and counting, not to mention numerous film scores--may seem a bit much for the senses to digest, Schütze believes that a common link resides within all of his music.
"I think I very much subscribe to this sort of notion of auteurism where the composer, painter, or whatever is really trying to say the same thing over and over again; just tackling it from a myriad of different directions and hoping to get closer to this inexpressible thing," he revealed to Adam M. Bialek for Outburn. "It's trying to express one mystery. To me the core of any good piece of art is a mystery which causes that piece of art to transcend its component parts and to also transcend identification in any other medium.... Also, I hope that if people are following the body of work that the language for communicating is starting to build into a real vocabulary. I like to think of the whole body of work as a kind of growing language."
Known as intellectual and intense, yet at the same time humorous, friendly, and modest, Schütze takes great care in recording, releasing, and packaging his music. The time and effort shows in the quality of his work. He is considered one of the most important figures on the ambient/industrial/
electronic/avant-garde music scene. However, music is not the only driving force behind Schütze. In addition to composing, he has also worked as a film critic for Australian National Radio, contributes on a regular basis to The Wire magazine in England, and co-designs the cover art for his records; he is planning an installation of his artwork for exhibition in the near future. Schütze is also a member of the supergroup Phantom City, which includes Finnish guitar virtuoso Raoul Bjorkenheim and American bass legend Bill Laswell.
Schütze was born in Australia in 1958 and raised in the city of Melbourne. He displayed signs of creativity early in life: "I had always as a child been obsessed with painting," he informed Gary Bearman of Perfect Sound Forever. "I used to paint and draw a lot, and it was always assumed that I would continue to paint. Concurrent with that was a great interest in listening to music, but I didn't have the means to express myself with sound. Then we got a piano when I was about 13 I think, and that single thing may have been the point where I realized I could express myself as well as enjoy listening. So then a transition from painting to music happened over the next couple of years. That was it really."
As a youth and into his adulthood, Schütze was inspired by several styles of music--some obvious and some not so obvious--that helped shape the way he thought about music more than how he would actually learn to compose it. "I'd have to say the most formative influence on the way I thought about music was definitely the German group Can," Schütze continued. "Simultaneous with that was a very strong interest in a lot of the jazz that was happening in the late '60s and early '70s--Miles Davis, Herbie Hancock, Julian Priester, Eddie Henderson, Tony Williams--that sort of stuff. Beyond that the influences are really too numerous to mention." His list goes on to include progressive and metal rock acts, everything from Led Zeppelin to Deep Purple to Yes, as well as Stockhausen, John Coltrane, Allah Rakhar, Faust, and Weather Report.
Some of his all-time favorite albums, though, include Robert Ashley's Automatic Writing, Can's Future Days, Davis' In A Silent Way, and Arvo Part's Tabula Rasa. And while he never received formal training in musical theory, Schütze became a fan of the works of many classical composers. "I'm very keen on 20th century French piano music--Satie, Ravel, Debussy, and Poulenc, and also very keen on a Spanish contemporary of theirs called Frederico Mompou," added Schütze. But it isn't just instrumental sounds that move Schütze. Both natural and man-made rhythms--like the thundering rotations of a helicopter--inspire his compositions just as much as a jazz, techno, or raga piece.
In fact, unlike most musicians, Schütze tends to hear music as sounds. This rather unconventional approach, he says, came to him naturally, and he has never strayed from this particular concept. "I probably haven't because it's not something I arrived at through an intellectual process," he explained to Bialek. "It's something that I've identified as a natural tendency after the fact, so straying from it would be really a depart profoundly from my instincts. As to how I came to it, I'm not sure. Because I have no formal musical training, it probably helps in that I was never given an external structure from which to think about music. I was never given any kind of defining paradigm by which I could assess what was and wasn't musical, so it was always entirely subjective and it evolved as my tastes evolved."
Schütze first began playing music around his hometown as a percussionist and electronic synthesist for a free improvisational jazz band--an interesting, yet ultimately dissatisfying early experiment for the young composer. Whereas the other players already held an existing knowledge of the history of jazz, Schütze, who had only studied some Indian drumming, felt as though he was starting fundamentally from scratch. After this, in 1980, he founded the Melbourne-based, seminal avant-jazz group Laughing Hands, with whom he recorded several albums. Despite selling quite a few records, particularly in Germany, Laughing Hands suffered financial difficulties and was forced to disband.
Subsequently, Schütze took a break from performing and worked as a DJ. Then, in the mid 1980s, he was approached to write music for a feature film. Since 1986, Schütze has scored over 20 films, among them Isabelle Eberhardt, The Prisoner Of St. Petersburg, and The Tale of Ruby Rose. This new direction, coupled with his love for fusion and experimental music, played a significant role in his development as a solo artist. Working in the film medium, Schütze learned to mesh different sounds. "I think the most essential thing is the instant and total disillusion of any distinction between musical and non-musical sound and also the assessment and processing of the entire sound for the film as one huge piece of music including the dialogue in that as well," he commented to Bialek about film scoring.
In 1989, Schütze made his solo recording debut with Deus Ex Machina. Generating attention upon its release in Australia, the album's cinematic flow sounded much more advanced than anything else from the industrial genre at the time. And his early follow-ups, namely The Rapture Of Metals and The Surgery Of Touch, released in 1993 and 1994, respectively, placed Schütze in the same category as ambient composer Brian Eno.
By 1996, the composer was collaborating with others, as evidenced by that year's Site Anubis. For this tour de force jazz fusion epic, Schütze recorded a sort of rough blueprint of the album and sent tapes to musicians around the world, and received enthusiastic instrumental responses from several key musicians--bassist Bill Laswell, saxophonist Alex Buess, guitarist Raoul Bjorkenheim, drummer Dirk Wachtelaer, and Julian Priester, formerly of the Headhunters. With this virtual ensemble, the group Phantom City came into being.
In the late 1990s, Schütze made a departure by employing both sound and other evocative media. Particularly on the 1997 double CD Second Site, he evokes the feel of a deserted Greek island through electronics and spoken word. "It's my commercial suicide album," he laughed, as quoted by Millson. "That piece is an invocation based on secondhand accounts, photographs, written accounts, technical specifications and plans for the site. It's the collapsing of memory, architecture and sound into one kind of phenomena. What I want to do is take elements of those three things and cross-fertilize them."
Schütze plans to build upon his musical sensibilities to include a variety of mediums for upcoming projects. "I can't just work in sound anymore because there other elements that greatly expand my palette," he added. "I've started with ideas of using video, photographs, drawings, built surfaces and made spaces. It's scary in that there's all this stuff I need to familiarize myself with. The bulk of what I've created in the past has been made without leaving my room. I could make a new album without leaving the flat in two weeks, but I've already done that.... I want to be pushed by different circumstances."
In 2002 Schütze began working with Alan Cristea Gallery London. In 2003 his first solo show Vertical Memory opened at ACG. The show included prints, video, sound and a huge wall work in which the whole of Alain Robbe-Grillet's novel Topology of A Phantom City was rendered as a continuous plane of silver text. In 2004, Stiftelsen 314 in Bergen, Norway mounted his solo show Garden of Instruments. This was the next stage in a large scale project that began in 1997 with the release of Schutze's spoken architectural opera Second Site and continued with a series of lightboxes for ACG also in 2004. This project which is still ongoing now has its own site.
In 2006 Schütze began to work with Galleria Estiarte in Madrid showing prints, videos and lightboxes. His work is also shown at the Alan Cristea Gallery in London. Following Schütze's two residencies at Cité des Arts in Paris making photographs, a solo show of photography – Twilight Science – opened in London at Alan Cristea Gallery in May 2008.
Read more
Latest headlines