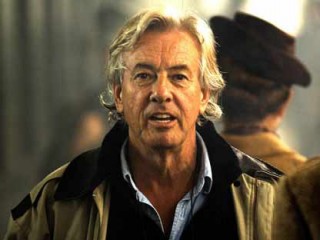 Paul Verhoeven biography
Date of birth : 1938-07-18
Date of death : -
Birthplace : Amsterdam, Netherlands
Nationality : Dutch
Category : Arts and Entertainment
Last modified : 2010-07-15
Credited as : Film director and producer, screenwiter and actor, directed RoboCop and Total Recall
Well into his forties before moving to America to work, Dutch-born director
Paul Verhoeven
has thrived in the world of big budgets, exercising his lurid imagination and tremendous appetite for sex and violence to become a master of modern sensation. His first three Hollywood films were authentic smash hits, beginning with the explicit brutality of
"RoboCop" (1987)
, continuing through the gasp-making action of
"Total Recall" (1990)
to the viscerally explosive and controversial
"Basic Instinct" (1992)
. Then came
"Showgirls" (1995)
, a sort of topless "All About Eve", which was such a bomb that it has enjoyed a rebirth as a camp classic. Verhoeven was even sport enough to show up and give a speech at the Golden Raspberry Foundation's annual 'Razzie' awards (where the film received seven prizes) commenting that the experience "helped a lot to get rid of that unpleasant feeling of being hurt." Perhaps "Showgirls" was just the tonic to stave off complacency because he rebounded with the turbo-charged sci-fi actioner
"Starship Troopers" (1997)
, raising the standard for spaceship battle effects while offering a disturbing political subtext.
Verhoeven spent his childhood in the Nazi-occupied Netherlands, and the wartime visions of fire in the sky and death became imprinted on the future filmmaker's consciousness. Though he earned a doctorate in mathematics and physics at the University of Leiden, he put his heart in film, having feasted on action-packed American fare since his youth, as well as enjoying a passing fascination with the French New Wave and the films of Fellini. Verhoeven had directed a series of shorts before service in the Royal Dutch Navy film corps forever turned him from the academic life. After first making documentaries for Dutch TV, he moved into fiction, gaining attention for the medieval series "Floris", starring Rutger Hauer. His feature debut came in 1971 with "Business Is Business", but it was "Turkish Delight" (1973), Oscar-nominated for Best Foreign Film, which established his credentials. The erotic, satirical study of a marriage between a sculptor (Hauer) and a middle-class girl (Monique van de Ven) scored at the domestic and international box office, although some saw the seeds of pornography in this early art-house success.
Verhoeven fashioned his varied Dutch oeuvre working with several valued collaborators: Rob Houwer produced his first four features, screenwriter Gerard Soeteman wrote or co-scripted all his pictures through his first English-language film ("Flesh + Blood" 1985) and Jan de Bont was the cinematographer of choice before Jost Vacano joined the team for "Soldier of Orange" (1979). (Though de Bont would collaborate on three more films with Verhoeven, he would replace Vacano for only "Basic Instinct" among the director's first five Hollywood films.) "Keetje Tippel" (1975), the follow-up to "Turkish Delight", again starred Hauer and van de Ven who played a poor-but-determined young woman who struggles against all odds (even becoming a prostitute) to climb the social ladder in 19th Century Amsterdam. With "Soldier of Orange", Verhoeven delivered a rousing World War II story with plenty of action, reminiscent of US war films of the late 1940s and 50s. Hauer came into his own as the handsome aristocrat who reluctantly joins the Dutch Resistance, and Jeroen Krabbe, in his first of three performances for the director, pushed Hauer for acting honors, dying at the hands of the Nazis after exacting his measure of revenge.
For "Spetters" (1980), a gritty look at a teenage motorcycle gang, Verhoeven and Soeteman returned to formula: squeezing in as much sex as possible without crossing into hardcore, relieved by quick action so the audience never feels like a voyeur. Though both Hauer and Krabbe were present in small roles, Renee Soutendijk stole the film as the little sexpot who will sleep with anyone to advance her career in the fish-and-chips business, setting the stage for her starring role as a scissors-wielding hairdresser in the psycho-sexual thriller "The Fourth Man" (1982). Castration-anxiety abounded in the film, and whether Soutendijk has murdered three husbands or not, she definitely messes up the mind of gay writer Krabbe when he tries to investigate. Though it generated little critical enthusiasm in Holland, it garnered the greatest international attention yet for the director, leading to "Flesh + Blood", a rowdy swashbuckler set in 16th Century Europe. Possessing plenty of its promised titular gore, it paired Hauer with Jennifer Jason Leigh but scored points only for its sheer audacity.
Verhoeven went to Hollywood and teamed with producer Jon Davison, screenwriter Ed Neumeier and special effects guru Phil Tippett on "RoboCop". For his first stab at science fiction, he had envisioned the future in the tradition of "Blade Runner", but the paltry budget was enough only for the very necessary RoboCop costume and the fantastic stop-motion animation of opponent ED-209. Jettisoning his elaborate production design, Verhoeven shot it straight in Dallas (standing in for a not so futuristic Detroit), and turned the film into a heavy-metal comedy with more than a few caustic things to say about the progressive dehumanization of civilization. The success of "RoboCop" insured there would be more than enough money for the sci-fi summer blockbuster "Total Recall", a big, loud comic book of a movie adapted from Philip K Dick's "We Can Remember It for You Wholesale". Although the project had languished in developmental hell for 10 years with different directors, Arnold Schwarzenegger's box-office clout finally got it off the ground, and Verhoeven fashioned an ambiguous twist to make Dick proud. Does Arnold really go to Mars, destroy the dictatorship and save the world? Or does he just dream it?
Sharon Stone had played Arnold's wife in "Total Recall", and though she was not the director's first choice for the role of kinky murder suspect Catherine Trammell in "Basic Instinct", she nailed it with her brazenly sexual and cold-blooded portrayal. Audacious, erotic and larger-than-life, "Basic Instinct" falls short of its vastly superior prototype "The Fourth Man", but it still kept audiences guessing to the final shot. The sexual tension Verhoeven managed to get on screen was a by-product of his own unconsummated love-hate relationship with Stone. As he explained to MOVIELINE (October 1995): "Everything I felt and everything she felt for me is in the movie. It was not consumed in bed. That's the victory. It was translated to art." Screenwriter Joe Eszterhas, happy to bask in the box office glow of "Basic Instinct", wasted no time, however, breaking ranks from "Showgirls" to publicly denounce it, causing the director to question his character.
Reuniting with his "RoboCop" team, Verhoeven roared back into Hollywood favor with the sci-fi blockbuster "Starship Troopers", about a highly-trained force sent to fight an invasion of insect-like aliens. The resounding failure of "Showgirls" did not prevent him from getting $100 million to make what is essentially a war movie, characterized by screenwriter Neumeier as "'Full Metal Jacket' meets 'Them!' in the style of 'RoboCop'." Very little of that big budget went to its cast of relative unknowns, including Dina Meyer, Denise Richards, Jake Busey and Casper Van Dien, but what the film lacked in star power, it made up in fire power, featuring 500 digital special effects shots of bugs, explosions and flames, as well as the "old-fashioned technique" of using miniature models for the spaceships. In all, more than 250 artists and technicians worked under the skilled supervision of Tippett. Accustomed to courting controversy, Verhoeven refused to make a mere popcorn movie and drew on his genuinely subversive streak to depict the good guy humanoids as fresh-faced fascists. After a three-year absence, Verhoeven returned to the big screen with the sci-fi tinged "The Hollow Man" (2000), focusing on a trio of scientists (two men and a woman) who discover a potion for invisibility. When one of the males consumes it, he begins to stalk the others who have begun a love affair. Boasting a cast headed by Kevin Bacon, Elisabeth Shue (who injured her foot causing shooting delays) and Josh Brolin, it allowed Verhoeven to once again combine eroticism, thrills and special effects.
CHRONOLOGY
* 1964 Served as an officer in the Royal Dutch Navy film corps, making documentaries like Het Korps Mariniers/The Royal Dutch Marine Corps (1965)
* 1969 Gained recognition for directing Dutch TV series, Floris , a medieval adventure starring Rutger Hauer
* 1971 Feature film directorial debut, Wat Zien ik/Business is Business ; first collaboration with screenwriter Gerard Soeteman and producer Rob Houwer
* 1973 Acted in Oh Jonathan, Oh Jonathan
* 1973 Breakthrough film Turkish Delight , starring Hauer; received Oscar nomination as Best Foreign Film; written by Soeteman and produced by Houwer
* 1975 Second feature with Hauer, Keetje Tippel ; written by Soeteman and produced by Houwer
* 1979 First feature as screenwriter (with Soeteman and Kees Holierhoek), Soldier of Orange ; also directed; Hauer starred as a handsome hero of the Dutch resistance; first association with cinematographer Jost Vacano; produced by Houwer
* 1980 First film with Renee Soutendijk starring opposite Hauer, Spetters ; written by Soeteman
* 1984 Reteamed with Soutendijk (as a femme fatale) for noirish The Fourth Man ; scripted by Soeteman
* 1985 US debut (co-produced with the Netherlands), Flesh + Blood ; also scripted with Soeteman; fifth and last feature to date with Hauer
* 1987 Delivered sharp, slick action package with first Hollywood movie RoboCop , a grim look into the not-too-distant future
* 1990 Helmed Total Recall , another sci-fi film featuring his trademark over-the-top violence; first feature with Sharon Stone
* 1992 Scored hit with Basic Instinct , his first collaboration with screenwriter Joe Eszterhas; film starred Stone as a bisexual femme fatale
* 1995 Bombed with Showgirls , the first mainstream Hollywood film released with an NC-17 rating; second teaming with Eszterhas
* 1997 Returned to sci-fi with Starship Troopers ; reteamed with screenwriter Edward Neumeier, special-effects wizard Phil Tippett and producer Jon Davison, having worked with all on RoboCop ; sixth collaboration with director of photography Vacano
* 2000 Directed the sci-fi tinged thriller The Hollow Man , co-scripted by William Goldman; production delayed when leading lady Elisabeth Shue tore an Achilles tendon
* 2006 Returned to directing with the war drama Black Book, a story about the resistance in World War II; premiered at the Venice Film Festival
* Directed Dutch TV documentaries such as Mussert (1968), a profile of a notorious Dutch quisling who collaborated with the Nazis in WWII
* Directed shorts like A Lizard Too Much (1960) and Let s Have a Party (1963, which he also produced) before military service
Read more
Latest headlines