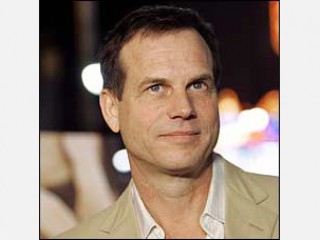 Paxton Bill biography
Date of birth : 1955-05-17
Date of death : -
Birthplace : Forth Worth, Texas, U.S.
Nationality : American
Category : Arts and Entertainment
Last modified : 2010-05-12
Credited as : Hollywood actor screenwriter, Apollo 13, Titanic
A Texas twang in his voice and a willingness to play larger than life oddball characters initially gave actor Bill Paxton a steady career nailing humorous character parts during the 1980s, but directors like James Cameron and Ron Howard found the gravitas beneath his larger-than-life persona. By the mid-1990s, Paxton had graduated to a dependable featured player and leading man in blockbusters such as "Apollo 13" (1995), "Twister" (1996), and "Titanic" (1997), but he also maintained a footing in independent films like "Traveller" (1997) and "Frailty" (1999), which marked his debut as a feature director. He also starred as the some thought, unlikely polygamist anti-hero of HBO's "Big Love" (2006- ), which earned him a Golden Globe nomination in 2008 and a legion of television fans who thought him solely a supporting goofball in big budget Cameron flicks or as bully older brother Chet in "Weird Science" (1985). Paxton would go on to prove the naysayers wrong.
Born May 17, 1955 in Fort Worth, TX, Paxton's father, John Paxton, was a businessman who dabbled in acting. However, the younger Paxton's interests lay behind the camera, and like many budding directors, he shot numerous Super-8 movies with friends in his hometown. After a stint at Texas State University, Paxton moved to Los Angeles, CA to try his luck in the film industry. He broke into the business as a set decorator for famed independent producer-director Roger Corman's New World Pictures – as well as several adult motion pictures, for which he worked under assumed names. Among his early credits included "Eat My Dust" (1976) for his "Apollo 13" director Ron Howard, and "Galaxy of Terror" (1981), an early effort from then special effects designer James Cameron, who would remember Paxton for numerous features once he had made the jump to directing. Paxton also made his acting debut while under Corman's aegis with a small part in the period action-drama "Crazy Mama" (1975) for Jonathan Demme.
The experience on Demme's set may have colored his decision to explore acting, so Paxton relocated to New York City to study with famed coach Stella Adler. By the early 1980s, he was landing bit parts in all manner of features; from cheapjack horror (1983's "Mortuary") to big-budget productions like "Stripes" (1981) and "Streets of Fire" (1984) – even the occasional music video, with Paxton learning German for his role as a radio operator in rocker Pat Benatar's 1984 video, "Shadows of the Night." His imposing frame, ravenous grin and high-wattage delivery helped him stand out among the background players, with Paxton inevitably graduating to more substantial parts. He made a memorable impression on teen viewers as Ilan Mitchell-Smith's sadistic older brother Chet in John Hughes' "Weird Science" (1985) – with fans still quoting Paxton's idiotic lines years later. More importantly, Cameron, who had tapped him for a cameo as a gang leader in "The Terminator" (1984), helped him steal most of his scenes by giving him the most quotable lines ("Game over man, game over!" "We're on an express elevator to hell – going down!" "Maybe you haven't been keeping up on current events, but we just got our asses kicked, pal!") as the beyond jittery Pvt. Hicks in the smash hit "Aliens" (1986). As Ripley (Sigourney Weaver) and Cpl. Hicks (Michael Biehn) effectively took charge of their dire situation as sitting ducks for the lurking aliens, the audience found an outlet for their stress and comic relief with Paxton's lovable character – the one scaredy cat in the group that people could relate to. While he did not become a major star after "Aliens," there was no doubt that it was the very definition of a star-making performance and earned the unknown actor a Saturn Award.
During this period, Paxton also continued to dabble in directing; among his numerous short film projects was the video for "Fish Heads," a bizarre novelty song by cult music act Barnes and Barnes. The video later aired on "Saturday Night Live" (NBC, 1975- ) to much acclaim. Paxton also sang and performed in an alternate rock group called Martini Ranch, which released a single album, Holy Cow, in 1988. Among the collaborators on the LP were members of Devo and the B-52s.
As the 1980s came to close, Paxton began to field larger and more significant roles, though the pictures themselves continued to be low-budget independents with limited audiences. He impressed horror fans as a road-tripping vampire in "Near Dark" (1987) for the ever loyal Cameron's then-wife Kathryn Bigelow, but he was largely wasted in cardboard action films like "Back to Back" (1990), "Navy Seals" (1990) and "Predator 2" (1990). "The Dark Backward" (1991), Adam Rifkin's perverse black comedy, gave him plenty of scenery to chew as the accordion-playing pal of a comic (Judd Nelson) with three arms, but few moviegoers felt the need to expose themselves to the film. It took a small thriller by Corman veteran Carl Franklin to give Paxton the critical boost he needed. "One False Move" (1992) top-billed Paxton as an over-eager small-town sheriff who comes up against a trio of amoral killers (among them Billy Bob Thornton, who co-penned the script), and won critical acclaim for its noir-ish atmosphere and scripting.
The critical reception to "Move" gave Paxton's career a further boost, and after a slow start in the mid-1990s – leads in "Trespass" (1992), "Indian Summer" (1993), and "Boxing Helena" (1993) failed to generate much heat – he was cast as famed lawman Wyatt Earp's brother Morgan in "Tombstone" (1993), which despite numerous behind-the-scenes troubles, managed to land a hit with audiences. Cameron tapped him again to play a sleazy car dealer in his Arnold Schwarzenegger actioner "True Lies" (1994), and by 1995, Paxton was co-starring with Tom Hanks and Kevin Bacon in "Apollo 13" (1995), based on the harrowing lunar mission in 1969. The tense drama, directed by Ron Howard, added another blockbuster to Paxton's steadily growing career.
Thanks to the exposure of "True Lies" and "Apollo 13," Paxton got his shot as a leading man in a major theatrical release. "Twister" (1996), which featured him as a reckless tornado chaser, scored mightily at the summer box office that year. Its success, however, paled in comparison to the global phenomenon that was "Titanic" (1997), which reunited Paxton with Cameron for a small role as the treasure hunter seeking a fabled diamond in the wreckage of the doomed ocean liner. Paxton would later join his buddy Cameron for a trip to the real "Titanic" in "Ghosts of the Abyss" (2003), with the actor providing narration for the documentary and traveling miles under the sea with Cameron to the fabled wreck for a glimpse into its mysteries. It said a lot for the friendship and trust between the two men that Cameron picked Paxton to journey with him to the wreck, instead of any one of his stable of actors he had continually cast in his films for the last decade or more.
In the middle of all the "Titanic" hoopla, Paxton also found time to return to his indie roots in two critically acclaimed though little seen movies. He made his debut as producer for the independent feature "Traveller" (1997), in which he also starred as an Irish gypsy and con man. Paxton also made an impression with a subdued and thoughtful turn in Sam Raimi's psychological drama "A Simple Plan" (1998), which reunited him with his "One False Move" co-star Billy Bob Thornton in an effective story of greed corrupting an essentially decent man (Paxton), his wife (Bridget Fonda) and simple-minded brother (Thornton).
Meanwhile, there was continued demand for his presence as a leading man in mainstream features, including the ill-advised remake of "Mighty Joe Young" (1998) and the WWII thriller "U-571" (2000). But by the early 2000s, Paxton's interest in pursuing a Hollywood career seemed to wane, as he devoted himself to smaller and more eclectic films while attempting to kick start a career as a director. His first effort towards that end was the gripping thriller "Frailty" (2001), in which he also starred as a fanatical father who led his two sons on a killing spree in Texas. The feature, which also starred fellow Lone Star State thespians Matthew McConaghey and Powers Boothe, received positive reviews and several critic association award nominations (as well as a Saturn Award in 2003), but fared anemically at the box office.
Paxton continued to be visible in a variety of features into the new millennium. He returned to his broad comic roots as cowboy-styled amusement park owner Dinky Winks in Robert Rodriguez's "Spy Kids 2: Island of Lost Dreams" (2002) and "Spy Kids 3-D: Game Over" (2003), and donned faux dreadlocks as Coconut Pete, a failed rock star who operates a hedonistic island getaway in "Club Dread" (2004) by the Broken Lizard comedy troupe (Paxton even crooned a handful of tunes for the film's soundtrack). A stab at action hero in the kids' adventure "Thunderbirds" (2004), based on the Gerry Anderson marionette TV series, failed to connect with viewers, but more showed up to enjoy his sophomore directing effort, "The Greatest Game Ever Played" (2006), about a fabled match between an amateur player (Shia LaBouef) and the top ranked golfer in 1913. A likable effort for Disney Studios, it confirmed Paxton's skill as a capable filmmaker.
That same year, Paxton was cast in the HBO series "Big Love" as Utah businessman Bill Hendrickson, whose professional façade and successful chain of home improvement stores served as a front for his home life as a polygamist with three wives. Much of the show's drama was derived from Hendrickson's life as high-wire juggling act – not only was he forced to contend with three spouses of very different temperaments and tastes, but there was also the issue of Roman Grant (Harry Dean Stanton), father to his wife Nicki (Chloe Seivgney), whose Old Testament approach to polygamy presented a serious threat to Hendrickson's standing in the community. Critics and audiences alike gravitated towards the unusual series by its second season, and Paxton's subtle work in his role led to a Satellite Award nomination in 2006 and Golden Globe nods in 2007, 2008 and 2009.
Read more
Latest headlines