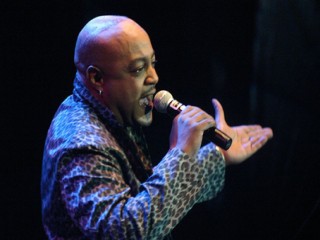 Peabo Bryson biography
Date of birth : 1951-04-13
Date of death : -
Birthplace : Greenville, South Carolina,U.S.
Nationality : American
Category : Arts and Entertainment
Last modified : 2011-11-01
Credited as : Singer, rock ballads, "King of the Balladeers"
Peabo Bryson (born Robert Peapo Bryson, given name changed from "Peapo" to Peabo) is an American R&B and soul singer-songwriter. He is well known for singing soft-rock ballads (often as a duo with female singers) and his contribution to several Disney animated feature soundtracks.
"King of the Balladeers" Peabo Bryson can't imagine ever having trouble writing a new love song. "There are no two relationships that are the same," the R&B crooner told William Hanson of the Detroit Free Press. "There are no two days in a relationship that are the same. Love and relationships--that's an inexhaustible subject matter." And Bryson seems an inexhaustible source of those love songs; he's been writing, producing, singing, and wooing his audiences with them since 1975.
Delving into his influences, Bryson, who was born in 1951 in Greenville, South Carolina, told Larry McKeithan of Essence, "I think the sensitivity in my songs stems from my early childhood. I was raised by women--my grandmother, until she died, and my mother. My grandmother was a woman who lived and loved with incredible passion." Bryson spent much of his childhood on his grandfather's farm in Maudlin, South Carolina. "I have two sisters and a brother, but I'm the oldest male in the family, so I was taught to work--hard.... Man I could slop hogs and pick cotton with the best of them," he recalled in Ebony. "Hard work is no stranger to me," he pointed out to Hanson, "I like [it]."
Bryson's family not only instilled in him his work ethic, but a love for music as well. "My mother was a serious music lover," he told McKeithan. "Whenever there was somebody great in town, she'd drag us along to catch them. I guess I saw most of the greats of that period--Sam Cooke, Little Richard and even Billie Holiday. Sam Cooke was a great influence on me. His voice had a pure quality--good wholesome from-the-heart music. I think folks should be exposed to that."
Music, in fact, offered Bryson a way out of problems at home and trouble in school. "School was horrible ... for me--some really bad people in the school system," he told Hanson. "It was a strange kind of prejudice, blacks being resentful of other blacks who had ambition." That ambition drove Bryson to pursue music as a career early on. Singing backup for Al Freeman and the Upsetters, a local Greenville group, marked Bryson's professional debut, at age 14. It was Freeman's difficulty in pronouncing Bryson's French West Indian name, Peapo, that led Bryson to change its spelling. Two years later he left home to tour the now-famous Southern "chitlin' circuit" with another local band, Mose Dillard and the Textile Display.
Bryson's first break came during a recording session at Atlanta's Bang Records. Although Bang wasn't sold for long on Dillard's band, the young backup singer caught the ear of the label's then-general manager, Eddie Biscoe. Biscoe signed Bryson to a contract as a writer, producer, and arranger and encouraged Bryson to perform his own songs. For several years Bryson worked with hometown bands and wrote and produced for Bang. In 1976 he launched his own recording career with a song called "Underground Music" on the Bang label. His first album, Peabo, followed shortly thereafter. Although only a regional success, Bryson turned heads at Capitol Records. Contracts were signed in 1977.
His first release for Capitol, Reaching for the Sky, coproduced with Richard Evans, was a commercial success and included the hits "Reaching for the Sky" and "Feel the Fire." His second album for the label, Crosswinds, surpassed the first in sales and also featured two hit singles, "I'm So Into You" and the title track. "With 'I'm So Into You' certifying his popularity among black audiences," wrote Mark Kirkeby of Rolling Stone, "Bryson's jump from backing vocalist to singer/songwriter, from local acclaim to the big time, was complete."
"With youthful good looks and a relaxed, almost conversational vocal style," Kirkeby continued, "Bryson is unabashedly a romantic balladeer, wooing female listeners much as his R&B idols did in the fifties, but in a reverent, wholesome way, without the earthy sensuality of a Teddy Pendergrass." Wholesome maybe, but Bryson has had trouble quashing the "ladies' man" image that his albums project. Several of the women to whom Bryson has proposed marriage during his career have turned him down for the security of someone lesser-known. "Competition is not something women look forward to. I can't convince women that they're the only one," he lamented in Jet. A curious on-again-off-again engagement to Juanita Leonard--boxing champ Sugar Ray Leonard's former wife--have added to Bryson's romantic distress.
Although he has not seemed to find the ideal romantic situation, Bryson has enjoyed superb working relationships with women. A tour with Natalie Cole resulted in the album We're the Best of Friends. Another strong affinity grew out of Bryson's touring and recording work with Roberta Flack. Reviewing one of their collaborations, Born to Love, for Stereo Review, Phyl Garland reported, "The album's quality is established immediately with the opening selection, 'Tonight, I Celebrate My Love,' a fine ballad that has the appeal of a sure hit as well. Bryson steps into the spotlight alone on the title track, his own "Born to Love," which should solidify his position as one of today's more gifted writers and performers of intimate music. This is a flawlessly assembled album of contemporary rhythm-and-blues crafted to appeal to mainstream musical tastes without betraying the artists' roots. Sweeter sounds are not easy to come by."
With each move in his career, applause for Bryson has become louder. New York Times music critic Jon Pareles called Bryson the "Pavarotti of soul singers," elaborating, "He has a cherubic presence, plenty of wholesome romantic appeal and a pure, booming tenor voice. When he appeared in the late 1970s, Mr. Bryson would simply stand there and belt, but he has become more of a showman." Still, Pareles did go on to note, "While Mr. Bryson is an undeniable success, he tends to overpower his songs in concert. [They] would be even more romantic if he let them breathe."
Inevitably, criticism has also come Bryson's way; New York Times contributor Peter Watrous was less than enthusiastic about the singer's performance style. "Mr. Bryson is a ballad crooner, a would-be matinee idol," wrote Watrous, "who works hard to look like he's not working at all. He sang with a buttery soft voice, and for the first half of his concert everything he did--walk around calmly, unbutton his jacket--projected an image of effortlessness that's fine for the radio or a video, but falls short of what's expected by an audience at a concert.... By the end of the show, even though Mr. Bryson had turned up the heat a bit, the audience left without asking for an encore."
If he hasn't always hit home in concert, however, Bryson has usually struck grand slams with his albums. In June of 1984 he released his first album for the Elektra label, titled Straight From the Heart, which included the song "If Ever You're in My Arms Again." His duets with Natalie Cole--"What You Won't Do for Love"--and Roberta Flack--"Tonight, I Celebrate My Love," a Top 15 pop smash--had earned Bryson the tag "King of Balladeers," and with "If Ever You're in My Arms Again," which landed in the Number 10 spot on the pop charts, he scored another crossover hit and solidified his mainstream audience. Both "Tonight" and "If" went to Number One on the adult contemporary charts. After four albums for Elektra, including the critically acclaimed Take No Prisoners set, Bryson returned to Capitol for 1989's All My Love. This Top 10 R&B album featured the Number One R&B hit "Show and Tell," a remake of the Al Wilson tune.
In 1990, Bryson signed a recording contract with Columbia Records and, in 1991, released Can You Stop the Rain. People' s review of the album assessed, "[Bryson] has consistently offered listening pleasure, even when he parks his talent too close to glibness. March him up the aisle with the right material, however--as this record does--and the result can be a taste of R&B heaven. There's always a nicely tempered dynamic to Bryson's voice," the reviewer went on, "due in part to his intuitive phrasing and his gift for emotional shading. In terms of composition, there's nothing unforgettable on this issue. But it's all as sweet, creamy and hard to put down as a box of fudge." The single "Can You Stop the Rain" won Bryson a 1991 Grammy nomination for best R&B vocal performance by a male, as did "Lost in the Night" in 1992.
That he is frequently pigeonholed as an R&B singer occasionally angers Bryson. He reviles the rigid pop radio programming that tends to leave artists stuck in certain genres, giving them no chance to reach a wider audience. "By virtue of the fact that you're black, you must therefore be an R&B artist," he complained to Detroit Free Press contributor Hanson, "and I think that that's prejudicial. It's not an overt kind of racism, it's a racism by omission. If you're a black artist, you're not automatically considered for pop radio."
Despite his fears--and ample testimony of his appeal--Bryson continues to cross over from the R&B charts to the pop charts. A perfect example of this came in 1992, when Bryson's wildly popular duet with Canadian chanteuse Celine Dion, "Beauty and the Beast," garnered Grammy nominations for record of the year and best pop performance by a duo or group. Vindicating the devotion of his fans, Bryson won the award in the latter
In 2002, Bryson's "Beauty and the Beast" music video was included on the Platinum and Blu-ray Edition of "Beauty and the Beast". His "A Whole New World" music video was included on the Platinum Edition DVD release of Aladdin. Bryson's CD, Missing You, was released on October 2, 2007 on Peak Records, a division of Concord Music Group. He is thought to have influenced a generation of soul balladeers including Johhny Gill, Tevin Campbell and Usher.
Selective Works:
-Peabo Bang, 1976.
-Reaching for the Sky (includes "Reaching for the Sky" and "Feel the Fire"), Capitol, 1977.
-Crosswinds (includes "Crosswinds" and "I'm So Into You"), Capitol, 1978.
-(With Natalie Cole) We're the Best of Friends (includes "What You Won't Do for Love"), Capitol, 1979.
-Paradise Capitol, 1980.
-(With Roberta Flack) Live and More Atlantic, 1982.
-(With Flack) Born to Love (includes "Tonight, I Celebrate My Love" and "Born to Love"), Capitol, 1983.
-Straight From the Heart (includes "If Ever You're in My Arms Again"), Elektra, 1984.
-Peabo Bryson Collection Capitol, reissued, 1987.
-All My Love (includes "Show and Tell"), Capitol, 1989.
-Can You Stop the Rain Columbia, 1991.
-Take No Prisoners Elektra.
-Contributor to Beauty and Beast Disney, 1992; The King and I Phillips, 1993; and (with Flack) The Christmas Album Interscope, 1993.
Read more
Latest headlines