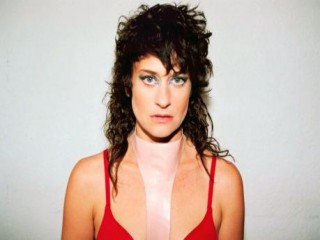 Peaches biography
Date of birth : 1966-11-11
Date of death : -
Birthplace : Toronto, Ontario, Canada
Nationality : Canadian
Category : Arts and Entertainment
Last modified : 2012-01-09
Credited as : electronic musician, instrumentalist, Producer
Merrill Beth Nisker, better known by her stage name Peaches, is a Canadian electronic musician and performance artist who lives in Berlin, Germany. Her songs are noted for disregarding traditional gender norms and their use of sexually explicit lyrics. She plays her own instruments for her songs, programs her own electronic beats, and produces her own albums.
Peaches was an unlikely success story, making her musical mark after the age of 30 in a genre not commonly known for recognizing its female or its aging participants. Her unique rapping style and stage show brought her great popularity first in Europe and then in North America. In 2000 she released The Teaches of Peaches, and as her underground success grew, her name began to surface as an inspiration to such mainstream stars as Pink and even Britney Spears. By starting her professional music career so late and by becoming successful with almost no radio support, Peaches defied the usual conventions of musical popularity.
Before she had even a single album under her belt, Peaches had a sharply honed live show and was beginning to make her mark in the pop world as an extremely unconventional female rapper. With only a drum machine synthesizer, a microphone, and a great deal of attitude in her arsenal, she combined rock, rap, heavy metal, and techno styles into a humorous, sexually charged stage performance reminiscent of the fierce females of London's late 1970s postpunk scene.
Many saw Peaches as an overnight sensation, but her success was actually more than 10 years in the making. Before taking on the Peaches moniker--a name she lifted from a Nina Simone song--Nisker plied her various talents in less confrontational folk and art rock bands. She has attributed the emergence of her more abrasive side to the constraints of her suburban Canadian upbringing and of an educational system that didn't quite succeed in fostering creativity.
Born in Toronto, Ontario, in 1968, Nisker attended a private Jewish school where her classes were taught half in English and half in Hebrew. Kids from the nearby Catholic school teased her regularly, and although she wasn't particularly fazed by the taunts, she learned how to return the insults with aplomb. In school, she was a class clown, who "wasn't particularly smart. I was interested in creative performance stuff but that turned out to be difficult for me because it was all so structured," she told Kitty Empire of the London Observer.
It was no surprise, then, that Nisker's post-college work would fall in line with her creative philosophy. After graduating from Toronto's York University, she began a program at the local YMCA to teach children under six to cultivate their creativity outside of the established structures of music and drama classes. Nisker recounted to Fred Sasaki of Venus that she abhorred the notion that most drama programs forced kids to "sing this, read this part, dress up in a sailor costume, [and] say your lines"--and thus began her own personal campaign to nurture children's inner creative impulses.
Since she wasn't an accredited teacher, Nisker's program was relegated to daycare centers, but it soon branched out to private schools and people's homes, providing her with constant, emotionally rewarding work for a period of about ten years. By day she focused on educating children, while her nights were occupied with experimentation in various musical and performance styles.
Nisker began performing around Toronto in the early 1990s, strumming guitar and singing in a folk duo named Mermaid's Café--a direct reference to a Joni Mitchell song of the same name. While she didn't necessarily mind singing folk numbers--she actually continued doing so after the band broke up--Nisker's musical interests took a more experimental turn when she formed a jazz- and punk-inflected rock act called Fancypants Hoodlum. Around 1995, she started the Shit, a noisy four-piece combo with Chilly Gonzales (a.k.a. Jason Beck), his girlfriend Sticky, and Dominique Salole (a.k.a. Mocky). Their absurd, highly sexual rock music was the real harbinger for what Nisker would become, as it was during this time that she adopted the Peaches name.
Though the Shit didn't last very long--Feedom, a new lineup consisting of Beck, Nisker, and David Szigeti (a.k.a. Taylor Savvy) would come together shortly thereafter--it would still prove a lasting influence on Peaches' solo career. "We all just stripped away what we didn't like in our music and just tried to dumb it down for our own fun," she commented to Sasaki.
Toronto's underground music scene didn't offer much support, and, one by one, Nisker's musical friends either dropped out of music or moved overseas to ply their trades elsewhere. Peaches, now a solo act with just her Roland MC505 groovebox and her verbal skills, began spouting off potty-mouthed raps in Toronto clubs and landed a small record deal on the local Teenage USA label, making one EP. But still, with only a modicum of college radio and tour support, Nisker didn't find her prospects in North America all that encouraging.
She chose to give Europe a try, which resulted in her having to explain to her students' parents why she was leaving. In an interview with URB magazine, Nisker recalled an amusing incident. "One mom asked me, 'What kind of music do you do?' And I'm thinking, how do I explain this to a mother? So I said, 'Well, I guess I'm a punk-rock-rapper person.' And she's like, 'Really? What do you sing about?' Meanwhile, I'm teaching her kid music and I have no idea what to say. Finally, I just said, 'Well, like, um, sex.' She's like, 'Oh, I know all about that! My cousin is [erotically charged rapper] Princess Superstar!'"
With her six-track EP in hand, Peaches packed up her pink hot pants and electronic gear and headed over to test her tracks on what she hoped were more open-minded German audiences. While visiting her old friend Jason Beck, who was enjoying modest European success as Chilly Gonzales in his new home base of Berlin, Peaches landed a one-night gig. On the merits of that show alone, Berlin's Kitty-Yo label signed her on the spot. The label offered her the chance to record a new album, The Teaches of Peaches, back home in Toronto, and the already-completed Lovertits EP was released in the summer of 2000. The full-length album The Teaches of Peaches, was released that fall.
Peaches' in-your-face antics and raw grooves gained popularity fast in Europe. The first of many celebrity fans that would come knocking were Brit-pop favorites Elastica, for whom Peaches would open on the band's final tour of the United States. According to some sources, Peaches was the reason that Elastica broke up; it was rumored that shortly after that tour, Elastica frontwoman Justine Frischmann bought an MC505 machine of her own, and the group disbanded.
It didn't take long for Peaches to find and expand her niche. Her music instantly appealed to a younger, comparatively sexually open European populace and also to indie rock fans, left-wing feminists, and older women. Nisker told Paper magazine that "When I karaoked for the first time, I did [Heart's] 'Magic Man.' I just remember singing 'Magic Man' and all these 40-year-old women started to get up and just party all of a sudden. I was like, 'Of course there's an audience for older women.' Of course I want to reach all kinds of guys and girls."
After the release of The Teaches of Peaches, Peaches adopted Berlin as her home and continued to build her reputation as a feminist rapper and hedonistic dirty girl. The first single from the record picked up steam in dance clubs and on fashion show runways all over the world. Soon, more celebrities were calling Peaches with all sorts of things in mind: modeling, performing at parties, touring and recording.
Peaches' list of admirers grew to include Madonna, Britney Spears, Marilyn Manson, Pink, Karl Lagerfeld, John Waters, and a host of others, each with his or her own plans for the rapper. Waters, Manson, and Björk all took her on tour with them, and Pink, Iggy Pop, and Spears invited her to sing on their records. While she took up the offers from Pink and Pop--a friendly turn that Pop reciprocated on Peaches' "Kick It"--she rejected Spears because her offer came through a management channel rather than from the singer herself.
Despite the sexualized territory covered by both performers, Peaches had long been skeptical about Spears. Criticizing Spears's raunchy, soft-core porn images in her "I'm a Slave 4 U" video, she told journalist Lorraine Carpenter of Exclaim that "if you're gonna give out images like that, you better have the lyrics to back it up. I give it directly, but for some reason it's acceptable to do it visually, but not lyrically. Isn't that the opposite of music?"
Nisker's provocative, overtly sexual persona wasn't always immediately welcome, especially when she opened for the likes of Manson and Queens of the Stone Age. But she capitalized on these opportunities to preach to the unconverted and undoubtedly won a few of them over in the process. "People in the audience were yelling stuff like, '...Get off the stage, gay man.' I was having fun with the fact that people were so visibly offended," she told Billboard.
In 2003, Peaches pushed the envelope further still with the release of her second album on the XL and Kitty-Yo labels. After a few years of steady touring, Nisker had finally gathered a group of recent tracks, some of which she had been performing since 2001, and put them together for a critically acclaimed sophomore release.
Peaches rejected any male-bashing labels. "Some people find it angry or vindictive, as if I'm against males. But that happens a lot with my music. Artists like Busta Rhymes and 50 Cent get away with so much more lyrically, without being questioned. But because I'm a woman, there's a double standard," she told Billboard's Michael Paoletta. To add to her already blurred gender image, Nisker posed with a thick, dark beard for the album's cover.
While some audiences were dismayed by her lyrics and stage shows, others considered Peaches worthy of academic distinction. She was invited to lecture at the Contemporary Music Academy in Berlin, and the lyrics to many of her songs have been studied in the University of Toronto's Queer Studies program. Peaches, as she had from the start, took both perspectives in stride. "I thrive on misconceptions," she told Spin's William Van Meter. "I would hate to just be loved. It's great to have both opinions." Never facing a problem in getting people's attention, Peaches continued to create a body of work that sparked arguments among fans and academics alike.
Her fourth album I Feel Cream, was released on May 4, 2009 in Europe, and May 5 in North America. The first single from the album is a double A-side of "Talk to Me" and "More". Peaches enlisted some of her contemporaries to co-produce a number of tracks including Simian Mobile Disco, Soulwax, Digitalism and Shapemod. Long time friend and collaborator Gonzales co-wrote some of the songs on I Feel Cream and Shunda K (the voice of Yo Majesty) featured on the track "Billionaire".
Read more
Latest headlines