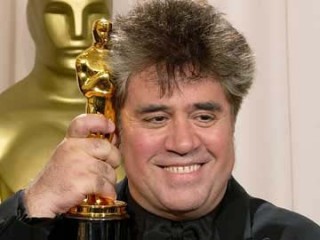 Pedro Almodovar biography
Date of birth : 1951-09-25
Date of death : -
Birthplace : Calzada de Calatrava, Spain
Nationality : Spanish
Category : Arts and Entertainment
Last modified : 2010-08-18
Credited as : Film director and producer, screenwriter, won the Silver Toucan for best director
Pedro Almodovar
born September 25, 1951 in Calzada de Calatrava, Spain is a Spanish film director, screenwriter and producer.
"Sidelights"
A provocative figure in European cinema, Spanish screenwriter and director Pedro Almodovar rose from underground filmmaker to internationally renowned auteur during the course of the 1980s. With a distinctive blend of raw emotion and camp humor, his unconventional motion pictures defy classification and frequently incite controversy among moviegoers and critics. In an interview with Marsha Kinder for Film Quarterly, Almodovar explained: "My films are about pleasure, sensuality, and living--about the celebration of living," and added, "I prefer just to inspire, to suggest, not to explain." Indeed, Film Criticism contributor Patricia Hart observed that in his films, Almodovar "plays with a series of impossible (and for some, unspeakable) fantasies, constructing tenuous implausibilities where for a few moments on screen, if not in life, complimentary 'perversions' can be aligned, shortcomings matched with corresponding excesses, and one desiring domination can be lined up with a benevolent sexpot despot."
Frequent entries at various European and American film festivals, Almodovar's movies routinely topple traditional theories of culture and morality and consequently attract extensive criticism and analysis. The filmmaker's works embody a bold and satiric vision that allows for the satisfaction of even the most bizarre human desires and fetishes. Known for his use of stunning and intense imagery, Almodovar frequently juxtaposes fantasy and reality, creating a world on film in which the outrageous seems ordinary and individual freedom is exalted. His movies reflect the influence of diverse masters of the medium, including Alfred Hitchcock, Billy Wilder, surrealist Luis Bunuel, and several neorealist filmmakers of Italy and Spain.
Several critics have suggested that Almodovar's avant-garde motion pictures border on the grotesque and are designed primarily to jolt and disturb his viewers. But he insists that his works are merely exaggerated depictions of universal themes. In an interview with Vito Russo for Film Comment, Almodovar capsulized his filmmaking philosophy: "I make movies for my needs. My goal has never, never, never, been to make shocking movies."
With the end of the oppressive, authoritative rule of Spanish dictator Francisco Franco in 1975, a new wave of creativity infused the Spanish arts. Almodovar exploits this post-Franco mentality--popularly known as "la movida"--in his films, emphasizing tolerance and acceptance of individuality over the repression and divisiveness inherent in a totalitarian state. In the Film Comment interview with Russo, Almodovar asserted that while his films are not overtly political in content, they "are political in the sense that [they] always defend the autonomy and absolute freedom of the individual--which is very dangerous to some people."
Almodovar's motion pictures generally focus on the lives, loves, and desires of women. While the filmmaker, a candid homosexual, suggests that his sexuality has heightened his sensitivity, he rejects the notion that his fascination with women is rooted in his being gay.
Inspired by classic Hollywood stars, including Bette Davis and Katharine Hepburn, and films of the 1950s such as Cat on a Hot Tin Roof, Almodovar was attracted to the cinematic scene as a youth. Following a parochial education in a western province of Spain, he moved at age seventeen to Madrid and worked for the next decade as a typist for the telephone company. Simultaneously, he dabbled in the arts by acting with an independent theater troupe, singing in a rock band, writing articles and X-rated comics for an avant-garde newspaper, and composing the memoirs of fictitious porn queen Pati Difusa (patidifusa means "flabbergasted" in Spanish). By the mid-1970s, without having attended film school, he was already shooting experimental short films, which he showed at bars, parties, and small film festivals.
Almodovar completed his first full-length feature, the raunchy Pepi, Luci, Bom y otros chicas del montón, in 1980. Eighteen months in the making, the film was shot only on weekends, because Almodovar worked at the national telephone company during the week. A movie "devoted almost exclusively to topics banned from cinema screens only a few years earlier, ... [seeking] shamelessly to offend the sensibility of the average viewer," to quote Hart, Pepi was an underground hit. Its success enabled Almodovar to find funding for his next project, the equally perverse Labyrinth of Passion, a work that attained cult status in Spain.
The 1984 film What Have I Done to Deserve This?--Almodovar's fourth feature, but his first to be distributed in the United States--effectively explodes the Mediterranean myth of machismo. The story of an overworked woman's attempts to support her family, What Have I Done to Deserve This? offers sharp commentary on life in the crowded housing projects of Madrid. The film's heroine, Gloria, subsists mainly on amphetamines, juggling her responsibilities as a homemaker with an outside job as a cleaning woman. Her unsupportive family consists of a crude and boorish taxi driver husband, two sons--the elder a drug dealer, the younger a homosexual--and a daffy mother-in-law. Sexually and emotionally unsatisfied and desperate for a change in her life, Gloria takes sudden action, killing her husband with a frozen ham and selling her younger son to a homosexual dentist. In a New York review, David Denby wrote, "What Have I Done to Deserve This? is bitterly funny, but it never feels nihilistic or merely cruel." Denby also noted, "Every frame of it breathes freedom and pleasure in freedom." Variety correspondent Jonathan Holland called What Have I Done to Deserve This? "one of the most hilarious and despairing of Spanish films, establishing a delightful yet dangerous blend that would become a later [Almodovar] hallmark."
Almodovar's 1986 film Law of Desire became another cult classic in Madrid. Released the following year in the United States, the film concerns homosexual film director Pablo and his transsexual sibling Tina (who had undergone a sex change to more conventionally facilitate incestuous relations with her father). Tina becomes a lesbian after her father abandons her. Pablo falls in love with Juan, a bisexual, but also finds himself drawn to the obsessive Antonio. In a jealous rage, Antonio tracks and murders Juan, then holds Tina hostage in exchange for a single hour with Pablo. Moved by Antonio's uncompromising passion, Pablo consents.
Dark Habits, Almodovar's third film, and his first to be marketed outside of Spain, was not released in the United States until 1988. Dark Habits begins with a nightclub singer-stripper fleeing to the safety of a convent following the drug-overdose death of her lover. The film, which takes its title from the unusual activities the nuns engage in during their spare time, then focuses on the irregularities of life inside the convent walls. Oddly named nuns--Sister Damned, Sister Sin, Sister Rat, and others--indulge in everything from drugs to exotic pets and thrive on saving the souls of the downtrodden. Several critics have contended that Dark Habits lacks the polish and bravura of Almodovar's later works, but most conceded that the film served as an important step in his growth as a filmmaker.
Matador, one of the top-grossing Spanish films of 1986, also received its first American showing in 1988. A controversial story of indulgence and obsession, Matador was both censured as a twisted and offensive study in psychosexual brutality and celebrated as an exaggerated and outrageously lavish comedy of passion. The film centers on the warped alliance between a former matador and a murderous female lawyer, both of whom can only experience sexual fulfillment in conjunction with killing. The pair's own relationship culminates in ecstasy and death. Pauline Kael, writing in the New Yorker, deemed the film "all lush, clownish excess," adding: "Everything is eroticized--the colors, the violence. It's all too much--it's sumptuously sick and funny."
In the Advocate, Jan Stuart wrote: "The Almodovar signature invariably signals an elaborate network of the desired and the desirous, a maze of ardor that coils back on itself in unexpected ways. His resourceful lovers seem prepared for anything, as if betrayal, revenge, and unlikely sexual encounters were their daily bread. Handguns are always within easy reach--in the drawer next to the condoms and the diaphragms, we figure--and they tend to go off in homicidal orgasms."
In his conversation with Kinder, Almodovar justified his use of violence in his oeuvre: "The moral of all my films is to get to a stage of greater freedom." Almodovar went on to note, "I have my own morality. And so do my films. If you see Matador through the perspective of traditional morality, it's a dangerous film because it's just a celebration of killing. Matador is like a legend. I don't try to be realistic; it's very abstract, so you don't feel identification with the things that are happening, but with the sensibility of this kind of romanticism."
Almodovar earned international acclaim with his next film, Women on the Verge of a Nervous Breakdown, which was the second largest box office draw in Spain in 1988. Winner of numerous international film awards, the fast-paced comedy-melodrama chronicles Spanish television and radio actress Pepa's attempts to contact her suave and evasive ex-lover Ivan, also an actor. Ivan leaves a message on Pepa's answering machine informing her of his decision to end their relationship. Upon discovering the farewell message, the vulnerable Pepa heaves her telephone and answering machine out her window and proceeds to contemplate her options: reconciliation, murder, or suicide (with barbiturate-laced gazpacho, which she never gets a chance to drink). Women on the Verge of a Nervous Breakdown features a myriad of supporting characters, including Pepa's friend Candela, who fears arrest because of her involvement with a Shiite terrorist; Ivan's demure son, Carlos, who falls for Candela; and Carlos's overbearing fiancée, Marisa, who experiences her first orgasm in a gazpacho-induced sleep. The film culminates in Pepa and Ivan's final confrontation, following a hectic chase and gunplay.
Women on the Verge of a Nervous Breakdown scored a resounding critical and popular success. In a Newsweek review, David Ansen suggested that Women on the Verge of a Nervous Breakdown, probably the most mainstream of Almodovar's films, exemplifies the refinement of the filmmaker's cinematic skills: "With each film Almodovar's technical assurance grows: he makes stylized high comedy look easy, unforced." Ansen went on to comment, "Some aficionados may miss the more outrageous edges of [the filmmaker's] earlier works, but the enfant terrible has not gone soft; he's just in a holiday mood, and his new comic optimism is infectious."
Almodovar followed Women on the Verge of a Nervous Breakdown with Tie Me Up! Tie Me Down!, which New Republic critic Stanley Kauffmann pronounced "his pinnacle so far." Released without a rating because of allegedly objectionable sex scenes, Tie Me Up! Tie Me Down! turns on the abduction of a former porno film star who eventually falls in love with her kidnapper, a recently released mental patient. Though faulted by some critics for its predictability and lack of originality, Tie Me Up! Tie Me Down! clearly impressed several other reviewers, including Rolling Stone contributor Peter Travers, who called the film "disturbing and invigorating, ... another masterwork from Spain's most explosive talent." Addressing the supposedly objectionable theme of the movie, Film Criticism contributor Hart concluded: "Viewers may share in the fantasy or not, but only the tacky would condemn a director for sharing with us in witty fashion what turns him on."
Subsequent Almodovar features have revealed a maturation and a world view that is "hopeful without being rosy-tinted," to quote Joseph Cunneen in National Catholic Reporter. In The Flower of My Secret, for instance, a disenchanted romance writer finds a degree of peace and self-respect even as her marriage disintegrates and her career unravels. In The Flower of My Secret, declared Stuart Klawans in Nation, Almodovar "has made a thoroughly heartfelt melodrama, one that revels in color and hyperbole not only for their own sake but also because they're garments that shield a human need so abashed that it dares show itself only in the gaudiest disguise." The critic concluded: "How strange that the bad boy should have turned into a benevolent god who respects his creature even though she disagrees with him. How surprising; how just."
With his 1998 comedy Live Flesh, Almodovar has established himself as "spiritual padre to a whole new wave of Spanish filmmakers," in Variety contributor Holland's view. Another study of violence, passion, and obsession, Live Flesh--an adaptation of a Ruth Rendell crime novel--weaves a web of intrigue and interrelationship between a hapless petty criminal named Victor, two police officers, and two women variously involved with the officers and with Victor. "Almodovar normally focuses on women on the verge, but Live Flesh is more about men and their mess," maintained James Greenberg in Los Angeles Magazine. "These guys are literally crawling at the feet of their women, struggling to find a way out of the skin they were born into." Time film critic Richard Corliss described Live Flesh as "sensuous [and] delirious," adding: "Obsession has seldom looked as gaudy or thrilling as here." Corliss went on to note: "Few films these days are about sex, let alone love. Almodovar is that rare moviemaker who still thinks they are as important as a space invasion or a sinking ship."
Though generally regarded as the exemplar of modern Spanish cinema, Almodovar takes a modest view of his international renown. Reflecting on his career in the Film Comment interview with Russo, the filmmaker revealed: "What's wonderful is to notice that people want to see my movies. And that by the miracle of communication I am able to put my obsessions, my problems, my life on the screen and have them reach my audience. That impresses me tremendously. But curiously, it doesn't make me feel more sure of myself as an artist. Each time I start a new movie I know that I want to make that movie, but I don't know if I will know how to do it."
In his 1999 film All About My Mother, the author and director tells the story of a single mother, Manuela, whose son is run down by a car and dies. To help deal with her grief, she goes in search of the boy's long lost father, who turns out to have changed identities and become a woman named Lola. Joining her on her journey are three other women: a transvestite hooker, a pregnant nun, and a diva. Newsweek contributor Ansen called All About My Mother "the most moving film of [Almodovar's] career." Jeffrey Ressner, writing in Time commented that the movie is "the most mature and satisfying work in a glittering, consistently surprising career."
Almodovar switches the focus from women to men in Talk to Her, a story about men dealing with isolation, their emotions, and the women they love. One of the men, a male nurse named Benigno, helps take care of Alicia, a dancer who has been in a coma for four years following a car accident. Benigno, however, is in love with his charge, whom he used to watch from a balcony when she practiced dancing before her injury. Another featured character, Adolfo, is a bullfighter who had a relationship with a female bullfighter named Lydia. He is also dealing with an array of emotions as Lydia lies in a coma after being gored by a bull. Writing in Variety, Jonathan Holland noted, "Pics take on human solitude suggests that everyone should deal with it in the way that is right for them, however offbeat it may seem to others and as long as it does not cause harm. It's a threadbare theme, but the extremity of Benigno's situation breathes new life into it." Also commenting on the character of Benigno, Film Comment contributor Kent Jones noted: "Almodovar is getting at a more eternal truth. Through this beautifully realized character, he's implying that every act of love, no matter how apparently misguided, is worth our attention and respect." In a review in Time International, Richard Schickel called Talk to Her a "great, profoundly witty and unique movie."
Bad Education continues Almodovar's new focus on men. This time the partially autobiographical story is about two friends, an actor named Ingacio and a filmmaker named Enrique (played by Almodovar). Years earlier the two had been classmates at a Catholic school. They both saw sexual abuses occur there, with one of them actually experiencing abuse, and they both have buried their memories. Two decades later, Ingacio shows up at Enrique's with an idea for a film based on the boy's own shocking relationship at school and the abuse of one of them by a priest. Kirk Honeycutt, writing in the Hollywood Reporter, commented that "Almodovar beguilingly combines film noir with autobiography even as he blurs the distinction between fiction and reality." In a review in the New York Daily News, Jami Bernard called the movie a "gloriously feverish ode to what drives us to do things great and terrible." Rene Rodriquez, writing in the Miami Herald, directed viewers to watch the film closely "because the film changes gears so often and so deftly, it's not until its final half-hour that you discover what the picture is really about." Sarasota Herald Tribune contributor Philip Booth noted: "Almodovar masterfully manipulates a dazzling tapestry of intriguing story strands."
PERSONAL INFORMATION
Born September 25, 1949 (some sources say 1951), in Calzada de Calatrava, Spain; son of Antonio Almodovar (a gas station attendant) and Francisca Caballero (a homemaker). Education: Educated in Caceres, Spain.
AWARDS
Silver Toucan for best director, Rio de Janeiro, Brazil, 1987; Teddy Award for best feature film, Berlin International Film Festival, 1987, for Law of Desire; Fantasporto international fantasy film special jury award, 1986, and award for best director, 1987, both for Matador; "New Generation" Award, Los Angeles Film Critics Association, 1987; Best screenplay award, Venice International Film Festival, and best foreign film awards National Board of Review of Motion Pictures and New York Film Critics Circle, all 1988, all for Women on the Verge of a Nervous Breakdown; special citation for originality, National Society of Film Critics, 1988, for Matador and Women on the Verge of a Nervous Breakdown; Orson Welles Award, 1989, for best director of foreign language film; named Man of the Year by Spanish magazine Cambio 16, 1989; Academy Award nomination for best foreign film, Academy of Motion Picture Arts and Sciences, 1989, for Women on the Verge of a Nervous Breakdown; Goya Award (Spain) for best original screenplay, Spanish Film Academy Awards, and Italian National Syndicate of Film Journalists Silver Ribbon award, both 1989, for Women on the Verge of a Nervous Breakdown; Cesar Award (France) for best foreign film, 1993, for High Heels; Silver Ribbon award, Italian National Syndicate of Film Journalists, 1998, for Live Flesh; Cesar Honorary Award (France), 1999; People's Choice Award for best European director, 1999; Fipresci Award, grand prize, International Film Critics Federation, best director award, Cannes Film Festival, audience award, European Film Award, People's Choice award, Ft. Lauderdale International Film Festival, and Circle Award for best foreign language film, New York Film Critics, all 1999, all for All About My Mother; Academy Award for best foreign film, Academy of Motion Picture Arts and Sciences, Bodil Award for best non-American film, British Academy Award for best non-English language film, British Academy Award David Lean Award for direction, Cesar Award for best foreign film, Chicago Film Critics Association Award for best foreign language film, Cinema Brazil Grand prize for best foreign film, and Palm Springs International Film Festival international filmmaker award, all 2000, all for All About My Mother; seven Goya Awards (including best picture and best director), Spanish Film Academy Awards, for All About My Mother, 2001; German Movie Award, 2000, for best foreign language film; Premio Sant Jordi de Cinematografia, 2000; Guldbagge Award, Sweden, 2000, for best foreign language film; honorary doctorate, University of castilla-La Mancha, Spain, 2001; Los Angeles Film Critics Association award for best director, European Film Academy awards for best picture and best director, and European Film Academy award for best screenplay, all 2002, all for Talk to Her; Golden Globe Award for best foreign film, and nominee for Academy Award for best director, and Academy Award for best writing, screenplay written directly for the screen, Academy of Motion Picture Arts and Sciences, all 2003, all for Talk to Her.
CAREER
Screenwriter, producer, director, and actor. Telephone company worker; singer in rock band, Almodovar and McNamara; actor with independent theater troupe, Los Goliardos; writer of comic strips and columns for underground newspaper, all in Madrid, Spain, all c. 1970s.
Author has appeared in a number of his own films, including Pepi, Lucy, Bom y otras chicas del montón; Entre tiniblas, Todo sobremi madre; and Mala Educación; also composer of songs for films.
Producer of films, including Pestñas postizas, Acción mutante, Mi nombre es sombra, Shampoo Horns, El Espinazo del Diablo, My Life without Me, La Niña santa, and The Secret Life of Words.
WRITINGS:
SCREENPLAYS AND DIRECTOR
* Pepi, Luci, Bom y otros chicas del montón (title means "Pepi, Lucy, Bom and a Whole Lot of Other Girls"), Figaro, 1980.
* (And producer) Laberinto de pasiones, Musidora S.A., 1982, released in the United States as Labyrinth of Passion, 1990.
* Entre tinieblas, Tesauro P.C., 1983, released in the United States as Dark Habits (also titled Dark Hideout and Sisters of Darkness), Cinevista, 1988.
* Que he hecho yo para merecer esto?, Tesauro S.A./Kaktus P.C., 1984, released in the United States as What Have I Done to Deserve This?, Cinevista, 1985.
* Matador, Iberoamericana, 1986, released in the United States under same title, Cinevista/Promovision International, 1988.
* La ley del deseo, El Deseo/Laurenfilms, 1986, released in the United States as Law of Desire, Cinevista, 1987.
* (And producer) Mujeres al borde de un ataque de nervios, El Deseo/Laurenfilm, 1988, released in the United States as Women on the Verge of a Nervous Breakdown, Orion Classics, 1988.
* Atame!, El Deseo/ Laurenfilm, 1990, released in the United States as Tie Me Up! Tie Me Down!, Miramax, 1990.
* Tacones lejanos, El Deseo, 1991, released in the United States as High Heels, Warner Bros., 1991.
* Kika, El Deseo, 1993.
* La Flor de mi secreto, El Deseo, 1995, released in the United States as The Flower of My Secret, Sony Pictures Classics, 1996.
* Carne tremula, El Deseo, 1997, released in the United States as Live Flesh, MGM, 1998.
* Todo Sobre mi Madre, Via Digital, 1999, released in the United States as All About My Mother, Sony Pictures Classics, 2001.
* Hable con Ella, released in the United States as Talk to Her, El Deseo S.A., 2002.
* (And producer) Mala Educación, released in the United States as Bad Education, Sony Pictures Classics, 2004.
Also author of screenplay and director of Volver (title means "To Return"), 2006.
OTHER
* Pati Difusa y otros textos, Editorial Anagrama (Barcelona, Spain), 1991, translation by Kirk Anderson published as Patty Diphusa and Other Writings, Faber (Boston, MA), 1991.
Also author of photonovella Todo Toya. Contributor of articles to Spanish periodicals.
Read more
Latest headlines