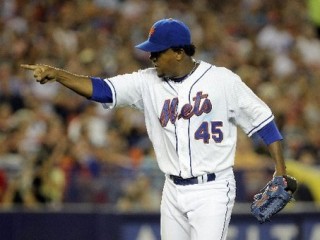 Pedro Martinez biography
Date of birth : 1971-10-25
Date of death : -
Birthplace : Manoguayabo, Dominican Republic
Nationality : Dominican
Category : Sports
Last modified : 2010-11-04
Credited as : Baseball player MLB, pitcher with the New York Mets,
Pedro Jaime Martinez was born on October 25, 1971, in Manoguayabo, a small town 30 minutes outside the capital city of the Dominican Republic. Pedro's father, Paolino, worked as a janitor and performed odd jobs to put food on the table,. His wife, Leopoldina, did laundry for other families in town. Pedro had two older brothers, Ramon and Nelson, and a younger brother, Jesus. He also had two sisters. The family lived in a "three-bedroom" house—the bedrooms formed by sheets hung from wires.
Like most homes in Manoguayabo, Pedro's had dirt floors and a tin roof. The streets of the town were unpaved, and garbage tended to pile up wherever it was thrown. Despite the less than picturesque surroundings, Pedro's parents always made sure their kids were dressed well for school and took their classes seriously. Pedro's best subject was English. He lists the fact he never received a score under 98 among his top achievements.
Baseball was in Pedro's blood. His father had been one of the most respected pitchers on the island during the 1950s. He was also a former teammate of Felipe and Matty Alou. Paolino had a murderous sinker that batters used to beat into the ground, and he was freakishly strong, able to pitch two games in one day. The Alous maintain that Paolino could have been a solid major leaguer, but he failed to show for a tryout with the San Francisco Giants because he was too poor to afford cleats.
Ramon, who was four years older than Pedro, was the first to follow in his father's footsteps. Tall and thin, he could whip the ball toward the plate with amazing velocity. Everyone in the area had him pegged for future stardom.
When Pedro was eight, his parents divorced. The children looked to Ramon as the new head of the household, and he approached the challenge with great determination and focus. By the age of 15, Ramon was picking up money pitching in games around Santo Domingo. In 1984, he was selected to pitch for the Dominican national team at the Summer Olympics in Los Angeles.
Ramon was signed by the Los Angeles Dodgers and sent to their academy in the Dominican Republic. One day, Pedro tagged along and joined in the workouts. Like Ramon and Nelson, he was a pitcher. But unlike his brothers, he was small in stature. Pedro regularly played in games in his neighborhood, where he was considered a tough, smart competitor. But his family believed he would continue with his education. Pedro was the "smart one"—many who knew him as a child assumed he would become a doctor.
When Los Angeles scout Ralph Avila put a radar gun on Pedro, the skinny 13-year-old hit 80 mph with good movement. Avila told the youngster to keep working at it because he had the makings of a good pitcher. That provided Pedro with motivation to get much more serious about baseball. Three years later, in 1987, Avila signed him. When Pedro showed up for his first workout, Jesus was with him. Avila was no dope—he began putting Pedro's brother through the paces (and eventually signed him, too).
Pedro spent the 1988 and 1989 seasons pitching for the Dodgers' Dominican Summer League affiliate with other teenage prospects. He went 12-3, demonstrated good command of his pitches, and built up his velocity and confidence. He also polished his English in courses at the Ohio Dominican College.
ON THE RISE
In 1990, the Dodgers assigned Pedro to their Pioneer League team in Great Falls, Montana. The powerhouse club, managed by Joe Vavra, was led by Raul Mondesi and Garey Ingram, both of whom would make it to the majors. Pedro was the team's best pitcher and ranked as the league's #3 prospect after going 8-3 in 14 starts. Meanwhile, Ramon had come into his own as a major leaguer, winning 20 for the Dodgers in his first full year in the starting rotation.
Pedro weighed around 135 pounds when he began his pro career. He was so skinny that he was threatened with a $500 fine if the team caught him running. That was a problem, because Pedro jogged to build up his legs and stamina, and his exercise regimen also helped him clear his mind. He paid $20 to the night watchman at the Dodgers' academy to let him in the facility after dark.
By now, Pedro's fastball was hitting 90 mph on the gun. Opponents marveled at the smooth, compact motion and tremendous arm speed he generated with his small frame. The key was the torque Pdero produced as he twisted his upper body at the waist. No one was quibbling with his mechanics, but some in the organization wondered how long his slight frame could hold up under the strain.
They got an idea during the 1991 season, when Pedro skyrocketed through the farm system. He pitched at the Single-A, Double-A and Triple-A levels, fashioning an 18-8 record with a 2.28 ERA. Pedro started the year at Bakersfield. He went 8-0 and embarrassed California League batters as he changed speeds and locations with his growing repertoire. Next, in 12 starts for San Antonio, he pitched a league-high three shutouts. At Albuquerque, Pedro went 3-3 in six late-season starts. The Sporting News named him its Minor League Player of the Year.
Pedro spent the the entire 1992 season with Albuquerque, anchoring a rotation that included Pedro Astacio. When the Dodgers needed a fill-in for their rotation, Astacio got the call. Two years older than Pedro and more physically mature, he seemed better suited for the role. Pedro did make it to Los Angeles in late September, after the Dukes concluded their season. His final numbers were 7-6 in the minors and 0-1 for the Dodgers. Los Angeles had a horrendous year, losing 99 games and finishing last in the NL West.
Pedro pitched well enough in spring training in 1993 to stick with the big club. Nonetheless, he was the last man sent to Albuquerque. Literally pulled off the team bus by GM Fred Claire, Pedro was given the bad news in front of his brother and teammates. Furious with the treatment, he went to the clubhouse, called his father, and told him he was ready to come home.
Following behind, Ramon grabbed his brother and reminded him of the time he had pitched a shutout against the Atlanta Braves only to be sent to the minors the next day. Ramon had been angry, too, but he understood that the business of baseball sometimes wasn't always fair. Ramon also pointed out that the family depended on the money Pedro was earning. Taking in all of his big brohter's words of wisdom, he sucked it up and headed for New Mexico.
A week later, Albuquerque pitching coach Dave Wallace made a surprise visit to the mound in the third inning. He told Pedro to pretend his arm was hurting. The Dodgers had called him up, and Wallace wanted him out of the game.
Pedro spent the rest of the year c oming out of the bullpen for Tommy Lasorda. The rookie was sensational. He was throwing as hard as any middle man in baseball. In 107 innings—tops among NL relievers—Pedro 119 batters, won 10, games and posted a 2.61 ERA. Against righties, he used a fastball that ran up and in, and occasionally a two-seamer that darted down and a way. Against lefties, he got them sitting on the heater, and then dropped his off-speed stuff over the outside corner. By season's end, Pedro was also mixing in a hard curve that he could deliver 12 to 6, or cut sideways. When he had it all going, it was almost unfair.
Toward the end of the year, Pedro pressured Lasorda into giving him a chance to start. When he didn't fare well, his manager questioned whether he had the size and stamina to move into that role. Pedro liked the sound of that challenge.
After the `93 season, Claire began talking to Expos GM Dan Duquette about Montreal second baseman Delino Deshields. The Dodgers needed a leadoff hitter and had a hole at second. Duquette asked for Pedro, but Claire resisted. At one point, he countered with an offer of Eric Karros instead. Eventually, Claire reconsidered, reasoning that his club had other arms to fill Pedro's spot in the bullpen. The Dodgers agreed to the deal, cementing a rare one-on-one blockbuster that took everyone by surprise.
Pedro was shocked when he heard about the trade. He had been led to believe he would be the next young arm in an aging Dodgers rotation. In the end, it may have been Lasorda who sealed his fate. The Los Angeles skipper never believed that Pedro]s body would hold up as a starting pitcher. Dodgers fans were none too happy about losing Pedro, who had grown very popular in his time with the team. Expos fans ripped Duquette, meanwhile, complaining he had shipped away their favorite player. During a winter "caravan" across Canada, Pedro took matters into his own hands and won over the fans and media with his upbeat attitude.
The Expos had a good young team in an unstable division. Eager to return to his role as a starter, Pedro figured to anchor a staff that included veterans Ken Hill and Jeff Fassero andyoung control artist Kirk Reuter, who had gone 8-0 as a rookie the year before. As a middle reliever, Pedro had enjoyed success by backing righthanded hitters off the plate with his boring fastball. As a starter, however, he had developed inconsistency in his mechanics, which sometimes caused pitches to sail and hit batters above the belt. The problem was mostly mental. When a batter dunked a bloop single or fielders failed to make plays behind him, Pedro would reach back for a little too much and lose command.
That was evident in a game against the Reds early in the 1994 season. Facing Pedro in the eighth, Reggie Sanders took one on the the elbow and charged the mound. Even though Pedro had thrown close to the Cincinnati outfielder earlier in the game, it was stupid to think he was trying to hit him. The count was 0-2—and Pedro had a perfect game going! Sanders was ejected and Pedro warned. The next inning, when he needed to work inside to Brian Dorsett, he threw one over the plate and the Reds catcher singled to break up the no-hitter.
During the '94 campaign, Pedro's reputation as a headhunter grew. The development concerned Montreal manager Felipe Alou. He announced during a team meeting that he would stand behind Pedro for as long as it took to iron out a wrinkle in his motion. If opposing teams charged the mound, Alou would be the first man on the field to defend his pitcher.
Pedro made 23 starts during his first campaign in Montreal. He posted an 11-5 record (and also closed one gave to earn a save). Hill, Fassero, Rueter and rookie Butch Henry had nice years, too. The bullpen, led by John Wetteland and Mel Rojas, was sensational. The team's outfield of Larry Walker, Moises Alou and Marquis Grissom carried the offensive load. Montreal was six games up on the second-place Braves when a labor dispute ended the season.
The Expos faltered in 1995, a predictable result after losing Grissom, Walker, Hill and Wetteland to free agency. Injuries further depleted the team, and over the last couple of months, the games Pedro pitched were the only ones that Montreal had a good chance to win. He finished at 14-10 with a 3.51 ERA. As a purported headhunter, Pedro was watched closely by umpires. At times, he became hesitant about utilizing the inside half of the plate.
The highlight of Pedro's season was a stunning outing against the Padres. He retired the first 27 San Diego batters he faced—essentially a perfect game—but because the Expos did not score, the contest went into extra innings. Bip Roberts finally touched him up with a double to lead off the 10th. Only one other pitcher, Harvey Haddix, has taken a perfecto past the ninth. Because of a rule change instituted in 1991, neither Pedro nor Haddix received official credit for pitching a no-hitter
After the '95 campaign, t he cash-poor Expos had one more year of Pedro before he became eligible for arbitration. They renewed him at $315,000 for 1996. Though Pedro had come to understand that business was business in baseball, he still couldn't help but feel slighted.
Despite continued defections, the Expos managed to win more games than they lost in `96. Henry Rodriguez, an old Dodger teammate of Pedro's, delivered big hits to pace a patchwork offense, and Fassero had a great year on the hill, tying Pedro for the team lead with 222 strikeouts. Pedro won 13 times, but still worried about pitch location. It showed in his 3.70 ERA. Montreal wound up at 88-74, and Alou was hailed as a genius.
Over the winter, Pedro realized that enemy hitters, sensing his fear of umpires, had been getting too aggressive against him. He had typically responded by trying to overpower them. Usually, he won those battles. When he didn't, however, the ball often disappeared over the fence. Pedro decided to improve on his changeup—already a good pitch—so that he could use it imore often. Pedro perfected the circle grip, worked on camouflaging his delivery, and prepared for a big year.
First, there was the matter of signing a new deal. Pedro and the Expos settled on $3.5 million for one year—more than they had offered and less than he had wanted. It was enough to get him to free agency in 1998.
When Pedro arrived at spring training, he began working with Bobby Cuellar, Montreal's new pitching coach. Cuellar had worked with Randy Johnson in Seattle the previous two seasons. He pointed out that Johnson developed into a dominant pitcher once he learned how to entice hitters to chase balls out of the strike zone. Cueller encouraged Pedro to use his changeup as an out pitch in the same manner.
As the 1997 season opened, the Expos were still in a state of flux. Moises Alou had left for greener pastures, and young stars Rondell White, Vladimir Guerrero, Orlando Cabrera and Jose Vidro were still unproven. Guerrero, a fellow Dominican, became Pedro's adopted son. Shy and naive, he had seemed lost when he was promoted to the Expos the year before. Pedro let him move into his apartment, bought him a respectable wardrobe and guided him through the culinary mysteries of Montreal. When asked why he put himself out this way, Pedro said that Vlad would one day do the same for some other kid.
Pedro's newfound confidence in his changeup had the desired effect—and then some. His strikeout totals soared, his pitch counts plummeted, and he could easily have won 25 games with better support. Alou let him finish what he started 13 times, and Pedro rewarded him with a 17-victory season, 305 Ks and a 1.90 ERA. Despite playing for a losing club in total anonymity, Pedro was a no-brainer pick for the NL Cy Young Award.
At a banquet after the season, Pedro paid tribute to Juan Marichal. He called the Hall of Famer to the podium and presented him with his Cy Young award, claiming that he was righting one of baseball's great wrongs. Marichal was overwhelmed by the gesture. On the plane ride back to the Dominican, he gave the trophy back to Pedro.
It was within Montreal's power to keep Pedro for one more year, but the team knew it would have gotten creamed in arbitration. As soon as the season ended, the Exposput out the word that Pedro could be had for the right package of prospects. One of the first callers was Dan Duquette, now the GM in Boston. Duquette had already plucking Wil Cordero off the Montreal roster. Now he wanted the ripest fruit of all. The Red Sox had two young pitching studs in its organization, Carl Pavano and Tony Armas, Jr. Duquette parted with both to land Pedro.
Though Pedro didn't know it at first, going to Boston was a perfect fit for him. Red Sox fans were as passionate about baseball as Dominicans—something that could not be said about fans in Montreal or Los Angeles. Boston also boasted the second-largest Dominican population in the country. When Duquette signed Pedro to a six-year extension, he told his new ace that he would bring Red Sox fans their long-awaited World Series title. Pedro felt like he had found a new home.
Before Pedro left for his first spring training with the Red Sox, he attended the ground-breaking ceremony of the Immaculate Conception church in Manoguayabo. Pedro had donated the money for its construction, and the emotional celebration surrounding its opening was a great thrill for him. He ranked it above than winning the Cy Young award and signing his $75 million deal with the Red Sox.
Pedro's first start in a Boston uniform came against the A's in Oakland on Opening Day. He fanned 11 in seven shutout innings in a 2-0 victory. The next day, the Red Sox sold 15,000 tickets for future games. Pedro'ss second start, at Seattle, was another masterpiece. By the time he returned to Boston for his home debut, the town was abuzz.
Marichal flew in for the game, and Luis Tiant—the most beloved Latino pitcher in Red Sox history—also attended the event. Pedro was deeply touched;—he considered marichal and Tiant the two greatest pitchers from the Caribbean. Pedro was dominant again, twirling a 5-0 shutout with 12 Ks.
Pedro slowed down in May after getting slugged by an intestinal problem. Boston fans, feeling he lacked toughness, booed him and complained about his fat contract. They soon changed their tune. Pedro returned in June, battled through a tired arm down the stretch and finished with a 19-7 record and a 2.89 ERA.
The Red Sox, led by Mo Vaughn's 40 homers and Nomar Garciaparra's brilliant all-around play, finished with 92 wins under manager Jimy Williams. They also got excellent seasons from a cast of role players and aging veterans, including Tim Wakefield, Steve Avery, Bret Saberhagen, Tom Gordon, John Valentin, Troy O'Leary and Damon Buford. Unfortunately, this was the year the New York Yankees won 114 games. Boston had to settle for a Wild Card berth.
Pedro dumped the Cleveland Indians in Game 1 of the Divisional Series. Then things fell apart. The Red Sox lost three straight to end their season.
MAKING HIS MARK
in 1999, all the stars were aligned for Pedro to have his best year ever. From his first start to his last, he had it all working. In what ranks among the most remarkable seasons ever, Pedro went 23-4 with a 2.07 ERA—during a campaign that saw the most scoring since 1936. The league average ERA was almost three runs higher than Pedro's. The runner-up to the ERA title, David Cone, was at 3.44. Pedro whiffed 313, which not only led the AL, but made him the first pitcher ever to reach that plateau in both leagues.
Behind Pedro's stunning performance, the Red Sox managed to shadow the Yankees all year, but fell four wins short of a division title. Boston easily took the Wild Card, with a 94-68 record. The highlight of the regular season for Boston fans came at Yankee Stadium in September, when Pedro dismantled the Bronx Bombers with a 17-strikeout, one-hit gem. No one had ever struck out that many Yankees. A homer by Chili Davis accounted for New York's lone tally.
Pedro also had a memorable appearance in the All-Star Game. In front of the faithful at Fenway, he struck out Barry Larkin, Larry Walker and Sammy Sosa in the first inning, and then fanned Mark McGwire to start the second. Matt Williams reached on an error, but Pedro struck out Jeff Bagwell and Pudge Rodriguez threw out Williams trying to steal.
Another big day for Pedro was August 31, when he and Ramon were reunited. The Red Sox had signed the older Martinez that spring, hoping he would recover from shoulder surgery in time to help them down the stretch. Ramon joined the club in time for the playoffs and won two games in September.
The Red Sox couldn't wait to get their hands on the Yankees when the postseason started. First, they had to beat the Indians in the Division Series. Williams sent Pedro out to face 18-game winner Bartolo Colon in the opener. Pedro, who had experienced some shoulder soreness during the year, strained his back in the early innings and had to leave the contest up 2-0. Though he was willing to fight through the pain, it prevented him from using his normal delivery, and he decided to let the bullpen take over. Derek Lowe came in but could not hold the Tribe, who scored three runs to win.
The following day, the Indians roughed up Bret Saberhagen, 11-1. Ramon rode to the rescue in Game 3, turning in a solid outing as the Red Sox exploded for six runs in the seventh to win 9-3. In Game 4, Boston continued its lusty hitting with a 23-7 victory. Thatset up a deciding Game 5 back in Cleveland.
Pedro's back was still hurting, but he told Williams he was available if Saberhagen struggled. He had tinkered with multiple arm angles during the season when delivering his curve and believed he could do the same with his fastball, which would alleviate some of the pain he was experienced. While Pedro couldn't say whether he would last one pitch or one inning, he wanted his manager to use him if things got desperate.
And they did. Saberhagen faltered and Lowe was rushed in to stop the bleeding. Neither could hold down the Cleveland offense. Fortunately, Indian starter Charles Nagy had nothing, either. With Cleveland up 8-7 in the fourth inning, Williams brought in Pedro. Without anything close to his best fastball, he mixed pitches, changed speeds and completely befuddled the Indians. Boston rallied to take the lead, and Pedro remained in the game, knowing each pitch could be his last. When it was all over, Pedro had hurled six frames and given up no hits in Boston's 12-8 victory.
In the ALCS against the Yankees, Pedro started Game 3 and dominated again without his best stuff. He allowed just two hits and struck out 12 in seven innings, humiliating the Bronx Bombers 13-1. Sadly for Red Sox fans, that was their team's first win of the series—and last of the year. New York had scored a pair of one-run victories to open the series and finished off Boston 9-2 and 6-1 to capture the pennant in five games.
The following season was an opportunity missed for Pedro and the Red Sox. The juggernaut Yankees had a rust-bucket year in 2000, winning just 87 games thanks to inconsistent starting pitching and an awful slump in September. Boston kept the pressure up most of the season, led by Garciaparra—who won his second straight batting title—and newly acquired Carl Everett, who led the club in homers, RBIs and steals. But their pitching was even worse than New York's. Wakefield, Jeff Fassero, Tomo Ohka, Brian Rose and Pete Schourek went a combined 23-40. Ramon, meanwhile, put up 10 victories, but he was really just a shadow of his old self. At 85-77, the Red Sox missed the playoffs.
The lone bright spots on the Boston staff were Lowe—who saved 42 games in his first full year as a closer—and Pedro. Laboring through shoulder soreness, he still ptiched to a microscopic 1.74 ERA. No other starter in the league finished with a mark under 3.00. Pedro was tops in the AL in shutouts with four, strikeouts with 284, and batting average allowed at .167. His 18-6 record was the only thing keeping his team in the mix most of the campaign.
Pedro, in his prime at 29, had full command of all his pitches and was just as tough on hitters when he didn't have his 98 mph heater. His best game came against the D-Rays at the end of August, when he took a no-hitter into the ninth. Tamps Bay's John Flaherty broke up the no-no, which Pedro won 8-0.
The 2001 season found Williams under intense pressure. The Boston manager had bickered the previous year with Duquette on a number of issues. When the team failed to start fast, the heat was really on. Newcomer Manny Ramirez provided a big bat in the middle of the lineup, but his contribution was negated by a wrist injury that ruined Garciaparra and a return to form by the ill-tempered Everett. Hideo Nomo, signed as a free agent, provided a solid number-two man in the rotation.
Unfortunately, the number-one man, Pedro, could not stay off the DL. After a great 7-1 start, he began to lose velocity in June and went on the shelf for July and most of August with a slight tear in his rotator cuff. It was an injury similar to the one that cut short Ramon's career, though less serious.
As the team struggled and the Yankees surged, fans called for Pedro to attempt a comeback. This he did, but he lacked anything near his normal stuff.
Williams was fired in the second half and replaced by pitching coach Joe Kerrigan, who lost control of the club. Boston quickly disintegrated and wound up at 82-79, out of the postseason for the second straight year. Duquette ordered Kerrigan to shut down Pedro, who went back to the Dominican Republic and embarked on a winter-long program to strengthen his shoulder.
Confident he could still dominate hitters without a mid-90s fastball, Pedro focused on doing whatever it took to give the Red Sox a complete season in 2002. The team had added some valuable puzzle pieces, most notably leadoff hitter Johnny Damon. The acquisition of Ugueth Urbina late in the `01 season enabled Lowe to return to the rotation, giving Boston a good 1-2 starting punch. Most important, a new ownership team was in place. Among their first moves was hiring Grady Little to lead the team into battle.
Boston started like a house afire, winning two-thirds of its games in April and May. The pitching was superb, Garciaparra and Ramirez led a revitalized offense, and everyone was healthy. The Yankees played well too, putting the pressure on Little to trot out the same guys day after day. In the second half, that strategy showed holes, as Damon, Shea Hillenbrand and Tony Clark began to wear out. With the club dropping a lot of close games. Boston fans watched helplessly as the Yankees pulled away in the AL East. Meanwhile, three teams in the West—the A's, Angels and Mariners—pushed the Red Sox out of the Wild Card race. In most other years, 93 wins would have bought them a trip to the postseason, but not in '02.
There were no complaints about Pedro, who pitched great ball all year. He went 20-4, led the league with a 2.26 ERA and 239 strikeouts, and his .833 winning percentage was the best in baseball. Pedro's command was so good that he could put hitters away with any one of his pitches. Lowe (21 wins) and Ramirez (the AL MVP) also delivered memorable seasons, but it just wasn't enough.
Boston's plan for 2003 was to plug holes. The biggest addition was free agent slugger David Ortiz. He divided the first base job with another newcomer, Kevin Millar, and DH'ed the rest of the time. Two other players in their first year with the Red Sox, Todd Walker and Bill Mueller, were expected to provide consistent hitting and veteran leadership. Pedro, Lowe, Wakefield and John Burkett gave the team four-fifths of a decent starting rotation. The bullpen was a work in progress.
The offense carried the load for most of the year. Ortiz, Millar, Varitek, Ramirez, Garciaparra and Nixon each hit at least 25 homers, and Mueller edged New York's Derek Jeter for the batting title. The starting staff pitched well enough to win, and the closing role eventually fell to Byung-Hyun Kim, who was acquired from the Arizona Diamondbacks in a deal for Hillenbrand. The Red Sox also picked up reliever Scott Williamson in a deadline trade for insurance.
Pedro contributed 14 wins and a 2.22 ERA in 29 starts. Little was careful to limit his pitch counts and rested him an extra day whenever he could. The idea was to keep the Boston star fresh for the playoffs, which the Red Sox made as a Wild Card with a 95-67 record.
The Division Series opened in Oakland. The A's touched Pedro for three runs, but the Red Sox came back to take a 4-3 lead. Oakland tied it in the ninth and won in the 12th against Lowe. The A's beat up on Wakefield in Game 2 to back the Red Sox against the wall. Boston staved off elimination with a walk-off pinch-hit homer by Nixon in the 10th inning in Game 3, and then squeezed out a 5-4 victory in Game 4 with a pair of runs off Keith Foulke.
Back in Oakland for the decider, Pedro took the mound and hurled seven solid innings. The A's led 1-0 going into the sixth, but Boston scored four times off Barry Zito. The bullpen held on for a 4-3 win to advance.
The Red Sox got their long-awaited postseason rematch with the Yankees in the ALCS. Wakefield won Game 1, but Andy Pettitte beat Lowe the next evening to even the series. Pedro battled Roger Clemens in Game 3 at Fenway. With emotions running particularly high, he threw a beanball at Karim Garcia, and the benches emptied. Pedro spotted Don Zimmer charging at him, sidestepped the Yankee bench coach, and tossed him to the ground. The incident enraged New York fans, as did a gesture Pedro directed at Jorge Posada. He pointed to his head, indicating that the Yankees catcher was next on his list.
New York eventually got the better of Pedro with a 4-3 victory, but the fireworks didn't end. Clemens threw close to Ramirez as payback, and the Boston outfielder's overreaction created another fracas. Later in the game, Garcia hopped the righ tfield fence and teamed with Jeff Nelson to pummel a member of the Boston groundskeeping crew.
Boston captured two of the next three to force a Game 7 in New York, with Pedro on the mound against Clemens again. The Red Sox chased the Rocket in the second inning, but Mike Mussina came in to control the damage. Pedro was up 5-2 after seven hard-fought innings. Little then made a fateful decision to send him out for the eighth. After Pedro retired Nick Johnson, hits by Jeter and Bernie Williams made the score 5-3. Little walked out to the mound and asked his ace if he had anything left. Pedro said yes and stayed in to face Hideki Matsui. He doubled, and the Jorge Posada did the sameto make it 5-5. The Yankees won it in the 11th on a homer by Bret Boone off Wakefield. Little was fired 11 days later.
The 2004 season was played under the usual cloud of Yankee dominance. In as manager was Terry Francona, and there was the added distraction of a preseason trade of Ramirez for Alex Rodriguez that fell through. It was also the walk year for both Pedro and Garciaparra, whose salary demands were higher than the Red Sox were willing to pay.
Boston's lineup was basically the same as `03, with Mark Bellhorn replacing Walker at second. The pitching staff was a different matter. Curt Schilling was now in the starting rotation, along with Pedro, Wakefield, Lowe and young Bronson Arroyo. Keith Foulke, the former Oakland closer, was signed to anchor the bullpen.
The formula looked good early on, as Boston took five of the first six games against New York. By late July, however, the teams' fortunes had reversed, and the Red Sox trailed the Yankees by a wide margin. It looked like another year of the same old stuff. That was especially tureafter a July 1st loss in the Bronx, during which Jeter made a diving catch in the stands as Garciaparra sat nursing an injury on the bench.
By the end of the month, the moody shortstop was gone to the Chicago Cubs, replaced by Orlando Cabrera. Doug Mientkiewicz, a fellow Gold Glover, also came in the deal, shoring up a porous defense.
The Red Sox went on a tear in September to give the Yankees a scare and wrap up the Wild Card. Pedro finished the year at 16-9 with an uncharacteristic 3.90 ERA. Still, he averaged better than a strikeout per inning, and hitters managed just a .238 average against him. Schilling, who went 21-6, became the Boston ace.
In the Division Series, Pedro got a win as Boston swept the Angels to set up another ALCS meeting with the Yankees. In Game 1, Schilling took the mound on a sore ankle and was beaten 8-7. Afterwards, doctors revealed that he had a dislocated tendon and advised him against pitching again. Red Sox hopes faded further in Game 2 as Pedro lost 3-1. Game 3 was a complete embarassment, as New York bombed Boston 19-8.
The Red Sox stole Game 4, tying it against Mariano Rivera in the 9th and then winning it in the 12th on an Ortiz homer. They also scored a comeback win in Game 5, as Ortiz came through with another walk-off hit, this time a run-scoring single in the 14th. Pedro worked the first six innings without his best stuff, but limited the damage to four runs.
Game 6 featured a reappearance by Schilling, who had surgery done to hold his tendon in place. He pitched seven fabulous innings in a 4-2 victory. Game 7 was all Red Sox, as Damon and Ortiz hit early homers and Lowe redeemed his so-so season with a great outing in a 10-3 win. It marked the first-time in post-season history that a team down 0-3 had come back to win it all. Pedro go in on the act with a curious move by Francona, who inserted him in the seventh. He was hit hard in his one inning. Stories later revealed that Pedro begged his manager to be a part of the blowout.
The World Series, between the Red Sox and St. Louis Cardinals, figured to be a hitter's showcase. Game 1 lived up to expectations, as Boston survived a wild outing from Wakefield to win 11-9. From then on, it was all Red Sox—and all pitching. In three successive dominant starts, Pedro, Schilling, and Lowe allowed zero earned runs.
Pedro hurled seven shutout innings in Game 3, striking out six and retiring the last 14 hitters he faced. He escaped his only real trouble in the first when Ramirez gunned down Larry Walker at the plate on a short fly ball. The Boston outfielder, who hit .417 against St. Louis, was named the World Series MVP.
As expected, Pedro announced that he would test the free agent waters after Boston's historic championship. At the team's victory parade, however, he told Red Sox fans that he planned to stay. His strategy was to see what the market would bear with the pitching-hungry and deep-pocketed New York clubs—and possibly St. Louis—in the mix, and then force Boston's hand to meet his asking price. But the Red Sox, wary of Pedro's advancing age and balooning ERA, got out of the bidding after the Mets upped the ante to more than $13 million a year for four years. Boston reportedly had a three-year, $40 million deal on the table, but didn't exactly rush to present it.
When Pedro's agent, Fernando Cuza, called him with New York's $53 million offer, he was standing in his backyard. Pedro had been touched by Thanksgiving trip to his home by Omar Minaya, during which the Mets' GM asked if he honestly wanted to pitch for the team. Minaya assured him New York wanted him. With his ego and checkbook sufficiently stroked, Pedro told Cuza to take the deal.
Thanks a mix of young and old stars that included Mike Piazza, Tom Glavine, Carlos Beltran, David Wright and Jose Reyes, the Mets were favored to wrench the NL East title from the longtime grip of the Braves in 2005. Pedro got them off to a great start, striking out 12 batters on Opening Day. It was the most Ks by a Met pitcher in an opender, and the most by a Met in his first start.
Overall, manager Willie Randolph got the season he needed from Pedro, who went 15–8 with a 2.82 ERA and 208 strikeouts. The rest of the club fell short of expectations, however. New York finished in a tie for third with the low-budget Florida Marlins.
Pedro gave the fans plenty of thrills in his first year with the Amazins. Among his more memorable performances was a no-hit bid against his old team, the Dodgers, which was broken up in the eighth inning.
The Mets rebounded nicely in 2006, taking the division crown with a league-best 97 victories. By contrast, it was a season of frustration for Pedro. He began the year beautifully, but a freak accient in May sidetracked him. During a game with the Marlins, Pedro was ordered to change his undershirt by the home plate umpire. He slipped on his way into the locker room and banged up his hip in the fall,. Favoring the injury in subsequent starts, Pedro hurt his shoulder and calf, and pitched poorly the rest of the season. He finished at 9–8 with a 4.48 ERA and logged two stints on the DL. It was later revealed that Pedro had a torn rotator cuff that required surgery.
Without their ace, the Mets pulled together and beat the Dodgers in the NLDS. Against the Cardinals in the NLCS, they went up three games to two. but could not close out the series. The Cards went on to win the World Series, leaving New York fans to wonder what might have been.
The bright side was that the team's young pitchers had thrown in several pressure-filled games and were now battle-hardened veterans. The Mets opened up a healthy lead in the NL East in 2007 and began looking toward the postseason—a postseason that would include Pedro, whose shoulder was mending well ahead of schedule.
He went 3–1 in five September starts and fashioned a sparkling 2.57 ERA. His performance, however, was one of the lone bright spots in a stunning late-season collapse. The Mets won just five of 17 games down the stretch, starting with a weekend sweep at the hands of the second-place Phillies at Shea Stadium. Philadelphia rode that momentum and passed New York for the division crown. A 1–6 final homestand by the Mets defied logic and reason. They finished the year in second place and out of the Wild Card race.
The Mets have a lot of questions to answer in 2008—and so does Pedro. Can they shake off the memory of '07 and become the team fans have been expecting since Pedro arrived? Will Pedro be around for a full year? Despite his extended absences, he has established himself as the leader of the Mets. How far he leads them may be the ultimate measure of an already brilliant baseball career.
PEDRO THE PLAYER
At his best, Pedro had a dizzying arsenal of pitches that he could deliver from a variety of angles with devastating effectiveness. Just as amazing was his durability. Pedro is not a big man—in fact, many believe he falls short of his listed height and weight (5-11 and 180). That hasn't prevented him from being a power pitcher who piles up the innings.
While his fastball is no longer the weapon it used to be, Pedro can still get it into the 90s. But it doesn't always have that extra little jump that blows hitters away. Pedro now has to mix his pitches a bit more effectively. That is hardly a stretch for him, as he still has two fastballs, two curves, a slider and changeup, all of which he can throw for strikes. He can also vary speed, location and arm angle as well as his idol, Juan Marichal, once did.
Pedro probably doesn't get enough credit for his fielding prowess and his ability to hold runners on base. His move to first is good enough to keep runners honest, and his slide step is among the best ever. Now that he's back in the NL, those skills are even more important to him. Pedro also does more hitting—and fans are reminded that he was once one of the league's worst batters.
Obviously, attitude has always been a big part of Pedro's makeup. As he moves into the final stages of his career, no one should expect that to change. Hitters still know he'll lay them out if they dig in too hard, while his teammates, managers and club executives will continue to give him plenty of latitude when he wants or needs it.
Read more
Latest headlines