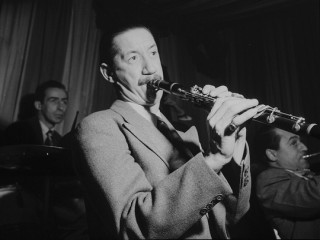 Pee Wee Russell biography
Date of birth : 1906-03-27
Date of death : 1969-02-15
Birthplace : Maplewood, Missouri, U.S.
Nationality : American
Category : Famous Figures
Last modified : 2012-01-17
Credited as : jazz musician, Saxophonist, played Dixieland jazz
Charles Ellsworth Russell, much better known by his nickname Pee Wee Russell, was a jazz musician. Early in his career he played clarinet and saxophones, but eventually focused solely on clarinet.
With a highly individualistic and spontaneous clarinet style that "defied classification,"Russell began his career playing Dixieland jazz, but throughout his career incorporated elements of newer developments such as swing, be-bop and free jazz. In the words of Philip Larkin, "No one familiar with the characteristic excitement of his solos, their lurid, snuffling, asthmatic voicelessness, notes leant on till they split, and sudden passionate intensities, could deny the uniqueness of his contribution to jazz.'
From the beginning, Pee Wee Russell was an enigma, an unclassifiable jazz musician whose unique style graced uncounted live and recorded jazz sessions. Bent on developing a singular voice, Russell consistently surprised both fellow musicians and fans with his recognizable solos. Though he became proficient on several reed instruments and a good reader of music, and though he could blend well with an ensemble with fine tone quality, Russell always preferred smaller groups to larger ones and developed a clarinet style that utilized growls, squeaks, swoops, whispers, and shouts to express his daring musical personality. Most critics and fellow musicians regard him as one of the truly inventive, expressive voices in jazz. Categorized for most of his career as a Dixieland or Chicago-style jazzman, Russell in his later years embraced, and was embraced by, many listeners and musicians of more modern bent.
The late and only child of the father for whom he was named and Ella Ballard Russell, Pee Wee was born in the Maplewood section of St. Louis on March 27, 1906. By his own testimony and that of friends, he was fawned upon by his parents who, while not affluent, dressed him finely and bought him whatever he seemed to desire, including his first musical instruments. Initially, his parents called him by his middle name, Ellsworth, to avoid confusion around the house. His father worked at a variety of jobs-clerical, managerial, sometimes entrepreneurial-and was usually upwardly mobile. The family moved to Okmulgee, then to Muskogee, Oklahoma just as Russell was about to enter elementary school. He began taking piano lessons, later switching to drums, xylophone, and other instruments provided by his indulgent parents. Next came the violin, at which the boy showed some proficiency. That career ended, however, at about age 12, when his mother accidentally sat on the violin.
As Russell's biographer, Robert Hilbert, wrote in his Pee Wee Russell: The Life of a Jazzman, "But his interest in music was far from over. One night in 1918, his father took him to an Elks event he had arranged [Russell's father managed the Elks lodge].... Alcide "Yellow" Nunez [a clarinetist] was holding forth with his band, the Louisiana Five. Nunez, one of the first prominent white jazzmen in New Orleans ... was a charter member of the Original Dixieland Jazz Band [ODJB] in Chicago.... But the aspect of Nunez's playing that held young Russell enthralled was the thrill of the unexpected: improvisation." Forty years later Russell expressed his still-remembered excitement at this event and throughout his career free-wheeling improvisation remained the hallmark of his playing.
Immediately, the youngster began begging for a clarinet, soon provided by his parents, along with lessons from Charles Merrill, one of the few professional clarinetists in Muskogee, who played in the pit orchestra of the Broadway Theater. Turned on as he was by the new instrument and the sounds of the new music-jazz-Russell practiced and listened devotedly. He was caught by the records of the ODJB that featured clarinetist Larry Shields. Within a year, Russell was playing his first professional gig, albeit for meager pay, with a local park band. Shortly after entering Central High School in 1919, Russell was already addicted to two things-jazz music and alcohol. He often skipped classes in favor of girls, good times, and devilment, which sometimes included sampling what his father dispensed as the Elks club bartender. When his father caught him sneaking out to play a riverboat job on the Arkansas River with the Deepriver Jazz Band, the budding musician was transferred in September, 1920, from his high school to the Western Military Academy in Alton, Illinois, for discipline.
As Russell told biographer Hilbert, "I learned one thing: how to get where you re going on time." He also learned enough from his music teachers in his one year there to advance to the first chair of the clarinet section of the band before leaving the Academy, and probably ending his formal education. At this point Russell moved back to St. Louis with his family, finding a Prohibition-era city bursting with social clubs energized by ragtime and jazz. Among the groups causing a stir was the first version of the Mound City Blues Blowers, headed by the irrepressible vocalist and player, Red McKenzie. The young clarinetist played with Thomas Sonny Lee, an accomplished trombonist from Texas who would later become a star with many big bands and in New York studios. He also met Henry Allen, the great trumpet stylist, and began playing jobs on Streckfus Line Mississippi riverboats.
Although he stood nearly six feet tall, Russell weighed only about 125 pounds and soon acquired the nickname "Pee Wee." In 1922 he began traveling the upper Midwest, by now a reasonably accomplished dance band musician. At this point, Russell joined the band of Herbert Berger in Juarez, Mexico from where the group traveled to Hollywood before returning to St. Louis. A trip to New York with Berger's band saw Russell cutting his first records in 1922. Bigger things were in the offing.
Legendary pianist Peck Kelley worked with his popular band almost exclusively in the Houston area. Upon the recommendation of Sonny Lee, Kelley sent for Russell in the summer of 1924 to fill the clarinet chair. With Kelley and master trombonist Jack Teagarden as his guides, Russell developed the resolve to become a jazz musician, one who would build upon the individualized approach of his leader and bandmate. The summer job ended and Russell returned to St. Louis and mostly society dance jobs until called by hot trumpeter Wingy Manone to join his band for a job in San Antonio. Another return to St. Louis in the spring meant more dance jobs and a reprise with the Berger orchestra, complete with regular radio broadcasts. It was at this point in 1925 that Russell met two of the most influential musicians in jazz and in his career, cornetist Bix Beiderbecke and saxophonist Frank Trumbauer.
Both players had already achieved a degree of fame, Beiderbecke from his recordings with the Wolverines. As Russell told Whitney Balliett for his profile titled Even His Feet Look Sad, "We [Beiderbecke and I] hit it right off. We were never apart for a couple of years-day, night, good, bad, sick, well, broke, drunk." They played together in Trumbauer's band and they listened to all manner of music, including that of some of the more modern classical composers. The band's extended summer engagement at the Blue Lantern in Hudson Lake, Indiana became famous, attracting musicians from Chicago, such as Benny Goodman, reedman Bud Freeman and cornetist Jimmy McPartland as spectators. When the gig ended, Beiderbecke and Trumbauer joined Gene Goldkette's orchestra and Russell once again resigned himself to dance jobs in St. Louis. The influence of Beiderbecke, especially his unusual note selection in improvising, would be forever with Pee Wee Russell, jazzman.
Called to New York by cornetist/leader Red Nichols, Russell arrived on August 14, 1927 and recorded with Nichols Five Pennies the next morning. Through that late summer and fall the clarinetist began a parade of recording dates that continued throughout much of his career. Often the group contained the same or similar personnel, with only the designated leader's name changing. Good jazz jobs were not plentiful, but Russell's growing reputation earned him a large share of them throughout 1928, and in October he began a coast-to-coast tour with the band of Paul Hagan. As the band worked its way back from Hollywood, Russell dropped out in St. Louis, where for the next six months he honed his clarinet style. When Nichols called him back to New York in the summer of 1929, not only could he play all manner of dance and commercial jobs, but Russell's jazz voice was now clearly identifiable.
Nichols controlled several groups, including recording and pit orchestras for Broadway shows. Russell recorded with breakthrough tenorman Coleman Hawkins and Jack Teagarden and played in theaters with the likes of Glenn Miller and Benny Goodman; this group was once directed by George Gershwin. As the Depression pressed in, jobs became more scarce, but Russell's reputation was such that legitimate bookers and jazz players alike were anxious to take advantage of the reedman's skills. He played in clubs and recorded on occasion with Teagarden, Red Allen, Red McKenzie, and others during the early 1930s, but as with most musicians, Russell scuffled for enough jobs to maintain. When he met Bobby Hackett on a summer job in 1933, Hackett was playing guitar and violin. Russell encouraged him to pursue the cornet; it was on that instrument and the trumpet that Hackett earned worldwide recognition.
During a good part of this 1930s period he had a live-in arrangement with Lola, whom many assumed was his wife, and who may have been related to his first clarinet teacher in St. Louis. But as the work lessened Russell began to drink more and his relationship with Lola deteriorated, then ended. Basically shy, on his own since his early teen years, and deeply into drinking, Russell took poor care of his physical needs, even his clarinet, and often looked disheveled and in need of food and sleep. His body began to rebel during this period.
By 1935 Russell was playing on 52nd Street at the Famous Door with the band of the popular trumpeter Louis Prima, with whom he traveled to Los Angeles. The band was featured in short films by Paramount and Vitaphone and was a hit in clubs. In 1936 Prima enlarged from five to 12 pieces and did some recording for Brunswick. When they moved to Chicago the big band bombed and Russell developed pleurisy and was unable to play for two months. After playing a few local jobs in Chicago, he returned to New York in 1937, stepping into a Dixieland band being formed by Red McKenzie at Nick Rongetti's famous restaurant with Eddie Condon, Bobby Hackett, and drummer Johnny Blowers. Soon Hackett took over the leadership chores of the band which drew celebrities and bohemians as fans.
Russell was the mainstay at Nick's for nearly a decade, though he was often fired and rehired by the owner. Concurrently, the ever-changing group recorded regularly, particularly with Milt Gabler's Commodore label. Largely promoted and arranged by Condon, Life magazine featured the Hackett band in a generous spread, complete with photos, in August, 1938. Pee Wee, thanks to his expressive, wrinkled face almost as much as his music, had become famous. As Warren W. Vache described in his Jazz Gentry: Aristocrats of the Music World, "Many people more famous than Pee Wee could walk down a New York street without anybody's taking the trouble to say hello. New Yorkers are used to seeing the faces of the stars in all fields of endeavor. But there was something about Pee Wee that made everybody, even those who only knew him by reputation, greet him as an old friend wherever he went." Russell was even doing promotional work for Conn clarinets. He took a short stint as a leader, then agreed to join a big band being formed by Hackett. This short-lived venture produced some recordings, but came to a halt for Russell in mid-1939, when he returned to Nick's to play in the band organized by Condon, but now fronted by tenor man Bud Freeman, soon to become known as the Summa Cum Laude band. They broke up in Chicago in June, 1940 as a live group, although they etched a Columbia session under the name Bud Freeman's Chicagoans a month later.
Russell managed to keep up a steady stream of work: recordings, private parties, club dates, radio broadcasts, and the growing number of events called jam sessions that were not spontaneous, but staged. In mid-1940 Russell joined cornetist McPartland in Chicago, became ill for a while, then returned to Nick's with cornetist Wild Bill Davison at the helm. In 1942, Condon--the effervescent leader of the Chicago school, guitarist, promoter, wise-crack artist, writer--began a series of concerts that eventually centered in the series at Town Hall. These concerts continued through 1960, with Russell often the star soloist. Russell expressed some sorrow about that time to Hilbert: "Those guys made a joke of me, a clown, and I let myself be treated that way because I was afraid. I didn't know where else to go, where to take refuge."
The same year was significant in another important way. In the spring, Russell met Mary Chaloff, three years his junior, and soon moved into her apartment. They were married at New York's City Hall on March 11, 1943. A bright, beautiful woman from an accomplished family, Mary brought a kind of stability to her husband that he had not known, even though she initially could not comprehend his music. As Hilbert related, "They had a special closeness that had developed out of their bantering relationship.... While Pee Wee had developed a dependency on Mary, she was anything but a doormat.... She was a strong-willed, independent woman when it was not considered "proper" to be one. She supported Pee Wee's fragile ego and attempted to give him the personal confidence he often lacked. She made a home for him."
The pattern had long been established: club dates, jam sessions, studio and live recordings, drinking, traveling, late hours, poor nutrition-always playing and being sought out by other players. Having survived Prohibition, the Great Depression, and World War II, Russell had yet a few more hurdles to surmount. Bebop reared its head, becoming a serious challenge to the Dixieland-style of music that the clarinetist had become so well associated with; Dixieland and Swing were under attack. During this period, a feud resulted in Russell's switching from his principal base of Nick's to the new night club, Eddie Condon's. Not the least of the new hurdles was his health. As Russell told Balliett, "For ten years I couldn't eat anything. All during the forties.... I lived on brandy milkshakes and scrambled-egg sandwiches. And on whiskey. The doctors couldn't find a thing.... It began to affect my mind...." Sometime in 1949, he jockeyed between the east coast and Chicago, a period which for him remained a blank, then to San Francisco where he was hospitalized for nine months with pancreatitis. With his weight at 73 pounds, he nearly died.
Thanks to the help of influential friends in the media, fellow musicians who played benefits, and fans who donated blood and money, Russell survived the charity ward of the hospital and was able to return to New York, still hospitalized. He was away from Mary for nearly three years; she reclaimed him in 1951. In 1952 Russell resumed an association with promoter/musician George Wein at his Boston Storyville club and formed a band that included the great cornetist Ruby Braff, who had become as inventive a musician as Russell. Wein originated the famous Newport Jazz Festivals in 1954, at which Russell played in a band fronted by Hackett. It was here that Russell first teamed with a progressive musician, as Stan Kenton and he jammed together. This began what eventually developed into an entirely different phase of Russell's career. As Wein told Hilbert, "[Russell] never met anybody else's terms. He just kept playing as well as he could play. He was listening to new things all the time and absorbing it all in his ear...."
Through his relationship with Wein, Russell began to play in concerts and on record with a variety of musicians, including pianist Thelonious Monk, one of the founders of the bebop school, and the innovative, multi-talented Gerry Mulligan. He and modern clarinetist Jimmy Giuffre performed a duet that became the talk of the jazz world. Many think this modernist, along with Kenny Davern and Bobby Gordon, most resembles Russell in his playing. In December, 1957 Russell played in what has become one of the treasured television performances in jazz, The Sound of Jazz, hosted by John Crosby. It featured many of the masters of the Swing era as well as more modern players. Not that Russell had turned completely modern: he continued through the mid- and late-1950s to play and record with such stalwarts as trumpeter Buck Clayton and trombonist Vic Dickenson. And Ruby Braff became one of his favorite partners because of his unclassifiable inventiveness.
This period also saw a transformation in Russell's personal life. Not that he quit drinking and became a buttoned-down icon, but Mary managed to bring a degree of moderation to his antics, and he was experiencing some of the fame and true regard that his long career deserved. Musicians of every stripe and critics recognized that in his unique way Russell was a true voice of jazz. As noted critic Stanley Dance wrote in Metronome of a 1960 recording: "Taste is important to both Pee Wee and Buck Clayton, and basically this is therefore a good marriage. Pee Wee, with his sincere approach, tortured lyricism, and ear for harmonies that please and satisfy, seems to fall on he contemporary scene like manna on the desert.... He has long been appreciated in many quarters, but it required the current critical climate for his talents to be reverently labeled as Art with a capital." And tenor patriarch Coleman Hawkins added, "For thirty years, I've been listening to him play those funny notes. He used to think they were wrong, but they weren't. He's always been way out, but they didn't have a name for it then."
An established regular at the Newport Jazz Festivals, Russell in April, 1961 accompanied promoter Wein on a European tour to Essen, Berlin, Copenhagen, and Paris. Russell's reputation had preceded him and the reception buoyed his spirits. A dark note marred the tour, however. He and Mary both experienced some physical problems. Upon their return, Russell immediately stepped into a flurry of recording and television appearances, some of which had popular appeal. But because he was paired with some of his old mates and typecast into playing "Muskrat Ramble" and "When the Saints Go Marching In," for the zillionth time, Russell began to rebel. He began to select his gigs more carefully and laid plans to form a more modern quartet with trombonist Marshall Brown. It included bassist Russell George and drummer Ron Lundberg--pianoless like the Gerry Mulligan Quartet; they debuted in October, 1962 after a long period of rehearsal. With both live and recorded performances, critical and popular reception was mixed. He continued to travel on his own, closing 1963 by winning the Down Beat critics poll and beginning 1964 with preparations for a trip to Australia, New Zealand, and Japan with Eddie Condon's All-Stars.
That trip was especially gratifying for Russell as he was received enthusiastically everywhere. Upon his return, he again played in an increasing number of jazz festivals, frequently thrilling the audiences with his own composition, "Pee Wee's Blues." In September he again toured Europe with Wein and a band that included Braff and Bud Freeman. He then tacked on a solo visit to England, his first, in which he played with a variety of British bands. Following his somewhat acrimonious breakup with Marshall Brown and the quartet, Russell was finding renewed pleasure in playing some of the more standard repertoire, although he frequently sat in with modernists at the various festivals.
A surprising side of Russell emerged in 1965. At Mary's urging, he took up oil painting and brought to it the same degree of inventiveness and improvisation that informed his music. Bud Freeman acted as a kind of agent for Russell's paintings and told Hilbert, "He was so good that people around the world identified more with the idea that he was a famous painter than a clarinet player. So he sold something like 54 paintings for not less than seven hundred dollars a painting." With recognition on two fronts now his, Russell entered into a period of relative stability, undergirded by his loving, watchdog wife. He was accepting fewer jobs and spending more time at home with Mary and with his painting. He re-visited Mexico on a tour arranged by Wein and played at the Montreal Expo 67. However, in May Mary was admitted to St. Vincent's Hospital suffering from a long-standing undiagnosed internal disorder. Pancreatic cancer was the final diagnosis; Mary died on June 7, 1967. Biographer Hilbert wrote: "Without Mary, Pee Wee's life-even his music-suddenly meant nothing to him. Just when he at last seemed happy and secure, fate made his worst fear a reality: the self-styled loner finally had to face his demons by himself."
Russell resorted to his familiar answeralcohol and general neglect of his health. Though he continued to play with some regularity, particularly in the Washington area, his music activity was diminishing. At the insistence of a friend, he entered Alexandria Hospital in February, 1969. Russell died on February 15 from chronic pancreatitis and cirrhosis of the liver. Many have tried to describe Russell's sound and his approach to music. In his The Swing Era, Gunther Schuller wrote, "...there is something inherently vocal about Russell's performance. It is as if clarinet and human voice-some remarkably extended voice, to be sure-are welded into one." And biographer Hilbert observed, "His was the pure flame. Hot, gritty, profane, real. No matter what physical or mental condition Russell was in, night after night he spun wondrous improvisations. No matter how disjointed his life, how scrambled his mind, how incomprehensible his speech, his music remained logical and authoritative, elegant and graceful, haughty and proud."
Read more
Latest headlines