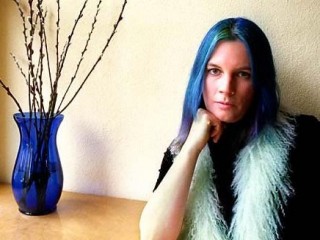 Penelope Houston biography
Date of birth : 1958-12-17
Date of death : -
Birthplace : Los Angeles, California,U.S.
Nationality : American
Category : Arts and Entertainment
Last modified : 2011-12-01
Credited as : singer-songwriter, The Avengers band, The Pale Green Girl
Penelope Houston is an American singer-songwriter best known as the singer for the San Francisco-based punk rock band The Avengers.
Penelope Houston is known as one of the most shocking reincarnations from the original punk era. The lead singer of the legendary and influential 1970s San Francisco Bay area punk band the Avengers, Houston eventually transformed into a folk-rock singer/songwriter, to the surprise of those who remembered her work with the Avengers, with alternative rock sensibilities. Her solo material, including the acclaimed 1993 album The Whole World, through her 1999 mainstream-sounding effort Tongue, emphasized acoustic textures, haunting melodies, and Houston's gentle soprano voice. While not an overly polished vocalist, fans and critics say that her voice has an appealing quality that makes one want to keep listening. Some of Houston's admirers include Suzanne Vega, Shawn Colvin, and Christine Lavin. A popular entertainer in the Bay area and in Europe, especially Germany, Houston has a substantial cult following in cities across the United States, but has found difficulties reaching mainstream audiences.
Houston, born around 1958 in Los Angeles, California, and raised in Seattle, Washington, spent her childhood surrounded by music, albeit of the more classical persuasion. Her mother held a doctorate degree in choral conducting, while her sister studied cello and her brother played violin. In spite of her influences at home, Houston sought something new and different, and in late December of 1976 moved to San Francisco, California, to prepare to attend the San Francisco Art Institute, where she intended to study painting and printmaking.
Soon after she settled into her studies in January of 1977, 19-year-old Houston found herself in an environment where art, culture, and music collided. Early punk bands were also gaining ground in the United States, persuading the young student to take her first step into the music world as the lead singer and songwriter for a short-lived, yet highly influential, pre-hardcore punk band called the Avengers. "I was there [San Francisco] when that whole punk thing started coming up. Rock `n' roll had become this boring, prog-rock thing," she recalled to St. Louis Post-Dispatch writer Chris Dickinson in 1996. "The idea of punk was that it was going to turn that on its head. It was a cultural explosion, but not just in rock. Every aspect of the arts was being affected, and that was really exciting."
Inspired by the music of the Rolling Stones, the Sex Pistols, and the Stooges, the Avengers formed in 1977 in San Francisco and became the undisputed leaders of the city's punk movement, but disbanded in 1979 after only two years together. Along with Houston, the group's other members included guitarist Greg Westermark, who played with the band from 1977-78, bassist James Calvin Wilsey, drummer Danny Furious, and guitarist Brad Kent, who replaced Westermark in 1979. Adhering to punk's progressive and radical social stances, Houston called attention to her intelligence, biting social criticism, sharp attitude, and edgy voice, rather than to her gorgeous looks to define the band. Consequently, her revolutionary refusal to play the sex-role gender game of the popular music culture helped blaze the trail for women in rock music for years to come. No longer did a woman fronting a rock band earn her reputation on the basis of physical characteristics alone. She could also win acceptance for her thoughts and musical accomplishments.
Houston's band mates, likewise, in comparison to the pop music of the time, played in an unorthodox style. As a whole, the Avengers reveled in breaking and ignoring handed down music rules in glorious, remarkable fashion. However, without a cemented record contract, the Avengers' funds ran low, and the band was forced to split up after only two years. They left behind two indie records, one three-song single, and a four-song twelve-inch record, produced by the Sex Pistols' Steve Jones and released around the same time the Avengers called it quits. They met Jones when they opened for the Sex Pistols' final show at San Francisco's Winterland in January of 1978. In addition to appearing with established acts such as the Sex Pistols, the Avengers also headlined dates with other up-and-coming bands like the Go-Go's, X, and the Dead Kennedys.
Four years after their demise, in 1983 Go! Records released a retrospective album entitled The Avengers,featuring standout songs such as "The American in Me," "We Are the One," "Car Crash," "Corpus Christi," and a searing cover of the Rolling Stones' "Paint it Black." Produced by the Avengers and David Fergusson, the LP compiled the band's seven released songs and six unreleased songs from demo tapes and was widely regarded as the finest United States pre-hardcore punk album the West Coast produced. Lookout! Records issued another Avengers collection, Died for Your Sins, in 1999. Combining studio outtakes, bootleg-quality live tapes, and three new "reunion" recordings, this album, according to most reviewers, was more of a fans-only souvenir. Although the Avengers only recorded a handful of songs, the band and their music lived on to inspire such acts as the Dead Kennedys, Bikini Kill, Jawbox, and Cold Cold Heart. "It's strange," Houston admitted to Dickinson, when asked how it felt later to have been involved with a band often referred to as "seminal" years later. "At the time, we knew it was this really exciting corner that pop culture was taking but we didn't look at it in any long-term way," she continued. "We didn't think of ourselves as musicians. We just thought of ourselves as punks."
Following her contribution to the Avengers, Houston left music for a while to explore other creative outlets, moving first to Los Angeles to work in film and video. In the mid-1980s, she emerged from her post-punk hiatus, relocating to England to work on projects with Howard Devoto, the founder of the now defunct group Magazine. Around the same time, Houston's feelings about the punk scene started to change. She believed early 1980s punk had taken on a more narrow definition. "In `77, it was more fun," she explained to Dickinson. "There were more women, people dressing weird, film, lots of different things going on. By `81, `82, it turned into bands like Black Flag, the Circle Jerks. It turned into teen-age guys stage-diving. It became something more like heavy metal, a right of passage for boys, a group grope for guys." Thus, collaborating with Devoto and Alex Gibson, Houston abandoned her punk days and released her first recording since the Avengers, a minimal single under the name -30-. That record's two tracks appeared on Houston's debut solo outing, Birdboys, released on the Subterranean label in 1987. A melodic and spirited album, Birdboys nevertheless failed to impress critics. And, in retrospect, Houston came to the same conclusion; it later appeared that the singer/songwriter lacked the skills and command at the time to work in a softer context.
After spending time overseas, Houston eventually returned to San Francisco, where she began listening to artists such as Tom Waits and the Violent Femmes, who stirred in Houston the possibility of approaching her own songs from a more acoustic point of reference. In the early 1990s, with a new approach in mind, Houston formed her own acoustic band, a folk-styled combo comprised of guitarist/mandolin player Meletios ("Mel") Peppas (Houston's husband), bassist Steven Strauss, guitarist Eliot Nemzer, and drummer Kevin Mummey. After a six-year absence from the recording studio and stage, the singer released 1993's The Whole World. According to critics, the years between her debut and second offering spent writing, traveling, and discovering alternate musical directions paid off. "Houston's phrasing is controlled and masterful, the songs are witty, well sketched and tinged with bittersweet urgency," concluded Jason Cohen in the Trouser Press Guide to `90s Rock. "A virtually perfect record, with one of the best displays of pure vocal gifts the `alternative' universe will ever hear."
Touring the United States as well as Europe, Houston soon found herself at the center of the neo-folk movement. The Whole World enjoyed its warmest reception overseas, where reviewers dubbed Houston the "Queen of New Folk" in several languages. Her substantial following in Europe allowed her to record new material for Germany's Normal label. Houston's only formal album issued abroad, Karmal Apple, while not so captivating as The Whole World, nevertheless garnered favorable reviews and further endeared the performer's European audience.
In 1996, after signing a contract with Reprise Records, Houston released her major-label debut entitled Cut You. With eight songs taken from her earlier studio albums (including the defiant, though beautiful "Sweetheart" and the brilliant "Qualities of Mercy from The Whole World) plus six new tracks, Cut You, the singer said, was intended as a sort of reintroduction to her music and revealed both her upbeat and darker sides. "There are a lot of levels in each of the songs," Houston told Boston Globe writer Jim Sullivan in 1996. "I like the complexity of humans. Communication and emotion."
Like her prior recordings, the album won praise from numerous mainstream publications, including Newsweek, Rolling Stone, and Billboard, but after recording Cut You and touring across Europe and the United States, Houston, who now claimed influences as diverse as Patti Smith, Dusty Springfield, Leonard Cohen, and Burt Bacharach, felt driven to explore new territory when she returned to her home in Oakland, California.
"I was burned out and a little frustrated," the singer recalled to Billboard magazine's Jim Bessman. Despite Cut You's critical reception, the album failed to sell as well as expected in the United States, and Houston's father was in the midst of recovering from a stroke. Subsequently, when Houston began working on the album Tongue (released in January 1999 on Reprise), she stepped outside the framework of her band's organic sound for the first time, giving her the freedom to place her lyrics at the center of each song. Another major change in her music involved programmed beats designed by Jaime Lemoine for half the album's tracks; Steve Bowman, a former member of the Counting Crowes, and Tim Mooney of American Music Club shared drumming duties for the remainder of the songs. The resulting 14-song collection, recorded at Fantasy Studios in Berkeley, California, stretched beyond her folk/acoustic dimension to include rock ("Worm," "Crushing," and the blues-based "Hundertwasser 576"), electronica ("Subway"), pop ("Grand Prix"), and ballads ("My Angel Lost Her Wings"). The opening track, "Grand Prix," was written with Pat Johnson, a longtime friend of Houston whose songwriting credits include work with Sid Griffith and the Coal Porters.
Collaborating on the song with Johnson "was the turning point for my new sound," Houston revealed on her official website. The album's title track, as well as the seductive song "Things," was written with two other close friends, Charlotte Caffey and Jane Wiedlin of the Go-Go's. Other highlights included "Scum," a digging song that referred to an unnamed person in the music industry, the acoustic "Frankenstein Heart," and "The Ballad of Happy Friday and Tiger Woods," set against the backdrop of a string arrangement. Tongue also included the bonus track "New Day," featuring Green Day's Billie Joe Armstrong on guitar. Other performers appearing on the album included bassist Joel Reader of the band Mr. T. Experience, guitarist Chuck Prophet, and Caffey and Wiedlin, who performed for the title track. The album won critical praise, and "Scum" received airplay on modern rock/adult alternative radio station. With this, Houston hoped to strengthen her hold in the United States. "I've been so spoiled by Europe, because audiences there know all the songs, and the clubs treat you great," she told Bessman. "Someone even put my initials and birthday on his license plate."
Her most recent album is 2004's The Pale Green Girl.Shortly after the release of Pale Green Girl, Houston and original guitarist Greg Ingraham recreated the Avengers, adding bassist Joel Reader (formerly of The Mr. T Experience, and The Plus Ones) and drummer Luis Illades (of Pansy Division, formerly also of The Plus Ones) to round out the lineup. Since the spring of 2004 she has toured the U.S. and Europe with this lineup. She continues to play her solo material, mainly in the San Francisco Bay Area.
Read more
Latest headlines