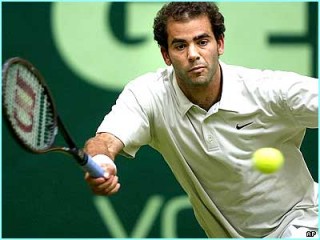 Pete Sampras biography
Date of birth : 1971-08-12
Date of death : -
Birthplace : Washington D.C., U.S.
Nationality : American
Category : Sports
Last modified : 2010-07-27
Credited as : Tennis player, won more Grand Slam singles titles than any man, Australian Open
Until Roger Federer came along, Pete Sampras won more Grand Slam singles titles than any man living or dead. And he forged that record in the game's most competitive era. He won as a teenager, he won in his 20s, and he was still a dominant presence on the pro tour in his 30s. There were no secrets to Pete's success; what you saw with him is what you got. His attacking style and all-around arsenal offered opponents little in the way of openings—and nothing in the way of hope when he brought his A-game to the court. Hailed for his class and commitment, but criticized for his dishwater-dull personality, Pete stands as one of the most perplexing, surprising, frustrating champions tennis has ever known.
GROWING UP
Pete Sampras
was born on August 12, 1971, in Washington, D.C. His parents, Sam and Georgia, already had two children, Stella and Gus. Another girl, Marion, arrived after Pete.
Sam's parents were Greek; Georgia grew up there with six sisters and two brothers. She didn't come to the U.S. until she was 25. Not surprisingly, Greek culture was an important part of Sampras family life. As a kid, Pete attended Greek Orthodox Church services every Sunday with his parents and siblings.
Sam and Georgia also taught their children the value of hard work and discipline. Pete's father had two careers, one as an aerospace engineer for the Department of Defense and a second as part-owner of a delicatessen. Georgia was a beautician at a local salon. She took the job when she first arrived in America, before she learned to speak English. Times were tough back then on her family, and she sometimes slept on a cement floor in their cramped apartment.
Sam and Georgia met in the late 1960s and got married within a year. He continued to work both jobs, while she stayed home to look after the kids. Sports and games were not priorities in the Sampras household. Pete discovered tennis on his own after finding an old wooden racquet. He first learned to play by hitting a tennis ball against the basement wall.
Pete's parents decided to move the family to California after his seventh birthday. Georgia wanted to live somewhere warmer, in a climate closer to that of her homeland. Sam, meanwhile, had grown tired of the hectic schedule created by his two jobs. The family strapped all of its possessions onto the roof of their station wagon and drove across the country to Rancho Palos Verdes, near Los Angeles.
By now, Pete's passion for tennis was intensifying. His father noticed this and often took Pete and Stella (who was also crazy about the sport) to courts near their new home. Though Sam knew little about tennis, he could tell his son was a natural. The youngster's forehand was powerful and accurate. His backhand, a two-hander, looked like Bjorn Borg's. The elder Sampras read as much as he could about the game, hoping to coach Pete himself. It was a short-lived experiment.
Sam next began looking for a coach for his son. He brought Pete to the Jack Kramer Tennis Club in Palos Verdes, where he assumed they would find a top teaching pro. Instead, Pete and Sam were approached by Pete Fischer, a pediatrician with a genius-level IQ. Fischer was an awful player with no coaching experience. Yet his philosophies on teaching kids made sense to Sam. With money tight, Fischer's offer to work with Pete for free was too good to pass up.
Fischer focused mostly on the mental part of tennis. He wanted to transform his pupil—known back then as "Smilin' Pete" because of his easy manner and goofy grin—into a steely competitor. Fischer showed Pete films of great players and continually talked about the game's history, referring again and again to the Grand Slam events. He also introduced him to some of the mind games he could play with opponents.
Before long, Pete began competing on the junior circuit. It was Fischer's opinion that he should hone his game against older players. When Pete debuted in the 12-and-Under division, he faced an opponent with considerably more experience and was beaten 6-0, 6-0. But that was expected, so no one panicked.
Over the next several years, Pete developed into something of a phenom. By 1981, he knew he wanted to play tennis professionally. A win over David Wheaton, a highly ranked junior, helped make up his mind—even though he lost to Mal Washington the very next day. Pete set the bar high—he wanted to eclipse the record of 12 Grand Slam singles titles held by Roy Emerson. Pete's idol was another Aussie legend, Rod Laver. He admired him both for his amazing versatility as a player and his wonderful sportsmanship. When Pete was 11, he had the opportunity to hit with Laver. He was speechless.
The following year, Pete started entering tournaments against players as old as 16. By 1984, he was one of the world's top players for his age. But to take his game to the next level, Fischer recommended a major change, advising Pete to switch to a one-handed backhand. The teenager grudgingly agreed to try.
Pete's life now revolved completely around tennis. He had no friends at school and barely socialized with anyone away from the tennis court. He went home at lunchtime everyday and spent his afternoons practicing at the Jack Kramer Tennis Club.
At first the hard work seemed pointless. Pete had trouble learning his new backhand, and his ranking plummeted. But with time he mastered the one-handed stroke. He also harnessed a devastating serve. In 1987, Pete was selected to play on the United States Junior Davis Cup team. Later in the year, he beat top-seeded Michael Chang at the U.S. Open Junior Championships.
ON THE RISE
Pete joined the ATP Tour in 1988. His parents weren't crazy about their teenage son turning pro, but there was little question that he was ready. He blasted his serve at well over 100 mph, his backhand was good enough to keep opponents at bay, and his forehand was strong and accurate. Pete's instincts and athleticism were also strengths. He favored an attacking, serve-and-volley style. In his first year on tour, Pete entered 10 events and won half of his matches. He ended the season ranked in the Top 100.
Pete jumped 19 spots to number 81 in the world ranking in 1989, claiming victories in 18 of 37 singles matches. The highlight of his sophomore season came at the Italian Open, where he and Jim Courier—a friend from his days as a junior—won the doubles championship. At the U.S. Open, Pete lasted until the fourth round. A short time later, he decided to break away from Fischer, feeling there was nothing more he could teach him.
Pete broke through for his first ATP title in February of 1990, defeating Andres Gomez in the final of Philadelphia's Pro Indoor Singles Championship. The win came a month after a strong showing in the Australian Open, during which he advanced to the Round of 16 before falling to Yannick Noah. In June, he won another title, this time in Manchester, England. That led many tennis insiders—including Fred Perry—to predict big things for him at Wimbledon. When Perry spoke, England listened. The tabloids dogged Pete, and suddenly everyone seemed to know who he was. Unaccustomed to the hype, Pete lost in the first round to Christo Van Rensburg.
Pete rebounded from that disappointment and rose to number 12 in the rankings heading into the U.S. Open. After solid wins in the first four rounds, he met Ivan Lendl, then the world's top-ranked player. The two were friends and knew each other's games well. Ten months earlier, Pete had spent time with Lendl at his Connecticut home in preparation for the Masters tournament in Madison Square Garden. The teenager noted his host's rigorous training regimen; he was starting to understand the commitment and sacrifice it took to be #1. Their match was a titanic struggle. Pete took the first two sets, then Lendl stormed back to grab the next two. In the final set, Pete dominated with his powerful serve and near-flawless play at the net, and advanced to the semifinals.
Next he faced the crafty John McEnroe. Pete's strategy was to control the match with his serve. McEnroe countered with his unique combination of touch shots and gamesmanship, but he could not overcome his opponent's awesome power. The 19-year-old won in four sets to earn a spot in the final against Andre Agassi.
The match against his old rival from juniors trained the spotlight for the first time on Pete's public persona—or rather, his lack of one. He dressed in traditional tennis whites for most matches, respected courtside officials, and never said anything controversial to the media. This was in direct contrast to Agassi, whose game was as flashy as his personality. Pete, however, was too focused on winning his first Grand Slam to be concerned with how fans perceived him. Interestingly, that attitude never changed.
Rather than slug it out from the baseline, Pete decided to rush the net as often as possible. Agassi never had a chance. Pete beat him easily—6-4, 6-3, and 6-2—to become the youngest champion in U.S. Open history.
Pete admits today that he wasn't ready emotionally for the responsibility of capturing a Grand Slam title. As one of the game's bright young stars, he was expected to play in tournaments and exhibitions almost every week. The media also demanded more and more of his time. Life in the public eye left him little chance to work on his game. To his credit, Pete sensed that his phenomenal two-week run in Flushing Meadow had been an aberration. He was not the best player in the world; he needed to mature before he could develop into a consistent winner. This became apparent over the next two years—Pete often struggled but learned valuable lessons from his travails.
Pete was a marked man. In 1991, he failed to defend his crown in Pro Indoor Singles Championship against Lendl. Goran Ivanisevic manhandled him in the final in Manchester. At Wimbledon, Derrick Rostagno ousted him in the second round. A month later, Pete got his first win of the year in Los Angeles, beating Brad Gilbert in the final. He collected another title in Indianapolis when he defeated Boris Becker in three sets. He also posted victories in two European events. These titles were offset by criticism he received during the U.S. Open. After losing to Courier in the quarterfinals, Pete told a crowd of reporters that he actually felt relieved. A number of players, including Jimmy Connors, reacted angrily to his comments and blasted him publicly. The backlash bothered Pete. He wasn't saying he was happy that he lost, but that's how his remarks were interpreted.
Not much changed during the 1992 season, except that Pete hired Tim Gullikson as his coach. The ATP's Newcomer of the Year in 1977, Gullikson had enjoyed modest success on tour during his 10-year career. He was most dangerous as a doubles partner with his twin brother, Tom. After retiring, Gullikson made a name for himself as a coach, helping stars such as Martina Navratilova, Aaron Krickstein and Mary Joe Fernandez. He tried to open Pete's mind to the concept of change—to step back from his game, look at it as an opponent would, then work to improve one area at a time. Gullikson's biggest challenge was to make Pete accept the fact that his serve alone would not be enough to get him to #1. He would have to become a complete player.
Deep down, Pete wasn't buying Gullikson's program. He won five events in 1992 and was #1 for several weeks, but in the big tournaments he sputtered. His most embarrassing loss was to Andrei Cherkasov in the Olympics. His most frustrating moment occurred at the U.S. Open. Pete reached the final against Stefan Edberg, and during their match, the Swedish star gave Pete many opportunities to seize the momentum. When they walked off the court, however, Edberg was the champion, a winner in four sets.
MAKING HIS MARK
Pete stewed all winter over the loss to Edberg. It finally dawned on him that Gullikson was right. A game built around a shotgun serve and big forehand was not going to get him his 13 Grand Slams. Pete's coach deconstructed his game and made him enter a handful of claycourt events in 1993. The slower surface gave him extra time to think his way through points. By the time Wimbledon rolled around, Pete's game was transformed.
Already in his young career, Pete had experienced his fair share of problems at the All England Club. The year before, in fact, he had complained about the grass—earning him an an earful from McEnroe, who questioned his attitude. Now Pete knew how to hang in points until he had an opportunity to win them. This skill, combined with his still-sizzling serve and quick hands at the net, gave him newfound confidence on the grass. Pete surged through the first four rounds, outlasted Agassi in a five-set quarterfinals match, then whipped Becker in three sets to reach the final.
He squared off against Courier in an "all-American" championship on July 4. Both were near-perfect in the first two sets, with Pete taking each in a tiebreaker. Courier rallied to win the third set, but the fourth saw Pete recover to win 6-3. Claiming his second Grand Slam title lifted a great weight off his shoulders. He was no longer a "one-hit wonder." Relaxed and smiling, he even joked with the press afterwards.
Two months later at the U.S. Open, Pete dominated. He lost his serve just seven times in seven matches. In the semifinals, Alexander Volkov did not come within a point of breaking Pete's serve. In the final, he broke Cedric Pioline's serve to begin each set, and won his third Grand Slam singles title, 6-4, 6-4, and 6-3. At season's end, Pete was the top-ranked player in the world.
A few months after his triumph in New York, Pete picked his way through the draw at the 1994 Australian Open. Surviving tough matches with Yevgeny Kafelnikov and Magnus Gustafsson, he reached the final and beat Todd Martin. Eight more tournament victories came Pete's way in '94, including a second Wimbledon title. Foot and hamstring woes slowed him in the second half, but he won frequently enough to hang on to his #1 ranking.
Rested and healthy, Pete was eager to resume his winning ways in 1995. But he got a shock when Gullikson collapsed during the Australian Open. X-rays revealed four cancerous tumors on his brain. Gullikson immediately flew back to the U.S. Playing with a heavy heart, Pete managed to advance to the quarterfinals against Courier. After dropping the first two sets, he roared back to knot the score. As the fifth set began, thoughts of Gullikson raced through his head, and he wept uncontrollably on the court. A good-natured wisecrack from Courier snapped Pete out of his emotional meltdown. Composed, Pete won the match and eventually earned a spot in the final, where he lost to Agassi in four sets.
One of the contributing factors to Pete's on-court breakdown was the death of Vitas Gerulaitis—a good friend and former Top 10 player—less than a year earlier. He perished in a freak accident, overcome by carbon monoxide while staying at a friend's house. To honor Gerulaitis's memory and pay homage to Gullikson, Pete decided to redouble his commitment to tennis. By the time Wimbledon rolled around, he was on fire. He won there for the third straight year.
At the U.S. Open, Pete escaped a third-round scare versus Mark Philippoussis and ultimately moved to the final against Agassi, who had usurped his # 1 ranking. Early in the match, the two superstars produced what might have been the most thrilling point of the last 50 years. They exchanged no fewer than 21 blistering shots before Pete unleashed a wicked, cross-court backhand winner. When it was all said and done, Pete had his third U.S. Open title, 6-4, 6-3, 4-6, and 7-5. Later in the year, he regained his #1 ranking.
Pete's primary focus during the final months of 1995 was winning the Davis Cup. In September, the U.S. beat Sweden to earn a berth in the final against Russia. On foreign turf 10 weeks later, Pete played some of the finest tennis of his life. He overcame Andrei Chesnokov and Yevgeny Kafelnikov in singles and wiped out the Russians in doubles. The U.S. reclaimed the Cup after three years. Team USA members expected some recognition for their achievement when they returned home, but received almost none. The reaction soured Pete on all future Davis Cup competitions.
Pete took eight titles in 1996 (including his fourth U.S. Open) and finished #1 for the fourth year in a row. What should have been a fun season, however, was overshadowed by Gullikson's death in May. Pete found a replacement to coach him in Paul Annacone, a Long Island native and two-time All-American at Tennessee. With his new pupil at the top of his game, Annacone didn't see any reason to make changes. This hands-off approach resulted in eight more singles championships in 1997. Pete held the top spot in the rankings every week of the year. His two toughest matches came during the Australian Open (a grueling five-set win over Dominik Hrbaty) and Wimbledon (a classic with Petr Korda). Pete went on to win both tournaments, running his Grand Slam total to 10.
In 1998, Pete began to hear footsteps, as youngsters Patrick Rafter and Marcelo Rios were gunning for the # 1 ranking. Pete won just two tournaments in the season's first half, raising questions about his ability to fend off his new crop of challengers. He silenced some of his critics when he overcame Goran Ivanisevic in a five-set Wimbledon final, 6-7 (2-7), 7-6 (11-9), 6-4, 3-6, and 6-2. The victory was Pete's 11th Grand Slam title, drawing him even with Bjorn Borg and his idol, Rod Laver. A loss to Patrick Rafter in the U.S. Open semis, however, refueled the argument that his best days were behind him.
Late in the year, Pete admitted to Annacone that he was obsessing over his #1 ranking, and that it was starting to affect his game. He desperately wanted to be the first player to hold this honor six straight seasons—so much so that he had lost his appetite, couldn't sleep, and was losing his hair. Also weighing on Pete's mind were the legal troubles of Pete Fischer. His old coach had been convicted of child molestation. Pete knew what everyone was wondering—had he been molested by Fischer, too?
With three events left in '98, Pete needed strong showings in at least two tournaments to hold off Rafter and Rios. In the Paris Indoors, he made it to the final against Greg Rusedski. Three weeks later, he advanced to the semis of the ATP Championships in Germany, which clinched the top ranking. It wasn't pretty, but #1 was #1. To this day, Pete cherishes this accomplishment more than any other.
Pete finally slipped from the top of the rankings in 1999. Hampered by a nagging leg injury during the season's first few months, he missed several important events, including the Australian Open. Back to full health by June, he beat Tim Henman in the final at the Queen's Club in London, then cruised through the draw at Wimbledon. When Pete routed Agassi in the final 6-3, 6-4, and 7-5, he tied Roy Emerson for the career record of 12 Grand Slam singles titles.
Going into the '99 U.S. Open, Pete was in position to regain the top ranking from Agassi. But a herniated disk sidelined him just before the tournament began, and kept him out of action for more than two months. The two met in the final of the ATP Championships that winter. Although Agassi had the #1 spot nailed down, Pete wanted to send him a message—he wiped out his old rival in straight sets to end the year on a high note.
Agassi exacted his revenge at the 2000 Australian Open, beating Pete in an epic five-set duel in the semifinals. During the match, Pete tore a hip flexor—an injury that required two months to heal. He tried to play for the U.S. in the Davis Cup in February, but was forced to pull out of a match against Zimbabwe. The decision drew the ire of McEnroe, the American captain, who thought Pete was dogging it.
By the time Wimbledon rolled around, Pete's confidence was at a low ebb. After defeating Jiri Vanek in the first round, he was slowed by tendonitis in his left shin. Unable to practice, Pete labored through the tournament. His daily itinerary included acupuncture, massage, icing, and liberal doses of anti-inflammatories and pain killers. Somehow he managed to advance to the final, where he faced red-hot Patrick Rafter. Had it not been a Grand Slam final, Pete might have stayed in bed that day. But his serve was hissing over the net at more than 120 mph, and the pain wasn't as bad as he anticipated.
After winning winning the first set, Rafter went ahead 4-1 in the second-set tiebreaker. Pete flicked the switch, won six of the next seven points to even the match, and cruised to a four-set victory. The win gave him his record-breaking 13th Grand Slam title. It was all the more special because his parents were on hand to see him in a major final for the first time since 1992.
Also in attendance was Pete's fiancee, Bridgette Wilson. The two had begun dating in September of 1999, and he had proposed to her just weeks before. They were married in September of 2000.
Wimbledon turned out to be Pete's last title of the year. He surged to the final at the U.S. Open, but was hammered by Marat Safin in three sets. He entered only one event the rest of the year, preferring to spend time with his new bride.
The 2001 season proved to be Pete's most frustrating ever. The media and fans wondered whether the 30-year-old was over the hill. When he didn't register a win in the first eight months of the year, the questions became more pointed. Looking for answers, Pete made several decisive moves. He replaced Annacone with Tom Gullikson and cut ties to Nike after the apparel giant insulted him with a lowball offer to renew his contract. He also threatened to dump his management group, Artists Management Group. He only agreed to stay after CEO Michael Ovitz promised a revised marketing strategy.
Entering the U.S. Open, Pete's game was languishing. He had reached only three finals in 2001, losing twice to Agassi and once to Tommy Haas. His draw in Flushing Meadow was murderous. Starting with the Round of 16, he faced Rafter, Agassi, and Safin in succession. The trio accounted for every U.S. open men's singles title since 1996. After overcoming Rafter in four sets, Pete and Agassi took the court opposite each other for the 32nd time in their careers. The match was a classic. Pete recorded 80 winners en route to a thrilling four-set win completely decided by tiebreakers—6-7, 7-6, 7-6, and 7-6. Pete easily dispatched Safin in the semis, but ran out of steam in the final against Lleyton Hewitt, falling in three sets.
Again Pete took it easy to finish the season. The only event he played was in Stuttgart, where he fell to Max Mirnyi in two sets. As the year closed, he plummeted to number 10 in the world, his lowest ranking in 12 years.
Pete resolved to make "one more hard push" in 2002. Bridgette agreed to put her career on hold to help him focus on his game. He hired Brett Stephens as his personal trainer and adopted a no-nonsense training regimen that included sprints, weightlifting, and one-on-one volleyball. He sought the advice of a nutritionist and physical therapist about his diet and conditioning. He also spoke to Wayne Gretzky and Maurice Green about the keys to achieving peak performance after turning 30.
Early on, the extra work didn't appear to be paying off. After exiting the Australian Open in the fourth round, Pete nearly lost a Davis Cup match against 19-year-old Karol Beck of the Slovak Republic. In his next Davis Cup appearance two months later, he lost to Spain's Alex Corretja. The defeat was particularly disheartening because the match was played on grass in Houston, a surface that hardly suited the Spaniard's game. Not long afterward, Yevgeny Kafelnikov suggested publicly that Pete retire before he did irreparable damage to his legacy.
Pete, meanwhile, continued to tinker off the court. He canned Jeff Schwartz, his agent of seven years, and also said good-bye to Gullikson, turning to Jose Higueras instead. A native of Spain, Higueras grew up playing on clay courts and made his reputation as a coach by molding Michael Chang and Jim Courier into champions. His emphasis on intense practice was viewed by many as exactly what Pete needed.
It wasn't until the 2002 U.S. Open, however, that Higueras's influence truly became evident. In the best shape of his life, Pete methodically advanced through the draw. His third-round match against Greg Rusedski went the distance. Though the loser was unimpressed with his opponent, Pete was building all-important momentum. Part of his inspired play was a direct result of the support he received from the fans in New York. Sensing the four-time champ might be on the last magical run of his career, they cheered him with uncharacteristic fervor. He had always been respected by tennis enthusiasts at the U.S. Open, but never embraced. Pete noted his newfound popularity and fed off it. In the quarterfinals, he rolled over rising star Andy Roddick. Pete was given little chance of winning this match, which was billed by the press as a "passing of the torch." The torch was passed, all right, just long enough for Roddick to get burned. Pete then won in the three sets against Sjeng Schalken to gain a berth in the final.
It was only fitting that he faced his friend Agassi, who had also upset younger, fitter foes to earn a shot at the championship. The two had been excellent rivals during their careers, pushing each other to unimaginable heights and staging some great matches in the process. On this day, Pete's serve was simply too much to handle, even for a master counter-puncher like Agassi. He took the first two sets, dropped the third, then closed out the fourth to claim his 14th Grand Slam title. Pete's 33 aces were key, but limiting his errors spelled the difference. As they met at the net, Pete told Andre that he was the best he'd ever played agasint. Then he made a bee-line for Bridgette in the stands, and the two shared a long hug. Her support during the tournament had buoyed him when his confidence wavered.
Pete decided to take a few months off after the Open, amidst conjecture that he was pondering retirement. As each major event passed without his presence, it became clearer to him— and his fans—that he might not be coming back. Pete put in three days of hard training in the spring of 2003 and never got the fire back in his belly. That was sign enough for him. He made it official in August of 2003, announcing that he would call it quits at the U.S. Open.
On the tournament's first evening, Pete waved farewell to an adoring crowd. He carried his son, Christian, on the court, and shed a tear or two as the applause grew. He was never a favorite in Flushing, but the New Yorkers grew to love him in his waning years, when he was more a pop-gun than a pistol. As Pete walked off the court, he did so knowing he was the only player in history whose final match was a win in a Grand Slam final.
Secure in his legacy as history's greatest player, Pete rode off into the sunset—only to watch as his records were eclipsed by Roger Federer. Pete was in the stands at the All England Club with Bjorn Borg and Rod Laver when Federer defeated Andy Roddick in 2009 to win his 15th Grand Slam singles title. He played the part of tennis elder statesman with grace and intelligence.
PETE THE PLAYER
Although Pete was already a U.S. Open champion when Tim Gullikson got him, the coach's influence during their short time together defined the player he became. His serve and forehand were excellent, as were his instincts around the net. What Gullikson taught Pete was to look for the chinks in his own armor and methodically fill them in. Thus, each year, he got a little better instead of getting a little worse. Rival coaches were unable to pick apart his game, meaning rival players had to pray that he'd have an off-day.
When the 30-something Pete was "on," he we remained as tough a player as anyone in history. He could dominate with his first serve, while his second was more than solid. He did not have a weakness in any other part of his game. And though Pete lost a half-step speed-wise over the years, he gained it back in experience. Indeed, as his victory at the 2002 U.S. Open vividly illustrated, he knew what to do with every shot, and in any game situation.
EXTRAS
* Pete's parents could not stand the pressure of his 1990 U.S. Open final and left their house mid-match to walk around the Palos Verdes Mall. They knew he won when they passed an electronics store and saw him lifting the trophy.
* Pete played with the racket model he used as a junior—a Wilson Pro Staff 6.0.
* Pete surprised Bridgette at their wedding when he introduced the piano player, Elton John.
* Pete suffers from Thalassemia, a type of anemia common in some people of Mediterranean descent.
* Pete's older sister, Stella, was a four-time All-American in tennis at UCLA from 1988 to 1991. She won 1988 NCAA doubles title as a freshman with Allyson Cooper, and went on to play on the WTA Tour. Currently, she serves as the head coach of UCLA's women's tennis team.
* Pete registered 144 aces o his way to the 2002 U.S. Open title.
Read more
Latest headlines