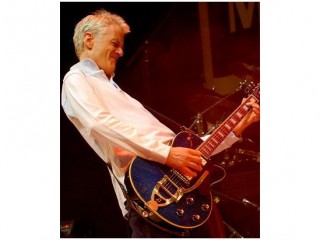 Peter Hammill biography
Date of birth : 1948-11-05
Date of death : -
Birthplace : Ealing, west London
Nationality : English
Category : Arts and Entertainment
Last modified : 2011-11-28
Credited as : singer-songwriter, Van der Graaf Generator, Guitarist
Peter Joseph Andrew Hammill is an English singer-songwriter, and a founding member of the progressive rock band Van der Graaf Generator. Most noted for his vocal abilities, his main instruments are guitar and piano. He also acts as a record producer for his own recordings, and occasionally for other artists.
Peter Hammill is a veteran of the rock genre, recording in excess of 40 albums both alone and as a band leader for more than 30 years. A frequent collaborator and friend of Peter Gabriel, Hammill achieved high regard in his native Great Britain and across Europe. Hammill and Gabriel played an important role in the development of progressive rock, leading the art-prog-rock bands Van der Graaf Generator and Genesis respectively and singing in a theatrical, wordy, typically English style. After the dissolution of Van der Graaf Generator, Hammill embarked on a solo career, maintaining a prolific output ever since. However, the quality of his work, rather than the quantity, ensured that fellow rock artists time and again would return to Hammill for inspiration. Contemporary musicians such as Gabriel, Nick Cave, Marc Almond, David Bowie, Mark E. Smith of the Fall, and John Lydon (Johnny Rotten) of the Sex Pistols and Public Image Limited count among his many admirers.
The various stages of Hammill's career include progressive rock in the late 1960s and early 1970s with Van der Graaf Generator, lo-fi pre-punk as a solo artist in the 1970s, particularly 1975's Nadir's Big Chance, and subsequently quieter, experimental work, as well as love songs and furious, confessional rock. In addition, Hammill wrote pieces for ballets and composed an opera version of the Edgar Allan Poe poem "The Fall of the House of Usher." He achieved a commendable level of autonomy in his work, owning his own studio and label, Fie! Records, and released some of his most exciting and interesting work in the 1990s.
Throughout the years, Hammill remained true to his artistic vision in the real sense of the term, composing music that takes risks, explores diverse themes and genres, and strikes an emotional chord. Furthermore, he realized the importance finding new musical territory to explore. Hammill, a forward-thinking musician, notes that the progressive genre itself has ended up "a long way from where we started," as quoted by Boston Globe writer Jim Sullivan. "One of my main objectives," Hammill added, "is to avoid being boring to myself ... on the principle that if it is boring to myself, then I might last another year doing this boring stuff, but sooner or later the audience will be bored as well."
Peter Hammill was born on November 5, 1948 in Ealing, London, England, and attended Manchester University, where he focused on studies in liberal science. In 1967, he formed the band Van der Graaf Generator with college friends. The group collapsed without making any recordings, but in 1968, Van der Graaf Generator re-grouped, and Hammill bailed out of his courses to devote himself entirely to music. From the onset, he intended to release a solo album as well as a record with the band, but Van der Graaf Generator seized on his material, resulting in the celebrated 1969 album The Aerosol Grey Machine. Finding great success especially in Europe, Van der Graaf Generator went on to release four more albums, including the acclaimed 1970 albums H to He, Who Am the Only One and The Least We Can Do Is Wave to Each Other, before breaking up for a second time in 1972.
Thus, Hammill jumped on the opportunity to resume a solo career. His early albums, including Fool's Mate (1971), Chameleon in the Shadow of the Night (1973), and The Silent Corner and the Empty Stage (1974), all continued down the same musical path as Van der Graaf Generator. Featuring old band members, as well as a guest appearance by label mate Robert Fripp on Fool's Mate, these records revealed the melodramatic, emotionally charged tone of vintage progressive rock. But In Camera, released later in 1974, signaled a change in musical direction. With this album, Hammill reworked his poetic anguish into a soundscape of tape loops and sampled effects, at the time an entirely new approach in production.
In 1975, he departed even further with Nadir's Big Change, a song cycle of punk songs, soul struts, and ballads that found Hammill's cerebral sound giving way to that of a hard-rocking alter ego named Rikki Nadir. "I do have several alter egos," he admitted, as quoted in a 1975 biography by his former label, Charisma Records. "Nadir, a later arrival, is my pop component, and he is the perpetual 16 year old who loves smashing guitars--but there's very much a place for him. It's not such a serious side as In Camera, but there's the same heart and soul--I mean, there are songs on the previous albums that could easily have been on Nadir's album. It's just lighter that's all."
Following a brief reunion with Van der Graaf Generator, Hammill returned to solo work again with 1977's Over, a soul-baring album detailing the breakup of his marriage. The writing and recording of Over obviously helped Hammill move forward musically as well as personally, for his next release, 1978's The Future Is Now, was his best outing thus far. Favoring minimalism and short, bare-boned songs over his previous lush and layered arrangements, Hammill played almost all instrumental parts and used tape loops and synthesized rhythm tracks to back up his vocals. Adam Kimmel in Rock: The Rough Guide referred to the effect as "flawless." Hammill likewise dismissed the angst-ridden lyrics of Over, replacing them with words that addressed issues such as age, futility, and, in a rare venture into politics, apartheid.
Hammill revisited the maturing, stark feel of The Future Is Now in 1979 with pH7, then took time off to serve as a guest vocalist on Fripp's Exposure album before returning in 1980 with a bleak, ambitious work entitled A Black Box. Although by now punk rock had overshadowed many of his contemporaries, Hammill maintained a committed following for his musical integrity and lyrical intelligence. Unlike fans of most other rock stars, Hammill's loyal followers usually owned the musician's entire catalog.
In 1981 Hammill, along with drummer Guy Evans and bassist Nic Potter, both former members of Van der Graaf Generator, as well as former Vibrator guitarist John Ellis, formed the K-Group and released the awe-inspiring Sitting Targets, regarded as his best with a "band." The foursome's follow-ups, while intriguing, were inevitably less admirable. These included Enter K, released in 1982, and Patience, released in 1983. In the meantime, Hammill also recorded another solo album, 1983's Loops and Reels, comprised primarily of instrumental and experimental music. Following the solo outing The Margin (1985), Hammill arrived with an album that his fans had been waiting for. Skin, released in 1986, was a furious, rock-oriented confessional featuring Hammill on vocals, guitar, and keyboards. The next album, 1986's And Close As This, returned again to Hammill's quieter side.
Hammill continued to record throughout the remainder of the 1980s and the 1990s, releasing many albums through his own Fie! label. Although he toured less regularly, he did make sporadic live appearances, performing solo as well as with former Van der Graaf Generator cohorts Ellis, Potter, and saxophonist/flautist David Jackson. In the fall of 1999, he embarked upon his first American tour since 1990, accompanying himself on keyboards alongside frequent partner Stuart Gordon, a violinist and guitarist. His studio recordings, too, became less predictable for a few years. Two albums from 1989, In a Foreign Town and Out of Water simply covered old territory. Hammill's brave attempt at reviving the rock opera with the 1991 release The Fall of the House of Usher and his 1992 album Fireships received mixed reviews.
However, Hammill reclaimed critical admiration thereafter, producing some of his best work later in his career. 1993's The Noise displayed Hammill's fire and malicious wit, a songwriting tone he returned to for 1994's Roaring Forties. His next album X My Heart, released in 1996, was described by Kimmel as a "real stunner" and "his best outing in 15 years." Centering on Hammill's personal side, X My Heart saw the musician passionately venting his skewed rage. He followed this with two more successes: Everyone You Hold, released in 1997, and This, released in 1998. In 1999, Hammill released the studio album This and a live double-album recorded in 1992 entitled Typical, both of which revealed a singer-songwriter still operating in peak form. In 2000, he maintained the same authority with None of the Above, featuring Hammill playing most of the instruments himself.
"When I am actually working on the material, either writing it or recording it," Hammill says he does so, as he explained to Sullivan, "without being egotistical, without a reference to the audience. I think one of the characteristics of my audience, small as it is, is a lot of them expect change from song to song, from album to album, and they are prepared to go along with what [another person] might seem to think are unpromising trails, in the hope there will be something interesting at the end of it." The fact that he has been able to pursue his music as a career, Hammill continued, "remains a fantastic privilege. I get to do what makes sense to me--the hour-and-a-half of performing live or the fun of making a record is something that doesn't come into most people's lives. To do a job where you're grappling with your demons or obsessions or what have you, but it's the grappling with them that makes some degree of sense of things. It's enormously uplifting."
In 2005, Hammill announced the reformation of Van der Graaf Generator. In 2004 they had recorded a new album, Present, which was released in April 2005, and from May until November 2005 played a series of well received concerts.Between 2005 and 2007 Hammill oversaw the remastering of almost all of his pre-Fie! releases, and also carried out similar work on his more recent catalogue. The last of the Charisma remasters was released in September 2007.
Hammill's solo career did not end because of the Van der Graaf Generator reunion. He released an album Singularity in December 2006. It was the first solo album he completed after his heart attack, and for a large part it deals with matters of life and (sudden) death.
In 2007 several gigs by Van der Graaf Generator as a trio (minus David Jackson) took place in Britain and Europe; their new album Trisector was released in March 2008.Hammill's latest solo album Thin Air was released on 8 June 2009.
Studio albums:
-Fool's Mate (July 1971)
-Chameleon in the Shadow of the Night (May 1973)
-The Silent Corner and the Empty Stage (Feb 1974)
-In Camera (July 1974)
-Nadir's Big Chance (Feb 1975)
-Over (April 1977)
-The Future Now (Sept 1978)
-pH7 (Sept 1979)
-A Black Box (Aug 1980)
-Sitting Targets (June 1981)
-Enter K (Oct 1982)
-Loops and Reels (June 1983)
-Patience (Aug 1983)
-Skin (March 1986)
-And Close As This (Nov 1986)
-In a Foreign Town (Nov 1988)
-Out of Water (Feb 1990)
-The Fall of the House of Usher (Nov 1991, deconstructed and rebuilt released in Nov 1999)
-Fireships (March 1992)
-The Noise (March 1993)
-Roaring Forties (Sept 1994)
-X My Heart (March 1996)
-Everyone You Hold (June 1997)
-This (Oct 1998)
-None of the Above (April 2000)
-What, Now? (June 2001)
-Clutch (Oct 2002)
-Incoherence (March 2004)
-Singularity (Dec 2006)
-Thin Air (June 2009)
Read more
Latest headlines