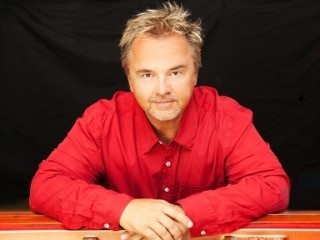 Peter Kater biography
Date of birth : -
Date of death : -
Birthplace : Germany
Nationality : American
Category : Arts and Entertainment
Last modified : 2011-12-06
Credited as : singer-songwriter, composer, pianist
Peter Kater is an American composer, songwriter-singer and pianist who has several times nominated for Grammy awards.
Since his first album in 1983, Peter Kater has been a prolific musician, with more than 30 albums released and more than one million albums sold. As a composer, arranger, pianist, and collaborator with musicians such as R. Carlos Nakai and Joanne Shenandoah, Kater's work has ranged from ambient music to more lively jazz-oriented recordings. Kater has also written numerous soundtracks for films, plays, and television shows, including the Eco-Challenge soundtrack for the Discovery Channel. He is perhaps best known, however, for his works that have been categorized as "New Age," incorporating motifs such as the environment, the human spirit, and Native American folkways. As he approached the twentieth anniversary of his recording debut, however, Kater turned to more romantic themes in his work. Inspired by his second marriage on the 2001 release Heart's Desire, Kater told Dan Liss of New Age Voice, "This [album] is about finding my heart's desire ... and about who I am and what I really want. The music on this new album reflects my accessing the more tender, vulnerable places in my heart.... I wasn't going into it to express something spiritual or for healing. It's totally me."
Kater was born in Germany around 1959 and spent the first years of his life in the Bavarian city of Munich. When he was four years old, his parents moved the family to the United States; the Katers subsequently made their home in New Jersey. Kater studied the piano for several years, although he later admitted that the instrument was not his first choice: "I was seven and wanted to play the trombone," he said in an interview with P.J. Birosik of Alternate Music Press. "But my mom wanted to play the piano when she was a kid, so when she asked me if I wanted to learn how to play a musical instrument, what she was really saying was, 'You're going to play the piano because I didn't!'" Unfortunately, Kater's early classical training did not go smoothly. "I went through three teachers within a year or year and a half. They all would throw their arms up in the air and they'd go, 'I can't teach this kid! He never plays anything right,'" he told Birosik. "From a very young age I just wanted to play things the way I heard them, even things like the simplest melodies.... Often, I'd come to piano lessons unprepared and try to improvise my way through it."
While still in high school, Kater formed a band with his friends, which played at clubs and high school dances around northern New Jersey and nearby New York. Kater also began to write his own music, often from improvisations that he came up with onstage. In 1977, when he was 18 years old, Kater relocated to Boulder, Colorado, which would be his base for the next 13 years. He made one short-lived detour to Los Angeles, however, to study at the California Institute of the Arts on a scholarship. After just a couple of months at the school, Kater dropped out and returned to Boulder.
Between 1977 and 1983, Kater played improvisational music almost exclusively. In 1983, however, he entered the studio to record Spirit, an album of piano solos that was released on Boulder-based Silver Wave Records. Silver Wave also released The Peter Kater Collection that same year; the two releases marked the beginning of a relationship that would eventually produce 20 albums. After taking a short break from recording, Kater returned for two more releases in 1987 on Silver Wave: The Fool and the Hummingbird and For Christmas. In the 1990s, Kater typically released two or three original albums per year; in 1991 alone, he released four albums on Silver Wave.
Although Kater's sheer productivity was impressive, the quality of his music won him a reputation as one of the leading musicians on the New Age scene. His 1992 album Migration, a collaboration with Native American flutist and whistle player R. Carlos Nakai, won the musicians an Indie Award from the National Association of Independent Record Distributors for Best New Age Album in 1992. His other works with Nakai were equally popular with ambient music fans. "Once you've experienced the magic that's created when these two musicians play together, another room is added to the house of your soul.... There's something incredibly haunting, bittersweet, and full of longing about this music," a Networking Alternatives for Publishers, Retailers, and Artists (NAPRA) review wrote of their 1996 Release, Improvisations in Concert. A Billboard reviewer agreed, calling the work "richly melodic, quietly intuitive music." In addition to his work with Nakai, Kater also worked with Native American vocalist Joanne Shenandoah, including the 1995 release Life Blood.
After moving to rural Virginia in 1990 with his wife, singer Chris White, and their three children, Kater built his own 32-track digital recording studio and founded his own label, EarthSea. Kater's first EarthSea release was 1997's Essence. A NAPRA reviewer applauded the album's release, writing that "The genius of Peter Kater rises like the tide and transports us to a deeper region.... [The album's] languid, graceful chords seem to massage the soul." Later that year, Kater took on a different challenge when he wrote the soundtrack for the Discovery Channel's Eco-Challenge, a documentary that followed competitors on an athletic quest through British Columbia. "When you're scoring a television series, you're working with a partner and the partner is the visual image, so the idea is not to completely fill up the space with your own emotion but to enhance the visuals and bring out the emotional qualities of what's going on the screen...," Kater told Birosik, adding, "I've been saying for years that the creative process is about listening, it's not about being creative, it's about being receptive."
Although Kater's career was flourishing, however, personal and professional pressures led him to reevaluate his life. "I realized that I had put as much time and energy into my first marriage as I possibly could," he told Liss. "This was the hardest decision of my life because of my three kids. My creative life and my personal life are one, so this had an effect on my music too." On the business side, Kater's EarthSea label also ran into trouble. "EarthSea had grown fast," he told Liss. "We released about 12 albums in two years and our overhead increased dramatically." After the label's marketing and distribution agent went bankrupt, Kater decided to close EarthSea in 1999.
"I had been a workaholic for these last fifteen years, but my inner upheaval required all my attention," Kater later reflected in the New Age Voice. "I dropped out, and did no performances and no recordings for a while and just focused on my personal life." The decision to step away from the music business was only temporary, however, and Kater returned with the 2001 release, Heart's Desire. Inspired by the newfound love of his second wife, Gabrielle, the album was Kater's most personal and romantic to date. "The resulting music is dynamic, flowing, soaring, soothing, and just plain beautiful," wrote Kathy Parsons of Solo Piano Publications. "A feeling of contentment seems to course through all of the music, but it is far from ear candy or meditation music. This is music that begs to be heard and understood, and felt."
Although he had built his reputation by interpreting ecological, spiritual, and Native American themes in his music, Kater now looked forward to expressing his own thoughts through his work. "The causes and cultural groups I have been affiliated with are less important now than addressing the question of what I really need to express," he told New Age Voice in May of 2001. "I need to focus more on internal rather than external influences. I need to be more fully me." Although he did not discount the possibility of returning to some of the themes that made him a leading New Age recording artist, for the moment Kater anticipated a romantic phase in his music. "I'm more emotional now than I used to be and I'm coming to terms with that," he reflected to New Age Voice. "Hopefully, I'll be able to express musically some of the inner energies and feelings that have been pouring through me and [my wife.]"
Selected discography:
-Spirit , Silver Wave, 1983.
-The Peter Kater Collection , Silver Wave, 1983.
-The Fool and the Hummingbird , Silver Wave, 1987.
-For Christmas , Silver Wave, 1987.
-Gateway , Gaia, 1988.
-Moments, Dreams and Visions , Silver Wave, 1989.
-(With R. Carlos Nakai)Natives , Silver Wave, 1990.
-Homage , Gaia, 1991.
-Anthem , Nebula, 1991.
-The Season , Silver Wave, 1991.
-Rooftops , Silver Wave, 1991.
-(With R. Carlos Nakai)Migration , Silver Wave, 1992.
-Coming Home , Silver Wave, 1992.
-(With R. Carlos Nakai)How the West Was Lost , Silver Wave, 1993.
-Spirit: Solo Piano , Silver Wave, 1993.
-Two Hearts , Silver Wave, 1994.
-Pursuit of Happiness , Silver Wave, 1994.
-(With R. Carlos Nakai) Honorable Sky , Silver Wave, 1994.
-(With R. Carlos Nakai)How the West Was Lost, Volume II , Silver Wave, 1995.
-Soul Nature , Silver Wave, 1995.
-(With Joanne Shenandoah) Life Blood , Silver Wave, 1995.
-(With R. Carlos Nakai)Improvisations in Concert , Silver Wave, 1996.
-Essence , EarthSea, 1997.
-Eco-Challenge (soundtrack),EarthSea, 1997.
-Compassion , EarthSea, 1998.
-Dance of the Innocents , Intersound, 1998.
-Songs for Humanity , Intersound, 1998.
-Birds of Prey , Intersound, 1999.
-(With R. Carlos Nakai)The Winds of Devotion , EarthSea, 1999.
-Heart's Desire , Source Music, 2001.
-Through Windows and Walls , Silver Wave, 2001.
Read more
Latest headlines