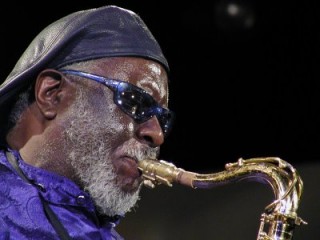 Pharoah Sanders biography
Date of birth : 1940-10-13
Date of death : 2022-09-24
Birthplace : Little Rock, Arkansas,U.S.
Nationality : American
Category : Arts and Entertainment
Last modified : 2022-10-13
Credited as : jazz saxophonist, free jazz, ethno-jazz, Grammy Award winner
Pharoah Sanders
was a Grammy Award–winning American jazz saxophonist.
Although largely a tenor saxophonist, the always spiritually connected jazz great Pharoah Sanders has the ability to blow alto and soprano with equal power, resonating a blues-based sound that has become his signature. "The unvarnished, rough-edged sound that Sanders coaxes from his horn, in fact, is one of the most appealing facets of his work. Other tenorists--young and old--may strive for a sleek evenness of timbre from one register of the instrument to the next, but Sanders' ideal is quite different: a tough, acidic, rough-edged sound that speaks of direct emotional expression," wrote Chicago Tribune arts critic Howard Reich in 1997. An influential improvisational player who helped establish the avant-garde style during the 1960s and 1970s, Sanders repertoire gave him a new audience in the 1990s; art rockers and free-music fans alike embraced Sanders' unbridled, all-inclusive style.
Born Farrell Sanders on October 13, 1940, in Little Rock, Arkansas, Sanders--who, like many great jazzmen, picked up an aristocratic nickname later on--grew up surrounded by musical influences. His grandfather, a school teacher, taught both mathematics and music, while his mother and sisters sang in clubs and gave piano lessons. Sanders himself started out playing drums with his high school band, but soon learned to play tuba, baritone horn, clarinet, and flute as well. In 1959, still a member of his school's band, Sanders picked up tenor saxophone, and the instrument resonated a sound that instantly captivated him. At first, Sanders focused mostly on rhythm and blues melodies--eventually backing Bobby Bland at a local club and touring for a short time with a band called the Thrillers--until his school band teacher and one of his major influences, Jimmy Cannon, introduced him to the jazz style. Aside from idol John Coltrane, Sanders cited Little Rock during the 1950s as a source of significant influence. "There were also a lot of guys [in addition to Cannon] who came down from Memphis to work and get paid in the clubs there," he recalled to Martin Johnson of Down Beat in a 1995 interview. "I was only in high school, but I would dress up--put on a suit, put a little thing here [pointing at his lip] like I had a mustache and some dark shades, and sneak into the club. I had to walk a little different and talk a little different, but I met some good players like Gilbert Capers. It was a good scene until they closed it down."
But despite his dedication to and love for music, Sanders envisioned a career in commercial art rather than in jazz. Thus, upon graduating from high school, Sanders left Arkansas, moving to California in 1959 to study at Oakland Junior College. Playing in rhythm and blues clubs in Oakland and San Francisco while attending college, Sanders soon realized that music was his true calling. It was in Oakland that Sanders met Coltrane briefly for the first time, and the two men spent time together touring local pawn shops for horns and mouthpieces. Meanwhile, Sanders was developing an interest in the burgeoning jazz scene of the early-1960s, a particularly exciting period for the form marked by ventures into more sonically adventurous territory. Saxophone innovators like Coltrane, Sonny Rollins, Eric Dolphy, Ornette Coleman, and others presented new possibilities for the genre. Such influences led Sanders to begin expanding his own technique.
Driven to take part in the new movement, Sanders left Oakland in 1962 to move to New York City, where he played jazz and blues and took odd jobs to make ends meet. During this time, New York welcomed an influx of young jazz players, and as American jazz was entering a troubled yet exciting new phase, Sanders was one of many voices--alongside others such as Archie Shepp, John Tchicai, and Albert Ayler--who wanted to make waves. By now, Sanders had developed his own unique sound, and like-minded players such as Coleman, Don Cherry, Sun Ra, and other notables began calling. "I would go everyday to rehearse with them [Sun Ra's Arkestra]," Sanders told Johnson. "If we weren't rehearsing, the Sun would talk to us about different things, because he was very knowledgeable about things I hadn't even thought about. I was amazed by how much he knew about history." Although working steadily with Sun Ra's group during the early 1960s, Sanders nonetheless found himself living in poverty, and the hardships multiplied when the saxman struck out on his own. "At the time, I didn't have my own place, so when I left [the Arkestra], I was out on the street," Sanders continued. "I met quite a few other musicians on the streets. It was hard times. Everyone who stayed in New York City struggled till daylight came. I used to give blood to make five dollars. Since a slice of pizza was only 15 cents and a candy bar cost only a nickel, if I had a dollar, that would take care of you and me all day long!"
When Sanders first arrived in New York, he had hoped to contact Coltrane, but found that his phone number had changed. Finally, he found the tenor saxophonist playing at the Half Note club in 1963. "I was outside. I couldn't go in because I was dirty and all, but John saw me and let me in," Sanders recalled to Johnson. Playing together that night and exchanging numbers, the two men, both devout Muslims, kept in touch and became friends. Two years later, in 1965, Sanders joined Coltrane's band, a position for which he would always be remembered. During the two years spent with Coltrane's final group before the master saxophonist's death in 1967, Sanders, serving as the second tenor and the innovator's unofficial number-one son of the group, stood at the older musician's elbow, helping to tear down the few remaining walls that surrounded free-jazz improvisation. Whereas Coltrane stood as the patron saint of the jazz vanguard, the younger Sanders "was like his mischievous sidekick, a strange, cathartic noisemaker whose flights of sonic uproar seemed even more outlandish than those of Coltrane himself," wrote Richard Cook for the New Statesman in 1998. "Where Coltrane was all steely majesty, Sanders sprayed notes and sounds everywhere, drawing multiphonic sounds from his saxophone which the leader seemed to be bewitched by." On challenging, dissonant albums with Coltrane such as Ascension, Meditations, and Live at the Village Vanguard Again, Sanders made his first mark on the world of experimental jazz.
Although Sanders had recorded two solo albums prior to Coltrane's death--1964's First Album and 1966's Tauhid--the young musician seemed unsure of what to do next. After death martyred Coltrane, critical interest in the avant-garde also faded. Moreover, the birth of rock music started to steal attention from the jazz scene, and many musicians, unable to compete with the new sound of the electric guitar, fell by the wayside. In spite of such obstacles, Sanders persisted, emerging from his mentor's shadow to define his own artistic personality. His own pursuits between 1969 and 1974, during which time he recorded a series of albums for the Impulse! label, often reflected his interest in non-Western idioms, free-form soloing, and highly charged atmospheres. Throughout this period, Sanders "managed to distill the spiritual concerns of Coltrane's later work into simple motifs that would rise into conflagrations of sound but would then subside into trance-like meditations," noted Washington Post writer Geoffrey Himes in 1998. Key efforts from the saxophonist's early years as a soloist included 1969's Jewels of Thought, 1971's Thembi, and 1974's Love in Us All. Another album from these years, 1969's Karma, included Sanders' best-known composition, a mesmerizing, 32-minute piece entitled "The Creator Has a Master Plan."
Featuring musicians like pianist Lonnie Liston Smith, bassist Cecil McBee, drummer Roy Haynes, violinist Michael White, and vocalist/songwriter Leon Thomas, the above-mentioned recordings exemplified Sanders at his toughest, at the peak of his career. "Those guys seemed to understand the way I played," Sanders fondly recalled to Himes. "They understood right away that I wasn't confining them to [chord] changes, that I didn't want them to be so intellectual, that I wanted them to play whatever they felt . we listened to each other. No matter what we were doing, we always listened to what everyone else was doing. Some musicians play with lots of energy and play well, but they're more like show musicians than spiritual types. They don't come to give, and when the ego is involved, everyone can feel it.... But the band I had back then, those were spiritual musicians, and they came to give."
During the late 1970s and 1980s, most critics, expecting further experimentation, attacked Sanders for softening his style, with the exception of 1982's The Heart Is a Melody, which included the long saxophone piece "Ol." But Sanders himself stood by his work, refusing to let others dictate his musical direction. "I have never said I was a jazz player; I'm just a player. I get jobs with whoever calls me, you know, and I perform in whatever the situation may be," he said to Johnson. "I am most certainly not a jazz player," Sanders emphasized.
However, Sanders revisited his earlier work--full of foreign influences such as African percussion, Indian harmonies, and Islamic tonalities--throughout the 1990s. In 1994, after paying tribute to Coltrane with the acclaimed Crescent of Love and contributing a track to the Red Hot + Cool AIDS benefit album, Sanders recorded The Trance of Seven Colors with a group of Gnawan musicians--all descendants of slaves from West Africa--led by Maleem Mahmoud Ghania in Morocco. Released later that year, The Trance of Seven Colors remained one of Sanders' fondest projects. "It was very exciting," he recalled to Johnson about the recording session. "They build on the music, add things in layers; everybody gets involved." One piece for the album entitled "Peace in Essaouira" was written by Sanders himself to eulogize friend and guitarist Sonny Sharrock, with whom Sanders had recorded in the 1970s and early 1990s, after he passed away shortly before recording sessions took place.
In 1998, Sanders recorded the album Save Our Children, which included an 11-minute piece showing the musician at his best called "The Ancient Sounds." Released by the Verve label later that year and recapturing the spiritual feel of his Impulse! years, the well-received Save Our Children was produced by Bill Laswell, who worked with Sanders previously for The Trance of Seven Colors and 1996's Message From Home. Again, with Save Our Children Sanders called upon musical elements from across the globe. "When I was living in Oakland, I played with some Moroccan musicians there, because I felt we both were more into a spiritual kind of thing," he said to Himes. "Instead of looking at music as notes, they were looking at it as a feeling they were trying to project through the notes. I hear that in a lot of music around the world--in India, in Japan, in Africa."
Now in his sixties, Sanders continues to record, explore music from different cultures, give performances with his band, and participate in jazz festivals. Regardless of his activities, no matter where his travels take him or what style of music he plays, Sanders never strays far from his blues roots back in Arkansas. "When I was learning to play the blues," he explained to Himes, "I had to practice all keys, because all the guitarists played in such weird keys. The guys in the South had a different way of playing the blues, a certain way of attacking the note I don't hear anymore. And they would try anything. There was a drummer called Candy Man who could play a Maxwell House coffee can and make it sound like Miles Davis's trumpet. All those experiences showed me that no limits should be put on music. When I play today, every note is like the blues, because I put the same feeling into whatever I play. You can't just jump out there and start playing; you have to have some feeling behind it. I just open up and blow from the spirit."
Read more
Latest headlines