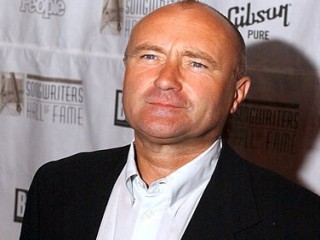 Phil Collins biography
Date of birth : 1951-01-30
Date of death : -
Birthplace : London,England
Nationality : English
Category : Arts and Entertainment
Last modified : 2011-10-18
Credited as : Singer, Genesis,
Phil Collins was born Philip David Charles Collins to insurance salesman father Greville and talent agent mother, June Collins. The Collins' were a gifted family, with elder brother Clive going on to become a professional cartoonist, and sister Carole competing as an ice-skater.
Phil started playing the drums at age five, when he received a toy drum kit as a gift and his interest in music grew during his school years. He got his first proper drum kit at age 12 and took every available opportunity to play, often drumming to songs on records or the radio. He was quite precocious as a child and strove for perfection, entering talent contents, acting and doing some modelling. He also loved playing football.
Collins attended Chiswick Grammar School and at age 13 won the role of the Artful Dodger in the West End production of 'Oliver!' (1964). His headmaster said he had to leave the school if he was going to take the role and his mother said the decision was his to make. Collins promptly left Chiswick Grammar, accepted the Artful Dodger role and joined the Barbara Speake Stage School, with which his mother was, and still is, involved.
The school gave him his first band experience when he joined fellow students in The Real Thing. He then joined Freehold and wrote his first song, 'Lying Crying Dying'. Collins was 18 when he joined an obscure rock group, Hickory, with whom he recorded a concept album, 'Ark II' (1969), inspired by the moon landing. The album premiered at the London Planetarium to a favourable response, they changed the band name to Flaming Youth and were backed by Phonogram. Shortly after that, the group disbanded, due not only to musical differences, but also to lack of commercial success.
In 1970, when he was 19, Collins got his big music break when he answered a Melody Maker classified advert and was named drummer/backup vocalist for the young rock/pop group Genesis, from Surrey. The band was struggling at the time and not only needed an injection of positive attitude, but also a new drummer. Collins provided both. His first album with Genesis was their second, 'Trespass' (1970), which they followed with 'Nursery Crime' (1971) and 'Foxtrot' (1972).
Still living at home, the 21-year-old Collins was away on tour with Genesis in America when his father passed away in 1972. It affected him profoundly and according to his mother, he never quite got over the fact that his father was no longer around. Shortly after that, he moved out of home and rented a flat in Epsom. The band released the album of their American tour, 'Genesis Live' (1973) and then 'Selling England by the Pound' (1973) later that year. Next was 'The Lamb Lies Down on Broadway' (1974), which remains Collins' favourite Genesis album of all time.
1975 was to be an auspicious year for Collins. He replaced Peter Gabriel as lead vocalist for Genesis, when Gabriel left the band to pursue a solo career. He also met Andrea Bertorelli who had moved to England from Canada with her young daughter Joely (born 1973, now an actress in Canada). Collins married Bertorelli on 27 September 1975 and legally adopted Joely. The couple had a son, Simon, in 1976 but divorced in 1980. Bertorelli eventually moved to Vancouver with the children, but to this day, they remain on friendly terms.
Genesis albums 'A Trick of the Tail' (1976) and 'Wind & Wuthering' (1976) were well received, with Collins doing much of the song writing. He was increasingly drawing the spotlight and enjoying more control over the music he played. It wouldn't be long before he decided to launch a solo career, alongside his work with Genesis. This happened in 1981 when Genesis released 'Abacab' and Collins recorded his debut solo album 'Face Value' (1981), which received positive reviews and was certified gold four months after its release. Singles from the album, 'I Missed Again', 'If Leaving Me is Easy' and 'In the Air Tonight', all charted in the UK Top 20. A few years later, 'In the Air Tonight' was featured in the US hit television series 'Miami Vice' (1984) and truly established Collins as a household name in his own right.
His second solo album was 'Hello, I Must Be Going' (1982), with singles 'You Can't Hurry Love' reaching number one in the UK in early 1983 and 'I Don't Care Anymore' earning him a nomination for a 1984 Grammy Award for Best Solo Rock Performance.
In 1984, Collins married his second wife Jill Tavelman. They had one daughter, Lily, born in 1989, but divorced in 1996. He wrote the title song for the film 'Against All Odds' (1984), which won him Golden Globe and Academy Award nominations for Best Original Song and reached number one in the charts. Collins' third solo album 'No Jacket Required' (1985) once again produced several chart hits in both the US and the UK, including 'One More Night' and 'Sussudio' and went on to become a multi-platinum selling album.
Always keen to record with other artists, Collins made his mark on the Band Aid single 'Do They Know it's Christmas' (1984) and participated in the Live Aid concerts of 1985. He recorded a duet with Earth Wind and Fire's Phil Bailey for the 'Easy Lover' single from their album 'Chinese Wall' (1984), which reached number one in the UK and number two in the US. A duet with Marilyn Martin, 'Separate Lives' (1985), from the soundtrack of the film 'White Nights' (1985), reached number two in the US.
Genesis had a US number one single with 'Invisible Touch' (1986) and went on a world tour in 1986. Collins won the 1986 British Phonographic Industry award for British Male Solo Artist. It seemed that on his own, with other artists or with Genesis, Collins was a star. He played the title role in the movie 'Buster' (1988) and received an Academy Award nomination and won a Golden Globe award for Best Original Song 'Two Hearts' that he wrote for the film.
Awards kept coming, thick and fast. For two years in a row, Collins won the Brit Award for British Male Solo Artist, in 1989 and 1990, and also won the 1990 Brit Award for British Single for 'Another Day in Paradise' from his successful solo album '…But Seriously' (1989). 'Serious Hits… Live!' (1990) showcased all that Collins couldn't do with Genesis. The public got to hear him drumming as never before: with musicians of a high standard, a full brass section, many ballads and jazzy interludes.
The Genesis album 'We Can't Dance' (1991) was their best to date, selling over 15 million copies, producing numerous hit singles and resulting in a sell-out world tour. Collins' solo album 'Both Sides' (1993) found him not only producing but also playing most of the instruments and it topped the UK charts. His next solo album 'Dance Into the Light' (1996) had chart singles 'Dance Into the Light' and 'It's in Your Eyes'.
Becoming increasingly more interested in his solo work, Collins shocked fans in 1996 by leaving Genesis permanently and immediately formed the Phil Collins Big Band. Their first gig was in honour of South African president Nelson Mandela, with Tony Bennett as guest vocalist. Quincy Jones joined the band as conductor and they played at a number of summer jazz fests, including two sold-out concerts at the Montreux Jazz Festival. The band released its first album 'A Hot Night in Paris' (1999), which charted high in the US Billboard Jazz Charts.
Joined by Peter Gabriel and Steve Hackett, Collins enjoyed a Genesis reunion in 1999 to record 'The Carpet Crawlers' for their greatest hits compilation 'Turn It On Again: The Hits' (1999). It was the first time since 1985 that the original five band members had played together. Composing five songs for the soundtrack of the Disney film 'Tarzan' (1999), won Collins both a Golden Globe and the 2000 Academy Award for Best Original Song for 'You'll be in my Heart'. Collins went on to receive the ultimate recognition for his work in June 1999 when he was awarded a star on the famous Hollywood Walk of Fame.
At age 48, he married his third wife, 27-year-old Orianne Cevey on 24 July 1999 in Switzerland. She had previously worked for him as an interpreter, when he first moved to the country. They set up home overlooking Lake Geneva and together created The Little Dreams Foundation, providing support and financing for children wanting to follow a career in sport, film or music. During their increasingly rocky marriage, the couple had two sons, Nicholas Grev Austin (born 2001) and Mathew Thomas Clemence (born 2004), but announced their separation on 16 March 2006. Collins remains in Switzerland to be near the children.
Collins was featured in both Lil' Kim's version of 'In the Air Tonight' on the tribute album 'Urban Renewal' (2001) and in Bone Thugs-N-Harmony's track 'Home' on the album 'Thug World Order' (2003). He released his album 'Testify' (2002) and in September 2002, announced his retirement from touring, due to hearing problems. In June 2003, he was inducted into the Songwriters Hall of Fame in New York City. The following year he released his greatest hits collection 'Love Songs: A Compilation…Old and New' (2004). His next collaboration with Disney was writing original music with Mark Mancina for the soundtrack of 'Brother Bear' (2003), including the memorable track 'No Way Out'.
The First Final Farewell Tour saw Collins on the road once more, and in 2006, he once again collaborated with Disney for a production of 'Tarzan' on Broadway, which received mixed reviews. In 2007, he teamed up with former Genesis bandmates, Tony Banks and Mike Rutherford, for a tour of Europe and North America entitled 'Turn It On Again: The Tour', which included a performance at the Live Earth concert.
Collins hit the headlines in 2009 when he announced that he would have to stop playing drums due to a spinal injury. At the time he said: "After playing drums for 50 years, I've had to stop. My vertebrae have been crushing my spinal cord because of the position I drum in". However, he was keen to reassure his fans and told them that he "can still sing". Collins released an album of Motown covers entitled 'Going Back' on 13 September 2010, which hit the number one spot in the UK charts a week after coming out.
Aside from achieving resounding commercial success both with Genesis and in his concurrent solo career, Collins is somewhat of a humanitarian. He has been a Trustee of the Prince's Trust since 1983 and received the award of Lieutenant of the Victorian Order for his work with the Trust. He is an ardent supporter of animal rights and PETA (People for the Ethical Treatment of Animals) and recently donated a pair of autographed drumsticks in support of PETA's campaign against Kentucky Fried Chicken. He performed at the BBC's annual Children in Need charity event on 21 November 2003 and is one of several celebrities to design special ceramics for Long Island Cares, a charity providing emergency food assistance and sponsoring community programmes.
Whilst his three marriages may have been turbulent, he has undoubtedly been a good father and always made time for his five children. In a prolific career of over 40 years, with multiple hits and numerous awards, Collins has proved himself a multi-talented entertainer. He has played the roles of actor, singer, drummer, composer, producer, big band leader and soundtrack maestro with inimitable drive, determination and finesse.
Read more
Latest headlines