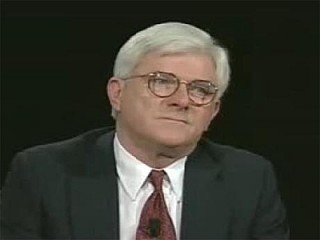 Phil Donahue biography
Date of birth : 1935-12-21
Date of death : -
Birthplace : Cleveland, Ohio, U.S.
Nationality : American
Category : Arts and Entertainment
Last modified : 2010-09-01
Credited as : Media personality and writer, film producer, creator and host of The Phil Donahue Show
Phillip John "Phil" Donahue
born December 21, 1935 in Cleveland, Ohio is an Emmy Award-winning American media personality, writer, and film producer, best known as the creator and host of
The Phil Donahue Show
, also known as Donahue, the first tabloid talk show. The show had a 26-year run on U.S. national TV, preceded by three years of local broadcast in Dayton, Ohio, before ending in 1996.
His shows have generally focused on issues that often divide liberals and conservatives in the United States, such as abortion, consumer protection, civil rights and war protests. His most frequent guest was Ralph Nader, for whom Donahue campaigned in 2000.[1] Donahue also hosted a talk show on MSNBC from 2002 – 2003.
"Sidelights"
Donahue: My Own Story is both an autobiography and a collection of observations on contemporary American life. As Donahue points out in his book, he spent his childhood in the pre-television American heartland of Ohio. His early life was a reflection of the traditional values of Middle America during the 1940's and 1950's. For example, Donahue was a Catholic altar boy whose main ambition in life was to become a major league baseball player. In high school, he participated in student plays, was a cartoonist for the school newspaper, and played clarinet in the school band.
Donahue began his broadcasting career the summer before his senior year at the University of Notre Dame when he landed a job as "a dollar-an-hour schlepper" at the school's station, WNDU-TV. During the course of the next year Donahue managed to work his way up through a variety of menial jobs to become a regular WNDU-TV announcer, and following his graduation from Notre Dame in 1957 he took a job as a summer replacement announcer at a Cleveland television and radio station, KYW. Donahue soon became bored with announcing and set his sights on becoming a broadcast journalist.
Armed with audition tapes and letters of reference, Donahue joined his college sweetheart, Margie Cooney, in her hometown of Albuquerque, New Mexico. Donahue took a job in a bank when he was unable to find a job in broadcast journalism. In February, 1958, Donahue married Margie and returned to Cleveland's KYW-TV as a substitute announcer and again took a job in a bank while he sought a permanent broadcasting position. He was hired in late 1958 by a small radio station in Adrian, Michigan, WABJ. Serving as the station's program and news director, Donahue covered routine news stories while gaining on-air experience, taping his broadcasts and using the better clips to audition for larger stations.
Donahue began his emergence from the backwoods of broadcasting in 1959, when he was signed to do the thirty-minute morning newscast on WHIO-AM in Dayton, Ohio. He was quickly promoted to a reporting assignment on the station's television news program and managed to track down and conduct interviews with then-teamster president Jimmy Hoffa, who was at the time sidestepping the Senate rackets committee, and Billy Sol Estes, who was facing criminal fraud charges. Each of the interviews came at the height of intensive national news hunts for the press-shy men. In his autobiography, Donahue recalled the elation he felt after the Estes interview was aired nationally: "I still remember the goose bumps . . . seeing my own right hand, right there on the CBS Evening News with Walter Cronkite. Boy, was I proud." A congratulatory telephone call from Cronkite the following day raised Donahue's hopes of a network reporting job with CBS News, but his resume to that news agency went unanswered.
Discouraged, Donahue busied himself by co-anchoring, beginning in 1963, WHIO-TV's 6 and 11 P.M. newscasts, conducting a daily radio interview program with local businessmen, and hosting a daily ninety-minute radio phone-in/talk show, "Conversation Piece." The show quickly developed a large audience of women listeners and Donahue was elevated to celebrity status in Dayton, a position that he was not totally comfortable with. Despite his success, Donahue began to grow dissatisfied with his work and his future. "The money was good," he wrote, "the wife was beautiful, the kids were healthy, the job was prestigious, but the man was miserable. And so was his wife." Feeling trapped in a professional limbo, Donahue "wanted out and up."
Donahue became frustrated by his progress in the broadcasting profession and increasingly disillusioned by peripheral aspects of his career and also began to question the American Dream and the Roman Catholic church. An ardent civil rights supporter, Donahue became angry at what he felt was the church's insensitivity to the temporal needs of minorities. In Donahue: My Own Story, he outlined his religious crisis: "At [age] 32, I turned again to my faith and my church. But this time there was no peace, no Grotto, no comfort. Instead, there was a church filled with people who were on Automatic as they walked into and out of Mass, a paternalistic church that had placed cardboard boxes in the vestibule for the collection of canned goods and old clothes for the St. Vincent De Paul Society."
In 1967 Donahue organized a voluntary school busing program within the diocese of Dayton and vehemently opposed the expenditure of one million dollars for the construction of a new church in an affluent parish at a time when parochial schools in the black parishes were in need of repair and new textbooks. When construction plans were approved over protests and pleas for reconsideration, Donahue, a deeply spiritual man, severed his ties with the Roman Catholic church.
Disillusioned and unable to secure a job in a larger city, Donahue decided in 1967 to leave the broadcasting profession. He took a job with the E.F. MacDonald incentive and tradingstamp company in Dayton where he sold gift and vacation plans for employers to offer workers as an inducement for supporting various company programs. Donahue quickly soured on the life of a business salesman and accepted an offer from Dayton's WLWD-TV to fill a morning variety hour time slot suddenly vacated by its Hollywood-bound singer/host, Johnny Gilbert. The proposal called for Donahue to host a television show similar in format to his old radio talk show, "Conversation Piece."
As the 1960's progressed Donahue's radio talk show experience brought him to the realization that other "traditional" Americans were beginning to question long-accepted values. As a result, "The Phil Donahue Show" evolved into a forum opening a dialogue on a changing America. His first guest on the new show, which permiered on November 6, 1967, was Madalyn Murray O'Hair, the atheist whose legal challenges resulted in a 1963 U.S. Supreme Court ban on compulsory prayer in public schools. Viewer response to the show was immediate and overwhelming; telephone calls and letters swamped the station. Donahue followed his debut with shows featuring discussions of sexuality and homosexuality, a graphic film about childbirth, and one show which featured an anatomically-correct male doll, which Donahue held up for a close camera shot. A telephone poll to gauge viewer reaction to the doll created a disruption of service throughout the entire downtown Dayton telephone exchange.
The show defied the conventional talk-show format of its day: Donahue's show featured controversial subjects, only one guest or topic per show, audience participation in the questioning of guests, and avoided the usual jokes and singing acts found on other talk shows. "The show's style had developed," Donahue wrote, "not by genius but by necessity. The familiar talk-show heads were not available to us in Dayton, Ohio."
Dayton lies off the network of major arteries of air traffic, and prominent personalities were unwilling or unable to schedule side junkets to Dayton. To secure these personalities as guests the show was moved to Chicago, Illinois, in April, 1974. With the change in locale came a change in the show's title, which was renamed "Donahue." Other changes soon followed, including the acquisition of the show by Multimedia Productions in March, 1976, and the subsequent increase in the number of stations nationwide carrying "Donahue."
Dramatic changes were also taking place in Donahue's personal life at this time. As detailed in his autobiography, Donahue, an admitted workaholic, was unaware of the extent to which he had been emotionally neglecting his family until he and Margie separated in 1973. Donahue wrote, "I thought of my professional ambition and how costly it had been to my family. I thought of how I had been married to my job instead of my wife," and he wondered if societal exhortations that men subliminate feelings of tenderness and intimacy into success-oriented behavior hadn't "left generations of men totally incapable of verbalizing a fear, sharing a cry or squeezing a hand."
Following a failed reconciliation, Donahue and his wife divorced in 1975. A voluntary agreement placed the couple's four sons in Donahue's custody while daughter Mary Rose moved to Albuquerque, New Mexico, to stay with Margie. The experience of being a single parent strengthened Donahue's understanding of the problems faced by divorced women. He began to view the feminist movement as a vehicle for the liberation of men as well as women and he became an ardent supporter and member of the National Organization for Women (NOW).
A Donahue guest who shared his enthusiasm for feminism was actress Marlo Thomas, daughter of comedian Danny Thomas. She had first appeared as Donahue's guest in 1972 to promote her television special, "Free to Be You and Me." Donahue had found her an intelligent and engaging guest at that meeting but, according to his autobiography, thought little more about her until she again appeared on "Donahue" following his divorce. A warm rapport developed during the course of the program and at the show's end Thomas told Donahue, "You are a very loving and generous man. Whoever is the woman in your life is very lucky." A long-distance romance ensued with daily telephone calls between Thomas in New York and Donahue in Chicago. They were married May 21, 1980.
The late 1970's also brought continued professional success for Donahue. "Donahue" continued to gain in the ratings and in 1977 managed to break into the tough New York City television market after several unsuccessful attempts. That was also the year that Donahue was awarded the first of several Emmys. In March, 1978, Donahue signed a six-year contract with Multimedia, quashing rumors that he was planning to replace Tom Brokaw as host of NBC's "Today" show. Donahue did make a deal with NBC to provide "Today" with three eight-minute interview segments per week. The feature was titled "Donahue on Today" and debuted on May 14, 1979.
Industry analysts suggest that much of the popularity of "Donahue" is a result of the controversial nature of many of the show's topics. "Far from serving just as a kind of voice for female America," a 1979 Newsweek article stated, "Donahue consistently dares to interrupt the mass audience's contended catatonia with the unfamiliar and the unpleasant. With his boyish, nonthreatening charm, he has emerged as middlebrow America's most trusted tour guide across today's constantly shifting social and cultural terrains."
But the sometimes touchy and often explosive nature of the show's subject matter has occasionally resulted in individual stations refusing to air segments they deemed unacceptable. Donahue has always believed that local stations should have the right to exercise editorial control over programming although he often disagrees with the reasoning behind station managers' decisions. In the summer of 1981 the show became the target of a nationwide assault of protest from the Moral Majority, which felt that too many sex-related topics were being scheduled.
"Donahue" encountered a different type of problem with local affiliates in the fall of 1981. Many of the local stations discovered that they were losing their "Donahue" audience to cable and satellite television outlets that carry WGN-TV programming. This splitting of the audience hurt local advertisers and lowered the affiliates' ratings. To remedy the situation the show was moved to WBBM-TV, Chicago. The announcement of another change for Donahue came in the spring of 1982 when, after much speculation, it was announced that Donahue would be leaving NBC for ABC. In October, 1982, he and co-host Greg Jackson debuted "The Last Word," a late-night news/feature program presented by ABC News. The show focused on interviews with the principals in current news stories and encouraged television viewers to phone in their questions and comments.
Donahue: My Own Story had been in preparation for several years prior to its publication in 1980, but Donahue's busy schedule prevented the book's completion before that time. It includes a chapter written by members of Donahue's staff, who explain what their jobs are and relate insightful stories and amusing anecdotes about the show's history. Donahue insisted that his staffers contribute and share in the book's credits because he feels that his and the show's success are due in large part to them.
The autobiography's concluding chapters reflect Donahue's views on the television industry and its effects on American society. He is highly critical of several aspects of television, including the regal pomposity of some corporate media executives whose policies, according to Donahue, are responsible for increased profits and decreased quality on television. He also targeted community affairs programming, which he termed "mandatory horn blowing," the use of charities as promotional devices by large corporations, the insensitivity of journalism, and the growth of celebrity worship in America.
PERSONAL INFORMATION
Born December 21, 1935, in Cleveland, Ohio; son of Phillip (a furniture salesman) and Catherine (a shoe clerk; maiden name, McClory) Donahue; married Margaret Mary Cooney, February 1, 1958 (divorced, 1975); married Marlo Thomas (an actress), May 21, 1980; children: (first marriage) Michael, Kevin, Daniel, Jim, Mary Rose. Education: University of Notre Dame, B.B.A., 1957. Memberships: National Organization for Women (NOW).
AWARDS
Emmy Award for outstanding host of a television talk, service, or variety series from Academy of Television Arts and Sciences, 1977, 1978, and 1979.
CAREER
KYW-Radio and KYW-TV, Cleveland, Ohio, announcer, 1957, television announcer, 1958; Albuquerque National Bank, Albuquerque, N.M., check sorter, 1957; WAJB-Radio, Adrian, Mich., program/news director, 1958-59; WHIO-Radio and WHIO-TV, Dayton, Ohio, radio newscaster and television news reporter, 1959-67, radio talk show host, 1963-67; E.F. MacDonald Co. (trading stamps and savings incentive planners), Dayton, salesman, 1967; WLWD-TV, Dayton, host of talk show "The Phil Donahue Show," 1967-74; WGN-TV, Chicago, Ill., host of talk show "Donahue," 1974-81; WBBM-TV, Chicago, host of talk show "Donahue," 1981--; co-host of "The Last Word," a news/feature phone-in network television show, American Broadcasting Companies (ABC), 1982--. Contributor of special segment to "Today" television show, 1979--.
WRITINGS
* (With others) Donahue: My Own Story, Simon & Schuster, 1980.
* (Author of introduction) The Talk Show Book: An Engaging Primer on How to Talk Your Way to Success, Facts-on-File, 1982.
* (Author of introduction) Is Your Child Right for TV Commercials?: A Complete Parent's Guide to the World of Television Advertising, W. Morrow, 1983.
* (Author of foreword) The Working Woman's Cookbook and Entertainment Guide, Bobbs-Merrill, 1983.
* The Human Animal, Simon and Schuster, 1985.
* (Author of Foreword) Reading, Writing, and the Hickory Stick: The Appalling Story of Physical and Psychological Abuse in American Schools, Lexington Books, 1990.
* (Author of foreword) Weeding Out the Tears: A Mother's Story of Love, Loss, and Renewal, Avon, 1997.
Read more
Latest headlines