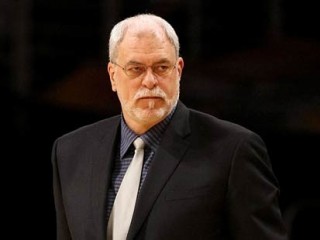 Phil Jackson biography
Date of birth : 1945-09-17
Date of death : -
Birthplace : Deer Lodge, Montana
Nationality : American
Category : Sports
Last modified : 2010-10-27
Credited as : Basketball coach and former player NBA, head coach of the Los Angeles Lakers,
Philip Douglas "Phil" Jackson is a former American professional basketball player and the current coach of the Los Angeles Lakers. Jackson is widely considered one of the greatest coaches in the history of the National Basketball Association (NBA). His reputation was established as head coach of the Chicago Bulls from 1989 through 1998; during his tenure, Chicago won six NBA titles. His next team, the Los Angeles Lakers, won five NBA titles from 2000 to 2010. In total, Jackson has won 11 NBA titles as a coach, surpassing a record set by Red Auerbach. He is the winner of the most championships in NBA history as a player and a head coach, breaking the tie between him and Bill Russell after the Los Angeles Lakers won the 2009 NBA Finals over the Orlando Magic four games to one. Jackson won two rings as a player with the New York Knicks in 1970 and 1973.
Phil Jackson re-joined the Los Angeles Lakers as their head coach on June 14, 2005, less than one year after he left the team to take a year off from coaching.

Jackson, the NBA's career leader in playoff victories and playoff winning percentage, has won nine NBA titles, tying Red Auerbach for the most all-time.

Jackson guided the Lakers to three titles in his first stint as their head coach from 1999-2004, and guided the Chicago Bulls to six NBA championships in his nine years as head coach from 1989-1998.

Going into the 2005-06 season, Jackson owns a career coaching record of 832-316, his .725 winning percentage being by far the best in NBA annals. He has a career playoff record of 175-69, his winning percentage of .717 also heading the list. In terms of most victories, Jackson is tied with Cotton Fitzsimmons for 10th in the regular season but stands alone at number one in the playoffs.

Jackson is a study in adaptability. As a boy in the 1950s, he conformed to the wishes of his parents, who were evangelical ministers. As a college student in the 1960s, he followed a popular path by expanding his spiritual opportunities in the classroom and in life. As a basketball player in the 1970s, he adopted the New York Knicks' unselfish, team-oriented style of play. And as a coach in the 1980s and 1990s, Jackson turned a Chicago team built around the game's outstanding individual player -- Michael Jordan -- into a six-time NBA champion. Then he proved he could adapt to the presence of a dominating center, winning with the Lakers and Shaquille O'Neal.

Deep inside, however, Jackson has remained remarkably consistent -- self-possessed, focused and confident. These defining qualities have been put to best use in his role as coach. Firm but not severe, Jackson neither babies nor bullies his players. Instead he gives them the opportunity to learn for themselves how to succeed, and a structure in which they can win as a team.

Jackson did something that many coaches have struggled to do -- build a consistently winning team around a megastar. With help from his assistants, notably Tex Winter, the chief proponent of the triangle offense, Jackson designed complex offensive and defensive strategies that actually enhanced Jordan's greatness by making his teammates better players. A court full of competent performers, Jackson reasoned, would make it tougher for opposing teams to stop Jordan. He was right. Jordan's scoring dropped slightly after Jackson took over, but the superstar's all-around effectiveness soared.

Then, after having won with workmanlike centers Bill Cartwright and Luc Longley as his starters in Chicago, Jackson moved to Los Angeles and convinced O'Neal, the game's dominant pivotman, that he had the system that could finally bring O'Neal the championship ring that until then had eluded him.

Jackson's 13-year playing career, spent primarily with the New York Knicks, prepared him for his coaching challenge. With stars Walt Frazier, Willis Reed, Earl Monroe, Bill Bradley, Dave DeBusschere and Cazzie Russell, New York won not by featuring individual greatness but by maximizing collective achievement.

Jackson, a low-scoring specialty player, learned to understand the value of each player as a part of the whole and how an overdependence on any one player can cause a team to fall apart. With his broad, pointy shoulders and herky-jerky movements, Jackson was an oddity on the court who was nicknamed "Head 'n' Shoulders," although in true Jackson style he used his limited skills to the maximum. He also picked up valuable experience as an award-winning head coach in the Continental Basketball Association and as an assistant coach in Chicago under the fiery Doug Collins.

Jackson played college ball at North Dakota under future NBA head coach Bill Fitch. Angular, thin and already at his full height of 6-8, Jackson used every inch of his arms, legs and shoulders to advantage. He played defense aggressively, like a point guard, and dove for so many loose balls that he became known as "the Mop." And his strange-looking, left-handed hook shot carried him to an average of 27.4 points per game as a senior in 1966-67.

He was drafted on the second round by the Knicks, the 17th overall selection. He underwent spinal fusion surgery and missed the Knicks' first championship season, 1969-70, but was a key reserve on the team that won the title in 1972-73. Never a great scoring forward -- his 11.1 points per game in 1973-74 was his highest output -- Jackson annoyed opponents with his awkward, almost clumsy defensive and rebounding style. He became a favorite with the fans at Madison Square Garden because he played all-out every minute, rode his bicycle to games from his Manhattan loft and insisted on keeping his longish hair and unconventional beliefs.

Jackson played in New York until 1978, when he went to the New Jersey Nets as a player-assistant coach. He retired in 1980 after 13 years in the league, having averaged 6.7 points and 4.3 rebounds over 807 contests.

After a year he rejoined the Nets and did some television commentary on television, then he returned to coaching with the Albany Patroons of the Continental Basketball Association, also coaching summers in Puerto Rico. In five seasons in Albany, Jackson steered the Patroons to a league title and won a CBA Coach of the Year Award.

Jackson left the Patroons after the 1986-87 season with a 117-90 career record and landed a job as an assistant coach with the Chicago Bulls. Jordan had just won his first of seven straight scoring titles in 1986-87, but under Collins the Bulls had gone 40-42. Jordan averaged 35.0 points in 1987-88 and Chicago improved to 50 wins, but was ousted in the playoffs.

Jackson's break came on Dec. 17, 1988. The Bulls trailed by 14 points when the high-strung Collins was ejected early in the game. Jackson took over in what normally is a placeholder role, tinkered with the team's defense and told the players to just go out and play. Forward Horace Grant later told The New York Times, "It was like we were let out of a cage. We won the game because we were so relaxed -- and we knew that Phil should become a head coach." The following spring the Bulls lost to Detroit in the conference finals. Two months later Collins was out and Jackson was in.

Big changes were quick in coming. First came an emphasis on defense. Jackson unleashed Jordan and Scottie Pippen ("the Dobermans") on opposing teams through relentless presses, traps and double-teams. Then Jackson threw out the isolation plays that had been designed for Jordan and worked Winter on implementing the triple-post or triangle offense, in which constantly moving players have a variety of passing and scoring options at their disposal. It took a while for Jordan to buy into the new scheme, but once he did, the Bulls were unstoppable.

By 1990-91 Jordan's scoring was down to 31.5 points per game, but the Bulls finished the season at 61-21 and brought home the 25-year-old franchise's first title with a five-game spanking of the Lakers in the NBA Finals. In 1991-92 the Bulls repeated as champions, and the following year, despite a spate of injuries and a weakened bench, the Bulls established themselves as one of the league's all-time great teams by taking their third straight title.

After that season Jordan shocked the basketball world by retiring. Against all expectations, Jackson coaxed 55 wins out of his "Air-less" team in 1993-94 and guided the Bulls to the Conference Semifinal. After Jordan rejoined the team in March 1995, the team but on a late run but again was ousted in the Conference Semifinals.

The 1995-96 season may well have been Jackson's finest effort. With Jordan on hand from the start of training camp, and having dedicated himself to once again proving his greatness, the challenge was to fit all the pieces in around him, and Jackson proved up to the task. Pippen settled comfortably back in his role as the team's second star, Longley assumed the pivot role formerly played by Cartwright, Ron Harper emerged as a defensive force and Steve Kerr became the designated three-point shooter. Finally, in what would prove to be a daring coup, the Bulls obtained controversial Dennis Rodman in preseason. Jackson handled Rodman to perfection, blending his talents with the rest of the players and giving him enough personal freedom so he did not feel repressed.

The results were spectacular. Jordan won the scoring title for the eighth time and Rodman won his fifth consecutive rebounding crown. The Bulls roared through the regular season to a 72-10 record, the best in NBA history. In the playoffs they lost just one game in the first three rounds, then raced to a 3-0 lead in the NBA Finals against Seattle before losing a pair of games prior to wrapping up the title in Game 6. Chicago's combined record, for the regular season and playoffs, was 87-13, the best in NBA history.

For an encore, the Bulls came back and won 69 games in 1996-97 to match the second-best mark in league history, and successfully defended their NBA title by beating the Utah Jazz in six games in the 1997 NBA Finals -- the Bulls' fifth Western Conference rival in five trips to the title series. And in 1997-98, the Bulls completed their "repeat three-peat," again beating the Jazz in the NBA Finals.

The amazing trio of Jackson, Jordan and Pippen had accomplished something never done before in NBA history, two separate three-peats. Jordan left the sport at the top of his game, Pippen was traded to Houston and Jackson retired from coaching -- but only for one year.

In 1999-2000 Jackson moved to Los Angeles, sold the Lakers on his offensive and defensive philosophies and spurred O'Neal and Bryant to the best seasons of their careers. The result was an three straight NBA championship, something the great Laker teams of the past had never accomplished before.

Read more
Latest headlines