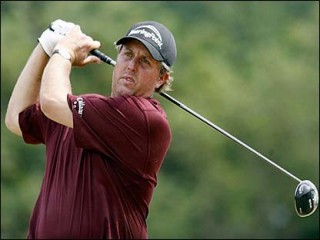 Phil Mickelson biography
Date of birth : 1970-06-16
Date of death : -
Birthplace : San Diego, California, United States
Nationality : American
Category : Sports
Last modified : 2010-07-27
Credited as : Golf player, ,
"I can't believe he just did that." No athlete hears those words more often than Phil Mickelson. Sometimes, they are uttered in stunned admiration for a seemingly impossible shot. Just as often, they are offered in sharp criticism for an awful lapse of judgment. Either way, Phil keeps writers, broadcasters, and fans entertained. Lefty's syrupy swing and Houdini-like short game are the envy of the golf world. Too bad the same can't be said of his course management. Ironically, while Phil's trophy case is full of hardware from sweet victories—plus three Masters green jackets—it is quite possible that he will be best remembered for his bitter defeats.
GROWING UP
Philip Alfred Mickelson Jr.
was born on June 16, 1970, in San Diego, California. His parents, Mary and Phil Sr., already had one child, a girl named Tina. A younger brother, Tim, would arrive a few years later.
The Mickelson clan lived in a modest home. Phil's father had been a fighter pilot before retiring from the Navy and moving on to flying commercial aircraft. Mary was a nurse who later operated an assisted living facility with her husband.
Everyone in the Mickelson family was a big sports fan. Mary owned a collection of gold medals from her time on the U.S. Women's Senior Olympics Basketball team. Phil Sr. was an excellent golfer who passed his love for the sport onto his children. Tina would go on to be a PGA professional and the author of an instructional book and syndicated instructional column. She has also worked for The Golf Channel as an on-course commentator. Tim enjoyed a great career at Oregon State and later became the golf coach at the University of San Diego. The Toreros made the NCAA Championship Tournament in 2006 for the first time in school history.
Phil began hitting balls long before he reached kindergarten. Though he was a natural right-hander, the youngster learned to swing a golf club as a lefty. In 1972, six months shy of his second birthday, Phil started mimicking his father as he worked on his swing. Phil Sr. fed his oldest son's interest by cutting down a ladies' wood for him to use. As a toddler, Phil insisted on standing face-to-face with his dad when they practiced. Since Phil Sr. was a righty, Phil did everything in mirror opposite as a left-hander.
Phil was absolutely crazy about golf. As a three-year-old, he ran away from home when he wasn't allowed to join his father for a weekend outing. A year later, Phil completed his first 18-hole round, and then sobbed uncontrollably because the day was over.
Competition among the Mickelson kids was fierce. As a kid, Phil developed a decidedly aggressive attitude on the golf course. No shot was too difficult, especially if his sister or brother had just pulled it off.
By the time Phil reached his teens, it was clear that he possessed uncommon talent. The young lefty had a long, fluid swing that launched prodigious drives off the tee and high-arcing irons from the fairway. Around the greens he was fearless—a style of play that often resulted in spectacular hole-outs. When Phil turned 14, he began working with teaching professional Dean Reinmuth. His game took off. Phil dominated junior golf in his area. In all, he picked up 34 San Diego County titles.
At the same time, Phil also starred at University City High School. A private four-year school in San Diego, it boasted a great sports program. In the years after Phil graduated, the Centurions produced a host of pro prospects, including Mark Prior, Barry Zito and Luke Walton. University High played many of its matches at nearby Torrey Pines, a regular stop on the PGA Tour.
As a junior in 1987, Phil tried for the first time to qualify for the U.S. Open. He did so with he full support of his University High teammates, even though the California Interscholastic Federation-San Diego Section team championship was scheduled for the same day. The Centurions understood and appreciated what Phil was hoping to accomplish. In his place, the team turned to a freshman named Scott Peterson. Years later, he would gain infamy after being convicted of murdering his wife Laci and their unborn child.
ON THE RISE
Phil finished his career at University High as one of the school's all-time greats. After accepting a full-ride scholarship to Arizona State, he headed to Tempe, eager to test his game at the next level. he passed with flying colors. In his first year with the Sun Devils, Phil won the Fresno State Classic and the Forest Hills Invitational, and then capped off the season with the NCAA title. Phil was an easy choice as a First-Team All-American. He would earn the honor three more times, joining Gary Hallberg, David Duval and Bryce Molder as the only players in college history to do so.
Phil continued to shine after his freshman season. In 1990, he became the only golfer other than Ben Crenshaw to defend an NCAA title as a sophomore. Phil won the U.S./Japan Intercollegiates, the UNLV Rebel Classic and the Pac-10 Championship. The first Sun Devil in a decade to be named the conference's Player of the Year, he finished the season with seven straight top-10 finishes. Phil also took home the Haskins Award as the college game's outstanding golfer.
Away the ASU campus, Phil made more headlines, including a top-20 finish at the PGA's Tucson Open. A year earlier, he had played in his first pro event, at the Phoenix Open. Phil's greatest accomplishment was the 1990 U.S. Amateur title. He shot a 64 in second round and then dominated the 36-hole match-play final, 5 and 4.
It was more of the same for Phil in 1991. For the Sun Devils, he finished in the top-10 of all 11 tournaments he entered and again captured the Haskins Award. That was just the tip of ice burg, however. In the spring, Phil stunned the golf world when he won Tucson Northern Telecom Open. He also qualified for the Masters, U.S. Open and British Open, and made the cut in each. In August, Phil claimed the Western Amateur Championship. Paired with Michael Jordan in first round, he fired a 67—Jordan limped home with an 85.
Phil ended his college career the following spring in style. His 17-under performance at the 1992 NCAA Championships earned him his third NCAA title. He joined Ben Crenshaw as the only collegiate player to accomplish that trifecta.
Phil made his professional debut several months later in the U.S. Open at Pebble Beach. He missed the cut after shooting an 81 on Friday. A few weeks later, Phil righted the ship with a second-place finish at the New England Classic.
Phil got the first two victories of his PGA career in 1993, at the Buick Open and the International. He struggled a bit in 1994, mostly because of an injury he suffered in early spring. Phil recovered in time for the 1995 season and repeated at the Northern Telecom Open in January. The biggest improvement in his game was seen at the first two majors of the year. Phil tied for seventh at the Masters and tied for fourth at the U.S. Open. In both tournaments, he was in contention heading into Sunday but faltered with rounds over par.
1996 proved to be another important year for Phil. On the course, he notched three more wins, includingthe GTE Byron Nelson Golf Classic and the NEC World Series of Golf. Phil also made a momentous decision in his personal life. In November, he and his longtime girlfriend Amy were married. The two had gone to ASU together, and their relationship grew from there. Both wanted a family—today, they have three kids, Amanda, Sophia and Evan—and they were also ready for the challenges that would come with Phil's burgeoning stardom.
The first challenge Phil faced on the course was the emergence of Tiger Woods as golf's newest superstar. At the 1997 Masters, the 21-year-old destroyed the field, winning by 12 strokes. Phil, meanwhile, went home early after going 76, 74 in the first two rounds. Though he registered two wins and two seconds in 1997, Phil had been replaced as the tour's resident phenom.
The media's fascination with Woods wasn't a bad thing, however. Phil was able to work on his game without as much attention focused on him, and the endorsement deals didn't stop coming in, either. Lefty began 1998 on a roll, winning the Mercedes Championship in Hawaii and then the AT&T Pebble Beach National Pro-Am. He also fared well in all four majors. Even his 79th at the British Open was acceptable. Phil's gambling style of play had never translated smoothly across the pond.
The 1999 season was an interesting one for Phil. Though he failed to record a single victory, he learned a valuable lesson at the U.S. Open at Pinehurst. Locked in a tense battle with Payne Stewart, he watched as his playing partner rolled in a birdie putt on 18 to clinch the title. The pair embraced afterward, with Stewart offering heartfelt words of admiration. Phil had teed off on Sunday with Amy expecting their first child. Stewart told Phil he would be a great dad—and that a major championship would someday be his.
Phil regained his edge and and posted three victories in 2000. That was enough to catapult him back to the small group of players who could realistically set their sights on Woods as golf's best player.
One of the keys to Phil's game was his play around the green. In the opinion of many of his fellow pros, as well as the general public, he had the top short game on the tour. He had developed his flop shot, a wicked slash with an L wedge, to the point where it was alleged that he could hit it over the head of virtually anyone standing a few feet in front of him. That shot became a devastating part of his arsenal, and the sight of Phil's Callaway HX rising out of a deep greenside bunker and landing a club-length from the pin became a favorite of fans and journalists. He was roundly acclaimed as the king of the impossible shot, holing out from bunkers, chipping in from the fringe, and pitching perfectly to inaccessible pin placements.
Phil's short sticks weren't the whole story, however. He was among the longest and most spectacular drivers on the tour. On holes where he could truly air it out, he frequently wound up more than 350 yards down the fairway.
The only thing that perplexed fans was Phil's inability to win a major. He had come close on several occasions, including the PGA Championship in 2001, when he finished second to David Toms. Phil played his most consistent golf to date at the Atlanta Athletic Club, shooting four rounds under 70. But Toms was one stroke better, holding off Lefty with a 69 on Sunday. The difference was a three-putt by Phil on the 16th green.
Crucial mistakes soon became synonymous with Phil's performance in the clutch. Critics said he needed to be smarter on the course, especially under the intense pressure of the majors. But Phil fed off the emotion of the huge galleries that followed him. When they clamored for him to try to an ill-advised shot, he normally acquiesced.
The strain of failing at critical moments took its toll. Phil became discouraged at times and didn't always hide his displeasure with poor shots. At one point, his daughter Amanda had seen enough. A highlight of winning for Phil was seeing her sprint into his arms after he walked off the 18th green. Amanda told her dad that if his bad behavior didn't stop, the hugs would.
Not everyone, however, thought Phil should throttle back completely. He also heard from Arnold Palmer, who applauded the lefty's swashbuckling style. In many ways, Phil was the reincarnation of Palmer, particularly in the way he related to fans. Both liked to take chances on the course, an approach that made them heroes to high handicappers everywhere. Palmer recognized this and sent a note to Phil, urging him not to abandon his aggressive style of play.
Phil heeded that advice and had a terrific year in 2002. He won twice, finished in the top-10 a dozen times and earned nearly $4.5 million. His best showing may have been his second-place finish at the U.S. Open. Phil thrilled the crowds at Bethpage Black in New York with his gutsy effort, even as he lost to Woods by three strokes. Fans gave him a hard time all week long for his lumpy frame. But on Sunday, they serenaded Phil with a rendition of "Happy Birthday." He turned 32 that day. Phil loved every minute of it—except for the disappointment of another loss to Woods.
The showdown at the U.S. Open heightened the rivalry between Phil and Woods. It seemed clear that the two didn't like each other, but there were also questions about whether they even respected each other. That was apparent at the Ryder Cup matches that fall. U.S. captain Curtis Strange paired the two in the early rounds, and their lack of chemistry was painfully obvious. The Americans ultimately fell to the Europeans, and Phil and Woods were cast as scapegoats.
The hangover from the Ryder Cup debacle lasted into 2003 for Phil. Outside of a handful of good finishes, including a 3rd at the Masters, he struggled with his game. Phil was now known as his own worst enemy. He was criticized for taking unnecessary risks, always preferring spectacular shots to common-sense course management. Watching Phil trudge down the back nine, waiting for him to try for an eagle or birdie when a simple par would do, wasn't an uncommon activity on Sundays. Many wondered whether Phil would ever win a major and graduate to the ranks of golf's all-time greats.
MAKING HIS MARK
Phil entered 2004 eager to silence his nay-sayers. He worked himself into the best shape of his life and more often than not decided to let caution be his guide on the course. Phil got off to a great start by winning the Bob Hope Classic. After recording a half-dozen top-10 finishes in the next few months, he looked as confident as ever.
When Phil arrived in Augusta for the Masters in early April, he did and said all the right things. He followed an opening-round 72 with a pair of 69s to grab the lead heading into Sunday. But Phil wasn't going to waltz to his first major title. Ernie Els, who began the final round trailing by two strokes, shot a a 67 to seize control of the tournament. With three bogeys on the front nine, Phil appeared to be pulling another choke job.
This time, however, Lefty kept his composure. He launched a memorable charge on the back nine, making birdies on five of the last seven holes. He sunk a 20-foot putt on the 18th green to secure the victory.
Phil's reaction told the story. He leaped high in the air—at least by his standards—hugged his caddie Jim "Bones" MacKay and flashed a smile as big as the monkey he had just removed from his back. His celebration was equal parts relief and jubilation.
No longer shackled with the tag of "best player never to win a major," Phil relaxed the rest of the 2004 season and played some great golf. He almost pulled off back-to-back majors but a double-bogey on the 17th on Sunday at the U.S. Open cost him dearly. Phil shrugged off that disaster to register his best finish ever at the British Open, shooting 9-under to grab third by himself. At the PGA, he wound up tied for 6th.
The only down note for Phil came at the Ryder Cup. He raised eyebrows shortly before the matches when he left Titleist for Callaway. Then, amidst questions about the timing of his switch, he went 1-3-0. The Americans lost yet again, and Lefty was saddled with much of the blame.
Phil's poor Ryder Cup showing turned out to be nothing more than a blip on the radar screen. He opened 2005 with the same swagger he had displayed the prior year. In February, Phil posted back-to-back victories for the first time in his career. After becoming just the 13th player to win the FBR Open in Phoenix twice, he took the AT&T Pebble Beach National Pro-Am for the second time. His victory at Pebble Beach also marked the first time he had ever led wire-to-wire in a PGA event.
Nothing, however, was more satisfying for Phil than his second major championship, which came at the PGA in August at Baltusrol. He broke from the gate with a 67 and 65, and then held off charges from Thomas Bjorn and Steve Elkington. Conditions cut the action short on Sunday with Phil playing the par-5 18th. He had to come back on Monday and chip out of deep rough just off the green. His shot rolled to within two feet. Phil tapped in his birdie putt for a one-stroke victory. In the process, he became the first left-hander to win the PGA Championship and the first lefty to win two majors.
Phil capped his season with an impressive performance in The Presidents Cup. Paired with Chris DiMarco in four matches, he displayed grit and energy, two qualities that had eluded him previously in team play. Phil went 3-0-2 overall, and the U.S. retained its title against the Internationals.
As the calendar turned to 2006, Phil enjoyed newfound status on tour. He was once again a feared player, writers speculated that he had the intangibles to compete with Woods, and fans were ready to christen him the next "Arnie." Phil steamrolled through the early part of the season. At the BellSouth Classic, he lapped the field, winning in a 13-shot blowout.
A week later, Phil captured his second Masters. In turn, he became him the first player since Woods to win consecutive majors. Phil was in total control. He topped Fred Couples by a stroke after 54 holes and then cruised home with a 69 on Sunday.
Phil headed into the U.S. Open at Winged Foot favored to take his third major in a row. Woods, still mourning the death of his father, was a question mark. No one else appeared to have the game to stay close to Phil. After 54 holes, he shared the lead with Kenneth Ferrie at 2-over. No one expected the little-known English journeyman to hold up to the pressure of the final round. Phil was being anointed as the Open champion.
Then self-inflicted disaster struck. As Phil walked off the 15th green, he was up by two strokes. After a par, he bogeyed 16 to shave his lead in half. Lefty stood on the 18th tee up by a stroke over Geoff Olgilvy. He needed one more par to claim his first U.S. Open. A 3-wood would have put him in good position in the fairway. Instead, he took the driver out of his bag and hit it left of left of left. The meltdown was on. Phil carded a double bogey and finished tied for second.
At a loss to explain his strategy, Phil stumbled through the rest of the year. His crushing defeat left him in a daze.
That funk lasted through the first few months of 2007. Phil even missed the cut in Arizona at the FBR Open. A week later, he got back on the track, shooting 20-under to win the AT&T at Pebble Beach. In May at The Players Championship, it appeared as if Phil had finally shaken off the final effects of the Winged Foot debacle. In a solid performance, he won for the second time of the season.
Phil gave some of the credit for that victory to his new swing coach, Butch Harmon. The two had begun working together earlier in the season, and Phil fully embraced the more disciplined and technical approach to the game that Harmon taught. Lefty looked like a new player.
Just as quickly, however, Phil came crashing back to earth. A wrist injury forced him to withdraw from the Memorial. Then he failed to make the cut at both the U.S. Open and British Open. Phil was clearly playing in pain. Getting out of the rough was particularly difficult for him.
It wasn't until August that Phil began to feel comfortable again. By September, he was back at full strength. That's when he became the center of a new controversy. With the PGA hoping to inject new life into the tour with the FedEx Cup, Phil was vocal in his criticism of the playoff format. After winning the Deutsche Bank Championship to take the points lead, he skipped the BMW Championship. It was hardly a ringing endorsement for the FedEx Cup. Woods wound up winning the inaugural championship, with Phil finishing in a distant fourth.
Among Phil's goals for 2008 was dropping 20 pounds. He hired a personal trainer, fine-tuned his diet and made it most of the way there without any problem. He won two PGA events, the Northern Trust Open and the Crowne Plaza Invitational at Colonial. His best finish in a major was at Augusta, where he finished 5th, six shots behind winner Trevor Immelman.
Phil defended his Northern Trust title in February of 2009 and went on to have a splendid year, but he did so under the shadow of his wife's—and then his mother's—battle with cancer. Amy was diagnosed with breast cancer in May. Phil took a few tournaments off to be with her as her treatment began. Luckily the cancer had been detected at an early stage.
When Phil returned, he looked surprisingly sharp. At the U.S. Open, he had a share of the lead with five holes to go but finished second behind Lucas Glover. He received a huge ovation as he walked toward the green on the 17th hole, which he subsequently bogeyed to end any chance of making up ground on Glover.
Next came the news that Mary Mickelson had been diagnosed with breast cancer. She was treated at the same hospital as Amy. Phil took more time off from the tour, skipping the British Open, but he returned in time to win the Tour Championship for the second time in his career. It was quite a victory. Four strokes off the pace on the final day, Lefty shot a 65 to outpace Woods with a four-round total of 271. At the end of the year, Phil ranked third in prize money, the sixth straight year he had placed in the Top 10.
Phil understandably was looking for a less hectic season in 2010. He flew under the radar along with the rest of the tour as Tiger's troubles occupied the headlines from December through March. As the Masters approached, Phil was regarded as a decent bet to win his third green jacket. After the first round, few doubted that he would be there at the end. He completed the first 18 holes just one shot off the lead.
Phil was just two shots off the pace after the second round, despite missing a one-footer on the fifth hole. The big news was that Woods was also two strokes back. Would Phil and Tiger duel to the finish? A third-round 67 gave Phil some breathing room and kept him one shot behind leader Lee Westwood. It also put a charge through Augusta. In a series of holes that would become part of Masters lore, Lefty nailed back-to-back eagles on 13 and 14, and nearly did the same on 15.
Phil recorded pars on each of his first seven holes on Sunday, as Westwood struggled and lost the lead. KJ Choi and Anthony Kim challenged briefly, and Woods was playing well, but on the back nine Phil opened a three-shot lead on the field and cruised home for the victory. He shot a second straight 67 and did not have a single bogey in the final round.
A great save from the woods on 13 was the key moment of the final round. The shot from the pine needles to the green was a classic Lefty "no-no-no-no-yes!" moment. After sinking his final shot on 18, Phil headed straight for Amy and gave her a long hug—she had not been to a tournament in almost a year. Both burst into tears.
There's no doubt that Phil has carved out a special legacy for himself. Off the course, he is powerful enough in his sport that the PGA tweaked the FedEx Cup to address his concerns. His career earnings could easily reach $100 million some day in the future, and his endorsement deals match that figure. He and Amy have made a point of giving back to causes near to their hearts, many of which underscore their commitment to family.
On the course is where Phil is still writing his story. Already, it is certain that he will go down in history as one of the game's most exciting and unpredictable players. But the real question is whether Phil will be perceived as a winner. He has three majors to his name, but many fans believe he should own twice that many. The talent is there for Lefty to climb the ladder of golf's greatest champions. But as a commercial promotion once asked—what will Phil do next?
PHIL THE PLAYER
Though a big hitter off the tee, Phil bases his game on getting close to the pin with short irons. Even when he is in jail, he can find ways to spin marvelous shots within a few feet of the cup. From there, Phil relies on his putter. With the flat stick in his hands, he used to be decidedly streaky. Phil has worked hard on putts within four feet or so, but nothing is certain when he stands over the ball.
Phil makes a plan for every round and attacks the golf course, relying on his myriad talents to carry him through rough patches. Sometimes the results are magnificent. When everything is clicking, no one looks more comfortable coming down the stretch. Other times, the results can be heartbreaking.
Phil adjusts his club selection to suit the course and the circumstances. At times, for example, he has carried two drivers, one to hit a draw off the tee and one to hit a fade. Don't try this at home, kids.
Something in Phil's demeanor and physical appearance has led people to assume that he's the product of a childhood spent at exclusive country clubs. Even his habit of wearing a watch as he plays suggests this. These assumptions are neither accurate nor fair. Phil is an intense competitor. In fact, that quality sometimes gets him in trouble. He feels no shot is beyond his considerable talent, no matter the situation or the event. A golf fans knows, Phil has lost his fair share of tournaments thanks to that philosophy.
EXTRAS
* Phil is the only lefty to win the U.S. Amateur. He, Tiger Woods and Jack Nicklaus are the only players to win the NCAA Championship and U.S. Amateur in the same year.
* Phil and Ben Crenshaw are the only players to win three NCAA individual championships.
* Phil won the 1990 Porter Cup with a 63 in final round.
* Phil's caddy for his 1991 Northern Telecom Open victory was his college coach, Steve Loy. He later became Phil's business manager.
* At the 1991 Masters, Phil became the first lefthander to shoot a sub-par round at Augusta National.
* Phil shot a 59 at the 2004 Grand Slam of Golf.
* Phil shot 28-under at the 2006 Bellsouth Classic, a record for that event.
* In 2010, Phil joined Jimmy Demaret, Sam Snead, Nick Faldo and Gary Player as a three-time Masters champion. Only Tiger Woods, Arnold Palmer and Jack Nicklaus have more.
* Phil is one of just 18 players to win 30 or more PGA events.
* Phil shares three PGA course records: a 61 at the 2001 Travelers Chamionship, TPC Cromwell, a 60 at the 2005 FBR Open, TPC Scottsdale, and a 63 at the 2006 BellSouth Classic, TPC Sugarloaf. He also holds one outright: a 62 at the 2005 AT&T Pebble Beach National Pro-Am, Spyglass Hill.
* The first course that Phil designed was Whisper Rock in Scottsdale, Arizona.
* Phil won the 2004 ESPY for Best Championship Performance.
* Phil shares an interest in aviation with his father. After breaking his leg in a skiing mishap in March of 1994, Phil missed three-quarters of the tournament schedule, but he took advantage of his rehab period to earn his private pilot's license.
* After his 2004 Masters title, Phil wrote One Magical Sunday (But Winning Isn't Everything) with Donald T. Phillips.
* Phil's wife Amy once worked as a cheerleader for the Phoenix Suns.
* Part of Phil's weight-reduction program in 2008 included carrying his own bag on practice rounds.
* In 2008, Phil was inducted into the National Italian American Sports Hall of Fame. His mother, Mary, is of Italian descent.
Read more
Phil Mickelson Picture Gallery
Latest headlines