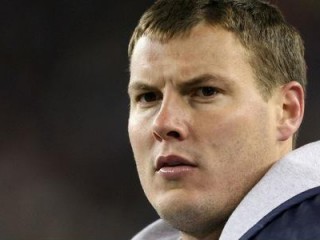 Philip Rivers biography
Date of birth : 1981-12-08
Date of death : -
Birthplace : Decatur, Alabama, U.S.
Nationality : American
Category : Sports
Last modified : 2010-08-23
Credited as : Football player NFL, quarterback for the San Diego Chargers, plays in Super Bowl
GROWING UP
Philip Rivers
was born on December 8, 1981, in Decatur, Alabama. Philip's dad Steve was a greatly admired high school football coach, and his mom Joan was a teacher. They would have two more children, Stephen and Anna, but not until Philip was in his teens.
Philip was drawn to basketball as an infant. He mastered dribbling at the age of two. A few years later, Philip's parents began taking him to high school games, both basketball and football. At halftime, he would stand in front of the pep band and pretend to conduct them. His dream was to be the star of the team and lead the music at intermission.
The athletic ability Philip displayed came from his father. Steve had been a linebacker for Mississippi State in the 1970s. Philp's competitive edge, meanwhile, came from Joan's side of the family. Philip was a video game fiend who specialized in Intellivision NFL Football. He would play for hours against his mother's father, Bob Gunner, until both of their fingers had turned black from the plastic controls. When Joan watched Philip play real football, she would cheer his successes but also gently criticize his failures. In the Gunner family, winning was the goal. If you made mistakes, you learned from them, then eliminated them.
In fifth grade, Philip was asked to create a poster that conveyed his ambitions. He handed in a Sports Illustrated cover with his face pasted on it. Steve and Joan believed their son had the talent to turn his dreams into reality. In fact, they were so sure that Philip would earn an athletic scholarship that they decided not to sock money away in a college fund.
And with good reason, thanks to Steve. Philip was the quintessential coach's kid. By the age of 12, he had spent as much time on practice fields and in film rooms as many college quarterbacks. He knew how to run an offense, and how to command a huddle. He also had developed a weird, sidearm throwing motion. Unlike other kids, who grew up tossing youth-sized footballs, Philip had been heaving around high school pigskins since he was little. His slingshot style might have been highly unorthodox, but it was also effective.
Speaking of unorthodox, Philip was a big fan of Steve Young, the Pro Bowl quarterback of the San Francisco 49ers. The lefty often relied on his vast physical gifts to improvise and make something out of nothing when a play broke down. While Philip admittedly didn't have Young's speed or running ability, his bookish understanding of the game was very similar.
Although the local Pop Warner coaches were hungry to get Philip on their teams, his dad refused to let him play youth-league football. Steve felt his son was learning far more about the game by watching high school practices. Even so, Philip would organize neighborhood ocntests in his backyard. These were not your ordinary pick-up games. Philip chalked out hashmarks and sidelines, and used flexible pylons in the corners of the end zone. The youngster had always been fascinated by well-manicured fields. When the family took trips to Altanta and went to Braves games, Philip would beg his parents to go early so he could watch the groundskeepers line the diamond and sweep the basepaths.
Philip's first start in an official game came in the seventh grade, in 1994. He would not see the bench again until he was an NFL rookie. In 1996, the Rivers family moved to Athens—Decatur's arch enemy—and Philip enrolled at Athens High, where his father was hired to coach the varsity. Philip became the starting QB on the freshman squad.
As a sophomore, Philip made the varsity, but Steve decided to play senior Grant Lauderdale. Philip did earn the nod at linebacker, however, where he learned a ton from the other side of the line. By season's end, Philip was atop the depth chart at QB. A growth spurt sent him past six feet as a junior, and he soon began drawing the attention of scouts and recruiters from major college programs. In his second year as the varsity starter, Philip completed 109 of 195 passes and doubled as the team's free safety.
As Philip's senior season unfolded, it became clear that he was the best prep passer in the state. There was tremendous pressure to play college ball for the Crimson Tide, but Philip was thinking about expanding his horizons. At Alabama, or Auburn for that matter, he would likely be compelled to switch positions. He crossed those schools off his list.
ON THE RISE
The first college to seriously recruit Philip was North Carolina State. Joe Pate, an assistant on Mike O'Cain's Wolfpack staff, convinced the teenager and his parents to consider graduating from high school in December of 1999. For Philip, the academic load wa s no problem. And if he arrived on the NC State campus early, he would be able him participate in spring practice. What's more, with the Wolfpack graduating four-year starter Jamie Barnette, the quarterback position was wide open.
This idea became even more intriguing when it was revealed that O'Cain would not be returning. When Philip learned that Florida State assistant Chuck Amato would be the head coach—and Brigham Young quarterback guru Norm Chow would run the Wolfpack offense—he decided to go for it.
Philip enrolled in January and suited up for his first practice as a college quarterback that spring, hoping to impress the NC State coaches and get the inside track as the team's quarterback. On his first snap, he was humbled by the speed and size of the players around him. The old openings were no longer there, and the pass rushers were on him a second or two quicker than in high school. Philip spent the next three days wondering whether he would ever complete a pass. When he finally settled down, he began to see new patterns emerge, and with them new opportunities. Amato was not surprised to see his freshman struggle, but was taken aback by the speed of Philip's adjustment.
The Wolfpack coach was well aware of his team's inexperience, lack of leadership, and porous offensive line. He also recognized that there was not an NC State player who could have started for Florida State. These deficiencies would normally preclude the consideration of an 18-year-old starting at quarterback. But as the 2000 season approached, Amato had wrapped his mind around the idea of having Philip under center.
The freshman stood 6-5, tipped the scales at 225 pounds, and was mature beyond his years. He grasped Amato's offense as if he'd been running it for years. The biggest question mark was Philip's unusual throwing motion. But he somehow got the ball to receivers where and when they needed it. What really sold Amato on Philip was his toughness and leadership qualities. The coach could sense that the Wolfpack players would follow the kid into battle. When Philip fractured the index finger on his throwing hand, he literally had to be pulled off the field. Amato's mind was made up. The starting job was definitely his.
Philip led NC State to a 8–4 record as a freshman, including a win against Minnesota in the Tangerine Bowl (aka Micron PC Bowl). Four of the Wolfpack's victories were comebacks. In his debut, a 38-31 double-overtime win over Arkansas State, Philip directed a 74-yard game-tying drive as time expired. A week later, he threw for 401 yards in a 41–38 nailbiter against Indiana. The performance was highlighted by a clutch 47-yard strike to NFL-bound Koren Robinson with under a minute to go. Against Duke, NC State trailed 31–28 late in the fourth quarter when Philip scampered into the end zone on a seven-yard run.
For the season, Philip passed for 3,054 yards and 25 touchdowns. He broke a half-dozen school passing marks, was ACC Rookie of the Week a record eight times, and earned honors as the conference Freshman of the Year. For the first time since Roman Gabriel ran the Wolfpack offense in the early 1960s, NC State had a bona fide All-American caliber quarterback.
In one season, Wolfpack football was back on the map. Tickets at Carter Finley Stadium were hard to come by, the fans were buzzing, and kids were wearing red #17 jerseys all over the state. Philip celebrated by tying the knot with his girlfriend, Tiffany Goodwin. The couple began to talk about a pro career and starting a family.
As a sophomore, Philip went to the air a bit less often. Opponents had made him the focus of their defensive game plans. Stopping the NC State passing attack was priority #1. Still, Philip connected for 2,586 yards and 16 touchdowns. His 65.2 percent completion mark led the ACC.
The Wolfpack finished the 2001 campaign at 7–4 and made a return trip to the Tangerine Bowl. Philip wa brilliant against Pitt in a losing cause, garnering the game's MVP award for the second year in a row.
After the season, Philip and and Tiffany welcomed their first child into the world, a girl named Halle. For any other Division I quarterback, the added distractions and responsibilities might have been too much. For Philip, being a dad was another fun challegne to take on.
In 2002, Philip led the Wolfpack to nine wins in their first 10 games—the best start in school history. The season took a disappointing turn when they lost their final two ACC contests, but NC State still received an invitation to play against Notre Dame in the Gator Bowl. Once again, Philip delivered an MVP performance, pacing the Wolfpack to a dominating 28-6 win over the Fighting Irish.
MAKING HIS MARK
As a senior, Philip was simply magnificent. In 12 games, he threw for 4,491 yards and 34 touchdowns, capping his career as the most productive and durable quarterback in ACC history. During his four years, he started 51 straight games and completed a conference record 1,147 passes in 1,710 tries, with 95 TDs. Philip went out with a flourish, leading the Wolfpack to a 56-26 win over Kansas in his third Tangerine Bowl. In the victory, he threw for a career-high 475 yards and five touchdowns. Philip earned his fourth straight bowl MVP award. That spring he was also named ACC Athlete of the Year.
With his sights now set on the NFL, Philip selected Jimmy Sexton as his agent and began working out for interested teams. The jury was out on his future as a pro. Some scouts said he would continue to evolve into a first-rate passer. Others were concerned that his big college numbers had been inflated by mediocre competition. The experts projected him as a late first-round pick or an early second-rounder. Draft day proved them wrong.
Coming off a 4-12 campaign, the Chargers were intent upon using thei first overall pick on a franchise quarterback. The man they wanted was Eli Manning, but the Ole Miss passer didn't feel the same way. Plan B was Philip, whom San Diego head coach Marty Schottenheimer had gotten to know during the Senior Bowl a few months earlier. Knowing Manning's reluctance to play for them, the Chargers struck a prearranged deal with the Giants. San Diego tabbed Manning, and New York, picking fourth, called Philip's name. The Giants immediately packaged him with their 2005 first-round and fifth-round picks for Manning and a 2004 third-rounder.
Sexton began negotiations with San Diego from a position ofr power. Since Philip was the guy the Chargers wanted at the top of the draft, hey should be willing to pay him as such. This opened a chasm that took a long time to close, the result being that Philip missed the crucial first four weeks of training camp in 2004. As the season started, he was on the bench with veteran Doug Flutie behind top gun Drew Brees.
Schottenheimer insisted the Philip would not have won the starting job even if he had reported on time. He preferred to allow Flutie to mentor the rookie on the sidelines. Philip was inactive much of the season, barely playing as the team's third-string passer. He logged the second half of the final regular season game against the Kansas City Chiefs and threw his first touchdown pass, to Malcolm Floyd. He was not on the active roster for San Diego's playoff loss to the New York Jets.
Although Philip technically was given a chance to beat out Brees in training camp in 2005, his second campaign was a replay of his first. Brees started every game, and Philip was inactive most of the season. Once again, he saw time in the season finale, this time engineering a 10-play, 69-yard touchdown drive on his first series after Brees left the field with a torn labrum. But a good start turned bad when he was intercepted, sacked three times and fumbled in his own end zone.
Finally, in 2006, Philip got his chance. Brees, a free agent, signed with the New Orleans Saints, leaving the club in Philip's hands. For the third-year pro, the wait had been interminable. Brees, to his credit, had at least made it tolerable. The veteran had taken Philip under his wing and taught him a lot about what was expected of an NFL starter, both on and off the field. And expectations were high. The Chargers had assembled a very good team for the '06 season. If Philip failed, there would be howls from the San Diego fans.
Philip stepped into an offense that featured the NFL's most explosive back in LaDainian Tomlinson, an All-Pro tight end in Antonio Gates, and a veteran big play receiver in Keenan McCardell. Just as important was the team's new quarterbacks coach, John Ramsdell. Years earlier, he had refined Kurt Warner's game when he was an MVP with the Rams. Ramsdell was also instrumental in grooming Marc Bulger as Warner's replacement in St. Louis.
Philip answered any lingering questions about his readiness in the pre-season opener against the Green Bay Packers. In a 17-3 victory, he played the first half and completed 15 of his 21 passes for two scores. Philip also led San Diego to victory in the regular-season opener, a workmanlike win over the Oakland Raiders.
A week later, Philip got a huge boost when he completed 25 passes in a win against the Tennessee Titans. The Chargers lost by a field goal in Baltimore the following Sunday, but the 16-13 defeat proved a turning point nonetheless. Philip stood his ground against the Ravens, who featured an elite defense led by Ray Lewis and Ed Reed. The difference in the game was one missed opportunity and one poorly thrown pass. It was a clear lesson for Philip, who saw where he needed to take his game for the Chargers to become a Super Bowl contender.
San Diego faced another great defense in Week 4, a Sunday Night contest against the Pittsburgh Steelers. The game would hinge on Philip's ability to throw the ball. He did just that, completing 24 of 37 attempts for 242 yards and a pair of touchdowns. Most impressive was his ability to rebound from a miserable first quarter. Philip started with an interception followed by a pair of three-and-outs.
Philip kept his composure, made adjustments, and led San Diego to a 23-13 win in the face of a swarming defense. This time, when opportunities presented themselves, he capitalized. He threw a TD on a third-down play in the red zone and converted an interception by Drayton Florence into six points. The game's biggest play came on a scramble, as Philip—not exactly a thoroughbred in the open field—scampered 15 yards for a first down with under five minutes left. Schottenheimer introduced his young quarterback at the post-game press conference as "Michael Vick Jr."
Philip registered his first 300-yard game as a pro against the 49ers in Week 6, an effort that earned him AFC Player of the Week honors. He hit on 29 of 39 passes for 334 yards and a pair of touchdowns against San Francisco. A month later, he burned the Cincinnati Bengals for another 300-yard game. This time, he threw for three scores to erase a 21-point deficit in a huge win for the Chargers. With the victory, their record stood at 7–2. Looking like the team to beat in the AFC West, San Diego registered wins over the Denver Broncos, Raiders and Buffalo Bills to sew up the division title by early December.
One week later, the Chargers found themselves in a 17-point hole against the Broncos, but Philip dug them out again. The victory over Denver marked the first time in NFL history a team had erased deficits of 17 points or more in back-to-back game and wo both. The Chargers also set a record by winning four straight games while giving up at least 24 points in each.
Philip finished the year as the NFL's fourth-rated quarterback. He completed 284 of 460 passes for 3,388 yards, 22 touchdowns and just nine interceptions. The Chargers finished 14–2 and faced the New England Patriots in the playoffs. Philip was under intense pressure all game, but he still managed to stake San Diego to a 21–13 lead.
In the second half, the Chargers appeared to stop a desperate drive by New England when they intercepted a Tom Brady pass on fourth down. However, Marlon McRee was stripped of the ball on his return, and the Patriots had new life. They scored moments later on a short pass, followed by a game-tying two-point conversion. With less than three minutes left, Brady completed a long pass to set up the go-ahead field goal. Philip responded with an efficient drive, but Nate Kaeding missed a 54-yard field goal with three seconds left. Philip showed great spirit and poise against the Pats. He also revealed his inexperience, throwing three interceptions and losing a fumble.
The Chargers began their second season under Philip's guidance with three losses in their first four games. New coach Norv Turner was feeling the heat, but the team righted its ship and won 10 of its final 12 games to make the playoffs. Philip displayed great leadership during good times and bad. He topped 3,000 yards and 20 TDs again, though his interception total rose to 15.
The Chargers had better luck in the playoffs this time around. Philip completed several key third-down passes against the Titans in a first-round Wild Card matchup. In a 17-6 victory over Tennessee, he threw for 292 yards.
The following week, against the Colts in Indianapolis, the Chargers trailed 17–14 at the end of the third quarter when Philip tossed a screen pass to Darren Sproles. The super-fast sctaback turned the play into a fantastic 59-yard touchdown to put San Diego ahead. Unfortuantely, Philip's third TD pass of the day came at a high cost. He felt something pop in his right knee and had to leave the game. Billy Volek finished up in an exciting 28-24 win.
The Chargers were one win away from the Super Bowl, but the Patriots again stood in their way. Philip's injury was diagnosed as a torn ACL. He insisted on playing and put on one of the more heroic performances in league history. However, with Tomlinson also injured and Gates banged up, the Chargers simply didn't have the horses. They lost 21–12.
Philip was healed by 2008, and he guided the Chargers on an exciting run to the playoffs. He was named NFL Player of the Week twice in an up-and-down season that saw San Diego drop eight of its first 12 games. On the brink of a disastrous season, Philip resurrected the club with wins in the final four games to finish 8–8. He threw 11 TD passes and just one interception during the span. The Chargers won the weakened AFC West with a rout of the Broncos. Philip finished the year with 34 touchdown passes to set a team record.
The victory over Denver underscored Philip's development as a leader. He and Broncos quarterback Jay Cutler didn't like one another, and neither was shy about it. They had traded barbs in the past and did so again during week before the contest. It was Philip who got the last laugh. He back up his tough talk with a masterful performance, passing for two scores and posting a QB rating of 141.
The club 's moment of glory figured to be short-lived, as the Chargers faced the Colts in the opening round of the playoffs. Though the game was in San Diego, the oddsmakers installed Indy as the favorite. To the shock and delight of their fans, the Chargers held their own against MVP Peyton Manning. Philip led a game-tying drive with less than two minutes to go, and San Diego won in overtime 23–17 on a touchdown by Sproles. Subbing for an injured Tomlinson, he racked up 328 all-purpose yards against the Colts—the third-most in postseason history. Philip, meanwhile, managed the game nicely, even though his numbers didn't necessarily refelct it.
San Diego's playoff run ended a week later. The Chargers traveled to Pittsburgh and lost 35-24. Ben Roethlisberger had a great game for the Steelers, while Philip had few opportunities to respond. Still, in the contest's most crucial sequence, he had a pass deflected at the line of scrimmage and intercepted by the Pittsburgh defense.
So what's next for Philip? The Chargers obviously took a big chance when they let Brees walk after 2005. The team was built to "win now," and needed a "win-now" quarterback. Philip has won, but not the big one. Meanwhile, the two other quarterbacks taken in the 2004 draft—Manning and Roethlisberger—both have Super Bowl rings.
The San Diego brass has since admitted there was no Plan B in 2006 if Philip failed to come through. For San Diego fans, this means they will hope the kid who showed up with his A Game can bring home a championship with a capital C.
PHILIP THE PLAYER
Philip may never draw comparisons to the all-time greats for his arm strength and mechanics, but he has already been hailed as the fastest young gun since Dan Marino. He finds his receivers and releases the ball so quickly that defenses rarely have a chance to react. On medium range passes, he has just the right combination of touch and zip.
Being a coach's son is always an advantage for a quarterback. In Philip's case, he reads the field better than most offensive coordinators. His ability to analyze and adjust to new defensive schemes led Sports Illustrated to call him the NFL's second-best quarterback under the age of 25, after a mere half-season as a starter. His mix of on-field toughness and off-field friendliness translate into the kind of leadership qualities that every team dreams of in a starter.
Of course, having LaDainian Tomlinson in the backfield has made Philip's job easier. However, when LT is not in the lineup, Philip does not mind shouldering the extra load. His acumen as a field leader enables San Diego's second-stringers to step up and perform well in the backfield. When the Chargers need Philip to make plays, however, he has shown a special knack for coming through. His talent and poise are ideal for the San Diego offense.
EXTRA
• Philip has worn number 17 since high school. His father wore the same number as a player.
• When Philip joined NC State, Steve Rivers relocated to Raleigh, where he took a job as head coach of Wakefield High School.
• In 2000, Philip broke Ben Bennett's ACC freshman record for passing yards.
• In 2003, Philip surpassed Donovan McNabb's Division I record with his 50th consecutive start.
• Philip's number was retired by NC State prior to his final home game in 2003.
• As a senior at NC State, Philip led the NCAA with a 72 percent completion rate and a QB rating of 170.5
v Philip was named 2003 ACC Player of the Year.
• Philip graduated as the NCAA's second all-time passer with 13,484 yards, and fifth all-time with 95 TD passes.
• Philip threw for five TDs in a game three times in college—against Indiana in 2000, Navy in 2001, and Kansas in the Tangerine Bowl, his last game for NC State.
• Philip set an ACC record with seven career 400-yard games. He was also the first in ACC history to put up three 3,000-yard seasons.
• In four college seasons, Philip was the MVP of three Tangerine Bowls, the Gator Bowl and the Senior Bowl.
• The Chargers used the 2005 first-round pick acquired in the trade for Philip on Shawne Merriman.
• One of Philip's favorite receivers in college was Jerricho Cotchery, who was also drafted in 2004, by the New York Jets.
• In 2006, Philip had the highest 4th-quarter passer rating in the NFL (116.6).
• In 2007, Philip shared the Chargers' Most Inspirational Player Award with Carlos Polk.
• Philip's 34 touchdown passes in 2008 broke Dan Fouts's team record of 33 set in 1981. He also became the only San Diego quarterback besides Fouts to surpass 4,000 yards in a season. Philip and Drew Brees finished 2008 tied for the NFL lead in touchdown passes.
• Philiip was voted NFL Player of the Month for December 2008.
• Philip had three consecutive three-touchdown games in 2008.
• Philip set a new team record with a 105.5 QB Rating in 2008.
• Philip finished fourth in the 2008 balloting for Offensive Player of the Year.
• The first NFL game Philip attended in his life was the 2004 season opener with the Chargers.
• Before warming the bench for the Chargers, Philip had never missed a game, for any reason, in his life.
• Philip prefers his full name over Phil. In college, his teammates called him "Cheese"—short for Philly cheese steak.
• Philip's favorite band is OutKast.
• Philip graduated from NC State in December of 2003 with a degree in Business.
• Philip and his wife, Tiffany, began dating in the 7th grade.
• Before Philip proposed to Tiffany, he asked for permission from coach Chuck Amato.
• Philip and Tiffany have three daughters, Halle, Caroline and Grace.
• After his junior season at NC State, Philip took a summer job as a counselor at Peyton Manning's Passing Academy. One of the other counselors was Ole Miss quarterback Eli Manning.
• Philip is an excellent golfer. Had he not pursued football, he believes he would have tried to become a pro.
Read more
Latest headlines