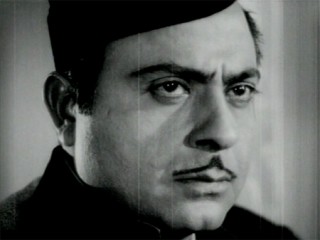 Pran (actor) biography
Date of birth : 1920-02-12
Date of death : -
Birthplace : New Delhi, India
Nationality : Indian
Category : Arts and Entertainment
Last modified : 2011-10-07
Credited as : Actor, Hindi cinema, Filmfare Lifetime Achievement Award
Pran is a multiple Filmfare and BFJA award-winning Indian actor, who is one of the most popular villains of Hindi cinema. He has appeared in over 350 films. Pran played the leading man in films like Halaku (1956) and Dharma (1973), Jangal Mein Mangal (1972), Gaddar and Ek Kunwari Ek Kunwara (1973). His pivotal roles in the films as dacoit Raka in Jis Desh Mein Ganga Behti Hai (1960), films like Victoria No. 203, Manoj Kumar's Upkaar (1967) and Purab Aur Paschim, Aurat(1967), Half Ticket (1962), as Sher Khan' in Zanjeer (1973), Amar Akbar Anthony (1977) and Don (1978) are considered to be among his best performances.
In 2010, he has been named the list of CNN's "top 25 Asian actors of all time".
He won the Filmfare Best Supporting Actor Award three times in 1967, 1969, and 1972 and was awarded the Filmfare Lifetime Achievement Award in 1997. In 2001, he was honoured with the Padma Bhushan by the Government of India, for his contribution to Indian cinema. Contrary to the villainous characters he played in his early films, he is very social, a member of various organizations, and even has his very own football team, Bombay Dynamos Football Club'.
Pran Krishan Sikand was born in Ballimaran, Old Delhi, into a wealthy family. His father, Kewal Krishan Sikand, was a civil engineer and a Government civil contractor, his mother was Rameshwari, and the couple had four sons and three daughters.
He was academically gifted, especially in mathematics. Since his father had a transferable job, he studied in various places, including Dehradun, Kapurthala, Meerut, Unnao Uttar pradesh, finally completing his matriculation from Raza High School, in Rampur. Thereafter, he joined A. Das & Co., Delhi as an apprentice as he wanted to become a professional photographer. This job took him first to Simla, where he played Sita to Madan Puri's Ram in the local staging of "Ramlila".
Pran married Shukla Ahluwalia on 18 April 1945, and has two sons, Arvind and Sunil, and a daughter, Pinky.
A chance meeting with the writer, Wali Mohammad Wali, who worked for Dalsukh Pancholi, at a shop in Hira Mandi, Lahore, led to Pran winning his first role as a villain in Dalsukh Pancholi's Punjabi film Yamla Jat (1940), a big hit in that year. This followed by Chaudhary and Khajanchi. Soon he established a name for himself as a villain in the Lahore film industry, along with other noted villains of time, Ajit and K. N. Singh. Later, Pancholi also cast him in Khandaan (1942), which was the first Hindi movie in which Pran became a hero, opposite Noor Jehan, who had earlier acted with him as a child artist.
Pran had acted in 22 films as a villain before his career experienced a brief pause, due to the partition in 1947. He left Lahore, and arrived in Bombay on 14 August 1947, though films didn't come his way, in fact months of wait and unsuccessful hunting followed, after which he moved to smaller hotels and eventually ended up in Delmar Hotel, Marine Drive. It was only eight months later, in 1948, that he got a chance to start all over again, with the help of writer Saadat Hasan Manto and actor Shyam, he got a role in Bombay Talkies film, Ziddi (with Dev Anand and Kamini Kaushal as leads), directed by Shaheed Latif, launched his career in Bombay. This film was also Dev Anand's big break as a hero, and there was no turning for Pran from then on. Then within a week, he signed three more films, S M Yusuf's Grihasti, a diamond jubilee hit, Prabhat Films's Apradhi and finally Wali Mohammad, who had first lured him into movies in 1940, had by then also moved to Bombay, turned a producer and set up office at Famous Studios, near Mahalaxmi Racecourse, offered him Putli.
Pran was regularly offered the role of the main villain or negative character in the films with Dilip Kumar, Dev Anand and Raj Kapoor as the lead hero in the 50's and 60's. Pran's performance as the negative character was very much appreciated in Dilip Kumar starrers like Azaad, Madhumati, Devdas, Dil Diya Dard Liya, Ram Aur Shyam and Aadmi and films with Dev Anand as the lead man like Ziddi (1948), Munimji (1955), Amar Deep (1958) etc. and with Raj Kapoor in Aah,[disambiguation needed] Chori Chori, Jagte Raho, Chhalia, Jis Desh Men Ganga Behti Hai, Dil Hi Toh Hai. Subsequently in the sixties and early seventies, even though his age had catched up and he was in his forties, being slim and fit, his demand in the film market never went down and was given pivotal roles as a young character aged between 25-30 in films with Shammi Kapoor, Joy Mukherjee, Rajendra Kumar and Dharmendra as the lead hero. Whereas Dilip Kumar and Raj Kapoor's career as the young hero started to decline from the late sixties as both of them had put on lot of weight in the sixties although they were younger to Pran.But Pran's association with Dev Anand continued even beyond the 60's with super hits like Johny Mera Naam, Warrant and Des Pardes. His film with him as the lead hero, Halaku in 1956, was big hit too.
Pran always had a significant role in comedy films starring Kishore Kumar and Mehmood Ali in the lead roles. Pran's memorable collaborations with Kishore Kumar as the leading man include Naya Andaz, Aasha, Bewaqoof, Ek Raaz and Jaal Saz and with Mehmood in Sadhu Aur Shaitaan, Lakhon Me Ek. The most memorable films of Kishore Kumar and Pran together remains Half Ticket and Man-Mauji.
In the late 1960s, with the character of Malang Chacha in Manoj Kumar's Upkaar in 1967, he turned to positive character roles, wherein the popular Kalyanji Anandji song, Kasme vaade pyaar wafaa was picturised on him. Ironically in this movie Kamini Kaushal also moved to character roles. Manoj Kumar continued to cast him in his films as the lead hero like Shaheed, Purab Aur Pachhim, Be-Imaan, Sanyasi, Dus Numbri and Patthar Ke Sanam. Many roles with him playing the supporting role to the hero were released and this way he reinvented himself as a character actor from being earlier the main villain. Pran from 1967 till 1997 became a well-known character actor in Hindi films and the most famous are the roles in Humjoli, Parichay, Aankhon Aankhon Mein, Jheel Ke Us Paar, Zinda Dil, Zehreela Insaan, Hatyara, Chor Ho To Aisa, Dhan Daulat, Jaanwar(1983), Raaj Tilak, Insaaf Kaun Karega, Bewafai, Imaandaar, Sanam Bewafa, 1942: A Love Story, Tere Mere Sapne(1997), Lav Kush. His films with Shashi Kapoor as the lead actor, too were big hits, notable being Biradari, Chori Mera Kaam, Phaansi, Shankar Dada, Chakkar Pe Chakkar, Rahu Ketu, Apna Khoon and Maan Gaye Ustaad.
In the seventies, Pran was also offered the role of leading man, on whose shoulders the film ran like Dharma(1973), Ek Kunwari Ek Kunwara, Jangal Mein Mangal, Rahu Ketu. Since the fifties till late eighties, Pran was often casted with Ashok Kumar, to play either the role of two friends,around whom the story revolved, in films like Victoria No. 203, Chori Mera Kaam, Chor Ke Ghar Chor, Apna Khoon, Aap Ke Deewane and Raja Aur Rana or as two different characters in films like Pooja Ke Phool, Purab Aur Pachhim, Adhikar, Naya Zamana and Aansoo Ban Gaye Phool.The two veteran actors, Ashok Kumar and Pran were very close friends in both professional and real life too and have acted in 17 films together.
Pran recommended the then newcomer Amitabh Bachchan to Prakash Mehra for the character of Vijay in Zanjeer, which was earlier offered to Dev Anand and Dharmendra but was rejected by them due to some reason. Pran acted with Amitabh in 15 films, the most notable being Zanjeer, Don, Amar Akbar Anthony, Majboor, Dostana, Naseeb, Kaalia and Sharaabi. He was at the peak of his career in the 1970s,when he acted in action thriller, Don, and in those days Pran was paid much more money than Amitabh Bachchan.The actors to be paid higher than Pran was Rajesh Khanna in the 70's and 80's and in the 50's and 60's it was the trio of Dilip Kumar, Dev Anand and Raj Kapoor along with Rajendra Kumar.Pran remains the only male actor in Hindi Cinema to have tasted many box office success throughout his active career for six decades without any dip or low phase in his long career.
Pran had started accepting more of versatile roles since the late sixties but occasionally continued to accept the role of a bad man in the 70's, 80's and 90's too in films like Kab? Kyoon? Aur Kahan?, Gaddar, Andhaa Kanoon(1983), Duniya (1984), Hoshiyar, Dharm Adhikari and Azaad Desh Ke Ghulam. Director Prakash Mehra always casted Pran in most of his directorial ventures in his career like in Ek Kunwari Ek Kunwara, Zanjeer, Aan Baan, Khalifa,[disambiguation needed] Jwalamukhi, Sharaabi, Jaadugar. Pran was a hot favourite with Manmohan Desai too having directed Pran regularly in his directorial ventures like Chhalia, Bluff Master, Dharam Veer, Naseeb, Amar Akbar Anthony.Subhash Ghai casted him in Vishwanath, Karz and Krodhi.
In the late nineties, Pran started rejecting film offers citing his old age related problems.But in the nineties when Amitabh was going through the bad patch in his career,he requested Pran to do roles in his home productions Mrityudaata and Tere Mere Sapne and Pran made an exception by acting in them. Pran's legs had begun to shiver in 1997 so his character in Mrityudaata was modified accordingly to justify his shivering legs and in Tere Mere Sapne, his shots were taken with him being seated. Post 2000, he made few guest appearances.
The legendary "Villain of the Millennium" has had a marathon six decades long career in Hindi Cinema and is one of the most celebrated actors of the industry. So effective was his acting that it said that people stopped naming their children 'Pran' because of his villain roles, while the industry had started calling him 'Pran Sahab'. His favourite line "Barkhurdaar" became immensely popular.
His biography, ...and Pran was so named because, in most of the movies that he acted in, his was the last name in the cast portion of the credits, with the words "...and Pran" and sometime "..above all Pran".
Read more
Latest headlines