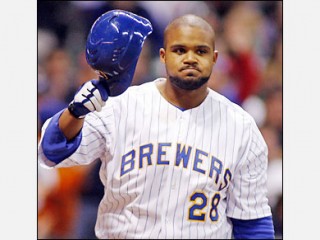 Prince Fielder biography
Date of birth : 1983-05-09
Date of death : -
Birthplace : Ontario, California
Nationality : American
Category : Sports
Last modified : 2010-10-25
Credited as : Baseball player MLB, first baseman for the Milwaukee Brewers ,
Like father, like son. If it were only that simple for
Prince Fielder
. The
Milwaukee Brewers
slugger owes a lot to his dad, Cecil—his squat, powerful frame, an explosive lefthanded swing and a baseball acumen that belies his age. But genetics are all that connect the two these days. Prince made the difficult decision to cut his dad out of his life after questionable behavior by the elder Fielder threatened the welfare of the entire family. Prince, of course, is doing just fine on his own. In fact, after just two seasons in the bigs, he's proving that indeed the son also rises.
GROWING UP
Prince Semien Fielder
was born on May 9, 1983 in Ontario, California. It seemed he was destined to be a big-league ballplayer. At the time, his father, Cecil, was toiling in the minor league system of the Toronto Blue Jays. Prince was never far from a baseball diamond.
He was also constantly on the road. Prince, younger sibling Ceclynn and their mother, Stacey, followed Cecil wherever his career took him. They often lived in small apartments with other baseball families.
Prince basically grew up in the clubhouses of different major league teams. He was playing ball as soon as he could walk. After Prince's fifth birthday, his father turned around his right-handed son and had him bat lefty, telling him that he'd thank him for it later. It turned out to be a great move, especially as Prince matured into a powerful teenager.
The Fielders found their most stable home in Detroit, settling there for three years while Cecil starred with the Tigers. The city was good to the the family. There, Prince attended middle school and made history. As legend has it, at age 12 he hit a home run into the upper deck at old Tiger Stadium.
A year later, the Fielders were on the move again, this time to a new home in Melbourne, Florida. The 50-room mansion was a kid's dream. It included full-sized tennis and basketball courts and designated playrooms for both Prince and Ceclynn. Prince never ran out of activities around the house, whether it was the theater room or the enormous pool.
Still a Tiger, Cecil was in the midst of a great big-league run after years of struggling to stick in the majors. He would end his 13-year career with 319 homers and more than 1,000 RBIs. Prince benefitted greatly from his father's All-Star status. Batting practice at Skydome, Tiger Stadium, and Yankee Stadium were regular occurences for hims. The 1996 season was particularly memorable. Cecil joined the Yankees late in the season and won a championship with New York. Prince learned a great deal by watching rookie Derek Jeter, who worked as hard as any veteran on the club.
Despite his baseball pedigree, Prince considered pro hoops as a high schooler. But when he did a reality check, he realized his size and strength lent more favorably to baseball. From there on, he focused soley on his dad's vocation.
Prince developed his two-sided baseball demeanor at a young age. Before games, he was all smiles and jokes. When it was time to play ball, he was all business. As a teenager, Prince began to show flasheof the player he was going to be. A power hitter, he continued to gain strength as his body grew.
Prince entered Eau Gallie High School in the fall of 1998. By his sophomore year, he was the best hitter for the Commodores, but scouts were already skeptical. At close to 300 pounds, Prince was criticzed for being undisciplined and unathletic. Both were unfair characterizations.
Prince has a huge season in his senior year, batting .524 with 10 home runs. Noting his awesome power and no-nonsense attitude on the field, big-league team were now salivating over the youngster. The only concern was that Prince was all bat and no glove. Drafting a player who potentially couldn't field his position was a risk that scared some clubs away.
Prince was determined to change that perception. Cecil, acting as his son's agent, also hired a personal trainer for Prince, helping him shave 60 pounds off of his big frame. More fit and lean, the teenager increased his speed and agility. Prince turned himself into a surefire first rounder.
ON THE RISE
Prince was drafted by the Brewers was the seventh overall pick in June of 2002. Baseball America rated him the draft's top first baseman and 24th best prospect overall. Milwaukee inked him to deal that included a $2.4 million signing bonus.
Prince's first stop was Ogden, Utah in the Pioneer Rookie League. In his pro debut, he slammed a game-tying grand slam in the ninth inning. He never stopped hitting. In 41 games with the Raptors, Prince batted.390 with 10 homeruns, 12 doubles, and 40 RBIs there.
In August, the Brewers promoted Prince to the Class-A Beloit Snappers. He made an impression, launching an opposite-field home run off a left-handed pitcher.
Prince enjoyed his time with Beloit. His roommate, Tony Gwynn, Jr., was also the son of a famous father, and the two became close friends. Prince worked hard on his game, spending extra hours with Snappers Manager Don Money on his defense. As a consequence, he didn't hit as well with the Snappers. By year's end, however, the Brewers were happy with his progress.
As a reward for his fine first season, Milwaukee invited Prince to spring training with the big club in 2003. Though he knew he would be an early cut, the chance to play side-by-side with major leaguers was an invaluable experience. His father flew in to watch the exhibition games, charting his son's development. Prince was elated with the opportunity before him.
He logged the entire '03 campaign with Beloit and battered Midwest League pitching. His final numbers—.313 batting average, 27 home runs, 112 RBIs and a .526 slugging percentage—put him among the league leaders in every power category. In turn, he clearly established himself as one of the jewels of the Milwaukee farm system.
It was around this time that Prince's relationship with his father deteriorated. The two had been close, and Cecil always seemed to have his son's best interests at heart. But questionable behavior and poor business decisions put an increasingly large strain on the family. Prince ultimately chose to cut off contact with his dad. His mother—who remains an important part of his life—did not dissuade him.
Prince opened the 2004 campaign with Class-AA Huntsville and put up a strong first half. With a .256 average, 14 homes and 46 RBIs, Prince earned a spot played in the All-Star Futures Game. Just as impressive was his glove work. Prince didn't remind anyone of a Gold Glover, but he was getting to more balls and demonstrating soft hands around the bag.
Prince started 2005 with the Nashville Sounds of the Pacific Cost League, and broke from the gate on a tear. Fans got into the habit of coming to the ballpark early for his BP shows. During one session, he hammered a ball that was traveled an estimated 470 feet, clearing the outfield wall, trees, a picnic area, and a 10-foot high chain link fence.
In June, Prince got the call to join the Brewers. With interleague games set to begin, Milwaukee chose to use him as its DH in American League parks. He picked up his first big-league hit against Hideo Nomo, and then later homered off Minnesota's Matt Crain for his first round-tripper. The Brewers sent him back to Nashville with the understanding that he'd be up again by season's end. That's exactly what happened, as Prince ound up hitting .288 with two homers and 10 RBIs in 59 at-bats in Milwaukee.
MAKING HIS MARK
The Brewers had seen enough from Prince to know he was ready to be their everyday first baseman. To clear the spot for him, over the winter they dealt Lyle Overbay to Toronto. With the trade, the pressure on Prince heated up. Milwaukee hadn't been to the playoffs since 1982. Prince was expected to bring much needed power to the middle of the lineup and end that drought.
Initially, he struggled mightily. Prince began the 2006 campaign hitless in his first 11 at-bats, striking out seven times. Fans at Miller Park were not dismayed. They rose to their feet when Prince walked to the plate, hoping to will their newest prospect to succeed. The support appeared to produce results. Prince snapped his slump with a game-winning bloop RBI single, and then got into a groove. He ended April hitting .344 with five homers and 16 RBIs, plus a .552 slugging percentage and a .400 on-base percentage.
For the majority of his rookie season, Prince let his bat do his talking. He hit a solid .271 with 28 home runs and 81 RBIs. While his numbers didn't blow anyone away, the way he went about his business did. Prince was quiet but hardly aloof. He listened to the advice that was given to him and worked hard in practice. Milwaukee's veterans sensed he was a special player.
Prince proved them right in 2007. Away from the field, his personality began to shine through. He became a real presence in the clubhouse and accepted more responsibility as a team leader.
When Prince was asked to take rookie third baseman Ryan Braun (six months his senior) under his wing, he gladly assumed the role of mentor. Prince showed the young slugger the ropes—and even offered him a little tough love when he got out of sorts. Not coincidentally, Braun posted one of the best rookie seasons in recent history.
Prince also got it done at the plate. Going into the All Star break, he led the NL with 29 home runs. Fans acknowledged him with the second highest total of votes for the Mid-Summer Classic. In the process, Prince became only the eighth Brewer to start the All Star Game. He participated in the Home Run Derby at AT&T Park in San Francisco and launched a 455-foot moon shot, but failed to make it out of the first round.
With the Brewers in a heated division race with the Cubs, Prince's temper got the best of him in an August game, resulting in a three-game suspension after a faceoff with plate umpire Wally Bell over a called third strike. After a hot start, Milwaukee had surrendered a comfortable lead in the standings to Chicago. Every on the roster, manager new Yost included, was feeling the noose tightening.
Prince responded with a scintilating September. In 90 at-bats, he batted .333 and slammed 11 homers. Alas, it wasn't enough for the sputtering Brewers, who finished two games behind the Cubs and out of the playoffs.
Nobody is blaming Prince for Milwaukee's collapse. To the contrary, he is one of the leading candidates for NL MVP. And in a season where home run totals fell in both leagues, Prince hit 50 long balls and drove in 119 runs. Both numbers rivaled the best single-season production in his dad's career.
When the subject turns to Cecil, Prince remains tight-lipped. On the field, he has always let his bat do his talking. Off it, he sees no reason to speak about his dad at all.
PRINCE THE PLAYER
Prince is not your father's Fielder. He has a quick bat and the ability to hit for average and power while using all fields. Some sluggers of Prince's stature are only pull hitters, which makes them easier to defend. Prince, however, can drive a pitch the other way with just as much authority.
While defensively no one will confuse him with Keith Hernandez, Prince has steadily improved his play at firstin a path similar to that of Albert Pujols. Is there a Gold Glove in his future? Maybe not, but Prince is by no means a liability in the field.
With all of his accomplishments so far, it is Prince's effort and enthusiasm that really stand out. In 2007 for example, Prince, a large man by any standard, hit an inside-the-park home run. Watching him run the bases, you could see nothing could or would stop him. This combination of determination and childlike enthusiasm for the game helps keep Prince and his teammates motivated and loose.
EXTRA
# As a kid, Prince starred with his father, Cecil, in a McDonald's Triple Cheeseburger ad.
# Prince's high school, Eau Gallie, has produced two other big leaguers, pitches Jeff Tam and Tim Wakefield.
# In 2005 with Nashville, Prince had to wear number 66. Jerseys were assigned according to size, and he couldn't fit into anything smaller. The only bigger uniform issued that year was number 68, worn by Ozzie, the Sounds' mascot .
# Prince was named the NL Rookie of the Month in April of 2006.
# Prince had only 39 games in the majors when the Brewers made him their everyday first baseman.
# Prince has a tattoo on his neck that reads wahngja, which means prince in Korean. He has no special attachment to Korea, he just wanted it.
# Teammate Rickie Weeks was best man at Prince's wedding.
# Prince's first son, Jadyn, was born during the Triple-A All Star break in 2005. His s econd son, Haven Cole, was born March 21, 2006.
# Prince hits with a 35-inch, 32-ounce bat.
# Prince's nicknames include Little Big Daddy and Power Fantastic.
# Off the field, Prince hasn't spoken to his father in three years for a variety of reasons. He prefers not to talk about it and focuses on his play when interviewed.
Read more
Latest headlines