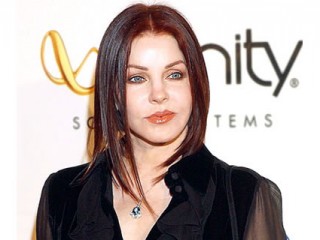 Priscilla Presley biography
Date of birth : 1945-05-24
Date of death : -
Birthplace : Brooklyn, New York, U.S.
Nationality : American
Category : Arts and Entertainment
Last modified : 2010-05-13
Credited as : Actress, Elvis Presley wife, Dancing with the Stars
Though her place in pop culture history was ensured by marrying
Elvis Presley
in 1967, the life and career of
Priscilla Presley
encompassed much more than just being the wife of the King of Rock 'n' Roll. In the years following her divorce from Elvis in 1972, she managed her own successful boutique, before delving into acting for the better part of two decades, which included roles on "Dallas" (CBS, 1978-1991) and the "Naked Gun" screen comedies. Her influence later expanded to include a best-selling autobiography and a line of beauty products, but her most impressive achievement was the transformation of Elvis' home, Graceland, into a world-class tourist attraction. Her stewardship of Elvis Presley Enterprises later earned her a place on the board of directors of MGM. Presley also weathered several lives' worth of scandals, including tell-all books about her marriage to Elvis, and daughter Lisa Marie's short-lived unions with Michael Jackson and Nicolas Cage, with impressive grace.
Born
Priscilla Ann Wagner
(or
Priscilla Beaulieu Presley
) in Brooklyn, NY, on May 24, 1945, Presley lost her biological father, Air Force pilot James Frederick Wagner, in a plane crash while she was still in her infancy. Her mother Anna married Paul Beaulieu, another Air Force officer, and the family traveled extensively during her childhood and adolescence. In 1959, the Beaulieus were stationed in Wiesbaden, West Germany when 14-year-old Presley met newly minted U.S. Army serviceman Elvis Presley, who was in the middle of his highly publicized stint with the military. Their relationship was covered in detail by the press, though there was a surprising lack of uproar over the age difference, especially in light of the public excoriation that fellow Sun Records alumni Jerry Lee Lewis received for marrying his teenage cousin.
Elvis was discharged from the Army in 1960 and returned to the United States, leaving 15-year-old Presley behind in Germany. The only contact between the two was through letters and phone calls, leaving Presley undoubtedly concerned over reports that Elvis had begun dating singer Nancy Sinatra. Yet the teenager remained exceptionally patient for the next two years, maintaining regular contact with Elvis, who was advised by his notorious manager Colonel Tom Parker to avoid any long-term relationships, and who publicly squired several notable beauties of the day, including Tuesday Weld. In private, Elvis' heart was firmly devoted to Presley – enough to press her to visit him at his Graceland estate. Finally, in 1962, Elvis invited her to join him in Los Angeles; Presley was overjoyed, but required Elvis to persuade her stepfather that his intentions during the trip were entirely honorable. After agreeing to a substantial list of demands, the Beaulieus agreed to the visit – which quickly expanded to a side trip to Las Vegas. During her two-week stay with Elvis, Presley's signature '60s look – the colossal beehive, the layered mascara – came into existence, reportedly at the behest of the singer.
When Presley returned to Europe, the separation proved too painful for Elvis, and in late 1962, he contacted her parents with a shocking request – he wanted Presley to relocate to Memphis permanently to finish her schooling in the United States. Presley would live with Elvis' father, Vernon, and his stepmother Dee in a home behind Graceland, and promised to provide her with the finest education and living situation. Elvis underscored his request with the notion that he was unable to live without Presley, and after much debate – as well as a visit to the set of Elvis' movie "Fun in Acapulco" in late 1962 – the Beaulieus agreed to Elvis' terms. Presley promptly moved to Memphis.
At first, she lived by the original agreement, with Elvis visiting her in the evenings, but eventually, she moved permanently into Graceland. She spent her days attending the all-girl Immaculate Conception High School, and in the evenings, stayed in Graceland with Elvis' grandmother or spent her time shopping or going to the movies. Elvis was invariably away on one movie set or another, and her time as the lady of Graceland tended to be lonely. When he was in town, the singer was courtly, even shy with Presley, according to her 1987 autobiography, Elvis and Me; revealing the couple reportedly did not consummate their relationship until after they married. Subsequent publications by parties orbiting Elvis' sphere of influence painted a different and decidedly more salacious picture of Elvis and Presley's personal life. In fact, Presley addressed many of them with swift litigation, such in the case of singer Currie Grant, who claimed that Presley promised him sexual favors in exchange for an introduction to Elvis – in which she sued and won. Whatever the circumstances of their personal lives, Presley married Elvis at the Aladdin Hotel in Las Vegas, NV on May 1, 1967, and their sole child, daughter Lisa Marie, was born exactly nine months later on Feb. 1, 1968.
Signs that the marriage was in trouble began surfacing during Presley's pregnancy. While in her third trimester, Elvis suggested that they explore a trial separation. Reasons for the strain ranged from his extramarital affairs with Ann-Margret (among others) and growing dependence on drugs, to the intense cooling-off period that his career was undergoing during the 1960, due in no small part to the British Invasion. But there was no denying that the love Presley and Elvis shared during their early courtship waned significantly after the birth of their child – due entirely to Elvis' beliefs. However, they remained exceptionally close as friends, and Elvis remained a doting father to Lisa Marie. By 1969, the famed couple was living virtually apart due to his return to live performance. They finally separated in 1972, and their divorce was finalized a year later. According to reports, they held hands throughout the proceedings, and were friendly up until his death in 1977.
Presley's personal life after Elvis was highlighted by several serious relationships, including karate instructor (and Bruce Lee associate) Mike Stone, model Mike Edwards (which ended when he admitted to feelings for then-teenaged Lisa Marie – an event detailed in his salacious book Priscilla, Elvis and Me), and Italian writer-director Marco Garibaldi, which lasted from 1984 through 2006. Presley and daughter Lisa Marie's relationship was particularly tempestuous during this period, but both seemed to find common ground in the Church of Scientology, which they joined in 1979 after being introduced to the organization by John Travolta.
Presley began exploring a career in acting during the final years of her marriage to Elvis. She also maintained a successful boutique from 1973 through 1976, and counted several major celebrities as clients. She eventually signed with the William Morris Agency and landed a job as the national spokesperson for Wella Balsam's line of hair products. But her time and energy during this period was spent serving as co-executor of Elvis' estate. She assumed the title following the death of his father in 1979, and was dismayed to discover that Col. Parker's machinations, combined with the expense of maintaining Graceland, had dwindled Elvis' holdings (and Lisa Marie's inheritance) to $5 million. After extensively researching how other homes-turned-museums had turned a profit, she hired a CEO to oversee Elvis Presley Enterprises, and opened Graceland to the public in 1982. The move proved to be a profitable one, and under her direction, the organization developed into a multi-million dollar entity with profitable licensing, merchandising and publishing programs, as well as film and television projects. In 2005, Elvis Presley Enterprises was purchased by CKX Entertainment, and Presley retained a position on the CKX board as director.
Though she had once been considered as part of the original lineup for "Charlie's Angels" (ABC, 1976-1981), Presley's acting career began modestly with a co-hosting job on the ABC series "Those Amazing Animals" (1980-81). She later graduated to a recurring role as Jenna Wade, Bobby Ewing's first love and mother of his son, Lucas, on "Dallas" from 1983 to 1988. She departed the series after disagreeing with the direction of her character and the series, settling into a regular rotation of guest star roles and appearances on Elvis-related documentaries and specials. In 1987, she penned her best-selling biography, Elvis and Me, which took an unflattering look at her life with her famous ex-husband, and served as executive producer of the Emmy-nominated TV-movie adaptation in 1988. Meanwhile, Presley displayed a knack for dizzy comedy as Leslie Nielsen's love interest in all three "Naked Gun" comedies – "The Naked Gun: From the Files of Police Squad!" (1988), "The Naked Gun 2 ½: The Smell of Fear" (1991) and "Naked Gun 33 1/3: The Final Insult" (1994).
Not one to remain content with one particular achievement, Presley also launched her own fragrance, Moments, in 1988. Its popularity yielded a second brand, Experiences, in 1994, and Indian Summer followed in 1996. And in 1987, she became a mother for the second time with the birth of a son, Navarone, with Garibaldi. Her acting career continued throughout the 1990s with recurring appearances on "Melrose Place" (Fox, 1992-99) and "Spin City" (ABC, 1996-2002), as well as an uncredited appearance in "Austin Powers: International Man of Mystery" (1997). She also served as executive producer on the short-lived "Elvis" TV series (ABC) and several other Elvis-related projects – including the indie comedy "Finding Graceland" (1998) – as well as the independent feature "Breakfast with Einstein" (1998).
Presley weathered a storm of controversy in 1997 which arose from the publication of Child Bride: The Untold Story of Priscilla Beaulieu Presley, and drew testimony from friends and distant relatives of Elvis, as well as Mike Edwards and other peripheral figures to paint a picture of her as sexually voracious and manipulative. She busied herself with her other interests, and in 1998, Presley was the recipient of an honorary degree from Rhodes College in Memphis. In 2000, she was named to the board of directors of MGM, where she worked on a remake of Peter Sellers' "The Party" (1960) with "Austin Powers" director Jay Roach. She also began developing a stage musical based on her own life and experiences, and slowly rebuilding her relationship with Lisa Marie. She even supported her daughter during the press tornados that accompanied Lisa Marie's short-lived marriages to pop icon Michael Jackson and actor Nicolas Cage; even walking her down the aisle for her marriage to musician Michael Lockwood in 2006. The mother and daughter also appeared regularly together at celebrity events, and in several print layouts. In 2008, Presley was named as a contestant on the sixth season of "Dancing with the Stars" (ABC, 2005- ).
Read more
Latest headlines