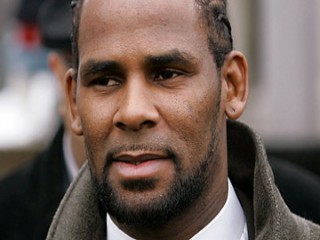 R. Kelly biography
Date of birth : 1967-01-08
Date of death : -
Birthplace : Chicago, Illinois
Nationality : American
Category : Arts and Entertainment
Last modified : 2011-01-08
Credited as : R&B singer songwriter, hits: Bump 'n' Grind, You Are Not Alone
Robert Sylvester Kelly, best known by the stage name
R. Kelly
is an R&B singer, songwriter, performer and record producer.
R. Kelly, the three-time Grammy winning king of R&B, makes music of epic proportions. After 18 years of stardom, the multi-instrumentalist, producer and vocalist continues to forge an artistic path that caters to fantasy and captures the hearts of adoring fans, which is in essence, how an artist sells over 34 million records, and wears the crown of a king.
Kelly's singing career began in a storefront church choir when he was a boy. He stayed clear of the city's growing gang scene, and along with his four siblings gained admission to the Kenwood Academy, a top-quality high school operated by the Chicago Public Schools in the Hyde Park neighborhood, in the shadow of the prestigious University of Chicago. The same school also produced 1970s diva Chaka Khan and rapper Da Brat. At Kenwood, Kelly received a thorough grounding in classical vocal technique from teacher Lena McLin. "She was my second mother," Kelly told Ebony. McLin recalled in Vibe magazine the broad musical studies that helped Kelly accomplish so much so quickly when he reached adulthood: "Music history, theory, piano, choir, opera workshop, jazz workshop--Robert took it all." He also accompanied her to a music educators' conference in Austria.
Kelly quickly directed his ambitions toward a musical career. A single afternoon spent playing and singing under Chicago's elevated railroad tracks around the time of his graduation netted him $400 and gave the young singer an indication of his ability to move a crowd. He formed an R&B group called MGM, which took home a $100,000 grand prize on a television talent search program. His breakthrough came when he auditioned for a gospel musical directed by Robert Hankerson, a well-connected impresario who had earlier been married to vocalist Gladys Knight. Kelly showed up late, and Hankerson had left the audition area. But Kelly sang for some of the director's assistants, who insisted that Hankerson return and hear the latecomer. Kelly not only landed a role but also gained a manager. With Hankerson's help, Kelly was signed to the New York-based Jive label in 1990.
Kelly's first release, the 1991 album
Born into the 90s
, was certified platinum for sales of over a million copies. Two years later, the multiplatinum smash 12 Play put the artist in Billboard magazine's top ten for over three months, and several of its singles topped the R&B charts. "Bump 'n' Grind" remained at number one for longer than any other R&B single of the previous 30 years. The music on 12 Play fixed Kelly's style in the public mind. He became known for self-composed and self-produced recordings like "Sex Me," uninhibited, explicitly erotic odes with intense rhythm tracks and a distinctive tension-filled vocal style. On stage, recalled a writer for Ebony, Kelly was "the 'Prince of Pillowtalk,' who dropped his pants during his concerts to the delight of thousands of screaming women."
No matter how raunchy Kelly's lyrics became, his arrangements and compositions were always varied and full of interesting musical detail--possibly as a result of his classical training. Kelly has produced all of his own recordings, and other artists have sought him out as a producer and songwriter, intrigued by the palette of sounds he seemed to have at his command. Kelly has worked with Whitney Houston, Quincy Jones, Toni Braxton, Gladys Knight, and, most famously, Michael Jackson, as composer of the Number One hit "You Are Not Alone," released on Jackson's HIStory album. Another creative collaboration made headlines in the nation's music press: Kelly's stint as producer of the 16-year-old vocalist Aaliyah. Rumors about the two peaked in 1994 with speculations that they had married. Although Kelly maintained that the relationship was nothing more than platonic, reports of the couple's marriage annulment circulated widely, indicating that Aaliyah had falsely claimed to be 18 at the time. Kelly never confirmed the marriage. When Kelly moved into his new mansion--a spectacularly renovated Near North Side Chicago church--he lived there alone until 1996 when he married Andrea Lee, a dancer in his touring troupe.
Meanwhile, Kelly's music began to move in a new stylistic direction. Like many other black musicians, Kelly had made no secret of the fact that he drew heavily on the gospel music that he had sung as a youth. He stated in Ebony, "Take away the sexy bump and grind, and you can easily put in gospel lyrics." Following his mother's death from cancer in 1993, Kelly began making music that connected with gospel more directly. His third album, R. Kelly, included several gospel tunes, and he broke through to a wider pop audience than he had ever previously reached with his huge 1996 hit "I Believe I Can Fly," from the soundtrack of the film Space Jam. Although not strictly a religious song, "I Believe I Can Fly" bowed toward gospel in its quotation of the turn-of-the-century revival hymn "Leaning on the Everlasting Arms" and in the swelling choral lines that generated its glorious climax. The song deftly fused gospel with a Disneyesque language of inspiration, and soon became a fixture of high-school choir presentations all over the country. For it, Kelly won three Grammy Awards in 1998.
It should not then have come as a complete surprise that Kelly, making a guest appearance at a 1997 concert by the young gospel phenomenon Kirk Franklin, was quoted by Ebony as making this proclamation: "I used to be flying in sin--now I'm flying in Jesus." According to Ebony, Kelly told Franklin, "You know I'm sick and tired of being sick and tired, and I really want to get some things in my life right with the Lord," and it became clear that Kelly was considering a switch to gospel music himself. If he made the switch, he would follow in the footsteps of some illustrious predecessors--Al Green and Little Richard being the best known. The influential R&B critic Nelson George, quoted in Ebony, pointed out that Kelly had several options open: "He could do gospel and R&B, or he could simply write love songs with less explicit language.... It will all depend on whether he plans to sing true gospel, R&B, or that funny thing in the middle."
Not long after making his religious announcement, Kelly fulfilled another one of his dreams: playing professional basketball. Though it was not with the world-renowned NBA, he played a full eight-week season in the summer of 1997 for the Atlantic City Seagulls of the United States Basketball League. Soon Kelly returned to his musical career, releasing his fourth album titled R. in 1998. The album featured several spiritual songs, including a duet with Canadian singer Celine Dion. Kelly blended his former song styles with his religious leanings in his next album TP-2.com, released in 2000, which featured both spiritual and more explicitly sexual songs.
Kelly's public image has been marred by several allegations of sexual relations with minors. He settled with two women who filed suits against him in 1996 and in 2001, but he was charged with 21 counts of child pornography in 2002. Kelly was charged with, among other things, enticing an underage girl into performing illicit acts and directing and producing a videotape of the acts. The tape was sent anonymously to the Chicago Sun-Times on the day Kelly performed at the Winter Olympics wrapped in an American flag. Kelly was released on $750,000 bond. In 2003 Kelly was arrested in Florida on 12 counts of possessing child pornography. He was released on a $12,000 bond. By February of 2004 court proceedings had begun in Florida but no trial date had been set for the earlier charges.
Despite his troubles with the law, Kelly's music continued to resonate with fans. His albums TP-2.com and Chocolate Factory, released in 2003, both reached the top of the Billboard chart. In 2001 Kelly won several top R&B music awards, including the Source R&B Artist of the Year, the Billboard Top R&B Artist of the Year, and in 2003 he won the BET Award for Best Male R&B Artist and several awards at the Billboard Music Awards.
What seemed clear by the early 2000s was that R. Kelly had the talent, training, and depth to make powerful music in a variety of styles. His former teacher McLin predicted in an interview with Vibe that: "We've not yet seen the heights to which Robert can go.... Robert is an immense talent. I don't say that to build him up, I say it because I know what's there. Where he chooses to go with it is his decision." What remains to be seen is whether Kelly can overcome his legal charges and maintain a successful career. Many believe that Kelly will weather these storms and maintain his dominance of the R&B musical charts. Musician Ronald Isley, for whom Kelly produced an album in 2003, told Newsweek: "Robert is a wonderful guy, a genius of his time. It'll be tough, but he'll get through it."
Awards
Selected: Grammy Awards, Best Male R&B Vocal Performance, Best Song Written for a Motion Picture or for Television, and Best R&B Song, all for "I Believe I Can Fly," 1998; Soul Train Music Awards, Sammy Davis, Jr., Entertainer of the Year Award, 1999; Billboard Music Awards, R&B/Hip-Hop Artist of the Year, 1999; American Music Awards, Male Soul/R&B Artist, 2000; Vibe Awards, R&B Vanguard Award, 2003; Billboard Music Awards, R&B Producer of the Year and R&B Songwriter of the Year, 2004.
Selected discography
* Born into the 90s, Jive, 1991.
* 12 Play, Jive, 1993.
* R. Kelly, Jive, 1995.
* "I Believe I Can Fly," from Space Jam (soundtrack, with other artists), Jive/Atlantic/Warner Bros., 1996.
* R., Jive, 1998.
* TP-2.com, Jive, 2000.
* (With Jay-Z) The Best of Both Worlds, Universal, 2002.
* Chocolate Factory, Jive, 2003.
* The R. in R&B Collection, Vol. 1, Jive , 2003.
Read more
Latest headlines