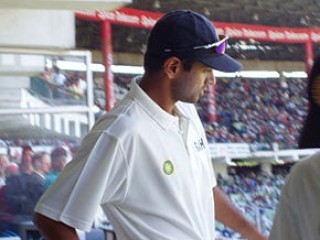 Rahul Dravid biography
Date of birth : 1973-01-11
Date of death : -
Birthplace : Indore, Madhya Pradesh, India
Nationality : Indian
Category : Sports
Last modified : 2011-06-19
Credited as : Rahul Dravid, The Wall, Indian Cricket Team
Rahul Sharad Dravid is one of the most experienced cricketers in the Indian national team, of which he has been a regular member since 1996. He was appointed as the captain of the Indian cricket team in October 2005 and resigned from the post in September 2007.
Dravid was honored as one of the five Wisden Cricketers of the Year in 2000. Dravid was also awarded the ICC Player of the Year and the Test Player of the Year at the inaugural awards ceremony held in 2004.
Known as "the Wall" due to his ability to bat for long durations, and "Jammy" due to his endorsement of Kissan, a jam company, and also because his father worked for Kissan, Dravid holds multiple world cricketing records. He is the second Indian batsman, after Sachin Tendulkar, and the third international player to have scored more than 12,000 runs in Test cricket. On 14 February 2007, he became the sixth player in history and the third Indian (after Sachin Tendulkar and Sourav Ganguly), to score 10,000 runs in ODI cricket.
He is the first and the only batsman to score a century in all ten Test playing nations.On 27 December 2010, he took his 200th Test catch to get rid of Dale Steyn. Dravid currently holds the world record for the highest number of catches in Test cricket.
Dravid has also been involved in more than 80 century partnerships with 18 different partners and has been involved in 19 century partnerships with Sachin Tendulkar — a world record.
Early years
Dravid started playing cricket at the age of 12, and represented the state at the under-15, under-17 and under-19 level. Rahul's talents were first spotted by former cricketer Keki Tarapore who was coaching at a summer coaching camp at the Chinnaswamy Stadium. He went on to score a century on debut for his school team. Along with the batting, he was keeping wickets. However, he later stopped keeping wickets on advice from former Test players Gundappa Vishwanath, Roger Binny, Brijesh Patel and Tarapore.
He was selected to make his Ranji Trophy debut in February 1991 against Maharashtra in Pune (while still attending college at St. Joseph's College of Commerce in Bangalore), alongside future Indian teammates Anil Kumble and Javagal Srinath, scoring 82 in a drawn match after batting in the No. 7 position. His first full season was in 1991-92, when he scored two centuries to finish with 380 runs at an average of 63.3, and was selected for South Zone in the Duleep Trophy.
International career
Dravid had a disappointing start to his career making his debut in one-dayers against Sri Lankan cricket team in the Singer Cup in Singapore immediately after World Cup in March 1996, replacing Vinod Kambli. Subsequently, he was dropped from the team, until he was picked again for the tour of England.
He then made his debut in the Second Test against England along with Sourav Ganguly,when Sanjay Manjrekar got injured after the first Test match on that tour.
Rahul scored 95 and held his position on Manjrekar's return for the Third Test, scoring 84. After moderate performance in home series against Australia and South Africa, Dravid broke through on the 1996-97 tour of South Africa. He batted at No. 3 in the third Test in Johannesburg, scoring his maiden century with 148 and 81, the top score in each innings to claim his first man of the match award. He made his first half-century against Pakistan in the Sahara Cup in 1996, scoring 90 in his 10th ODI.
In the 18 months ending in mid-1998, he played in an away series against the West Indies, home and away series against Sri Lanka and a home series against Australia, he scored consistently, with 964 runs at an average of 56.7. He scored eleven half-centuries but was unable to convert them to triple figures. He scored his second century in late 1998 against Zimbabwe in a one-off Test match, top-scoring in both innings with 148 and 44, but was unable to prevent an Indian defeat. He became the third Indian batsman after Vijay Hazare and Sunil Gavaskar to score centuries in both innings of a match during the 1999 New Year's Test match against New Zealand with 190 and 103* to force a draw. He had a moderate season in the subcontinent in early 1999, scoring 269 runs at an average of 38.42 with one century before scoring 239 at an average of 39.8 including a century against New Zealand in late 1999. This was followed by a poor away series against Australia and another poor home series against South Africa, accumulating just 187 runs at an average of 18.7. He then scored 200*, his first double century, against Zimbabwe in Delhi, which along with 70* in the second innings helped India to victory. It was the first time he had passed 50 in 12 months and he followed this with a 162 in the following Test, giving him 432 runs in the two match series at an average of 432.
In the second test of a three match test series against Australia at Kolkata in 2001, Dravid joined hands with VVS Laxman to produce one of the greatest comeback victories in the history of the game. Following on, the pair put on 376 runs for the fifth wicket in the second innings of the match. Dravid scored 180 while Laxman made 281. Though Dravid ended up second-best, it remains one of his greatest performances till date. Later that year in Port Elizabeth against South Africa, he made a crucial match-saving 87 runs in the second innings to deny South Africa the win.
2002 was the year, when Dravid started to emerge out of Tendulkar's shadow and established himself as India's premier Test batsman. In the month of April, at Georgetown, West Indies in first test match of the series, he scored an unbeaten 144 in the first innings after being hit by a Mervyn Dillon delivery. Later that year, he raked up four consecutive centuries against England (3) and West Indies (1). In August 2002, against England at Headingley Stadium, Leeds in the third test match of the series, he scored a 148 in the first innings on a seamer-friendly to set up a famous Indian win. He won the man of the match award for this performance. Dravid's astonishing aggregate of 602 runs in the four match test series against England also fetched him the man of the series award.
In 2003-2004 season, Dravid scored three double centuries, one each against New Zealand, Australia and Pakistan. Against Australia at Adelaide in second match of the four match series, the batting pair of Dravid and VVS Laxman proved to be Australia's nemesis again. In the first innings, India were looking down the barrel at 4 wickets down for 85 runs in reply to Australia's massive 556 when the duo joined hands. By the time their partnership was broken, the pair had put on 303 runs. Laxman was dismissed for 148 while Dravid went on make 233. At that time, this was the highest individual score by an Indian batsman overseas. By the time Dravid was done, India was only 33 short of Australia's first innings score. Dravid followed this with an unbeaten 72 under immense pressure in the second innings to set up a famous victory. Dravid scored 619 runs in that four-match series against Australia at an average of 103.16 and won the man of the series award. During the later part of the season, Dravid, in Ganguly's absence, led India to its first test victory over Pakistan in Pakistan in the first test match at Multan. In the third and the final match of the series At Rawalpindi, Dravid stroked a masterly 270 to take India to a historic test series win over Pakistan. In 2010 scored 191 run in inning to reach 31st test century.
On 16 August 2009 Dravid was called back to the Indian ODI team following his good show at that years IPL and the struggle of the younger players' problems against the short ball.
Dravid in World Cups
Dravid was top scorer in the 7th World Cup (1999), scoring 461 runs. He is the only Indian to score two back to back centuries at the World Cup. He scored 110 vs Kenya and followed it with a masterly 145 against Sri Lanka in Taunton, in a match where he kept wickets. He was vice captain during 2003 World cup where India reached the final, serving his team in the dual capacity of a batsman and wicket keeper to accommodate an additional batsman, a move that paid huge dividends for India. Dravid was the captain during the 2007 cricket world cup in West Indies, where Indian cricket team had a dismal campaign.
Style
With a strong technique, he has been the backbone for the Indian cricket team. Beginning with the reputation of being a defensive batsman who should be confined to Test cricket, he was dropped from ODIs as he was slow in making runs. However, in a period of his career he began consistently scoring runs in ODIs as well, earning him the award of ICC player of the year. His nickname of 'The Wall' in Reebok advertisements has now become a tribute to his consistency. Dravid has scored 31 centuries in Test cricket at an average of 53.31, including 5 double centuries. In one-dayers too he has an impressive average of 39.49, although at a strike rate of 71.22. He is one of the few Indians who average more at away Test matches than at home, averaging about 5 more runs a match abroad than on Indian pitches. As of 23 September 2010, Dravid's average in overseas Tests stood at 55.53 as against his home Test average of 50.76, and his average for away ODI stands at 37.93 as against home ODI average of 43.11.
In matches that India has won, Dravid averages 66.34 in Tests and 50.69 in ODIs.
Dravid's sole Test wicket was that of Ridley Jacobs in the fourth Test against the West Indies during the 2001-2002 series. While he has no pretensions to being a bowler, Dravid often kept wicket for India in ODIs. He has since delegated the wicket-keeping gloves, first to Parthiv Patel and more recently to Mahendra Singh Dhoni. Dravid is now purely a batsman, one who has averaged 63.51 in matches played since 1 January 2000.
Dravid was involved in two of the largest partnerships in ODIs: a 318-run partnership with Sourav Ganguly, the first pair to combine for a 300-run partnership, and then a 331-run partnership with Sachin Tendulkar, which is the present world record. He also holds the record for the greatest number of innings since debut before being dismissed for a duck. His highest scores in ODIs and Tests are 153 and 270 respectively. Uniquely, each of his five double centuries in Tests was a higher score than his previous double century (200*, 217, 222, 233, 270).
Also, Dravid is the current world record holder for the highest percentage(%) contribution of runs scored in matches won under a single captain, where the captain has won more than 20 Tests. In the 21 Test matches India won under Sourav Ganguly's leadership, Dravid played his part in every single one of those wins, scoring at a record average of 102.84 and piling up an astonishing 2571 runs, with nine hundreds - three of them double-centuries - and ten fifties in 32 innings. He contributed nearly 23% of the total runs scored by India those 21 matches, which is almost one run out of every four runs the team scored.
An innings-by-innings breakdown of Dravid's Test match batting career, showing runs scored (red bars) and the average of the last ten innings (blue line).
He was named one of the Wisden cricketers of the year 2000. Though primarily a defensive batsman,Dravid has scored 50 not out in 22 balls(Strike Rate-227.27)vs NewZealand in Hydrabad on 15 Nov,2003,second fastest 50 among Indians.Only Ajit Agarkar 67 of 21 balls is faster than Dravid.
In 2004, Dravid was awarded the Padma Shri by the Government of India. On 7 September 2004, he was awarded the inaugural Player of the year award and the Test player of the year by the International Cricket Council, ICC (associated image below). Dravid's batting average of 95.46 in the past year has made him the only Indian to be in the Test team of the year. On 18 March 2006, Dravid played his 100th Test against England in Mumbai.
In the 2005 ICC Awards he was the only Indian to be named to the World one-day XI. In 2006, it was announced that he would remain captain of the Indian team up to the 2007 World Cup in the West Indies.
After the England Series however, he stepped down as captain of India due to personal reasons. Mahendra Singh Dhoni took over as ODI captain. Anil Kumble replaced him in test matches.
In 2007, he was dropped from the Indian ODI Squad following poor series against Australia. Dravid went back to play for Karnataka in the Ranji Trophy, scoring 218 against Mumbai.
In 2008, he made 93 in the first innings of the Perth test, the highest score of the match, to help India win and make the series 1-2. However, he was ignored by selectors for the subsequent one-day tri-series.
After a barren run in Test matches in 2008, Dravid came under increasing media pressure to retire or be dropped. In the Second Test against England in Mohali, he scored 136, putting on a triple-century stand with Gautam Gambhir.
After reaching 10,000 test runs milestone, he was quoted saying, "It's a proud moment for sure. For me, growing up, I dreamt of playing for India. When I look back, I probably exceeded my expectations with what I have done over the last 10 to 12 years. I never had an ambition to do it because I never believed - it is just a reflection of my longevity in the game."
Personal records
Dravid holds the world record for being the first (and only) non-wicketkeeper to take 200 catches in Test cricket. As of 27-12-2010, he is way ahead of Mark Waugh (181 catches) and Ricky Ponting (177 catches)
Dravid is the 2nd Indian (3rd in World) to score more than 12,000 test runs.
Has been involved in the most century partnerships in Test history - 85 (23 nov 2009).
Scored nearly 23% of the total runs put up by India (with a batting average of 102.84) in the 21 Test matches won under Ganguly's captaincy. This is the highest percentage contribution by any batsman in Test cricket history in matches won under a single captain where the captain has won more than 20 Tests.
2nd longest streak of consecutive Tests since debut (93 + 1 in ICC XI) missed 95th test at Ahmedabad due to fever, behind Adam Gilchrist (96).
First player to score a century against every Test playing nation away from home,
Involved in highest partnership made away from home for any wicket for India with vice captain Virender Sehwag of 410 runs vs Pakistan at Lahore in 2006 (also, the highest partnership between a captain and the vice captain). Only Pankaj Roy and Vinoo Mankad have scored more runs in a partnership for India, 413 vs New Zealand in Chennai (6-11 Jan 1956).
Dravid is one among the only three batsmen to hit Test centuries in four consecutive innings. The other two are Jack Fingleton and Alan Melville. Dravid achieved this by hitting scores of 115, 148, 217 and 100* in three successive matches against England and one against the West Indies. Only Everton Weekes, with centuries in five consecutive innings, has achieved a longer sequence of consecutive Test hundreds.
With scores of 50 or more in 7 consecutive Tests Dravid is behind only to Tendulkar (8) and Gambhir (11) among Indian batsmen. Gambhir and Viv Richards hold the world record with 11.
He is currently 2nd among batsmen who have scored most away runs in Tests (6430 as of April 2009). Only Sachin Tendulkar (7165) has scored more away Test runs.
He has played 150 innings of 94 tests at number 3. He has scored more than 8000 runs at this position. Both feats are world records.
2nd Indian batsman to score twin hundreds in a Test twice, after Sunil Gavaskar. Gavaskar and Ponting are the only batsmen to score twin hundreds in a Test thrice.
One of only three Indians to score 5 double hundreds.(each bigger than the previous 200* vs Zimbabwe, 217 vs England, 222 vs New Zealand, 233 vs Australia, 270 vs Pakistan). In fact, along with Virender Sehwag and Sachin Tendulkar, he is one of only three Indians to score 190+ on seven occasions.
Partnering with Tendulkar, has scored more runs than any other pair, excluding opening pairs. They are the 3rd best in terms of total number of partnership runs scored by a pair in test cricket.
Dravid has faced highest number of deliveries in test cricket, more than Allan Border's previous record of 27002 deliveries.
2nd highest number of fifties in test cricket after Australia's Allan Border (63) and jointly shared with compatriot Sachin Tendulkar (59)
Rahul Dravid is the third batsman in the world after compatriot Sachin Tendulkar and Australia's Ricky Ponting to reach the 12000-run milestone in test cricket.
One Dayers
Dravid is the 3rd Indian (6th in World) to score more than 10,000 ODI runs.
World Cup Records
He was the leading run scorer in the 1999 World Cup with 461 runs.
Has the 2nd highest score (145) by a wicketkeeper in a World Cup behind AC Gilchrist(149).
He was only the second wicketkeeper-batsman after Zimbabwean Dave Houghton to score an ODI hundred in the World Cup.
He was the second batsman after Mark Waugh to score back-to-back hundreds in the World Cup
Other Records
Has the record of not being dismissed on duck for 120 consecutive ODI matches
3rd Highest number of fifties, after India's Sachin Tendulkar (93) and Pakistan's Inzamam-ul-Haq (83) at 82.
Achievements
Rahul Dravid is only one of two Indians to be the top scorer in a World Cup (the other is Sachin Tendulkar). He amassed 461 runs in the 1999 World Cup, the first World Cup he played.
Rahul Dravid led India to a historic Test series win, against the West Indies in their home soil in 2006. Since 1971, India had never won a Test series in the West Indies.
This was also their first prominent series win outside the Indian subcontinent (barring the win against Zimbabwe in 2005) since 1986.
Under Dravid's captaincy the Indian team tied the previous record of most consecutive One-Day International wins for an Indian team thus equalling the record run that the Indian team had achieved under Sourav Ganguly in the 2003 World Cup in South Africa (8). This was later beaten by Mahendra Singh Dhoni who led Indian team to 9 consecutive victories in 2008-2009.
During his captaincy the Indian team broke the record for most consecutive won matches in One-Day Internationals while batting second (previously held by the West Indies). For this 17 match run, Dravid was the captain for 15 matches and Sourav Ganguly was the captain for the other two. This streak was broken on 20 May 2006, when India lost to the West Indies by one run, at Sabina Park, Jamaica.
Rahul Dravid was the first captain to lead India to a Test match victory against South Africa on South African soil.
He became only the third captain from India to win a Test series in England. The other two captains being Kapil Dev (1986) and Ajit Wadekar (1971).
He has hit 10,000 runs in both tests and one day internationals, making him only the third batsmen after Tendulkar and Lara to achieve this feat. Only Ricky Ponting has since equalled this feat.
He holds the record of number of catches in Test cricket by a non-wicket keeper.
Read more
Rahul Dravid Picture Gallery
Latest headlines