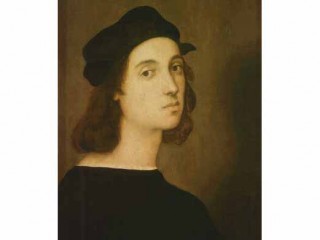 Raphael biography
Date of birth : 1483-04-06
Date of death : 1520-04-06
Birthplace : Urbino, Italy
Nationality : Italian
Category : Arts and Entertainment
Last modified : 2010-05-27
Credited as : Painter and architect, High Renaissance, Michelangelo
Raffaello Sanzio da Urbino
(April 6 or March 28, 1483 – April 6, 1520), better known simply as
Raphael
, was an Italian painter and architect of the High Renaissance, celebrated for the perfection and grace of his paintings and drawings. Together with
Michelangelo
and
Leonardo da Vinci
, he forms the traditional trinity of great masters of that period.
Raphael was enormously productive, running an unusually large workshop, and despite his death at thirty-seven, a large body of his work remains.
Many of his works are found in the Apostolic Palace of The Vatican, where the frescoed Raphael Rooms were the central, and the largest, work of his career. The best known work is the The School of Athens in the Vatican Stanza della Segnatura. After his early years in Rome, much of his work was designed by him and executed largely by the workshop from his drawings, with considerable loss of quality.
He was extremely influential in his lifetime, though outside Rome his work was mostly known from his collaborative printmaking. After his death, the influence of his great rival Michelangelo was more widespread until the 18th and 19th centuries, when Raphael's more serene and harmonious qualities were again regarded as the highest models.
His career falls naturally into three phases and three styles, first described by Giorgio Vasari: his early years in Umbria, then a period of about four years (from 1504–1508) absorbing the artistic traditions of Florence, followed by his last hectic and triumphant twelve years in Rome, working for two Popes and their close associates.
Known as one of history's most gifted painters and architects, Raphael became an artist who symbolized the search for new trends during the High Renaissance. While he would always utilize what style fitted his needs, he also worked with his students to set the standard on the direction classical art would take.
From the time he could hold a paintbrush, his father, Giovanni Santi, who was a famous painter in his own right, taught Raphael about technique and stroke. Tragically, Raphael's father died when he was 11, so his inspiration would be limited. However, his family knew Raphael would be a great artist because of his ability to take a style and make it his own. Following his father's death, Raphael was sent to the workshop of Perugina, where he focused on classic painting and architecture.
Raphael soon moved to Florence, the art capital of the world in the early 1500s. Just before moving there, one of his famous paintings called Marriage of the Virgin was inspired by the world of the workshop he attended. In Rome, however, Raphael was commissioned to work on his most famous Stanza della Segnatura, which reveals a concept perfectly visualized in his creations. During the completion of this gargantuan project, critics agree this is where Raphael truly defined his own artistic style.
Raphael began receiving commission after commission in light of his growing popularity. Other works that took him years to complete with the help of a handful of assistants, including the Stanza dell'Incedndio finished in 1517. In Raphael's largest canvas that same year, he began painting the Transfiguration, which began revealing another side of his work – monumental cartoons that depict the life of certain saints.
Besides his canvas works, Raphael also worked on portraits and architecture. Many scholars agree that Raphael also worked to some extent with Donato Bramante from the School of Athens. By the time Raphael died at the age of 37, he had many followers who were not only imitating, but also building on his style. His art encouraged them to search beyond the boundaries of the classical style.
Chronology of main works
Early works
* Resurrection of Christ (The Kinnaird Resurrection) (1499-1502) - Oil on wood, 52 x 44 cm, São Paulo Museum of Art, São Paulo, Brazil
* Angel (fragment of the Baronci Altarpiece) (1500-1501) - Oil on wood, 31 x 27 cm, Pinacoteca Civica Tosio Martinengo, Brescia, Italy
* Angel (fragment of the Baronci Altarpiece) (1500-1501) - Oil on wood, 57 x 36 cm, Louvre, Paris
* Holy Family with Madonna of the Veil (1500-1510) - Galleria Nazionale di Capodimonte, Naples
* St. Sebastian (1501-1502) - Oil on wood, 43 x 34 cm, Accademia Carrara, Bergamo
* The Crowning of the Virgin (Oddi Altar) (c. 1502-1504) - Oil on canvas, 267 x 163 cm, Pinacoteca Vaticana, Vatican, Rome
* The Annunciation (Oddi Altar predella) (c. 1502-1504) - Oil on canvas, 27 x 50 cm, Pinacoteca Vaticana, Vatican, Rome
* The Adoration of the Magi (Oddi Altar predella) (c. 1502-1504) - Oil on canvas, 27 x 50 cm, Pinacoteca Vaticana, Vatican, Rome
* The Presentation in the Temple (Oddi Altar predella) (c. 1502-1504) - Oil on canvas, 27 x 50 cm, Pinacoteca Vaticana, Vatican, Rome
* Madonna Solly (Madonna with the Child) (1500-1504) - Oil on tablet, 53 x 38 cm, Gemäldegalerie, Berlin
* Mond Crucifixion (Città di Castello Altarpiece) (1501-1503) - Oil on wood, 281 x 165 cm, National Gallery, London
* Three Graces (c. 1501-1505) - Musée Condé, Chantilly, France
* St. Michael (c. 1501) - Louvre, Paris
* Portrait of a Man (c. 1502) - Oil on wood, 45 x 31 cm, Galleria Borghese, Rome
* Connestabile Madonna (1502-1503) - Tempera on wood, 17,5 x 18 cm, The Hermitage, St. Petersburg
* Madonna and Child (1503) - Oil on wood, 55 x 40 cm, Norton Simon Museum of Art, Pasadena
* The Marriage of the Virgin (1504) - Oil on roundheaded panel, 174 x 121 cm, Pinacoteca di Brera, Milan
* Vision of a Knight (1504) - Egg tempera on poplar, 17.1 x 17.1 cm, National Gallery, London
* St. George (1504) - Oil on tablet, 31 x 27 cm, Louvre, Paris
* Madonna and Child Enthroned with Saints (Colonna Altarpiece), (1504-1505) - Tempera and gold on wood, 172,4 x 172,4 cm (main panel), Metropolitan Museum of Art, New York
* Portrait of Perugino (c. 1504) - Tempera on wood, 57 x 42 cm, Uffizi, Florence
Florentine period
* Portrait of Elisabetta Gonzaga (c. 1504) - Oil on wood, 52,9 x 37,4 cm, Uffizi, Florence
* Portrait of Pietro Bembo (c. 1504) - Oil on wood, 54 x 69 cm, Museum of Fine Arts, Budapest
* Self-portrait (1504-1506) -
* Madonna of the Grand Duke (c. 1505) - Oil on wood, 84 x 55 cm, Palazzo Pitti, Florence
* The Ansidei Madonna (The Madonna between St. John Baptist and St. Nicholas of Bari) (c. 1505-1506) - Oil on poplar, 274 x 152 cm, National Gallery, London
* Young Man with an Apple (1505) - Oil on wood, 47 x 35 cm, Uffizi, Florence
* Christ Blessing (1505) - Oil on wood, 30 x 25 cm, Pinacoteca Civica Tosio Martinengo, Brescia, Italy
* Madonna Terranuova (1504-1505) - Oil on wood, 87 cm, Staatliche Museen zu Berlin
* The Madonna of the Goldfinch (c. 1505) - Uffizi, Florence
* Madonna del Prato (The Madonna of the Meadow) (c. 1505) – Oil on wood, 113 x 88 cm, Kunsthistorisches Museum, Vienna
* St. George and the Dragon (1505-1506) - Oil on wood, 28.5 x 21.5 cm, National Gallery of Art, Washington
* La Donna Gravida (1505-1506) - Oil on wood, 66 x 52 cm, Palazzo Pitti, Florence
* Portrait of Agnolo Doni (1505-1507) - Oil on wood, 63 x 45 cm, Palazzo Pitti, Florence
* Portrait of Maddalena Doni (1505-1507) - Oil on wood, 63 x 45 cm, Palazzo Pitti, Florence
* Madonna of the Pinks (1506)
* Young Woman with Unicorn (1506, disputed) - Oil on canvas, 65 x 51 cm, Galleria Borghese, Rome
* Madonna with Beardless St. Joseph (1506) - Tempera on canvas transferred from wood, 74 x 57 cm, The Hermitage, St. Petersburg
* Saint Catherine of Alexandria (1507) - Oil on wood, 72 x 55 cm, National Gallery, London
* Canigiani Holy Family (1507) - Oil on wood, 132 x98 cm, Alte Pinakothek, Munich
* La belle jardinière (1507) - Louvre, Paris
* The Deposition of Christ (The Entombment) (1507-1508) - Oil on wood, 184 x 176 cm, Galleria Borghese, Rome
* The Three Theological Virtues (tryptic) (1507) - Oil on wood, 16 x 44 cm (each), Pinacoteca Vaticana, Vatican, Rome
* Portrait of a Young Woman (La Muta) (1507-1508) - Oil on wood, 64 x 48 cm, Galleria Nazionale delle Marche, Urbino
* The Holy Family with the Lamb (1507) - Oil on panel, 29 x 21 cm, Museo Nacional Del Prado, Madrid
* The Tempi Madonna (Madonna with the Child) (1508) - Alte Pinakothek, Munich
* La Madonna de Bogota (Madonna with the Child) (1507) - NY Bank Volt, New York
Roman period
* Portrait of Cardinal Alessandro Farnese (1509-1511) - Galleria Nazionale di Capodimonte, Naples
* La disputa (1509-1510) - Fresco, width at base 770 cm, Vatican, Rome
* The School of Athens (1509-1510) - Fresco, width at base 770 cm, Vatican, Rome
* Madonna of Loreto (Madonna del Velo) (1509-1510) - Oil on wood, 120 x 90 cm, Musée Condé, Chantilly, France
* Aldobrandini Madonna (1510) - Oil on wood, 38,7 x 32,7 cm, National Gallery, London
* Madonna with the Blue Diadem (1510-1511) - Oil on wood, 68 x 44 cm, Musée du Louvre, Paris
* Portrait of a Cardinal (1510-1511) - Oil on wood, 79 x 61 cm, Museo del Prado, Madrid
* Alba Madonna (1511) - Oil on canvas, diameter 98 cm, National Gallery of Art, Washington
* The Parnassus (1511) - Fresco, width at base 670 cm, Vatican, Rome
* The Cardinal Virtues (1511) - Fresco, width at base 660 cm, Vatican, Rome
* Portrait of Pope Julius II (1511-1512) - Oil on wood, 108 x 80,7 cm, National Gallery, London
* The Prophet Isaiah (1511-1512) - Fresco, 250 x 155 cm, Sant'Agostino, Rome
* The Expulsion of Heliodorus from the Temple (1511-1512) - Fresco, width at base 750 cm, Vatican, Rome
* Portrait of Pope Julius II (1512) - Oil on wood, 108,5 x 80 cm, Uffizi, Florence
* The Madonna of Foligno (1511-1512) - Oil on wood, 320 x 194 cm, Pinacoteca Vaticana, Vatican, Rome
* The Triumph of Galatea (1511-1513) - Fresco, 295 x 224 cm, Villa Farnesina, Rome
* Portrait of Tommaso Inghirami (1512-1514) - Boston
* Sistine Madonna (c. 1513-1516) - Oil on canvas, 265 x 196 cm, Gemäldegalerie Alte Meister, Dresden
* Madonna della seggiola (Madonna with the Child and Young St. John) (1513-1514) - Oil on wood, diameter 71 cm, Galleria Palatina (Palazzo Pitti), Florence
* Madonna dell'Impannata (1513-1514) - Oil on wood, 158 x 125 cm, Galleria Palatina (Palazzo Pitti), Florence
* Madonna della tenda (1514) - Oil on wood, 65,8 x 51,2 cm, Alte Pinakothek, Munich
* The Fire in the Borgo (1514) - Fresco, width at base 670 cm, Vatican, Rome
* The Meeting of Leo the Great and Attila (1514) - Fresco, width at base 750 cm, Vatican, Rome
* Deliverance of Saint Peter (1514) - Fresco, width at base 660 cm, Vatican, Rome
* Portrait of Bindo Altoviti (c. 1514) - Oil on tablet, 60 x 44 cm - National Gallery of Art, Washington
* The Sibyls (1514) - Fresco, width at base 615 cm, Santa Maria della Pace, Rome
* The Ecstasy of St. Cecilia (1514-1516) - Oil on wood, 220 x 136 cm, Pinacoteca Nazionale, Bologna
* Portrait of Balthasar Castiglione (c. 1515) - Oil on canvas, 82 x 67 cm, Louvre, Paris
* Woman with a Veil (La donna velata) (1515-1516) - Oil on canvas, 82 x 60,5 cm, Palazzo Pitti, Florence
* Portrait of Tommaso Inghirami (1515-1516) - Oil on wood, 91 x 61 cm, Palazzo Pitti, Florence
* Palazzo Branconio dell'Aquila in Borgo (c. 1515-1517) - Destroyed
* Portrait of Andrea Navagero and Agostino Beazzano (1516) -
* Portrait of Cardinal Bibbiena (c. 1516) - Oil on canvas, 85 x 66,3 cm , Palazzo Pitti, Florence
* Double Portrait (c. 1516) - Oil on canvas, 77 x 111 cm , Galleria Doria Pamphilj, Rome
* Church of Sant'Eligio degli Orefici near Via Giulia (c. 1516)
* Creation of the World (1516) - Mosaic in the Chigi Chapel, Santa Maria del Popolo
* Raphael Cartoons (1516)
* Transfiguration (1517-c. 1520) - Oil on wood, 405 x 278 cm, Vatican Museum, Rome
* Portrait of Pope Leo X with two Cardinals (1517-1518) - Oil on wood, 155 x 118 cm, Palazzo Pitti, Florence
* Christ Falling on the Way to Calvary (1516-1517) - Oil on panel transferred to canvas, 318 x 229 cm, Museo del Prado, Madrid
* The Holy Family of Francis I (1518) - Louvre, Paris
* Ezechiel's Vision (1518) – Oil on wood, 40 x 29 cm, Palazzo Pitti, Florence
* St. Michael Vanquishing Satan (1518) - Louvre, Paris
* Madonna of the Rose (1518) - Oil on wood, Luke Brugnara Collection
* Self-portrait with a Friend (1518-1519) - Oil on canvas, 99 x 83 cm, Louvre, Paris
* Portrait of a Young Woman (La fornarina) (1518-1519) - Oil on wood, 85 x 60 cm, Galleria Nazionale d'Arte Antica, Rome
* Visitation - Museo del Prado, Madrid
Read more
Latest headlines