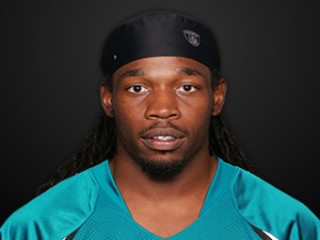 Rashean Mathis biography
Date of birth : 1980-08-27
Date of death : -
Birthplace : Jacksonville, Florida
Nationality : American
Category : Sports
Last modified : 2010-10-25
Credited as : Football player NFL, cornerback for the Jacksonville Jaguars, Super Bowl/NFL Draft player
Rashean Jamil Mathis is an American football cornerback currently playing for the
Jacksonville Jaguars
of the NFL.
Veteran cornerback has started 100 games since joining the club as a second-round pick in 2003 … Owns franchise records with 28 career INTs, three INT returns for touchdowns, 487 INT return yards and 32 takeaways … One of nine players in team history to start 100 games … Career totals include 443 tackles (334 solo), four forced fumbles, four fumble recoveries, 84 passes defensed, 12 tackles for loss and one sack… Added 10 special teams tackles … Ranked tied for sixth in the NFL from 2004-09 with 26 INTs … Has led the Jaguars in INTs in four of the last six seasons … Added one kickoff return and six punt returns … Recorded two INT returns for TDs in 2008, tied for the second-most in the NFL and tied Aaron Beasley (1999) for the single-season franchise record … Became first Jaguars CB to be voted to the Pro Bowl as he was named a starter in 2006 and was named a first alternate in 2007 … Started 74 consecutive games to begin his career before missing two games in 2007 with a groin injury, the second-longest streak in franchise history … Recorded three of the four longest INT returns in franchise history including a 72-yard return for a score against Pittsburgh on Oct. 5, 2008, the second-longest in team history … Owns two of the three top marks for INT return yards in a season including the second-most of 151 in 2008 … Has recorded four two-INT games … Had two INTs on back-to-back possessions including one for a TD in 2007 postseason win at Pittsburgh, the Jaguars' first postseason win since 1999 … Part of defense that set the franchise record for INTs in 2006 and 2007 with 20 … Tied for third in the NFL with a team-record eight INTs in 2006 … Became only fifth Jaguar to make 16 starts as a rookie, starting first six games at free safety and 10 at CB … Native of Jacksonville and first player chosen by Jaguars out of Bethune-Cookman … Fourth-highest defensive back ever chosen by Jaguars behind Donovin Darius (No. 25 in 1998), Fernando Bryant (No. 26 in 1999), and Reggie Nelson (No. 21 in 2007) … Was one of college football's best ever at intercepting the football (14 in 2002, 31 total) … Native of Jacksonville played football at Englewood High School …
2009
Made 10 starts at LCB and missed six games due to injuries … Totaled 40 tackles, three INTs, seven passes defensed, two forced fumbles and one QB pressure … Ranked second on the team with three INTs and four takeaways and tied for team-lead in passes defensed … Served as team captain … 9/13 at IND: Played all 70 snaps and finished with three tackles and two passes defensed … 9/20 vs. ARI: Had six tackles, one forced fumble and one fumble recovery … 9/27 at HOU: Recorded a takeaway in his second consecutive game with an INT of Matt Schaub on the opening drive of the game … 10/11 at SEA: Totaled seven tackles and one pass defensed on 60 plays … 10/18 vs. STL: Intercepted Marc Bulger in the end zone in the first quarter … 11/1 at TEN: Inactive (finger) … 11/8 vs. KC: Played all 59 snaps and had three solo tackles and one pass defensed … 11/15 at NYJ: Intercepted Mark Sanchez on the first play of the game and forced a Braylon Edwards fumble in the third quarter that was recovered by Clint Ingram … Missed four consecutive games with a groin injury, 11/22 vs. BUF, 11/29 at SF, 12/6 vs. HOU and 12/13 vs. MIA … 12/17 vs. IND: Returned to the lineup and had six tackles on 52 snaps … 12/27 at NE: Played only 27 snaps and made two tackles … Was inactive (groin) for the season-finale on 1/3 at CLE …
2008
Started first 12 games at LCB before suffering a season-ending knee injury on Dec. 1 at Houston … Served as team captain … Tied for team-lead with four INTs for a team-high 151 return yards and returned two for TDs … The two returns for TDs tied for first in the AFC and second in the NFL, and the 151 return yards ranked fifth in the NFL … Finished with 33 solo tackles, one sack, one forced fumble, one fumble recovery and five passes defensed … 9/21 at IND: Recorded first INT of the season off Peyton Manning and returned it 61 yards for a TD, the third-longest INT return in franchise history, in 23-21 win … 9/28 vs. HOU: Left game in the second quarter with a bruised shin and did not return … 10/5 vs. PIT: Picked off Ben Roethlisberger and returned it 72 yards for a TD, setting a franchise record with his third career INT return for a score. The 72-yard return was the second-longest in team history … 10/12 at DEN: Recovered a fumble off Jay Cutler in the second quarter … 11/9 at DET: Made third INT of the season off Daunte Culpepper on the opening drive … 11/23 vs. MIN: Had five solo tackles including his first career sack … 12/1 at HOU: Stepped in front of a Sage Rosenfels pass in the first half for his first career INT against the Texans. Suffered a sprained knee just before halftime and did not return … Was placed on injured reserve for first time in career on Dec. 5 …
2007
Started all 14 games played and both postseason games … Finished with 67 tackles (47 solo), one INT, seven passes defensed, one fumble recovery and two tackles for loss … Named first alternate for Pro Bowl … Did not miss a snap in 10 of 14 games … 9/9 vs. TEN: Registered six tackles and only INT of the season as he picked off Vince Young and returned it 23 yards … 9/23 at DEN: Had three solo tackles and recovered one fumble … 10/28 at TB: Broke up pass attempt on fourth down to end the game and tipped a ball earlier in the game that was intercepted by Reggie Nelson … 11/18 vs. SD: Left game with a groin injury and did not play in the second half … 11/25 vs. BUF: Was inactive with groin injury, ending a streak of 74 consecutive starts. Marked first time he missed a game … 12/2 at IND: Returned to lineup and made two tackles … 12/30 at HOU: Was healthy deactivation in regular season finale … 1/5 at PIT: Started at LCB in AFC Wild Card game and tied a team-record with two INTs. Returned first INT of Ben Roethlisberger a team-record 63 yards for a TD. Intercepted his second pass on the ensuing possession. Totaled four tackles (three solo) and one pass defensed. Joined Aaron Beasley (1/15/00) as the only Jaguars to have two INTs in a postseason game … 1/12 at NE: Started at LCB and recorded six solo tackles in AFC Divisional Playoff game ...
2006
Started all 16 games at LCB for the third straight season, his fourth straight with 16 starts overall … Voted as starter for Pro Bowl and was named to Associated Press All-Pro team … Recorded 71 tackles (54 solo) and team-record eight INTs for 146 INT return yards … The eight INTs surpassed the previous single-season record of six set by Aaron Beasley (1999) and Marlon McCree (2002) … The 146 INT return yards ranked second in team history … Helped club set a franchise record with 20 INTs, one year after tying the franchise record of 19 … 9/10 vs. DAL: Had eight tackles and one INT … 9/18 vs. PIT: Put together one of the best games of his career with two fourth quarter INTs. Named AFC Defensive Player of the Week for his performance … 10/1 at WAS: Had one INT along with five tackles … 11/5 vs. TEN: Posted second multi-INT game of the season as he intercepted Tennessee QB Vince Young twice. Returned second?INT 55 yards to the Titans' one-yard line … 12/3 at MIA: Collected his team-record seventh INT along with seven tackles and three passes defensed, including a deflection in the end zone that was intercepted by Gerald Sensabaugh … 12/31 at KC: Concluded season with five tackles and one INT …
2005
Started all 16 games for the third consecutive season and 48 consecutive games to begin his career … Team leader with five INTs and 13 passes defensed … Recorded 70 tackles (46 solo), four special teams tackles and blocked a field goal … Added one punt return … 9/11 vs. SEA: Recovered a fumble on the opening kickoff … 9/25 at NYJ: Collected first INT of the season off Chad Pennington in overtime to help Jaguars to 26-20 win … 10/2 vs. DEN: Blocked a Jason Elam field goal and added seven tackles (two solo) … 10/16 at PIT: Partially blocked a Chris Gardocki punt to help set up a field goal and returned a Tommy Maddox pass 41 yards for the game-winning TD in overtime … 10/30 at STL: Recorded second career two-INT game as he picked off Jamie Martin twice … 12/4 at CLE: Led secondary with 11 tackles (six solo) before suffering a broken finger in the fourth quarter … 1/1 vs. TEN: Notched fifth INT of the season in regular season finale off Matt Mauck … 1/7 at NE: Started AFC Wild Card game and tallied six tackles …
2004
Started all 16 games for the second consecutive season … Shared team lead with five INTs and 22 passes defensed … Recorded 71 tackles (54 solo), one forced fumble and returned one punt for eight yards … Settled into the LCB spot after switching from safety in rookie season … Missed only two snaps all season … Had one punt return for eight yards … 9/26 at TEN: Received defensive game ball for best performance of the season, finishing with six solo tackles, one tackle for loss, one INT, one pass defensed, one forced fumble and a QB pressure … 11/14 vs. DET: Received second defensive game ball, recording three solo tackles, six passes defensed and one INT … 12/19 at GB: Had career day at Lambeau Field. Tallied six tackles, five passes defensed and a career-high two INTs off Brett Favre … 1/2 at OAK: Finished season with six tackles, four passes defensed and an INT off Kerry Collins …
2003
Started all 16 games as a rookie with first six at free safety and last 10 at RCB … Second-round draft choice finished fifth on team with 91 tackles (72 solo) … Added two INTs and one fumble recovery … 9/7 at CAR: Started at FS in first NFL game, seeing action on all 61 plays. Became only the sixth Jaguars defensive rookie to start on opening day. Made two solo tackles, one INT (of Jake Delhomme) and one pass defensed. Added one punt return for one yard and one fair catch … 10/12 vs. MIA: Started at FS, but played final third of game at RCB in place of injured Jason Craft … 10/26 vs. TEN: Made first NFL start at RCB in place of injured Jason Craft and played on all 65 plays … 11/16 at TEN: Recorded an interception off Steve McNair …
COLLEGE
Three-time Division I-AA All-American who intercepted 31 passes in four seasons … Played both CB and FS, in addition to excelling as a punt returner and a sprinter on track team … Three-time All-Conference … First defensive back to win the Buck Buchanan Award (Division I-AA's top defensive player), after shattering I-AA season records for INTs and INT return yards as a senior … Finished career with 200 tackles (144 solo), 41 pass deflections, three fumble recoveries and three forced fumbles … Started 43 of 45 games played … 31 INTs topped I-AA career-record of 28 by Dave Murphy of Holy Cross (1986-89) and 667 interception return yards broke all-time record of 488 yards by William & Mary's Darren Sharper (1993-96) … Unanimous All-America and All-Mid-Eastern Athletic Conference first-team pick as a senior. MEAC Player of the Year, team MVP and captain. … Started every game at FS, setting NCAA season records with 14 INTs for 455 yards and three TDs, breaking marks of 12 pass thefts by Dean Cain of Princeton (1987) and 280 yards by Murray State's William Hampton (1995) … All-America third-team selection by Football Gazette and All-MEAC first team as a junior … Played FS, making 44 tackles (29 solo) … Made four INTs for 65 yards and seven pass deflections, and recovered and forced a fumble … Second-team All-America choice as a sophomore and All-MEAC first-team selection in first season at free safety … Led Division I-AA with 11 INTs for 157 yards … Majored in physical education.
PERSONAL
Married … Lives in Jacksonville ... Attended Englewood High in Jacksonville … Second-team All-State, first-team All-Conference and All-City selection … Avid golfer … Served as spokesperson for the RealSense Prosperity campaign from 2007-08, a program that encourages people to take advantage of free tax preparation offered by volunteers ... Teamed up with Activision Publishing and Pro vs. GI Joe in an online video game showdown in December of 2009 with military troops stationed across the world from the Touchdown Club at Jacksonville Municipal Stadium … Played in the 2008 Heritage Golf Classic at the Jacksonville Beach Golf Club to benefit the Rhoda L. Martin Cultural Heritage Center … Participated in the 2008 Jacksonville Association of Firefighters charity softball tournament at Jacksonville University … Attended the 21st-annual KUUMBA African-American Cultural Arts & Music Festival held at Brentwood Park … Attended a school assembly at Long Branch Elementary in 2008 where he spoke to the students about the importance of getting an education … Partnered with Home Depot and KaBoom! on a project to refurbish and build a new playground at a local YMCA ... Serves on the Jacksonville Parks, Recreation, Entertainment and Conservation Advisory Board … Participated in Laterra Links Celebrity Shootout at King and Bear in May of 2008 to benefit the St. Johns County Council on Aging ... Supports and attends team sponsored events including annual Jaguars golf tournament, Draft Day Fan Fest and the Jacksonville Jaguars Foundation Playbooks reading initiative … Served as a contestant on Wheel of Fortune NFL Week … Hosted a local television show in Jacksonville in 2007 … Served as co-host with teammate Scott Starks for the 2009 Stars and Strikes Celebrity Charity Bowl to benefit the Clara White Mission ... Served as celebrity waiter in 2009 at Morton's Steakhouse for annual charity event that raises money for Wolfson and Shands Hospitals …… Served as celebrity judge for the 2010 GUNS N' HOSES event at Jacksonville Memorial Arena … Full name:
Rashean Jamil Mathis
.
Read more
Latest headlines