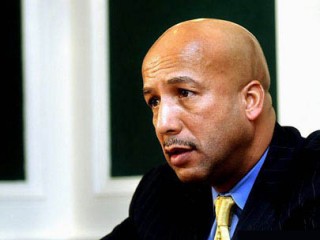 Ray Nagin biography
Date of birth : 1956-06-11
Date of death : -
Birthplace : New Orleans, Louisiana, USA
Nationality : American
Category : Famous Figures
Last modified : 2010-07-12
Credited as : Mayor and media executive, ,
Ray Nagin
(also known as:
Clarence Ray Nagin, C. Ray Nagin, C. Ray Nagin, Jr., Clarence Ray Nagin, Jr.
), born June 11, 1956 in New Orleans, Louisiana, United States is an African-American mayor and a media executive.
Politics in New Orleans have long been as murky as the bayou waters that circle the Southern city. Backroom deals, bribery, and corruption have caused many political commentators to change the city's nickname from the Big Easy to the Big Sleazy. Whether the accusations were true or not, the rumors were enough to stifle the city and by 2002 New Orleans was sinking under massive debt and rampant crime. Businesses were reluctant to build in the city and young people were making mass exoduses in search of better places to work and raise families. Into this grim picture entered C. Ray Nagin, a New Orleans cable executive and visionary. With no political experience and little campaign money, Nagin came out of nowhere to win the 2002 mayoral election on a platform of anti-corruption and economic development. Leaving behind a well-paid executive position to take on the challenges of revitalizing the city that care truly had forgotten, Nagin said during his inaugural speech, "The winds of change are blowing, and they are fanning the flames of a renaissance in our great city," according to Jet. New Orleanians hoped he was right. Just when Nagin's popularity was soaring and his aggressive attack on the city's corruption was showing signs of success, Hurricane Katrina brought in winds of change that devastated the city. Winning re-election in 2006, Nagin set out to restart New Orleans' renaissance from the ground up.
Gained Responsibility Early
Clarence Ray Nagin, Jr., was born on June 11, 1956, in New Orleans's Charity Hospital and raised in the scruffy neighborhoods of 7th Ward, Treme, and Algiers. To support Nagin and his two sisters, Nagin's mother ran a K-Mart lunch counter and his father held down several jobs: cutting fabric at a clothing factory during the day, cleaning up at City Hall at night, and working as a mechanic in between.
At O. Perry Walker High School, Nagin excelled in sports and scored a baseball scholarship to Alabama's Tuskegee University where he earned a degree in accounting in 1978. Following graduation, Nagin moved to Detroit, Michigan, to work at General Motors. In 1981 he transferred to Dallas, Texas, and took a position with Associates Corporation. The following year he married Seletha Smith whose parents lived across the street from his parents in New Orleans.
In 1985 Nagin moved back to Louisiana and became controller of Cox Communications, the cable television franchise serving Southeast Louisiana. Four years later he was transferred to Cox New Orleans, which at the time was the poorest performer in the Cox network. According to the Tulanian, "Profits were down, complaints were up and customer growth was stagnant." Nagin revitalized the ailing division with a combination of technology and customer service including a $500 million upgrade of the system's fiber-optic cable and introduction of digital cable television. He launched a popular 24-hour news service--the first in the country--with the local CBS affiliate. He also began hosting his own twice-a-week cable call-in show to address customer concerns. His actions are credited with increasing Cox's subscribers by 180,000 and creating over 800 new jobs. By 2002 85% of customers reported being satisfied with Cox--up from less than 40% when Nagin joined the company. By that time Nagin had been promoted to vice president and general manager.
During his tenure at Cox, Nagin kept busy doing more than turning around the company. In 1993 he enrolled in Tulane University's executive Master's of Business Administration (MBA) program, an intensive part-time program geared toward busy professionals. "I was in the process of taking on much more responsibility than I had had at the time at Cox and said, basically, 'What do you need that will better prepare you for this?'" Nagin told the Tulanian. "I looked around and saw the executive MBA program as being a great way for me to add a couple of tools to my toolbox. It's been invaluable."
Sought Opportunities for New Orleans
In 1998 Nagin used some of those business tools to bring hockey to New Orleans. He served as the spokesperson for a group of 12 investors that bought a franchise from the East Coast Hockey League. The New Orleans Brass debuted to unexpected popularity, helping Nagin and his group land a coveted lease deal at the city's state-of-the-art New Orleans Arena. The deal was typical of Nagin's style. "Ray is not afraid to take risks, and that was quite a risk," a Brass partner told the Tulanian. "You start talking about black folks owning a hockey team? In New Orleans? That's a pretty strange situation, but that's what sets Ray apart. He thinks outside traditional boxes." Nagin became one of the principal owners of the team and, until his run for mayor, also served as president of the franchise.
Nagin was also very active in civic and community issues. He served on the boards of Covenant House, a center for runaway teens, as well as the United Way. He was also a three-time chairman for the United Negro College Fund Walkathon and president of the group 100 Black Men of Metro New Orleans. In a professional capacity he served as president of the Louisiana Cable Television Association. Nagin's activities brought him recognition. In 1995 he earned the Diversity and Role Model Award from the Young Leadership Council of New Orleans. In 1998 Gambit Weekly, the city's alternative paper, named him New Orleanian of the Year. Meanwhile he and wife, Seletha, raised two sons, Jeremy and Jarin, and late in the 1990s had daughter Tianna.
In October of 2001 two-time New Orleans mayor Marc Morial--son of the city's first black mayor--lost a bid that would have allowed him to run for a third term. The race for the city's next mayor was suddenly wide open. Several long time Louisiana politicos emerged as early leaders in the race including a state senator, two city council members, and the police superintendent. However, none of them seemed to capture the interest of the city. "I was looking at the candidates and paying attention and I just didn't see, uh, a spark, a different kind of candidate who was focusing on the things that were necessary to make this a better environment for my kids and my grandkids," Nagin told the Tulanian. However he still had no plans to run himself. "Running for mayor had been something that people had suggested to me," he told the Tulanian. "I was always resistant, saying there's no way I would get into politics. I'd rather play on the sidelines and be a king maker rather than be the king himself." Yet the subject of his running kept coming up. Beth James, a colleague who later became Nagin's director of economic development, suggested he run during a luncheon. Then his favorite shoeshine guy suggested it again. "We were talking about politics. I was giving him my opinion, he was giving me his, and he looked up and said, 'Man, you really ought to run for mayor,'" Nagin told The Tulanian. "That's how it started." What cinched the deal was a conversation with his teenaged son. "I was talking to him and some of his friends one day, and they told me they didn't see a future for themselves in New Orleans," he recalled to New Orleans Magazine. "At that point, I kind of decided I was either going to be part of the problem or part of the solution, so I jumped in."
Entered Politics, Gained Experience
After commissioning a poll to gauge the public's feelings about the race, Nagin learned that voters were as unimpressed by the candidates as he was. They were tired of politics as usual and ready to support an outsider. Nagin, with no political experience and little notoriety outside of business circles, was just the type of candidate they wanted. Largely self-funded, Nagin joined the mayoral race just two months shy of the primary. "If we hope to rise above petty politics and bickering, we've got to elect someone who won't bring a lot of baggage and political infighting to the office of mayor," The Tulanian quoted Nagin as saying during his announcement to run. "I suggest to you that I'm the candidate with the best opportunity to achieve that goal because I've operated outside the political mud-wrestling pit."
With natural charisma, camera-ready good looks, and a grassroots campaign that focused on beating crime, ending corruption, and fostering economic development, Nagin quickly gained ground. He soon won endorsements from the city's two largest papers. His name was suddenly everywhere and New Orleanians were newly enthused about the race. To the shock of political observers nationwide, Nagin finished first in the primary. He would face police chief Richard Pennington in the run off to office.
Despite Pennington's popularity as the man who cleaned up New Orleans's notoriously corrupt police department, Nagin coasted easily to victory with 59% of the vote. He had promised change and the city entrusted him with it. However, during his victory speech Nagin acknowledged it would not be easy. "I don't have a Superman undershirt under my suit," Jet quoted him as saying. "It didn't take us one year to get into this shape, and it won't take a year to get out."
The New Orleans Nagin inherited was indeed in bad shape. Analysts predicted a possible $50 million shortfall in the budget. Businesses were closing up or moving out of the city. Murder and violent crime were at vicious highs with at least one homicide occurring every night. Above all of it was the hulking ghost of corruption--New Orleans's reputation for bribery and nepotism. "Corruption had gone on in the open for so long that there was really a feeling of hopelessness," the president of New Orleans crime commission told the Los Angeles Times. "There was a sense that it was so embedded in the culture of the community, there was no way to change it." Nagin made fighting corruption one of his priorities. "Before we can grow the economy, we need to make sure that everybody understands what the rules of engagement are," Nagin told the Tulanian. "You need to have a level playing field where people can compete. Then you can create an environment for business growth and job creation."
Nagin began his term in office by peopling his staff with business leaders, not political insiders. "I surrounded myself with people who think outside the normal box of government, with a few governmental people sprinkled in to kind of make sure we have the experience levels we need. That's basically how we've approached it--as new thinkers, as change agents, as a group trying to make the city better," he told the Tulanian. With his administration set, Nagin quickly turned to corruption. On a steamy July morning in 2002 police fanned out across the city and arrested dozens of people straight from their beds. Arrestees included low-level city bureaucrats, brake-tag inspectors, and illegally licensed cab drivers. The sweep also resulted in the arrests of the city's utilities director and head of the taxicab bureau. Though some dismissed the sting operation as an attack on petty officials--one Louisiana political commentator told the Los Angeles Times, "There was a sense that, God, all we're doing is catching little fish"--most New Orleanians welcomed the raid and showered Nagin with gratitude.
Nagin also made other, less dramatic moves soon after taking office. He put tax information and permits and other application processes on-line. He also led the repeal of a 2% entertainment tax that was hurting local and visiting performers. His first operating budget worth $557.2 million won praise from the city council and included a much-needed pay increase for rookie cops. Nagin also brought his business acumen to the city's operations and renegotiated several banking, audit, and collection contracts that were slated to save the city millions of dollars per year.
Despite his many successes, Nagin still faced an uphill battle by the first anniversary of his election. The very environment he created threatened to hurt his popularity. Gambit Weekly noted, "voters are more optimistic than ever about the future of New Orleans, but that optimism has produced expectations that may outstrip anyone's ability to deliver." In the same article Nagin acknowledged, "The burden is huge. I will not discount that at all. There are lots of expectations in this city.... We have unleashed this tremendous optimism in this city that people have been thirsting for a long time. I don't know what to do about that other than to stay consistent and to stay focused on the key issues."
Nagin did, and Susan Howell of University of New Orleans reported in the Washington Post that Nagin enjoyed popularity ratings of approximately 80 percent by 2003, saying "He's very, very popular.... The key thing is the corruption sweep. He's actually aggressively dismantling a system of grants and contracting that's benefited mayors and their contributors for decades. All candidates say they're going to do that, but he has been aggressive about it, and people are cheering from the sidelines." His continued popularity also helped win the passage of the city's largest bond issue in history in 2004. Gambit Weekly praised Nagin in 2005, saying that if he could pull off some of his plans, especially those related to improving public education and race relations, his "tenure will be historic."
Led New Orleans through Katrina
But the cheering stopped when Hurricane Katrina blasted through the city in 2005. Though Nagin had revamped emergency preparedness measures after Hurricane Ivan's near miss of the city in 2004, Katrina brought a devastating blow. As the massive hurricane approached, Nagin took action, ordering the evacuation of nearly half a million New Orleans residents and opening the city's Superdome to residents too poor or otherwise unable to leave. Despite these measures, Katrina proved the city's worst nightmare, smashing protective levees and ripping through the city with forceful winds and flood waters. In its wake, Katrina left unprecedented wreckage. From his post at the Hyatt hotel, Nagin oversaw the cleanup, calling the aftermath "a surreal situation, like a nightmare that I hope we'll wake up from," according to the Washington Post.
Nagin sent what he called "a desperate SOS" for national aid, according to the Miami Times. But help came slowly, and city residents grew increasingly frustrated as reconstruction planning dragged, city streets remained cluttered with debris, businesses were slow to open, and homes destroyed by the storm left people homeless. Though a steady trickle of residents returned to the city and building projects got underway, the devastation remained prominent into 2006. Speaking about the slowness of reconstruction Nagin said: "It is kind of like the chicken and the egg. We need people to reopen businesses and we need open businesses to encourage people to return," as quoted in the Memphis Flyer.
Efforts to rebuild New Orleans were stressful enough without the added pressure of racial and social injustices so prevalent in the city before the hurricane being brought to the fore in its aftermath. As soon as efforts to plan what to rebuild, where to allocate funding, and who was first in line for relief began, the racial and social disparities of New Orleans residents came into focus. The city had a population of nearly half a million before Katrina, but afterwards estimates suggested that less than half that would return and that the racial balance of those returning may be more white than black. For his attempts to help drive a vision of the city being reshaped in its former image, Nagin drew criticism for emphasizing his preference in keeping the racial balance in the city tipped in favor of blacks.
Discussions about race fueled debate about the 2006 mayoral elections, because Nagin had been elected to his first term by a majority of whites, with the black vote going to his opponent. Despite being challenged by 22 opponents and losing support from many of his former corporate supporters, Nagin emerged victorious in May 2006. With Congressional funding and new plans for reconstruction, Nagin entered his second term with a fresh mandate: to rebuild, and in part, reinvent the city. The blueprint for the rebuilding came in July 2006. Announcing the plan, Nagin praised those who had already taken matters into their own hands, saying "it's democracy in action," but he added that "Now it's time to get everyone up to the same place and pull all of the pieces together so we can keep the recovery and rebuilding process going in the right direction," according to the New York Times. Only time will tell if Nagin is up to the task.
March 2007: Nagin, saying New Orleans "just kind of piled it on," admitted that only $1 billion of the $77 billion the city seeks from the Army Corps of Engineers is for infrastructure damages stemming from levee breaches.
PERSONAL INFORMATION
Born on June 11, 1956, in New Orleans, LA; married Seletha Smith Nagin, 1982; children: Jeremy, Jarin, Tianna Education: Tuskegee University, BS, accounting, 1978; Tulane University, MBA, 1994. Politics: Democrat. Memberships: Orleans and Jefferson Parish Business Councils; Greater New Orleans Education Foundation; Covenant House and United Way, past board member;United Negro College Fund Walkathon, past chairman; Louisiana Cable Television Association, past president; 100 Black Men of Metro New Orleans, past president. Addresses: Office--New Orleans City Hall, 1300 Perdido Street, New Orleans, LA 70112.
AWARDS
Better Business Bureau, Excellent Customer Service Award, 1993; Louisiana State Board of Education, Distinguished Business Partner Award, 1994; Young Leadership Council, Diversity and Role Model, 1995; Spirit of Greatness Award, 1997; Gambit Weekly, New Orleanian of the Year, 1998; National Telly Award (for Tiger Woods exclusive interview), 2001.
CAREER
General Motors, Detroit, MI, late 1978-81; Associates Corp, Dallas, TX, 1981-85; Cox Communications, vice president and general manager, 1985-2002; City of New Orleans, mayor, 2002-.
Read more
Latest headlines