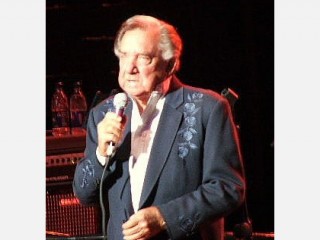 Ray Price biography
Date of birth : 1926-01-12
Date of death : 2013-12-16
Birthplace : Perryville, Texas
Nationality : American
Category : Arts and Entertainment
Last modified : 2014-01-28
Credited as : country music legend, Run Boy, Crazy Arms, Last of the Breed
Ray Price
has covered -- and kicked up -- as much musical turf as any country singer of the postwar era. He's been lionized as the man who saved hard country when Nashville went pop, and vilified as the man who went pop when hard country was starting to call its own name with pride. Actually, he was -- and still is -- no more than a musically ambitious singer, always looking for the next challenge for a voice that could bring down roadhouse walls. Circa 1949, Price cut his first record for Bullet in Dallas. In 1951, he was picked up by Columbia, the label for which he would record for more than 20 years. After knocking around in Lefty Frizzell's camp for six months or so (his first Columbia single was a Frizzell composition) Price befriended Hank Williams. The connection brought him to the Opry and profoundly affected his singing style. After Hank died, Price starting stretching out more as a singer and arranger. His experimentation culminated in the 4/4 bass-driven "Crazy Arms," the country song of the year for 1956. The intensely rhythmic sound he discovered with "Crazy Arms" would dominate his -- and much of country in general's -- music for the next six years. To this day, people in Nashville refer to a 4/4 country shuffle as the "Ray Price beat." Heavy on fiddle, steel, and high tenor harmony, his country work from the late '50s is as lively as the rock & roll of the same era. Price tired of that sound, however, and started messing around with strings. His lush 1967 version of "Danny Boy" and his 1970 take on Kris Kristofferson's "For the Good Times" were, in their crossover way, landmark records. But few of his old fans appreciated the fact. In the three decades following "For the Good Times," Price's career was often an awkward balancing act in which twin Texas fiddles are weighed against orchestras.
Born in tiny Perryville, TX, Price spent most of his youth in Dallas. It was there where he learned how to play guitar and sing. Following his high school graduation, he studied veterinary medicine at North Texas Agricultural College in Abilene before he left school to join the Marines in 1942. Price stayed in the service throughout World War II, returning to Texas in 1946. After leaving the Marines, he initially returned to college, yet he began to perform at local clubs and honky tonks, as well as on the local radio station KRBC, where he was dubbed the Cherokee Cowboy. Three years later, he was invited to join the Dallas-based The Big D Jamboree, which convinced him to make music his full-time career. Shortly after joining The Big D Jamboree, the show began to be televised by CBS, which helped him release a single, "Your Wedding Corsage"/"Jealous Lies," on the independent Dallas label Bullet.
Price moved to Nashville to pursue a major-label record contract in 1951. After auditioning and failing several times, Ray finally signed to Columbia Records, after A&R representative Troy Martin convinced the label's chief executive, Don Law, that Decca was prepared to give the singer a contract. Previously, Law was uninterested in Price -- he turned him down 20 times and threatened Martin never to mention his name again -- but he was unprepared to give a rival company a chance at the vocalist. Just before "Talk to Your Heart" became a number three hit for Price in the spring of 1952, Ray met his idol, Hank Williams, who immediately became a close friend. Over the next year, Hank performed a number of favors for Price, including giving him "Weary Blues" to record and helping him join the Grand Ole Opry. Ray also became the permanent substitute for Hank whenever he was missing or too drunk to perform. Following Williams' death in 1953, Price inherited the Drifting Cowboys.
Following the success of "Don't Let the Stars Get in Your Eyes" in the fall of 1952, Price was quiet for much of 1953. It wasn't until 1954 that he returned to the charts with "I'll Be There (If You Ever Want Me)," a number two hit that kicked off a successful year for Price that also included the Top Ten singles "Release Me" and "If You Don't, Somebody Else Will." Instead of capitalizing on that success, he disappeared from the charts during 1955, as he spent the year forming the Cherokee Cowboys. Over the course of the past two years, he had realized that performing with the Drifting Cowboys had made him sound too similar to Hank Williams, so he decided to form his own group. Originally, most of the members were lifted from Lefty Frizzell's Western Cherokees, but over the years a number of gifted musicians began their careers in this band, including Roger Miller, Johnny Paycheck, Buddy Emmons, Johnny Bush, and Willie Nelson.
Ray returned to the charts in 1956, first with "Run Boy" and then with "Crazy Arms," a driving honky tonk number that immediately became a country classic. The song was one of the first country records to be recorded with a drum kit, which gave it a relentless, pulsating rhythm. Until Price, most country artists were reluctant to use drums and the instrument was even banned from the stage of the Grand Ole Opry. The blockbuster status of the single helped change that situation. Spending an astonishing 20 weeks at the top of the country charts, "Crazy Arms" not only crossed over into the lower reaches of the pop charts, but it also established Price as a star. After the success of the single, he remained at or near the top of the charts for the next ten years, racking up 23 Top Ten singles between the 1956 and 1966. During this time, he recorded a remarkable number of country classics, including "I've Got a New Heartache" (number two, 1956), "My Shoes Keep Walking Back to You" (number one, 1957), "Make the World Go Away" (number two, 1963), and "City Lights," which spent 13 weeks at the top of the charts in 1958.
The momentum of Price's career had slowed somewhat by the mid-'60s; though he was still having hits, they weren't as frequent nor as big. His musical inclinations were also shifting, bringing him closer to the crooning styles of traditional pop singers. Ray abandoned the cowboy suits and brought in strings to accompany him, making him one of the first to explore the smooth, orchestrated sounds of late-'60s and early-'70s country-pop. While it alienated some hardcore honky tonk fans, the change in approach resulted in another round of Top Ten hits. However, it took a little while for the country audience to warm to this new sound -- it wasn't until 1970, when his cover of Kris Kristofferson's "For the Good Times" hit number one, that he returned to the top of the charts. Over the next three years, he scored an additional three number one singles ("I Won't Mention It Again," "She's Got to Be a Saint," "You're the Best Thing That Ever Happened to Me").
By the mid-'70s, the appeal of his string-laden country-pop hits had diminished, and he spent the rest of the decade struggling to get into the charts. In 1974, he left his long-time home of Columbia Records to sign to Myrrh, where he had two Top Ten hits over the next year. By the end of 1975, he had left the label, signing to ABC/Dot. Though he hadn't changed his style, his records became less popular around the same time he signed to ABC/Dot; only 1977's "Mansion on the Hill" gained much attention. In 1978, he switched labels again, signing with Monument, which proved to be another unsuccessful venture. In 1980, Price reunited with his old bassist Willie Nelson, recording the duet album San Antonio Rose, which was a major success, spawning the number three hit "Faded Love." San Antonio Rose reignited Ray's career, and in 1981 he had two Top Ten singles -- "It Don't Hurt Me Half as Bad" and "Diamonds in the Stars" -- for his new label, Dimension. Price left Dimension in 1983, signing with Warner Records. He remained at the label for one year, and by that time, his new spell of popularity had cooled down considerably; now, he was having trouble reaching the Top 40. That situation didn't remedy itself for the remainder of the decade, even though he signed with two new labels: Viva (1983-1984) and Step One (1985-1989).
By the late '80s, Price had stopped concentrating on recording and had turned his efforts toward a theater he owned in Branson, MO. For most of the '90s, he sang and performed at his theater in Branson, occasionally stopping to record. Of all of his '90s records, the most notable is the 1992 album Sometimes a Rose, which was produced by Norro Wilson.
Price passed away Monday, December 16, 2013 at his Texas home, having long outlasted most of his country music contemporaries and the prognosis doctors gave him when they discovered his pancreatic cancer in 2011. He was 87. The way the Country Music Hall of Fame member fought cancer was an apt metaphor for the way he lived his life, always fiercely charting a path few others might have the fortitude to follow.
Three weeks after Price passed away, his widow Janie wrote about her pain in an open letter on her Facebook page.
"I wanted to stop by for just a moment to tell you that I am just now able to speak to you.
The days have been a blur since I lost Ray on December 16, 2013.
Only God knows how I was able to make all of the arrangements for the first Memorial Service, the Funeral and the Entombment at Restland.
The hardest part of all was walking into our home alone and looking at Rays favorite chair empty and knowing I will never see him there again."
"
Rays Love For Me Has Sustained Me. I Chose Ray Because Of His
Kindness, Gentleness, Strength And Courage.
What A Great Honor To Have Been Chosen By Ray Price Be His Wife! What A Great Man!
Earth's Loss Was Heaven's Gain!
I Pray I will regain my strength and that I will be able to go forward with the plans and dreams that Ray entrusted me to carry on for him.
I Am So Proud To Tell You That I Am Mrs. Ray Price!
"
Discography:
1957 - Sings Heart Songs
1958 - Talk to Your Heart
1960 - Faith
1961 - Greatest Hits
1962 - San Antonio Rose
1963 - Night Life
1964 - Love Life 3
1965 - Burning Memories
1966 - The Same Old Me
1967 - Touch My Heart
1968 - Take Me as I Am
1969 - Sweetheart of the Year
1970 - The World
1971 - I Won't Mention It Again
1972 - All Time Greatest Hits
1974 - You're the Best Thing
1975 - Like Old Times Again
1976 - Rainbows and Tears
1977 - Reunited
1978 - How Great Thou Art
1979 - There's Always Me
1980 - San Antonio Rose (with Willie Nelson)
1981 - Tribute to Willie and Kris
1982 - Somewhere in Texas
1986 - Welcome to Ray Price Country
1987 - Just Enough Love
1988 - By Request
1990 - Memories That Last (with Faron Young)
2000 - Prisoner of Love
2002 - Time
2003 - Run That By Me One More Time (with Willie Nelson)
2007 - Last of the Breed (with Merle Haggard & Willie Nelson)
Read more
Ray Price Picture Gallery
Latest headlines