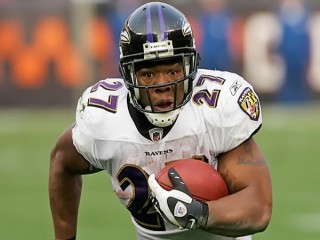 Ray Rice biography
Date of birth : 1987-01-22
Date of death : -
Birthplace : New Rochelle, New York, U.S.
Nationality : American
Category : Sports
Last modified : 2010-09-14
Credited as : Football player NFL, running back for the Baltimore Ravens, Super Bowl winning
GROWING UP
Raymell Maurice Rice was born on January 22, 1987 in New Rochelle, New York. Raymell—or Ray for short—was the youngest of four kids. His mother, Janet, taught special needs children.
Ray never knew his father, Calvin Reed. In 1988, he was gunned down in a drive-by shooting. Ray's cousin, MyShaun, stepped in to provide male guidance when needed. But Myshaun was killed by a drunk driver when Ray was 10. At that point, Ray figured he'd better learn how to take care of himself.
Ray was not a big kid, and he didn't figure to be a tall, imposing adult. His mother stands a hair under five feet tall. But Ray was strong, smart and fast. He gravitated to football and basketball, where he learned how to stay low to the ground to navigate through the forest of taller players.
As Ray began playing organized football in the youth leagues of Westchester, he gained a reputation as a battering ram. His strong legs also made him a good punter and place kicker—two jobs he held until he got to college. Ray wasn't a bad defensive back either. He loved to break up passes and meet runners who broke through the line. He also had soft hands and good anticipation.
When he watched NFL games on TV, he was drawn to running backs who didn't shy away from contact. His favorite was Eddie George of the Tennessee Titans. To this day, he wears George's #27.
In 2001, Ray enrolled at New Rochelle High School. One of the top high schools in the country, NRHS was neverknown for producing great athletes. Its notable alumnae include director Elia Kazan, actor Richard Roundtree, sports radio personality Craig Carton, billionaire Jerome Kohlberg and Henry Heimlich, inventor of the Heimlich Maneuver. Quite a mixed bag. Ray is already the best pro athlete the school has produced.
In 2002, during his sophomore year, Ray established himself as one of the top players on coach Lou DiRienzo's varsity football squad, along with Glen Lee and Courtney Greene. Both of these stars would also be college teammates of Ray's.
Ray became the featured back as a junior for the Huguenots, gaining over 1,000 yards and scoring 21 times. He led NRHS to the state championship. A few months later, as point guard for the basketball team, he helped the Huguenots reach the state finals.
In Ray's senior season, he was the team's dominant star. He gained 1,192 yards on 112 carries and scored 31 touchdowns. Once again, the Huguenots made it to the state title game, but this time they were defeated by Christian Brothers Academy and their two-sport superstar, Greg Paulus. After the season, Ray was named First Team All-State as a running back.
By this time, Ray was narrowing down his college choices. He was most impressed by coach Paul Pasqualoni of Syracuse and committed to the Orangemen. But when the school fired Pasqualoni that spring, Ray changed his mind. He felt he owed his loyalty to the outgoing coach, not to Syracuse. This opened the door for the schools that had missed out the first time around. Greg Schiano, the dynamic young coach of Rutgers, convinced Ray that the Scarlet Knights were on the verge of snapping a 14-season losing streak. He told Ray that he had a chance to be part of something great.
ON THE RISE
As Schiano promised, in 2005, Ray's freshman year, Rutgers turned in its first winning season since 1990. Ray worked his way into the starting lineup during a campaign that energized the New Jersey campus. He finished the season with 1,120 yards and five touchdowns. Ray's best game came against UConn. He tore through the Huskies for 217 yards.
The Scarlet Knights went 7–4, including a 4–3 mark in the Big East. That December, the team played in its second-ever bowl game, the Insight Bowl. Rutgers put up a great fight in a 45–40 loss to Arizona State. The Scarlet Knights actually led 24–17 at the half, but the defense collapsed in the final 30 minutes.
Ray's backfield mate was fullback Brian Leonard. Before Ray's arrival at Rutgers, Leonard was being touted as a potential Heisman Trophy candidate. In 2006, Leonard devoted himself to blocking for Ray, accepting the fact that he would not get as many touches as in past seasons. His selfless decision helped Ray blossom into a big-time runner, which in turn helped boost the Scarlet Knights into the Top 20.
As a sophomore, Ray set a school record with 1,794 yards, including a 225-yard performance against Pitt. He also scored 20 touchdowns.
With the Rice-Leonard tandem sharing the backfield and sophomore Mike Teel calling the signals, the Scarlet Knights beat several quality teams, including UNC, Illinois, Syracuse, Pitt, South Florida and Louisville. The win over the Cardinals was the most electric game of the year—Louisville was the #3 team in the country at the time. Rutgers actually snuck into the Top 10 before losing to Cincinnati and West Virginia late in the year. The Scarlet Knights finished with a #12 national ranking.
In the season-ending Texas Bowl, Ray rolled up 170 yards in a 37–10 drubbing of Kansas State. It was the first bowl win in school history—quite a drought considering Rutgers was one of the two colleges that participated in America's first football game, in 1869.
Ray was part of a group of fearless, confident players that had helped transform Rutgers football. Like Ray—who at 5-8 had not been considered Grade A beef when he began his college career—their love of football and never-say-die spirit more than made up for any physical shortcomings.
In 2007, for the first time in their history, the Scarlet Knights entered a football season nationally ranked. They were pegged at #16 in most polls. Early losses to Maryland and Cincinnati squashed any hopes of a national title, but in mid-October, Rutgers managed to pick off the nation's #2 team, the South Florida Bulls. Coach Schiano used every trick in the book to win 30–27.
Ray battered the South Florida defense. He gained 181 yards—many of those coming with defenders riding his back. Ray was thought of as a speed back, but in this game, he showed that he could be a power back when his team needed tough yards. Late in the game, Ray fumbled, giving South Florida a chance to win. The Rutgers defense—which recorded seven sacks in the game—stepped up and denied the Bulls. It was a team effort in the truest sense, and one of the proudest moments of Ray's life.
Ray's best statistical game during the 2007 regular season came against Army. He set a school record with 243 yards in a 41–6 rout. The previous record-holder was Terrell Willis.
Ray outdid himself in the International Bowl against Ball State, upping his own mark with 280 yards against Ball State. Rutgers triumphed 52–30. It was the school's eighth win against five losses. In what would prove to be his last college game, Ray was given the game's MVP award.
Three days later, Ray announced that he would skip his senior season and enter the NFL draft. In 38 games for the Scarlet Knights, Ray set school records with 4,926 career yards and 49 touchdowns. Only Lee Suggs of Virginia Tech found the end zone more often for a Big East school.
Come April, there were a lot of talented runners on the board in the first two rounds of the draft—including Chris Johnson, Darren McFadden, Jonathan Stewart, Rashard Mendenhall, Jamaal Charles, Kevin Smith and Matt Forte. Ray lasted until the second round, when the Ravens called his name. Baltimore had veteran Willis McGahee in the backfield, but the club needed a young talent like Ray to back him up.
As it turned out, McGahee missed huge chunks of time in 2008 thanks to a variety of injuries. Fullback LeRon McLain picked up most of the slack when the star was sidelined. Ray saw lots of action, too.
The Ravens, meanwhile, handed the quarterback job to fellow rookie Joe Flacco. The team had a killer defense led by Ed Reed and Ray Lewis. Baltimore simply needed a passer who could manage it's ground-based offense. Flacco proved up to the task.
The Ravens rebounded from three straight early-season losses to go 9–2 in the final 11 games. They finished at 11-5 to secure a playoff berth.
Ray got plenty of touches as a rookie. He actually led the team with 22 carries on the season's opening weekend. Later in the year, he ran for 154 yards against the Cleveland Browns. In all, he gained 454 yards on 107 carries and caught 33 passes for 273 yards.
By playoff time, Ray was feeling the pain of a long season. He actually had to sit out the Wild Card game against the Miami Dolphins. Fortunately, Baltimore didn't need him. The defense ate up Chad Pennington and the Miami offense. The Ravens caused five turnovers in a 27–9 win.
A week later, Baltimore got a taste of its own medicine in Pittsburgh. The Steelers put the defensive clamps on the Ravens and won 23–14. Late in the game, McGahee absorbed a vicious hit and had to be carted off the field.
Ray learned a lot from McGahee about the NFL8. He especially appreciated what a difference quick feet made in the pros. He would take that lesson into the 2009 season.
MAKING HIS MARK
After the beating absorbed by McGahee, the Ravens elevated Ray to the starting lineup, ahead of his mentor. By limiting McGahee's carries, coach John Harbaugh hoped to keep him relatively fresh and injury-free. McGahee could save his best for the Ravens when Flacco got the team into the Red Zone.
Ray ran for 108 yards in the season's first game, a 38–24 victory over the Kansas City Chiefs. He scored his first touchdown as a pro in Week 3 against the Browns, as the Ravens took their third straight. The formula was simple. Ray got the lion's share of the carries, and then McGahee would be inserted to punch the ball into the end zone. By season's end, Ray would amass over 1,000 yards and McGahee would reach double-digits in the touchdown department.
But it was far from a smooth campaign. Baltimore hit a rough patch starting in October and lost six of nine games. Playing from behind so often, Flacco was forced to put the ball in the air. While this diminished Ray's rushing stats somewhat, it gave him a chance to show off his receiving skills. He reeled in an extraordinary number of passes, albeit often in losing causes.
With their backs against the wall, the Ravens clawed their way back into playoff contention with three wins in their final four games. Ray got Baltimore back on track in Week 14 when he ran for 166 yards (and caught passes for 50 yards) in 48–3 thrashing of the Detroit Lions—not bad when you consider he sat out almost the entire second half.
Baltimore's only loss down the stretch came in a 23–20 nailbiter against the Steelers. Ray was fantastic in this contest. He tore through the Steel Curtain for 141 yards on 30 carries. Prior to that game, no running back had reached triple-digits against Pittsburgh in 32 games.
When the regular season came to an end, Ray had himself quite a year. He ran the ball 254 times for 1,339 yards and seven touchdowns. He also caught a team-leading 78 passes for 702 yards and another touchdown. Only seven other players in history had gained 1,000 yards rushing and 700 yards receiving in the same season.
The Ravens finished 2009 with a 9–7 record, good enough to squeak into the playoffs. Their reward was a Wild Card date with the New England Patriots in Gillette Stadium, a notoriously difficult place to win a postseason game. Earlier in the year, the Ravens had lost 27–21 on the same field.
This time it would be different. Ray set the tone on Baltimore's first play from scrimmage when he took a handoff up the middle and exploded for an 83-yard touchdown. It was the second-longest run in NFL postseason history. Toward the end of the first quarter, Ray scored again after an interception of a Tom Brady pass by Chris Carr. That made the score 21–0. Baltimore won 33–14. Ray finished with a team playoff-record 159 yards on 22 carries.
Suddenly, the Ravens were the trendy pick to represent the AFC in the Super Bowl. This turned out to be wishful thinking. In the next round, Indianapolis piled up 17 points in the first half and coasted to a 20–3 win. Ray was the only player in purple and black the Colts couldn't stop. He was high man for Baltimore in both the rushing and receiving departments.
In 2010, the only area Ray can possibly improve on is running in the red zone. But in today's NFL, if you can save your featured back some wear and tear around the goal line, that will pay dividends over the course of a long season. Defense will always be Baltimore's main weapon. But in Ray, the Ravens have what, to them at least, is the ultimate game-changer: A player that can move the sticks in 50-yard chunks at any time.
RAY THE PLAYER
Ray may be short, but he does not have a small body. He is rock-solid and knows how to use his low center of gravity to deliver painful blows to would-be tacklers. Add decent speed and quality moves, and you've got a very special player. If defenders commit too early, they might miss Ray entirely. If they try an arm tackle, Ray can break out of it.
Although Ray has a way to go before anyone starts calling him the best in the business, he may already be the most complete third-down back in football. Depending on the yardage, the Ravens can hand the ball to Ray or throw a check-down pass to him. Either way, they can be fairly certain that he will get close to the first down marker.
Ray is a popular teammate, and not just because he makes huge plays and hangs on to the football. Whenever praise is directed at him, he is quick to share it with his teammates—particularly his linemen. Indeed, Ray has always been a team-first guy. He wants to win and stats are a secondary concern.
EXTRA
* Ray was a Second Team All-American in both his sophomore and junior years at Rutgers.
* Ray was a Maxwell Award finalist in 2006, and he also finished seventh in Heisman Trophy balloting.
* Ray set a school record when he was named Big East Offensive Player of the Week three times in 2006.
* Ray was named the MVP of the 2006 Texas Bowl.
* Eli won the Maxwell Award and Johnny Unitas Golden Arm Award just like brother Peyton.
* Ray was the first Rutgers back to rush for more than 1,000 yards in three seasons.
* Ray had a career-best 90-yard touchdown run in his final college game.
* In 2006, Ray broke Rutgers rushing yardage record held be JJ Jennings. Jennings had gained 1,353 for the Scarlet Knights in 1973.
* Ray had just one fumble in his NFL rookie year.
* When Eli was 10, he made a personal rule: he declared he could be kissed only once a week.
* When Ray joined the Ravens, defensive back Ronnie Prude already had #27, Ray's number in college. Ray wore #39 until Prude was cut at the end of training camp.
* Ray and Chris Johnson were the only players to top 2,000 yards from scrimmage in 2009.
* Ray earned his first Pro Bowl nod after the 2009 season . He was also named Second Team All-NFL.
* Ray led all NFL backs in catches and receiving yards in 2009.
* Ray's 1,339 rushing yards in 2009 was sixth-best in the NFL.
* Ray and Jamal Lewis are the only Ravens to gain over 2,000 yards from scrimmage in a season.
* Ray says he patterns his game after Maurice Jones-Drew.
* Ray hosts a summer football camp in New Rochelle each June for more than 500 kids.
Read more
Latest headlines