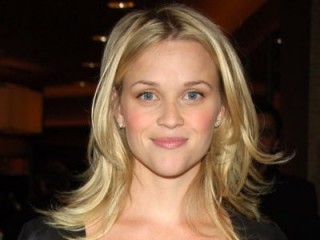 Reese Witherspoon biography
Date of birth : 1976-03-26
Date of death : -
Birthplace : New Orleans, Louisiana, U.S.
Nationality : American
Category : Arts and Entertainment
Last modified : 2010-12-03
Credited as : Actress and film producer, Role in Legally Blonde, Sweet Home Alabama
Laura Jeanne Reese Witherspoon
was the second child born to John, a military surgeon specialising in ear, nose and throat and Betty Reese, a registered nurse.
For the first four years of her life, Witherspoon lived in Germany due to her father's military posting there before the whole family eventually returned to the United States to settle in Nashville, Tennessee.
Like many of her fellow Hollywood co-stars, Witherspoon began modelling at a mere seven-years-old. This led to television commercial roles before she landed her first significant acting part in The Man in the Moon in 1990 as a 14-year-old tomboy. Roles in the films Jack The Bear (1993) and Disney's A Far Off Place (1993) followed.
After graduating from a private all girl's school in 1994, Witherspoon decided to halt her acting career temporarily to attend Stanford University. Her intentions were short lived though as after just a year of studying, Witherspoon left to continue with her true ambitions on the acting path.
Taking the lead role of Wendy Pfister in the 1994 film, SFW, Witherspoon's real break came when she starred alongside brat pack favourite, Kiefer Sutherland and Brooke Shields in the thriller Freeway (1996). Her part earned Witherspoon a Best Actress award at the Cognac Festival du Film Project- the first time the industry had taken notice of the young actress's talents. The same year she also starred with Mark Wahlberg in the film Fear.
1998 was a breakthrough year for Witherspoon, making three films, of which two in particular were stand-out parts.
Witherspoon was first seen portraying the wayward daughter of Susan Sarandon and Gene Hackman in Twilight, then taking a less notable role in Overnight Delivery before finally meeting a milestone in her career in Gary Ross's black and white 1959s drama, Pleasantville.
Witherspoon's role as the kooky Jennifer earned her the Best Female Breakthrough Performance recognition at the Young Hollywood awards and immediately caught the critics' attentions.
Witherspoon continued her climb up the success ladder in 1999 by playing the part of Alessandro Nivola's lover in Best Laid Plans.
Witherspoon's role of Tracey Flick in the dark satire Election (199) opposite Matthew Broderick was well received by the critics. Playing a fiercely ambitious high school president candidate, the part led to her first Golden Globe nomination for Best Actress.
Witherspoon climaxed her roles of 1999 with a film she's still most widely recognised for by many fans - Cruel Intentions. The remake of the French 'Les Liaisons Dangereuses' drew a large box office audience with Witherspoon marking herself as a teen role model alongside pin-ups Sarah Michelle Gellar and Ryan Phillippe.
Witherspoon's role in Cruel Intentions was significant for personal reasons as it was on set that love finally blossomed between her and co-star Ryan Phillppe. The couple had in fact met in 1997 at Witherspoon's 21st birthday party and got engaged the following year. After the success of Cruel Intentions though, the pair married and their first child, Ava was born soon after in September 1999.
In 2000, Witherspoon's profile was raised further when she took a guest part on the hit TV show Friends as Rachel's little sister, Jill Greene. Other than a small cameo appearance alongside Adam Sandler in Little Nicky (2000) and a supporting role in the remake of American Psycho (2000), Witherspoon had a relatively quiet start to the millennium to deliberately concentrate on her private life.
"This whole LA culture is foreign to me because when I was growing up you wouldn't watch your children every moment."
2001 secured Witherspoon's earning potential with the box office smash Legally Blonde. Starring as Elle Woods, a fashion merchandising executive who becomes a law student in order to follow her ex boyfriend to Harvard, the comedy was an instant hit thanks to Witherspoon's irresistible performance. The role also earned Witherspoon her second Best Actress Golden Globe nomination.
The relatively small success of Oscar Wilde's The Importance of Being Earnest in 2002 didn't immediately follow the audience enthusiasm of Legally Blonde's appeal yet Witherspoon's next film of the same year, Sweet Home Alabama made up for it. The romantic comedy was particularly close to Witherspoon's heart because the plot centered around a Southern girl who after transforming herself into a New York socialite has second thoughts about her true roots when she's on a visit back to her home.
A self identified Southerner; Witherspoon has always credited her family with establishing in her a sense of constancy that reflected in her own parental philosophy. "This whole LA culture is foreign to me because when I was growing up you wouldn't watch your children every moment. I think part of the joy of being a child is privacy. Your fantasies and dreams are so important to you at that moment."
The success of Legally Blonde in 2001 was followed in 2003 with its sequel Legally Blonde 2: Red, White and Blonde, which was a box office smash paralleling the success of its original. Witherspoon also gave birth to her second child, Deacon in October of the same year.
Switching from the tried and tested winning formula of comedic acting, Witherspoon took on the role of elitist Becky Sharpe in Mira Nair's modern style adaptation of William Makepeace Thackeray's novel Vanity Fair (2004). The film was a moderate success but at this stage Witherspoon had already established herself as one of Hollywood's highest earning female actresses, reportedly earning an average of $15 million per film role.
2005 was to be a landmark year in Witherspoon's life. After completing the romantic comedy Just Like Heaven, in which she starred with Mark Ruffalo in a plot similar to 1990's mega hit Ghost, Witherspoon filmed the part of June Carter Cash in the Johnny Cash biopic, Walk The Line. This project was potentially the most challenging of Witherspoon's career to date, starring alongside Joaquin Phoenix, she was required to sing Carter's songs, learn to play the autoharp and pull off a convincing portrayal of Carter's trademark wisecracks and renowned character traits.
Witherspoon's efforts came to fruition as not only did she win a Golden Globe for Best Actress and a Screen Actors Guild award for Outstanding Performance by a Female Actor, she topped off her run of success with the ultimate accolade, an Academy Award for Best Actress in a Leading Role.
Whilst Witherspoon's impressive CV of acting parts had paid off with much publicised success, her family life had suffered. In November 2006, Witherspoon filed for divorce from her husband of eight years and father of her two children, Ryan Phillippe, citing irreconcilable differences.
Now appearing to be taking a small break from the limelight to avoid more paparazzi hounding over her marriage breakdown, Witherspoon is at least safe in the knowledge that with an Oscar on her mantelpiece and a reported $29 million price tag per film (surpassing Julia Roberts as the highest paid actress of all time), her future as a A-list actress is secure.
Witherspoon was back in front of the camera again in November 2006, as shooting began for the political thriller Rendition. She starred alongside Meryl Streep, Alan Arkin, Peter Sarsgaard, and Jake Gyllenhaal, playing Isabella El-Ibrahim, the pregnant wife of a bombing suspect. Rendition was released in October 2007 and marked Witherspoon's first appearance in theaters in two years, since the 2005 release of Walk the Line. The movie received mostly negative reviews, and was generally considered a disappointment at the Toronto Film Festival. Witherspoon's performance was also criticized: "Reese Witherspoon is surprisingly lifeless", USA Today wrote, "She customarily injects energy and spirit into her parts, but here, her performance feels tamped down." In December 2007, Witherspoon began filming the holiday comedy Four Christmases, a story about a couple who have to spend their Christmas Day trying to visit all four of their divorced parents, and in which she stars alongside Vince Vaughn. The film was released in November 2008. Despite only receiving average reviews by critics, the movie became a box office success, earning more than 120 million US dollars domestically, and US$157m worldwide. Witherspoon next provided the voice for Susan Murphy, the main character of the computer-animated 3-D feature film Monsters vs. Aliens, which had a March 27, 2009 release from DreamWorks Animation.
Her future projects include a starring role as Lisa, a former softball player trying to decide between two men, in James L. Brooks's upcoming film How Do You Know. The movie, which also stars Paul Rudd, Owen Wilson, and Jack Nicholson, was filmed over the summer and fall of 2009 in Philadelphia and Washington, DC; it is set for a December 2010 release. In March 2010, Witherspoon began circus training for her role as Marlena, a performer, in the upcoming film adaptation of the 1930s circus drama Water for Elephants. Filming for the movie, in which Witherspoon will star alongside Christoph Waltz and Robert Pattinson, took place between late May and early August 2010. In September 2010, Witherspoon began principal photography in Vancouver for This Means War, a 20th Century Fox spy comedy directed by McG, in which she will star as a woman at the center of a battle between two best friends (played by Chris Pine and Tom Hardy) who are both in love with her. Witherspoon will then voice the role of Princess Mérida in Brave, a computer-animated 3-D film produced by Pixar Animation Studios and distributed by Walt Disney Pictures, to be released in June 2012. It has also been announced that Witherspoon will produce (under the Type A banner) and star in both Pharm Girl, a film about a woman who takes on the pharmaceutical industry, and a Peggy Lee biopic to be directed by Nora Ephron.
Witherspoon's name has been attached to a number of other possible future films as well, including a Universal Pictures remake of the 1939 comedy Midnight, scripted by Michael Arndt, and the horror film Our Family Troubles, which she would produce through Type A with Jennifer Simpson, co-producer of Legally Blonde 2. Witherspoon is also rumoured to be taking on a role alongside Philip Seymour Hoffman in Paul Thomas Anderson's upcoming film based on the history of Scientology, tentatively titled The Master.
Witherspoon received a star in the
Hollywood Walk of Fame
in December 1, 2010 at 6262 Hollywood Blvd , Los Angeles.
Read more
Latest headlines