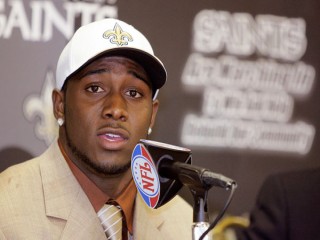 Reggie Bush biography
Date of birth : 1985-03-02
Date of death : -
Birthplace : Spring Valley, California, U.S.
Nationality : American
Category : Sports
Last modified : 2010-08-09
Credited as : Baseball player MBL, currently running back for the New Orleans Saints , Super Bowl winning
Speed kills. If that sports axiom is true, then
Reggie Bush
is pro football's deadliest assassin. But don't try convincing the people of New Orleans of such idiomatic NFL wisdom. To Saints fans, Reggie is a life-giving force who has helped them see better days in the wake of Hurricane Katrina. That was certainly the case in his rookie season when he led the once hapless franchise to within a win of the Super Bowl. Now, as defensive coaches around the league spend sleepless nights working on ways to slow Reggie down, he has the Saints marching swiftly to their first championship and New Orleans on the fast-track to recovery.
GROWING UP
Reginald Alfred Bush
was born on March 2, 1985 in Spring Valley, California, a suburb 11 miles east of San Diego. Times were tough for Reggie and his mom, Denise, when he was a youngster. A deputy sheriff at the Vista Detention Facility, she raised her only son for several years on her own. Reggie learned a lot about hard work and overcoming adversity from watching his mother.
Reggie's biological father, Reggie Sr., was never an important part of his son's life. An excellent athlete in high school, he was nicknamed "Dancing Man" for his quick feet. Reggie Sr. and Denise were living together in Los Angeles when she became pregnant. The news created stress between the couple, and as soon as they began fighting, Denise moved to the San Diego area. Reggie Sr., 20-years-old at the time, was not ready to be a father and shunned virtually all of his parental responsibilities. To this day, Reggie has very little to do with him.
The man Reggie came to know as "dad" was LaMar Griffin. He and Denise met after her split with Reggie Sr., and the two eventually married. LaMar was a security guard at a local high school and hoped one day to become a minister. He introduced Reggie to a spiritual life centered on scripture.
LaMar and Denise ran a tight ship at home. Reggie was expected to study hard in school and stay out of trouble. Above all, Reggie's parents demanded he remain grounded and modest no matter what he accomplished.
That wasn't always easy, especially once Reggie started playing football. A high-energy kid, he possessed phenomenal speed and instincts. After his ninth birthday, Reggie begged his parents to let him suit up in the local Pop Warner league. In his first game, he ran for nearly 300 yards and seven touchdowns. Reggie only got better from there. LaMar and Denise quickly realized their son had special talent.
The more time Reggie spent on the football field, the more he loved the sport. His favorite team was the San Francisco 49ers. Watching Steve Young throw touchdowns to Jerry Rice was always thrill. Reggie cheered loudly when the Niners beat his hometown Chargers in Super Bowl XXIX.
But Reggie also had heroes much closer to home. His part of San Diego produced the likes of Marcus Allen, Marshall Faulk, Ricky Williams and Terrell Davis. More than any of these backs, Reggie was drawn to Faulk, who he saw in person on several occasions when the future All-Pro runner played at San Diego State. The two shared similar running styles, and Faulk proved to Reggie that a smaller back could dominate a game at any level, against any opponent.
In 1999, Reggie entered Helix High School in La Mesa. The Highlanders' football staff knew immediately they had a star in the making. The first time the freshman put his hands on the ball, he broke off a 60-yard run.
Reggie earned a good deal of playing time as a sophomore. In one game, he raced for a score that measured 70 yards—though with all his juking and cutting, witnesses swear Reggie ran more than 100 yards. At season's end, he was named All-State.
As a junior, Reggie took on more responsibility for Helix, especially as the season wore on. He keyed a victory in the state semifinals, opening the fourth quarter with a touchdown run, a touchdown pass and another touchdown run. Again an All-State selection, Reggie finished the campaign with more than 3,000 all-purpose yards. He scored 34 touchdowns in all, averaging 36 yards on each of his 28 TD rushes.
Despite an excellent junior season, Reggie didn't attract the full spotlight until 2002. The previous year at Helix, quarterback Alex Smith had blossomed into one of the nation's top passers. After an excellent career at Utah, he would go on to be the #1 pick in the 2005 NFL draft, by Reggie's prized 49ers.
ON THE RISE
During his senior campaign at Helix, Reggie finally took center stage. Though he missed four games with a broken wrist, Reggie still amassed 1,691 yards (on just 140 carries) for 27 touchdowns. Parade Magazine honored him on its annual All-American list, and USA Today named him All-USA. For the second straight year, Reggie led the Highlanders to the state title.
Reggie impressed off the field, too. In the classroom, he maintained a 3.8 GPA. In the weight room, no Highlander worked harder.
Reggie's smarts and intensity helped make him on the country's top recruits. Pursued by all of the national powerhouses, he was most interested in USC, but the Trojans weren't yet sold on him. That was until Pete Carroll and his staff saw a tape of Reggie lined up as a punter (not a returner) outracing 11 defenders on a fake for a breathtaking touchdown. USC's coaches realized they were looking at a once-in-a-lifetime talent.
Reggie earned playing time from the get-go with the Trojans, mostly on special teams as a return man. It became increasingly clear to Carroll, however, that the freshman needed to see the ball more often. Going into the 2003 campaign, the third-year coach had wanted to surround quarterback Matt Leinart with as many upperclassmen as possible. Paring him with a frosh in the backfield seemed a bit risky, but Reggie was simply too good to sit.
That decision paid dividends almost immediately. In a blowout victory over Notre Dame at South Bend, Reggie rushed for 89 yards, including a breathtaking 58-yard touchdown scamper in which he cut back against the grain and went the distance untouched by a single Fighting Irish defender. His breakout game came a week later against Washington when he piled up 270 all-purpose yards. Then, against crosstown rival UCLA, he was voted the Pac-10 Special Teams Player of the Week after returning a kickoff 96 yards for a score.
With Reggie, Leinart and receiver Mike Williams leading the offense, USC headed to the Rose Bowl with an outside shot at the national title. Though the BCS Championship Game pitted #1 Oklahoma against #2 LSU in the Sugar Bowl, an impressive win by the Trojans over Michigan might sway voters in the AP poll. USC took care of business, beating the Wolverines 28-14. At 11-1, USC could now lay claim to at least a share of the national title if the Tigers defeated the Sooners. To the dismay of the BCS architects, that's exactly what happened. While LSU won 21-14, AP writers ranked the Trojans the best team in the land and the country went without an undisputed champ.
USC left nothing to chance in 2004. The Trojans rolled through the regular season undefeated and pummeled Oklahoma in the Orange Bowl, 55-19. Though Auburn and Utah also finished without a loss, there was no question which team deserved the national title. USC won the BCS and was voted #1 by AP.
Leinart enjoyed a marvelous season for the Trojans and captured the Heisman. Reggie, meanwhile, earned praise as the nation's most exciting player. Splitting time with LenDale White, he managed 2,330 all-purpose yards, the highest total since Marcus Allen's Heisman season in 1981. Reggie was a threat to go the distance every time he touched the ball. Of his 15 touchdowns, six came on rushes, seven on pass receptions and two on punt returns. He even threw a 52-yarder on a flea-flicker.
Reggie propelled the Trojans in their season-opening 24-13 victory over Virginia Tech with three TD receptions. Over the next three games, he averaged more than 100 yards on the ground. Against Stanford in a contest that was much closer than expected, he helped USC avoid an upset with 240 all-purpose yards. Later in the year, he enjoyed another great day against UCLA, tearing off spectacular TD runs of 65 yards and 81 yards.
Reggie's highlight-reel season didn't go unnoticed by the national media. The Touchdown Club of Columbus named him its College Player of the Year, and AP, SI.com, Football Coaches, Cingular/ABC Sports, The Sporting News, ESPN.com, CSTV all put him to their All-America teams. A finalist for the Walter Camp Player of the Year, Reggie also shared Pac-10 Co-Offensive Player of the Year honors with Leinart. Perhaps most satisfying, he was voted club MVP by his teammates.
MAKING HIS MARK
On schedule to graduate from USC in three and a half years, Reggie entered the 2005 campaign the subject of great debate, as fans and the media wondered if this would be his final year at USC. He had a national championship under his belt, and few scouts questioned whether he had the physical tools to be an NFL star. It seemed a given to many onlookers that he would opt for the draft.
Carroll, meanwhile, was thrilled to have his game-breaking back for another season. With a young offensive line and some uncertainty on the outside at receiver, the Trojans would rely even more heavily on the triumvirate of Reggie, Leinart and White.
That was no more than evident than in USC's annual tilt with Notre Dame in October. The Trojans managed their 28th victory in a row—but just barely—in a 34-31 nailbiter. Reggie scored three times, including bursts of 36 yards and 45 yards. USC won on the game's last play when Leinart stretched the ball across the goal line on a quarterback sneak.
Reggie developed into an even bigger threat as the season progressed. He made mince meat of the Fresno State defense with an eye-popping total of 513 all-purpose yards. Weeks later, he torched UCLA yet again, rushing for 260 yards.
Reggie's performances against Fresno State and UCLA vaulted him into the lead in the Heisman race. His chief competition, teammate Leinart and Texas quarterback Vince Young, were also having strong years, but no college player electrified fans quite the way Reggie did. Indeed, no one argued when he collected the trophy in December, an event that also increased that speculation that Reggie was headed for the pros.
First, however, he had a national title game to play. USC finished the regular season undefeated and prepared for Texas in the Rose Bowl. On their home turf in Pasadena, the Trojans were the favorites and looked to be in control in the first half. Reggie scored a TD on an unbelievable run, bouncing an inside hand-off to the outside and leaping from the five-yard-line into the end zone.
The second half, by contrast, was the Vince Young Show. The Trojans simply had now answer for the Texas signal caller, who piled up 467 yards of total offense. His eight-yard TD run with 19 seconds left gave the Longhorns a 41-38 victory and the national title.
USC's disappointing loss notwithstanding, Reggie had all but decided on his future plans. A day after backfield-mate White announced his intentions to enter the draft, Reggie did the same. Within hours, Internet chat rooms in Houston and New Orleans were crammed with excited fans. With the #1 pick, the Texans were expected to take Reggie, but the Saints hoped Houston would consider defensive end Mario Williams instead. They got their wish shortly before draft day when the Texans reached a contract agreement with the NC State star. All of New Orleans celebrated the news.
Coming off a disastrous 3-13 season and still recovering from Hurricane Katrina, the Saints and their fans needed a lift. On the football field, at least, things were looking up. Sean Payton was in to replace head coach Jim Haslett. Drew Brees was signed to be the starting quarterback. Reggie added to the growing enthusiasm for the 2006 season.
T-shirts bearing Reggie's name and face sold out all over the city. In a public address, new mayor C. Ray Nagin listed the Saints' top pick as one of the major reasons for hope in the area. Reggie understood what was happening to him and embraced his role in the community. He visited schools, raised money for those struggling to recover from Katrina and helped keep the plight of New Orleans in the nation's consciousness.
It was not all smooth sailing for Reggie, however. Reports surfaced that his alma mater had asked the Pac-10 to investigate financial dealings involving a house rented to his mother and stepfather. Apparently his parents had received more than $100,000 in payments since late 2004 from investors in New Era Sports that sought to represent Reggie. The principals in the sports marketing firm then accused Denise and Lamar of defrauding them with the promise of their son's involvement in their company. The NFL, meanwhile, learned of a potential plot by New Era Sports to blackmail Reggie.
The entire mess was eventually straightened out and did little to tarnish Reggie's reputation or market value anyway. In July, he signed a six-year contract with the Saints worth more than $60 million. Reggie also scored big with endorsements, including deals with adidas and Subway. His agreement with the shoe and apparel giant, however, wound up causing problems in the preseason. In Reggie's pro debut, he donned flashy cleats with his endorser's logo—a no-no according to the NFL, which had official licensing deals with Nike, Reebok and Under Armour. Reggie was fined $10,000 and told to cover up the adidas name.
That wasn't the only uniform snafu that Reggie experienced. He had long worn #5, but the NFL refused to sanction his use of that number in the pros. Reggie chose #25 instead.
Once his off-field issues were settled, Reggie got to the business of acclimating to the pro game. His speed was blinding even by NFL standards, but adjusting to a faster, more physical style of play took time. Payton relied on veteran Deuce McAllister to begin the season, inserting Reggie in game situations where he was most likely to succeed.
The rookie found the end zone for the first time in October in a win over the Buccaneers. With less than five minutes to go and the Saints trailing 21-17, Reggie fielded a punt on his 35-yard-line, broke the first wave of coverage and then raced the rest of a way for a touchdown.
The Tampa Bay game served as a preview of things to come for New Orleans. Payton began using his "Pony" package more often, putting McAllister and Reggie in the backfield at the same time. Against the Bucs, McAllister carried the ball 15 times for 123 yards and a touchdown, while Reggie had a game-high 11 receptions for 63 yards.
The combination of Reggie and McAllister also opened the passing game for Brees. Coming off a shoulder injury, the former San Diego quarterback played like he had something to prove. An accurate passer with a good arm, Brees looked perfectly comfortable in Payton's offense, He also benefited from the emergence of rookie Marques Colston, who offered a nice compliment to speedster Joe Horn. New Orleans suddenly had one of the NFL's most difficult offenses to defend.
By December, Reggie had become a difference maker for the Saints. In a key divisional battle against San Francisco, he scored four touchdowns (three on the ground and one through the air) in a 34-10 pasting of the 49ers. With the victory, New Orleans seized sole possession of first place in the NFC South. Reggie's outburst tied Horn's franchise record for most TDs in a game.
The Saints went on to finish at 10-6, good for a first-round bye in the playoffs. Reggie was a big part of the team's improvement. He rushed for 565 yards and six scores, and caught 88 passes for 742 yards and two touchdowns. His impact on the New Orleans offense was clear, as McAllister topped 1,000 yards on less than 250 carries and Brees enjoyed a Pro Bowl year with 4,418 yards and 26 TD passes.
The NFL's most compelling feel-good story, New Orleans continued to ride this momentum in the playoffs. At home against the Philadelphia Eagles, the Saints won a see-saw game, 27-24. Reggie contributed with a TD run.
The team then traveled to Chicago for the NFC Championship Game, the franchise's first appearance ever in the conference title contest. On a blustery, snowy day, the Bears were too much for the Saints, cruising to an easy 39-14 win. Reggie provided the lone highlight for New Orleans, setting a record with an 88-yard touchdown reception.
Reggie's first season in New Orleans goes so much deeper than his statistics. The region needed inspiration, and Reggie provided that spark. His desire to reach out to the community in real, tangible ways has made him a hero to thousands and thousands across Louisiana. New Orleans like to call him as "Saint Reggie." Modest to a fault, he will tell you that he's simply doing the right thing—just like his parents taught him.
REGGIE THE PLAYER
Reggie has already been likened to history's best backs, including gale Sayers, Barry Sanders, Tony Dorsett and Marshall Faulk. Comparisons to the Kansas Comet may be most valid. Like Sayers, Reggie possesses brilliant speed and an innate ability to cut back and make tacklers miss. He is also at his best in open space.
Given his size, the knock of Reggie coming into the NFL was a perceived lack of power to run between the tackles. That's proved not to be entirely true. While Reggie will never be mistaken for a bruising back like Larry Csonka, he can survive and even thrive at times running inside.
As a receiver, Reggie adds a different dimension to his game. He has good hands, runs disciplined routes and is dynamite after the catch. Needless to say, Reggie is a nightmare match-up for linebackers and defensive backs alike.
Thanks to his parents, Reggie is—and probably always will be—grounded and modest. That's not to say he's not a gritty competitor. Teammates appreciate these qualities in Reggie, making him an excellent influence in the locker room.
EXTRA
* During his high school career, reggie rushed for 4,995 yards and scored 450 points.
* Reggie placed third in the 2002 California 100-meters final.
* As a freshman at USC in 2003, Reggie became the first Trojan to lead the Pac-10 in kickoff returns since Anthony Davis in 1974.
* Reggie's two punt returns for TDs in 2004 were the most in a season by a Trojan since R. Jay Soward scored on a pair in 1998.
* Reggie was the seventh USC player to win the Heisman Trophy, joining tailbacks Mike Garrett (1965), O.J. Simpson (1968), Charles White (1979), Marcus Allen (1981), and quarterbacks Carson Palmer (2002) and Matt Leinart (2004).
* reggie and LenDale White combined for 99 career touchdowns, breaking the NCAA record of 97 set by Army's Glenn Davis and Felix "Doc" Blanchard from 1943 to 1946.
* Though Reggie started just 15 of the 39 games he played at USC, he still finished 10th in NCAA Division 1-A history with 6,551 all-purpose yards.
* With 88 receptions during the 2006 season, Reggie set an NFL record for catches by a rookie running back.
* Reggie is not the only famous grad of Helix High School. In addition to San Francisco 49ers quarterback Alex Smith, the Highlanders also had a No. 1 pick in basketball when Hall of Famer Bill Walton was selected by the Portland Trail Blazers in 1974.
* Reggie was called "Mr. President" by his teammates at USC.
* Reggie runs the 40-yard dash in 4.25 seconds.
* Reggie trains in the off-seson with LaDainian Tomlinson.
* Reggie is heavily involved in the New Orleans community. Among other things, he paid $86,000 to resurface the field at Tad Gormley Stadium, donated 12 Hummer vehicles to city, state and government agencies, and became a regional spokesman for the Make-A-Wish Foundation. In addition, his corporate sponsorships all include charitable components for programs in the New Orleans region.
* Reggie was a Political Science major at USC.
* Reggie's favorites foods prepared by his mo are macaroni and cheese, peach cobbler and cornbread.
* Reggie regularly writes messages on his eye black patches—some in honor of his parents, others to remind him of his hometown.
Read more
Latest headlines