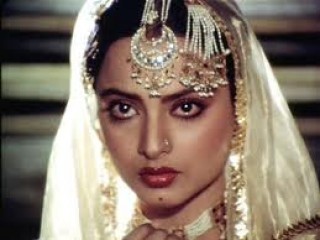 Rekha biography
Date of birth : 1954-10-10
Date of death : -
Birthplace : Chennai, Tamil Nadu, India
Nationality : Indian
Category : Arts and Entertainment
Last modified : 2011-08-22
Credited as : Bollywood actress, ,
Rekha
is an Indian actress who has appeared in Bollywood films.
Noted for her versatility as an actress, Rekha was particularly recognised for playing female-oriented characters, such as that of the school-girl in Khubsoorat and the decisive avenger in Khoon Bhari Maang, both of which earned her the Filmfare Best Actress Award. Her portrayal of a classical courtesan in Umrao Jaan won her the National Film Award for Best Actress and was followed by numerous critically acclaimed performances. Throughout the 1970s and onwards she has been featured as a sex symbol in the Indian media.
Rekha has acted in over 180 films in a career that has spanned 40 years. She has reinvented herself numerous times in her career and is known for her ability to sustain her status. Taking part in both Indian mainstream and art cinema, known in India as parallel cinema, she has achieved commercial success, as well as critical praise for her performances throughout the years.
Born on 10 October 1954 in Chennai, India, she is the daughter of renowned Tamil actor Gemini Ganesan and the Telugu actress Pushpavalli. Her father enjoyed considerable success as an actor and Rekha was to follow in his footsteps.
Rekha's parents were not married, and her father did not acknowledge his paternity during her childhood. It was during the early 1970s, when she was looking for a footing in the Bollywood film industry, that she revealed her origins. Later, at the peak of her career, Rekha told a magazine interviewer that her father's neglect still rankled and that she had ignored his efforts at reconciliation.
Rekha appeared as a child actor in the Telugu film Rangula Ratnam (1966). Rekha made her debut as heroine in the successful Kannada film Goadalli CID 999 with Dr. Rajkumar in 1969. In that same year, she starred in her first Hindi film, Anjana Safar (later retitled Do Shikari). She later claimed that she was tricked into a kissing scene with the leading actor Biswajit for the overseas market, and the kiss made it to the Asian edition of "Life" magazine. The film ran into censorship problems, and would not be released until a decade later. She had two films released in 1970: the Telugu film Amma Kosam and the Hindi film Sawan Bhadon, which was considered her acting debut in Bollywood. She had to learn Hindi language, as her naturally spoken language was Tamil. Sawan Bhadon became a hit, and Rekha — a star overnight. She subsequently got several offers but nothing of substance. Her roles were mostly used to be just of a glamour girl. She appeared in several commercially successful films at the time, including Kahani Kismat Ki, Raampur Ka Lakshman and Pran Jaaye Par Vachan Na Jaaye, yet she was not as regarded for her acting abilities.
Her first performance-oriented role came in 1976 when she played an ambitious woman in Do Anjaane, co-starring Amitabh Bachchan. The film became a hit as well as a critical success, and she was widely noticed for her performance.
Her most significant turning point, however, came in 1978, when she portrayed the role of a rape victim in the movie Ghar, alongside Vinod Mehra. The film was considered her first notable milestone, as she got critical acclaim for her performance, and received her first nomination for Best Actress at the Filmfare Awards. In that same year, she first attained fame with Muqaddar Ka Sikander, in which she co-starred once again with Amitabh Bachchan. The movie was the biggest hit of that year, as well as one of the biggest hits of the decade, and Rekha was set as one of the most successful actresses of these times. The film opened to positive critical reception, and Rekha's performance as a courtesan earned her a Best Supporting Actress nomination at the Filmfare.
Following her success with Muqaddar Ka Sikandar, Rekha went on to star opposite Bachchan in a number of films, most of which were hits. She had not only a successful on-screen pair with him, but a real-life relationship, which was widely reported in the media, as well as sharply criticised, as he was a married man. This relationship was ended and concluded in 1981, when they starred in Yash Chopra's drama Silsila. The film was the most scandalous of their films together, as it was based on their real-life relationship; Rekha played Bachchan's love interest, while Bachchan's real-life wife, Jaya Bhaduri, played his wife. This was their last film together, and they never have collaborated again.
The film-column gossip may have contributed to her success. However, even critics had to admit that she had worked hard to perfect her Hindi and her acting, and that she had transformed herself from a "plump" duckling to a "swan" in the early 1970s. Rekha's credits to this transformation were yoga, a nutritious diet, and a regular, disciplined life.
In 1981, she starred in the Urdu film Umrao Jaan. The film tells the story of a young girl, Amiran, who is kidnapped and sold in a brothel, and follows her life story there as Umrao. Her portrayal of a sensitive courtesan has been considered one of her career best performances, and she received the National Film Award for Best Actress for it. Overall, she played a courtesan with a heart of gold in several of her films; Muqaddar Ka Sikandar and Umrao Jaan were followed by a number of films which had her playing similar roles.
Rekha's post-Bachchan era marked a new stage in her career; it was the time when she turned her career professionally. She was willing to work with independent and art film directors, and throughout the 1980s, regularly worked in parallel cinema, a term that refers to the new wave, realistic cinema in India. Her venture into this particular genre started off with Umrao Jaan, and was followed by other 1981 such releases as Shyam Benegal's award-winning drama, Kalyug; Ramesh Talwar's Baseraa, which saw her playing a woman who marries her sister's husband, after the latter loses her mental balance; and the commercially successful Ek Hi Bhool, opposite Jeetendra, with Rekha playing the role of a betrayed wife who leaves her husband. Her performances in these films were highly praised by critics. Other notable arthouse films during the 1980s included Jeevan Dhaara, Utsav and Ijaazat.
Apart from parallel cinema, Rekha took on other increasingly serious, even adventurous roles; she was among the early actresses to play lead roles in heroine-oriented films, delivering films such as Khubsoorat, Khoon Bhari Maang and Mujhe Insaaf Chahiye. She won Filmfare trophies for her roles in Khubsoorat (1980) and Khoon Bhari Maang (1988). One critic wrote of her performance in Khoon Bhari Maang, "Rekha as Aarti is just flawless and this is one of her best performance ever! In the first half as the shy and not so sexy Aarti she is excellent and after the plastic surgery as the model and femme fatale she is excellent too. Some scenes show that we are watching an actress of a very high calibre here."
The 1990s saw drop in her success and she almost lost her stardom. She was part of some commercially and critically unsuccessful films, in spite of doing even more challenging roles. Unlike most actresses of her generation like Hema Malini and Raakhee, who began making supporting roles as the mother or the aunty, Rekha was still playing the leading roles, at the same time when heroines Madhuri Dixit and Raveena Tandon rose to fame.
The foreign film, Kama Sutra: A Tale of Love and the commercially successful Khiladiyon Ka Khiladi (1996) were some of her most notable films during the decade. The former, which was directed by Mira Nair was known for its controversial topic (many felt that staring would damage her career), as Rekha played a Kama Sutra teacher in the film. On the other hand, the latter was a major grosser and earned her several awards, including the Filmfare Best Supporting Actress Award and the Star Screen Award for Best Villain for her first villain role of a gangster woman.
In recent years, she has appeared in relatively few movies, usually as a mother or a widow rather than a glamour queen. In 2001, she starred as Ramdulari in Rajkumar Santoshi's Lajja, along with an ensemble cast that included Manisha Koirala, Madhuri Dixit and Anil Kapoor. She received several nominations for her portrayal; critic, Taran Adarsh, wrote of her performance, "... it is Rekha who walks away with the glory, delivering one of the finest performances the Indian screen has seen in the recent times." In that same year she acted alongside Karisma Kapoor in Shyam Benegal's Zubeidaa. Upperstall.com wrote, "Rekha has a stunning screen presence exuding grace and comes up with an expertly adept performance leaving her stamp on the film." She next starred alongside Preity Zinta in Kundan Shah's Dil Hai Tumhaara, playing the role of Sarita, a betrayed woman who takes under her custody the extramarital daughter of her husband. In 2003, she played Hrithik Roshan's mother in Rakesh Roshan's Koi... Mil Gaya, a performance which won her the Bollywood Movie Award - Best Supporting Actress. The film was the biggest hit of that year.
She next took part in a number of films, such as Parineeta. In 2006, she was seen in the sequel to Koi... Mil Gaya, Krrish, one of the most successful films of the year. In 2007, she once again portrayed a courtesan in Gautam Ghose's Yatra. Unlike the initial success she had in playing such roles in the early stages of her career, this time the film failed to do well.
Rekha has had various unsuccessful relationships with fellow Bollywood stars including Amitabh Bachchan, Vinod Mehra and in 1990 she married Delhi-based businessman Mukesh Aggarwal, who committed suicide in 1991. She was rumored to have been married to actor Vinod Mehra in 1973, but in a 2004 television interview with Simi Garewal she denied being married to him referring to him as a "well-wisher". Rekha currently lives along with her secretary Farzana in her Bandra home in Mumbai.
Read more
Rekha Picture Gallery
Latest headlines